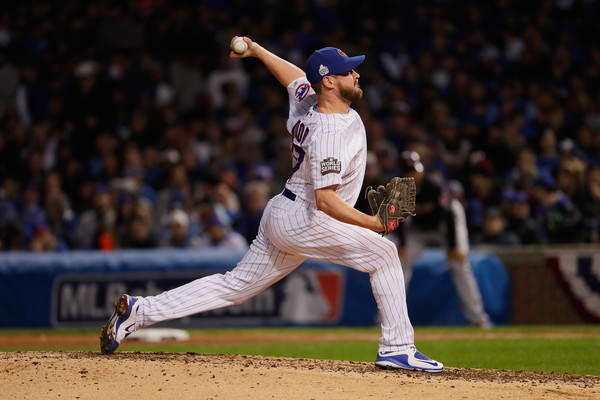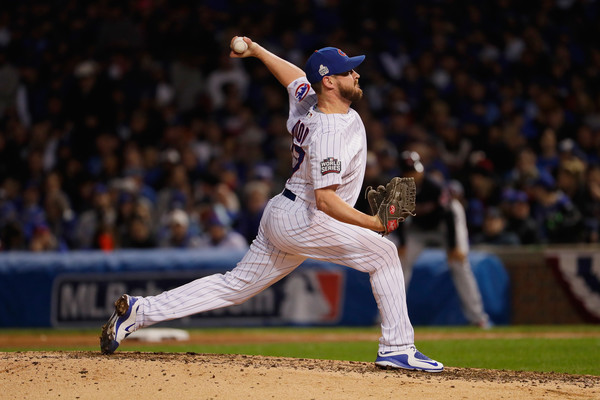 According to FanRag Sports' Jon Heyman, the Yankees have checked in on former Cubs LHP Travis Wood, who is currently a free agent. Heyman tweeted that the Yankees "don't necessarily seem at forefront of talks at moment."
Wood, who turned 30 yesterday, has spent the last five seasons pitching for the Cubs and was the team's lone All-Star representative as a starter in 2013. However, after a sub-par 2014 in the rotation, Wood was moved to the bullpen for most of 2015 and exclusively in 2016. Fox Sports' Ken Rosenthal recently reported that "multiple teams" are offering Wood the opportunity to start.
The Yankees have been connected to lefty relievers this offseason, but they also could use help in the rotation. Masahiro Tanaka, Michael Pineda and CC Sabathia appear locked into three spots while the last two spots are up for grabs among younger unproven starters. Brian Cashman has asserted that the spots will come down to Luis Severino, Luis Cessa, Chad Green, Bryan Mitchell and others currently on the 40-man roster, but Wood could provide competition and an intriguing option.
At first glance, Wood's 2016 season appears to be a major success with a career-best 2.95 ERA in 61 innings over 77 appearances. However, his strikeout rate declined from 28.2 to 18.7 percent while his walk (9.3 to 9.5 percent) and home run (0.98 to 1.18 per nine innings) rates increased. Wood posted a 4.54 FIP, his worst since 2012. Based on his five seasons in Chicago as a whole, it looks like his high strikeout rate in 2015 was an outlier and his ERA in 2016 may have been boosted by a career-low .215 BABIP.
As a reliever, Wood cut his repertoire down to mostly three pitches: a low-90s four-seam fastball, a high-80s cutter and a mid-80s slider. He sparingly used a changeup and curveball. In his last full season as a starter in 2014, he used his sinker almost as much as his cutter, his top secondary pitch. He threw either his fastball or cutter nearly 80 percent of the time in 2016. Even when he used his sinker more often as a starter, he still had low groundball rates (his career-best was a 37.4 percent mark in 2016), a bad sign for a potential starter at Yankee Stadium.
After Wood's strong performance in relief, it begs the question: Would he be willing to stay in relief? Aroldis Chapman is the closer, so Joe Girardi won't use him as a matchup reliever, leaving Tommy Layne as the lefty specialist. If the Yankees wanted a second lefty on Opening Day, the choice on the current roster is between Chasen Shreve and Richard Bleier (Dietrich Enns an unlikely possibility). Wood could work for the Yankees as more than just a LOOGY and as a full-fledged middle reliever. He also has postseason experience from the last two seasons and one solid appearance with the Reds during Roy Halladay's no-hitter in 2010.
With "multiple teams" showing interest in Wood, he is very likely in line for a Major League deal. MLB Trade Rumors ranked Wood as their No. 24 free agent and Heyman had Wood at No. 31 on his list. MLBTR projected Wood at three years, $21 million while Heyman had him pegged at three years, $15 million. Maybe Wood could be down to 1-2 years with how late it is in the offseason. Offering that third year could be the key to grabbing Wood.
The Yankees appear as if they are not Wood's main suitor and that isn't all that surprising. The team appears committed to the young movement in the back of the rotation and Wood probably wants the chance to start. That's where the money tends to be and the Yankees aren't likely to spend too much more this offseason. My take is that Wood could provide value on a shorter term deal in the bullpen (or swing role as Mike suggested), particularly with how Girardi likes to deploy relievers. However, looking at his peripherals, I'd stay away from guaranteeing him a rotation spot and pass on anything close to his projected deals from earlier in the offseason.