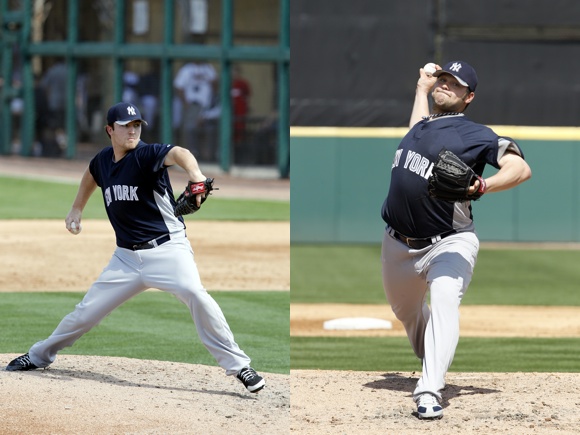 Phil Hughes, left, and Joba Chamberlain in spring action two weeks ago. (AP Photo/Gene J. Puskar)
On Thursday — or maybe Friday — says Yankee skipper Joe Girardi, all will be revealed. By the end of the week, the Yankees will have chosen their fifth starter. They will have ended the Great Spring Training Debate, and for now, at least, even though the team doesn't need a fifth starter until April 24 in Anaheim, the Bombers will have a full rotation.
So who will it be? That, of course, has been the question since the World Series ended, and the buzz is certainly growing louder with every passing pitch around Phil Hughes. On Twitter and in columns, around the Internet and around the Yankees, Hughes is the word, and if Phil Hughes wins this battle, where, we might wonder, does that leave Joba Chamberlain?
For much of Spring Training, eyes have been riveted on the fifth starter race, and it is a problem the Yanks would love to have on an annual basis. Which young stud deserves a spot in the rotation? Is it the hard-throwing 24-year-old or the harder-throwing 25-year-old? Is it the guy with parts of two seasons of Major League starting under his belt or the guy who emerged as a calm and confident force in the bullpen in 2009?
The Yanks have played this out over the course of Spring Training as a seemingly fair fight, but at times, we might think the spot was Hughes' to lose. The Yanks, despite inflicting it upon themselves with zany Rules, grew tired of Joba last year. They grew tired of repetitive 10-pitch at-bats, constant decisions to shake off his catcher, a seeming unwillingness to attack the strike zone. Even though the team had put Joba through three years of rules and limits, starts and relief appearances, the team seemed to feel as though Joba were to blame for the yo-yo approach to pitching development.
Yesterday, the fifth starter battle reached a crescendo. Joba Chamberlain took on the Yankees in an intra-squad game while Phil Hughes faced the Phillies later in the day. Joba was good — probably as sharp as he had been all year — but Hughes, despite allowing three wind-aided home runs, was better. He threw 4.1 innings, struck out six and walked no one. His change-up kept hitters off balance, and the Yanks love both his development and his 5:1 K:BB ratio this spring.
In excellent piece at the official site, Bryan Hoch goes in depth into the minds of Joba and Phil. The two talk about fighting it out for a spot and staying focused for a month while building up strength. What Hoch doesn't discuss is the role of the loser in this fight. What will the Yanks do with Joba if he isn't bound for the rotation?
The answer, I think, is simple, but I fear the tough or wrong outcome. The Yankees made a point of stressing that the Joba Rules are no more in 2010, but he has to pitch. He can't just throw one inning every other game and expect to reach 200 innings any time soon. He has to throw regularly and deploy all of his pitches. He has to be ready to be the team's sixth starter if another pitcher goes down. He has to stay on a routine, and to that end, Joba should be ticketed to AAA if he isn't the fifth starter. (And whether he should be that anyway is a topic we could debate forever.)
If the Yanks take the easy way out, if they stick Joba into the pen, they'll be doing no one any favors. They will be taking a pitcher who should probably be starting this year and stunting his development three years later. Of course, I'm getting ahead of myself because we're still waiting for Thursday (or maybe Friday). But when it comes, when that announcement arrives, we'll have something old to debate as something new all over again.