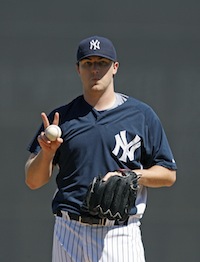 Phil Hughes, says Joel Sherman today in the Post, will be the Yankees' fifth starter out of Spring Training. The team isn't ready to make an official announcement, but the move has been all but decided since February. The job, says Sherman, was Phil's to lose this March, and although Sergio Mitre and Alfredo Aceves have pitched well during Grapefruit League action, Hughes, 23, has thrown as he needed to do in order to secure that final rotation spot.
Sherman offers up an extended take on the Yanks' thinking:
But this was never a numbers contest. If so, Alfredo Aceves and Sergio Mitre, both of whom statistically have outpitched Hughes, would still be in the mix. This was more about projection. The Yanks like Mitre and, especially, Aceves. But they view both as back-end starters who already have reached their ceilings.

They envision Hughes as a No. 3 starter or better depending on his ability to keep the aggressiveness he showed last year out of the bullpen while honing what, until this point, had been an unappetizing changeup. Thus, Yankee officials were elated Monday despite the poor overall line by how far Hughes' changeup had advanced, both in its deception and his trust in deploying it.

The homers they saw more as a function of the wind and Hughes' still gaining arm strength. His fastball was mainly 89-91 mph, and the Yanks anticipate several mph more over the next few weeks. If that comes along with the changeup, the Yanks really may have a No. 3 starter in the No. 5 spot in 2010. But, just as vital, they also may have a No. 3 starter in the No. 3 spot in 2011 should Andy Pettitte retire and Javier Vazquez leave as a free agent.
Now, I've been turning the news in Sherman's column over in my mind all day, and I can't come to terms with it. I'm a Phil Hughes guy, and I truly think he needs to have a chance to start. But this leaves Joba dangling in the wind. It throws into the Yanks' ability to develop pitchers and their patience with young arms into doubt, and it makes me wonder just what the team accomplished after three years of highly-publicized Joba Rules. It doesn't make sense.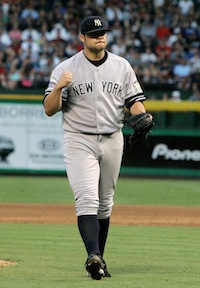 Joba, just 24, hasn't been bad as a Major League starter. Over 43 starts, many of which were limited by the Yanks' overly cautious approach, he has thrown 221.2 innings and has struck out 206. His 101 walks are on the high side, but as one of the younger starters in the league, he has done the job admirably enough.
The problem though has been in the way the Yanks have kept the kid gloves on. A full 17 of Joba's Major League starts were shorter than 15 outs. In some of those outings, Joba was just bad; in one, he left after getting struck by the ball; but by and large, the Yankees pulled him due to an innings limit or a pitch limit or some kind of limit. They kept the leash on for a very, very long time.
Now, we hear that the Yankees are ready to end that experiment for now. Sherman sees Chamberlain in the eighth inning with Aceves and Mitre serving as the team's sixth and seventh starters should the need arise. Just yesterday, I decried such a move. The Yanks should, if not going with Chamberlain in the rotation, have him log innings at AAA. The team has toyed with Joba for so long that he has finally escaped the innings limit, but now they're going to take him out of the rotation entirely. Who's steering this ship anyway?
Maybe Sherman is wrong. Maybe his reading of the tea leaves will have been for naught, and the Yankees will surprise all of the B-Jobber analysts who want Joba in the bullpen. Maybe the Yankees will wake up and determine that, after three years of experiments, Joba's year to dazzle — or fail — without any sort of limit is 2010.
I'm not too optimistic though, and I have to wonder if the Yankees should begin to think about ways to maximize Joba's value through other avenues. If they're not willing to let him take his lumps in the rotation as a 24-year-old pitching behind four others good enough to be staff aces, then cut bait and trade him. As early as 2011, the Yankees will need starters who don't have innings limits, and these constant bullpen/rotation back-and-forths need to end. Joba's role in 2010 shouldn't involve rooting for an injury to another starter or waiting for Hughes to reach an inevitable innings cap. He should be starting. Period.