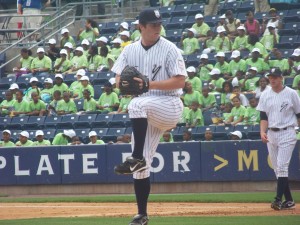 This is the third installment of our four-part What's going on with some of my favorite minor leaguers? series. Today, we head down south to Tampa, Florida, where the Hi-A Tampa Yankees might actually be the most popular baseball team in town, which is really actually kind of sad. (I know the Trop sucks and it's a hassle to go to, but c'mon Tampa fans, please watch your team play baseball. They're really good. /unrelated rant)
Tampa features the most intriguing pitching staff in the Yankee farm with Adam Warren, Andrew Brackman, Graham Stoneburner and fan-favorite Pat Venditte. Among hitters, only Bradley Suttle and Corban Joseph really stick out at you, although Melky Mesa is also a fairly well-known name. I know he's a fun novelty item, but I just don't see Venditte (or Mesa) as a real prospect, so the list will only include Warren, Brackman, Stoneburner, Suttle and Joseph. We'll start with the hitters.
Hitters:
Bradley Suttle, 3B
Drafted as an above-slot bonus baby in the 4th round of the 2007 MLB draft, Suttle was known for two things – 1) He had a fantastic hit tool, maybe the best in that entire draft; and 2) he also happens to be this man in disguise: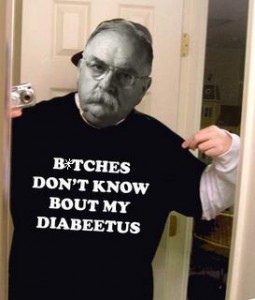 Suttle has Type-1 diabetes. Since coming into the system, he's been pretty up and down and his time has been largely marred by injury. In 2008 at Charleston he put up a line of .272/.345/.457. I wouldn't call it a bad season, but it's not eye-catching either. You'd ideally like a bit more out of a guy considered by many to be the best pure hitter in college coming out of the draft, but he didn't totally struggle either. Still, it seems odd that a guy known for great plate discipline would notch 91 strikeouts and only 42 walks in 372 plate appearances.
But where Suttle really struggled was against southpaws – he hit .219/.323/.324 against them while at Charleston. For a guy without a great defensive reputation, with average power and mediocre athleticism, that sort of thing isn't what moves you up the levels. Still, all things considered, Suttle had a fairly decent season.
But ut-oh! 2009 was entirely missed due to multiple shoulder injuries, including labrum surgery. Not great for a guy that might not have profiled as a 3B anyway. Arm strength is kind of critical. So we fast forward to 2010. On the year, Suttle is hitting .242/.306/.327. As you can see, he's not hitting for any power but he's also hitting 46% of balls into the ground. If you don't have very good speed, you're not going to see a lot of those fall in for hits. He's also struck out 44 times in 165 AB's and walked 16 times. That approach will get you nowhere if you don't at least make solid contact when you do hit the ball. As I've said, he doesn't. But there are some bright spots. He's hitting left-handers better this year at .317/.344/.362 but that's also aided by a BABip of .404. Considering his age at the level, the injury issues and the regression in on-base skills, it's hard to see Suttle going much further. Hopefully he's still feeling the ill-effects of surgery and will bounce back and at least show off great hitting skills.
2010 season at Hi-A: .242/.306/.327
Last ten games: .206/.293/.206
Corban Joseph Multi-Pass was the Yankees' fourth-round pick of the 2008 draft. Originally drafted as a shorstop, it seems most people didn't believe he could stay there, including the Yankees, who moved him to second base. He also rated negatively (per Total Zone on B-Ref) at Charleston in a limited sample, but he it's unlikely he'd develop the power to play at a corner, so 2nd would likely be a position he'll have to pick up to move up and be a big-league player at some point. But he was solid at the hot corner, so maybe the team would direct him along the path of Kevin Russo. Who knows.
Now, that said, CoJo can hit. Last year in Charleston he was one of the more consistent hitters, throwing a line up of .300/.381/.418. He had a line drive rate of 25% and was pretty even with his strikeouts to walks ratio (61/49). He did have a crazy-high BABip over the last few months which made up for early season struggles, so it really was a tale of two seasons. So what has 2010 looked like for the Tennessee native?
He's again one of the better hitters on the team and still a young player at 21. He's hitting .303/.354/.415 and has two home runs on the year. I don't know how his defense has been on the season, but his stick has again been very solid. He's really the only hitter I can see on the Tampa team realistically continuing to move up with a real shot in the show. At this rate anyway. Still, the defense will have to really improve.
2010 season at Hi-A: .300/.381/.418
Last ten games: .343/.425/.371
Pitchers
Adam Warren, SP
What can I say about Adam Warren that hasn't already been said? The dude has just been straight rolling though Hi-A hitters. It's not even fair. Selected out of the University of North Carolina (go Heels!) in the 4th round of the 2009 draft, Warren should be a guy that advances quickly. He was a polished college senior, had an uptick of velocity (hitting 96) and has the potential to impact the big club possibly as early as 2011. Last year at Staten Island he ran over New York Penn League hitters, holding them with an ERA of 1.43 and solid peripherals.
In Tampa, he's thrown 54 innings with just 14 walks and has registered 40 strikeouts. Batters are hitting .235 against him, which jumped considerably due to a poor outing on Friday. Per MILBSPLITS, Warren has gotten tons of groundballs (60%) and has kept the ball in the park (3% HR/FB ratio). I'm not sold that will look the same in Trenton, but there's nothing it seems Warren needs to learn here at Hi-A. Expect to see him in lovely Trenton very shortly. If anyone knows how his velocity has been and the look of his secondary pitches this year, please let me know. As you can see by his last two starts, he finally ran into some trouble this year. Hey, it happens. He was lopped for 5 runs in less than three innings before exiting the game. No biggie. He'll be fine.
2010 season at Hi-A: 54 IP, 2.67 ERA, 48 hits, 18 runs, 40 K, 14 BB, 2.43 GB/AA
Last two starts: 7.2 IP, 7.83 ERA, 8 hits, 6 Runs, 3 K, 0BB
Andrew Brackman, SP
Maybe one of the more hated prospects in the Yankee system, Andrew Brackman has had a strange season thus far. Signed as a classic bust/boom player as the Yankees' 1st round pick in 2007, I don't think anyone really expected what they saw out of him last year. Plagued with wildness and diminished stuff last season, he needed to show some positive signs of development this year. And he has. Brackmonster started the season off as we saw him in the throes of last year: 20 runs in 16.2 innings. Still, despite the crazy amount of runs, he walked one batter in that time frame. I can't begin to tell you how unbelievable that is.
And check this out: he's gotten much, much better since that bad stretch. Brackman has had only one start since then in which he's given up more than one run. The walks are still minuscule at 5(!) in 38 innings and he's notched 29 strikeouts this year. That's pretty good. But the weird thing is it hasn't fallen in with his scouting report. Kevin Goldstein reported that he's been in the low-90's (touching 94) with bad breaking balls. I don't quite know how someone is able to put numbers up like this with two bad breaking balls and a fastball in the low 90's, so I'm thinking maybe Goldstein saw him earlier in the season when he was getting bombed.
In May, which sandwiched a few rough starts with the rest of his good starts, Brackmonster has gotten hitters to ground out in 58% of at bats, his FIP is a crisp 3.24 and he wasn't getting battered by a BABip of .455 like he did in April. Yeah, .455. Wow! I'm not going to say he pitched very well in April, but that's an unbelievably high BABip, even in the minors. His FIP in April, after all, was only 4.20. He really wasn't as bad as the box score would indicate.
The stuff is perhaps more important than the results. If Brackman is hitting 96 with his nasty hammer curve (two pitches that once hit 80 on the scale), I'd rather have that than weak stuff but solid results. Andrew Brackman just isn't a prospect without a great fastball and breaking ball. At best he becomes John Rausch, who while a productive baseball player with similar size, relies on control. Andrew Brackman has never featured that. It's totally possible he could, but I wonder how far he could get without great stuff. I'm hoping he'll regain that velocity and feel for his curve. If Brackman does develop (a huge if), that's easily the best pitcher in the system in terms of talent. Definitely my favorite guy to watch not named Jesus.
2010 Hi-A season:
38 IP, 5.92 ERA, 48 hits, 28 runs, 29 K, 5BB
Last two starts: 12 IP, 0.83 ERA, 9 hits, 1 run, 9 K, 2 BB
One of the overslot signings of the 2009 draft, Stoneburner, featuring a plus-name and a lot of potential, has unequivocally been one of the best pitchers in the Yankee farm this season. You may remember he started the year in Charleston, where he stole batters' lunch money and did donuts in the faculty parking lot. He brutalized them until being promoted in mid-May. How's he looked in his promotion?
Well, there's such a thing as a free lunch still in Tampa. Stoneburner, in 22 innings, has an ERA of 3.68 and has struck out 24. He does have 10 walks and had two very sharp starts and two rocky outings, so the consistency is not quite completely there at Tampa. In Charleston he was able to use his heavy sinking fastball to register a GB% of 55% and it's particularly high against righties. Lefties seem to fare better against Stoneburner. In Tampa they've racked up 7 runs in 9.2 innings and 8 walks. That'll need to improve but there's a lot to like about Stoneburner's hot start this year. He has a great arm and he continues to rack up strikeouts and limit walks. Spare a couple poor outings, Stoneburner's been unreal this season. He might end up a reliever if his breaking balls don't fully develop, but even in that role, he could be a good one. And one that rises quickly.
2010 Hi-A season:
22 IP, 3.68 ERA, 11 hits, 9 runs, 24 K, 10 BB
Last two starts: 12 IP, 2.50 ERA, 6 hits, 3 runs, 13 K, 4 BB
Ok folks, that's all from Tampa. When I get back from vacation we'll do Charleston. You can check out some of my other work at http://www.mystiqueandaura.com/