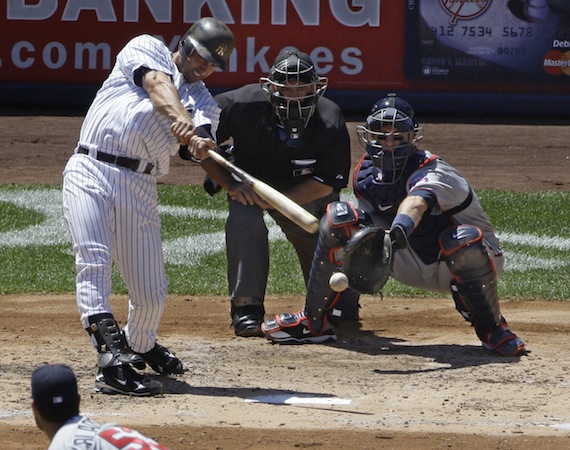 In just over two months, Jorge Posada will celebrate his 39th birthday, and age is starting to wear down the Yanks' erstwhile catcher. His team has played 54 games, but Jorge has appeared in just 28 of them, slowed by various leg and muscle injuries that tend to rob older players of playing time.
Now that's he back from the DL, Joe Girardi and the Yankee braintrust have to figure out what role Posada will play this year. As his .323/.404/.594 line shows, he can still hit, and with Nick Johnson on the 60-day DL and probably a lost cause for the season, the team has a DH hole that needs filling. Is Jorge their man?
Initially, it's very tempting to say yes. While Jorge probably won't sustain a 176 OPS+ throughout the rest of the season, if he can duplicate his career line — .278 average with an .862 OPS — he'd be among the top designated hitters in the American League. Furthermore, the team would be able to keep him in the lineup on a near-daily basis, something they can't seem to do while he's catching, and he would still get to catch a game or two a week as other players rotate through the DH spot. As much as I'm not a supporter of the rotating DH, a Jorge Posada platoon where he is in that role for five out of seven games would do wonders for the Yanks' offense.
But it's not as simple as all that. For one, the Yanks are facing a reluctant Posada. As ESPN New York's Rob Parker explored yesterday, Posada is not at all keen on relinquishing his position. He is, however, willing to sacrifice some of his time behind the plate because he recognizes that age isn't on his side. Last year, Jorge appeared in 100 games as a catcher; this year, he has seen action behind the dish in 22 contests.
"I know that I can catch and I can be out there but a lot of circumstances have come and I'm going to have to be smart about it," Posada said to ESPN. "If I'm in the lineup, I'm happy. I would like to catch here and there sometimes, but I understand what the future holds."
Even with Posada's desire to catch, it's questionable whether he should. His defensive metrics are all on the negative side, and he has thrown out just 4 of 21 base runners. That 19 percent caught stealing rate is only two ticks higher than Victor Martinez's figure. Never a great catcher, Posada isn't nearly as nimble behind the dish as he was in his early 30s, and his legs probably can't stand up to the rigors of four or five more months at catcher.
The Yankees, though, have few other choices. Right now, as Posada's foot heals and the team figures out what they have in Jorge going forward, Francisco Cervelli will continue to man the backstop. On the surface, he's doing an admirable job, hitting .294 with a .375 on-base percentage and 24 RBI. As a back-up catcher, that's fantastic, but as Cervelli has seen more playing time, he's become exposed both at the plate and behind it. Hitless for June, Cervelli is now 3 for his last 27 and 10 for his last 57. That's a .175 batting average for those keeping score at home.
Defensively, Frankie is a better catcher than Jorge, but he's struggled throwing out runners. Opponents have stolen 18 out of 20 with Cervelli catching, and although some of that blame lies with the Yanks' pitchers, teams will continue to run until they're caught. Cervelli's game, in other words, is ripe for the pickin', and that's exactly what teams are doing.
So the Yankees are stuck. They could risk putting their soon-to-be 39-year-old offensive weapon behind the plate and playing him until he can go no further. Or they can press into service their 24-year-old stop-gap who is supposed to keep the position warm until Jesus Montero or Austin Romine are ready for the big leagues. As a problem to have, it's certainly not a big one, but how the Yanks address it could impact their season well into October.