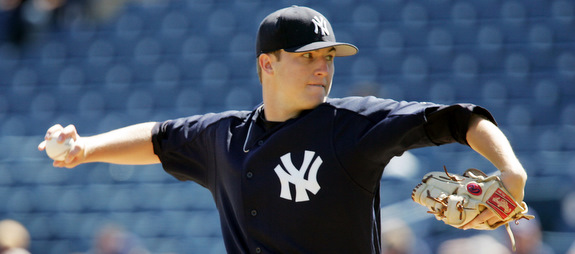 Innings limits and pitch counts and all that stuff have become a part of baseball whether you like it or not. Young pitchers are becoming more and more important in the game today, and teams are doing their best to protect those players, nevermind financial investments that often climb into the eight-figures. Yankees fans are sick of the Joba Rules by now and it's no fun to watch Sergio Mitre make a start in place of Phil Hughes in the middle of the season, but it's part of life.
The Yanks are going to have to rely on their young arms more than they've had to at any point in the last 10, 15, maybe even 20 years in 2011, but that doesn't mean they won't be cognizant of workload limitations. Let's take a look at some of the young hurlers that will/might see big league time next season and figure out how many innings the team can get out of them. I did my best to include everything, from regular season to playoffs to winter ball, but it's easier said than done.
Phil Hughes
St. Phil threw a total of 192 innings last season, regular season and playoffs, 46 more than his previous career high of 146, which came way back in 2006. It's probably more like an increase of 30-36 innings since Hughes did make a few starts in the playoffs for Double-A Trenton that year. The problem is that he threw just 111.2 IP in 2009 and 69.2 IP in 2008, so it was a huge jump when you look year-to-year. If Hughes threw that many innings last year, there's really no reason he can't throw 200-210 innings this summer, but the real question is how will all those extra innings in 2010 effect him in 2011.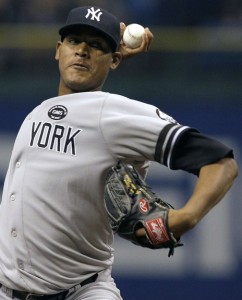 Ivan Nova
Like Hughes, Nova threw a career high number of innings last season, 187 in all. His innings total has climbed rather methodically over the last few seasons, going from 148.2 IP in 2008 to 165 IP in 2009 (regular season plus winter ball) and then to 187 IP last year. For all intents and purposes, Nova has no innings limit during the upcoming season. Two hundred innings should be no problem if needed.
David Phelps
He's only been in the system for two full years, but Phelps has already proven himself to be a bonafide horse. He led the organization with 164.2 IP in 2010, which came a year after he threw 158.2 IP and two years after he threw 151 IP (college and pro). There are no concerns here whatsoever, Phelps is good for 180 innings next year at the very least.
Hector Noesi
Noesi's gone from an injury prone guy to a workhorse starter over the last few seasons, finishing right behind Phelps with 163.2 IP last year. That comes after throwing 124 total innings in 2009, so it was a significant jump (39.2 IP). He did tire a bit late last season, putting 31 men on base and allowing 19 runs in his final 22 IP (four starts). He's good for 175 IP next year, easy, maybe even as much as 190.
D.J. Mitchell
The Yankees had four minor leaguers throw at least 150 regular season innings last year, just the second time that's happened since 2003. All four of them were actual prospects too, no filler. Mitchell was the low man on the totem pole at 155.2 IP, trailing Phelps, Noesi, and the since departed Lance Pendleton. That was a jump of just seven innings from his previous career high of 147.2 IP, set in 2009. He's good for 175 innings next year, no problemo.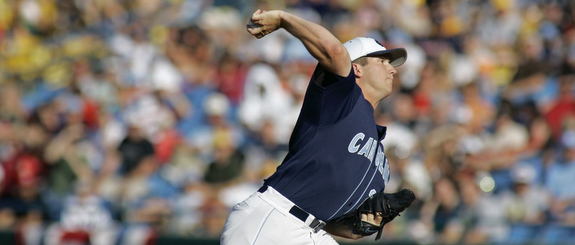 Adam Warren
As a four-year player at a major college program, Warren's thrown plenty of innings in recent years. Last season he managed 146.1 between the regular season and playoffs, but that wasn't even his career high. He set that the year before, when he threw 168 IP between the college regular season, the College World Series, and his pro debut. His 2008 season featured 122 total innings, so Warren is primed for a jump into the 160-170 range in 2011, if not more.
Andrew Brackman
The Brackmonster started his professional career my missing a full season due to Tommy John surgery, but he's been healthy since (save for a cut on his hand in April 2010) and has thrown plenty of innings. He threw 106.2 IP in 2009 before jumping all the way up to 145.2 IP last season. Brackman's (really) big and strong, he should be able to handle 160+ innings next year without an issue.
* * *
That pretty much sums it up, I'd be surprised if any other young hurlers from the system threw a significant amount of innings for the big league team next season. Heck, I'd be surprised if anyone above not named Phil or Ivan threw a significant amount of innings for the Yankees next season. Maybe Noesi, he's the logical next-in-line since he's on the 40-man and has Triple-A experience.
In case you're wondering, both Manny Banuelos and Dellin Betances are probably targeted for 120-140 innings next season after their injury-shorted campaigns in 2010. Their real coming out party is set for 2012. Luckily there are plenty of guys capable of throwing a ton of innings ahead of them, so the Yankees will have no reason to rush them.