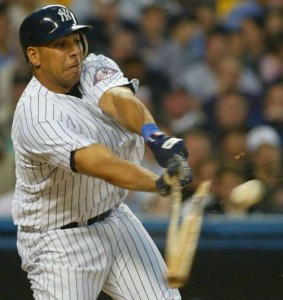 As I put together my list of the top 30 prospects in the Yankees' organization every winter, some tough choices inevitably have to be made and a few players end up on the outside looking in. That doesn't mean I don't like them as prospects, it just means I like some other players better. This post looks at five such players, the five that I think have the best chance of jumping into next year's top 30 list. I wouldn't call it a list of sleepers (some of these guys were pretty high-profile pick-ups), perhaps a list of potential breakout players would be more accurate. Does that make sense? Yeah I think so.
Two players from last year's Not Top 30 List jumped into this year's top 30: Melky Mesa and Gary Sanchez. Mesa punched his ticket by taking home High-A Florida State League MVP honors while all Sanchez had to do was show up camp ready to catch. Two other players, Jimmy Paredes and Jon Ortiz, are now with a different organization. Paredes went to the Astros in the Lance Berkman deal and was recently named Houston's seventh best prospect by Baseball America, and Ortiz signed with the Athletics as a minor league free agent after the season. The fifth player, DeAngelo Mack, just didn't do enough to make the top 30 this year.
An important thing to remember is that these are not prospects 31 through 35, it's just a list of five players on the outside of this year's top 30 with a chance to jump into next year's by showing improvement. They're listed alphabetically, so don't bother reading into the order, and ages are as of Opening Day, or thereabouts. Fun starts after the jump.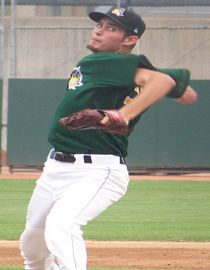 Scottie Allen, RHSP, 19
Acquired from the Diamondbacks for the out-of-options Juan Miranda back in November, Allen was Arizona's 11th round pick out of a Florida high school back in 2009. He opened last season in Extended Spring Training before jumping to Low-A South Bend in mid-May, making 16 starts with a 4.73 ERA the rest of the way. The ugly ERA masks stellar strikeout (9.1 K/9), walk (2.5 uIBB/9), and homerun (0.6 HR/9) rates, which added up to a 2.97 FIP. Allen throws four pitches, three of which grade out as average or better. His 6-foot-1, 170 lb. frame unleashes an 88-91 mph sinker plus a high-70's slider that is a legit swing-and-miss pitch on its best days. A high-70's changeup is his third offering, and he's working on his curveball. Allen is interesting because he shows a tremendous feel for his craft at such a young age, which might be enough to earn him a trip to High-A Tampa as a teenager.
Dan Burawa, RHRP, 22
Of the many college power arms the Yankees took in the 2010 draft, Burawa might have the best pure stuff. He signed out of St. John's and made six mostly ugly relief appearances with Short Season Staten Island after turning pro (7 IP, 8 H, 7 R, 7 BB, 10 K), but that's indicative of nothing. He makes the list because his stuff is electric: a 94-96 mph fastball that runs all over the place and tends to dive right out of the zone, plus an upper-70's hammer curveball that gives him a second swing-and-miss offering. Burawa's mechanics are unorthodox, featuring a really long arm action and a low slot (seen here), both of which hamper his command. It's a quality late-inning relief package, one that should get him to the majors quickly despite the command issues. Burawa could probably jump to High-A in his first year as a pro and survive on raw stuff, but a trip to Low-A Charleston might be more a realistic.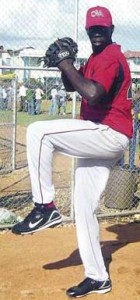 Rafael DePaula, RHSP, 20
After serving a 12-month suspension for lying about his age and identity, the Yankees landed DePaula for just $700,000 back in November. That's about a $500,000 discount compared to what he was expected to receive a year ago. Long and lanky at 6-foot-3, 190 lbs., DePaula primarily works off a 91-93 mph fastball that has been clocked as high as 97 in the past. He has also shown a feel for spinning a breaking ball and commanding both the heater and bender, though like many pitchers his age he still needs to figure out a changeup. Though raw and inexperienced, DePaula's delivery (seen here) is actually pretty sound and repeatable. Because he's older than your typical international free agent, the Yankees might be a little aggressive with DePaula and assign him to Low-A Charleston to start the 2011 season. If not, a little Extended Spring Training won't hurt. I consider him this year's Gary Sanchez, meaning he'll unquestionably jump into next year's top 30 barring a complete catastrophe.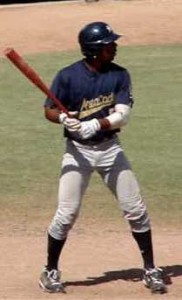 Angelo Gumbs, 2B/SS, 18
The second high school shortstop taken by the Yankees in the first two rounds of the 2010 draft, Gumbs' professional debut with the rookie level Gulf Coast League team was short and generally unsweet: 5-for-26 with a double, a walk, three strikeouts and three steals in seven games. It's just seven games though, who cares. Gumbs is a premium athlete with great speed, both of bat and foot. His 6-foot-0, 175 lb. frame could use some more muscle, but there's plenty of time for that. Gumbs doesn't have an obvious long-term position since his footwork leaves something to be desired at either of the two middle infield spots, but the Yankees will keep him there for now. It's possible that he'll end up in centerfield long-term, where he should be an asset defensively. Gumbs is definitely a long-term project, so he'll start the season in Spring Training and could end up repeating the GCL in 2011.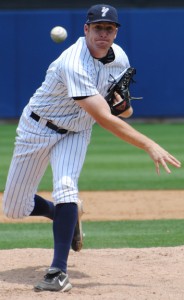 Chase Whitley, RHRP, 21
Whitley is another one of those college relievers the Yankees grabbed late in the 2010 draft, though he's never been a full-time pitcher. He was a third baseman for two years at Southern Union Community College (Alabama) and during his lone season as Troy, though he doubled as each school's closer as well. Now that he's pitching full-time for the first time in his life, there's a good chance his 88-92 mph fastball will climb into the low-90's and sit there consistently. His best pitch is a changeup that sinks down and away from lefties, and it plays up because he throws with the same arm speed as his heater. The Yankees had him try out a slider during his dominant stint with Short Season Staten Island (2.03 FIP in 34.1 IP) and he took to it well. Whitley's arm is fresher than a typical college reliever's and his repertoire and command are strong enough that he could work as a starter in the low minors to accumulate innings and experience under his belt. Low-A Charleston would be logical destination as a starter, but if the team decides to keep him in relief, then an assignment to High-A Tampa with a mid-to-late season promotion to Double-A Trenton is possible.
* * *
Four pitchers and one position player a year after four positions players and one pitcher. Didn't plan for it to happen that way, but it did. The full blown top 30 comes out tomorrow.