The regular season is now just ten sleeps away, but the Yankees have yet to announce who will serve as the their fourth and fifth starters at least at the outset of the season. I think we all expect the team to go out and get someone via trade at some point during the season, but for now, these guys will have to do. Given what we've seen in Spring Training, not necessarily in statistical performance but how they've looked on the mound, let's slap some odds on each guy's likelihood of breaking camp with the big boys cracking the rotation …
Ivan Nova (Odds: 3-2)
Nova's case for a rotation spot started last September, when he was serviceable (4.50 ERA, 4.36 FIP) in seven starts and did no worse than earn himself a long look in camp. He's toying with a new slider and stands out from the pack for no other reason than because he's not some retread. Nova's a homegrown guy and those are easy to like, but his limited exposure in the show will work against him. That and the fact that he has two minor league options remaining, since the team could safely stash him in Triple-A and then summon him at a moment's notice. My guess is that he starts the season in the rotation, but who am I to say?
Freddy Garcia (Odds: 5-1)
The favorite for a job coming into a camp, Garcia is having one of his trademark awful springs at a time when he really can't afford to. Ben chronicled the problem with Garcia last night, though he has one thing on just about all the other rotation candidates: a recent history of staying on the mound. He threw 157 innings with the White Sox last year, and although they weren't high quality innings, they were innings nonetheless. Reliability counts, even in tiny little amounts.
Bartolo Colon (Odds: 10-1)
Perhaps the surprise of Spring Training so far as been Colon, who's come out of the gate throwing 94 four-seamers and sinking his two-seamer against both lefties and righties. He's also featured some kind of offspeed pitch, probably a splitter but more of a junkball, that has kept hitters off balance. Remember, Colon was pitching in winter ball just a few weeks before camp opened, so he's (theoretically) ahead of the other guys and his stuff could just be a mirage. Once he steps on the mound in meaningful games against hitters with something more than tee-times on their minds, chances are this story will take a turn for the worst. Regardless, he hasn't hurt his chances this month.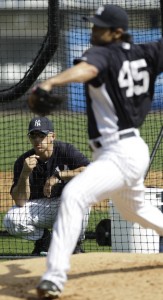 Sergio Mitre (Odds: 100-1)
Beset by an oblique issue, albeit slightly, Mitre hasn't really gotten into this competition all that much. He's started just one game in camp with three other long-relief appearances, and part of that is a function of there being only so many starts to go around, but you'd have to think he'd be getting a longer look if he was a legit candidate (Nova, Colon, and Garcia have each thrown at least five more innings in actual games this spring). The Yankees know Sergio and what he's capable of, so perhaps he isn't as high priority as the other guys. Either way, he always seemed destined for that same long-reliever role he's filled over the last year-and-a-half.
* * *
We've been playing the fourth and fifth starter guessing game pretty much all winter, so these not completely arbitrary odds are nothing more than a snapshot in time, a record of where the competition stands as of March 21st. Both Colon and Garcia have the ability to become free agents if they don't make the team out of camp, and it would be surprising to see the Yankees squander assets like that so early in the season.
Given the propensity for injury (especially with two guys like that), it's better to have more pitchers around anyway, even if they stick them in the bullpen for the time being. Plus the team will also get the first few weeks of the season to evaluate them a little bit further, against real big league hitters. Every little bit helps, even if these guys will (hopefully) be gone by July.