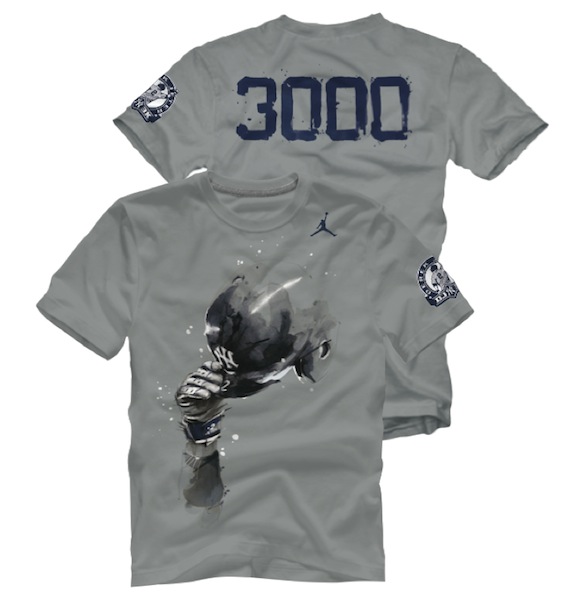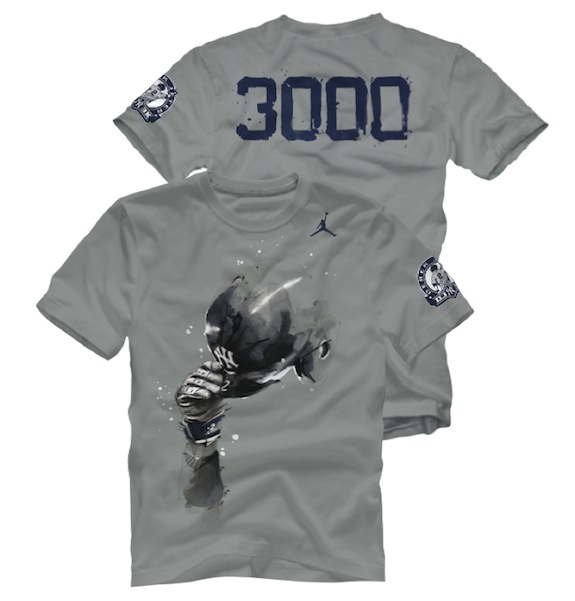 As Derek Jeter returns home tonight sitting on 2997 hits, the Yankee captain appears destined to join the exclusive 3000-hit club this weekend before the All Star Break, and the marketing frenzy is hitting overdrive. Secondary ticket prices are through the roof (and you can find whatever deals remain on RAB Tickets) while Jeter's promotional partners are building hype too.
This afternoon, Jordan Brand e-mailed us about a series of items designed as part of their DJ3K collection. On the field, Jeter will be sporting special spikes and batting gloves while Jordan Brand is also releasing a sneaker. For the fans who want merchandise, the t-shirt above will on sale at all major sporting goods stores for $25 once he reaches the milestone. A blue version will be on sale as well.
Furthermore, don't forget to enter our own DJ3K contest. The details are available in this post, but the short of it is simple: Become a fan of RAB Tickets on Facebook and enter, before the first pitch tonight, with a prediction of the game, the inning and count of Jeter's 3000th hit. The winner will get two tickets to a sporting event of their choice courtesy of TiqIQ.
Despite Jeter's status as a lightning rod for controversy and criticism this year, the next few days should be a lot of fun in the Bronx. No one has ever reached 3000 hits as a Yankee, and we shouldn't lose sight of that accomplishment. As 'Duk wrote at the Big League Stew today, let's enjoy it.