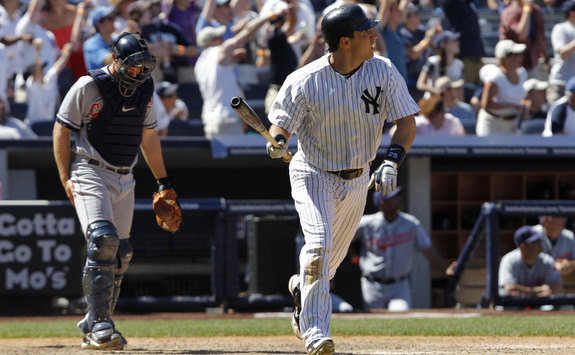 After two mortifyingly slow Aprils to start his Yankees career, Mark Teixeira wanted to start on the right foot in 2011. In that regard he was a smashing success. In 102 April PA he hit .256/.392/.549, which represented the best April of his career. That made for an optimistic 2011 outlook. If Teixeira had produced those numbers in April 2010, his numbers would have been much more in line with his 2009 performance. In May he came back with a .375 wOBA, which, while not as good as his April, was still cause for encouragement.
And then the wheels came off.
In June Teixeira didn't record many hits, just 20 in 94 AB, but he did send 13 of those hits for extra bases, including nine homers. While he did pick up more hits in July, 28 in 106 AB, he produced only nine extra base hits. That absolutely killed his overall production, since his early-season value came almost exclusively from his power numbers. In August he rebounded some, but not much, and for the second straight year he closed with a slow September. The end result: .248/.341/.494, a .361 wOBA and 124 wRC+. The latter, which relates Teixeira's numbers to the league average, represents his lowest mark since 2006, though it was pretty much in line with his 2010.
During that horrible July, Mike and I took a hard look at Teixeira's production. Mike likened him to an expensive Tino Martinez. After that I looked at some of his plate discipline issues, or really, lack thereof. It did seem that he was getting unlucky in many ways, hitting right into the shift at times when he might have gone the opposite way in 2009. That brought on a rough analysis of Teixeira's stance at the plate. He opened up his stance considerably from 2009 through 2011, likely because he aimed to pull the ball every time up. He even admitted as such in Spring Training. "If you hit a lot of home runs and you see that short porch, you tend to come around the ball a little bit and try to hook it. I got into that a little too much last year and it ended up hurting me." It again ended up hurting him in 2011.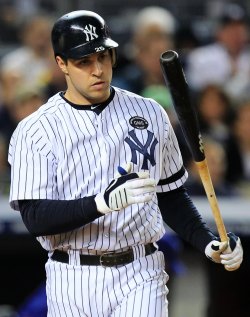 The good news is that Teixeira realizes that there is a problem in his approach. He mentioned this as the season came to an end, saying he'd work with Kevin Long during the off-season to better balance his swing. We saw some tangible evidence of this later in the season; during the playoffs Teixeira noticeably stood upright, mirroring his 2009 stance. In Game 1 against the Tigers it appeared that he had figured out something, as his leadoff double led to the big inning that sealed the Yanks' victory. But apparently closing his stance didn't correct the problem; Teixeira had a poor series overall and received much of the blame during the fallout.
What went wrong with Teixeira? He tried to pull everything from the left side, and he far too often hit weak grounders and pop-ups. It comes as absolutely no surprise that he had a .222 BABIP as a left-handed hitter. From the right side he was a great deal better, producing a .410 wOBA (compared to .338 from the left side). That's easy enough to define. The difficult part is finding the fix. Teixeira is far too expensive — and valuable on defense — to become a platoon player, especially when his strong side accounts for less than a third of his season's plate appearances. If he can't reconfigure his left-handed swing, the Yankees have a long five years ahead of them.
For now we can rest a bit easier knowing that he is actively addressing the problem. Teixeira has been the consummate professional during his time in New York, and it stands to reason that he'll do everything he can to correct the flaws that have hampered his last two seasons. That's all we can really ask at this point. Given Teixeira's pedigree and work ethic I think we can remain optimistic at the moment. But if he continues his pull-happy ways in 2012, it will be much harder to remain optimistic for the remainder of his contract.