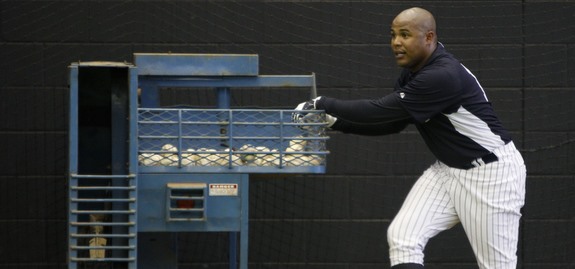 The Yankees were left with a bunch of money in their pocket after Cliff Lee decided to rejoin the Phillies last offseason, and that money was spent in a variety of ways. Part of it went to Rafael Soriano, part of it went to Bartolo Colon and Freddy Garcia, and part of it went towards the bench. For the first time in a long time, the Yankees sought out viable reserve players during the offseason rather than wait until the trade deadline to shore up their bench.
Andruw Jones
It was going to be tough to fill Marcus Thames' shoes following his big 2010 season as the team's designated lefty-mashing outfielder (.354 wOBA vs. LHP, .365 overall), but the Yankees were counting on Jones to not just match that production, but exceed it. They signed him to a one-year, $2M contract in late-January, and watched him hit a homerun in his first very at-bat of the season. Andruw was getting the occasional pinch-hitting appearance and spot start in left field, and aside from a two-homer game on May 25th, he struggled through an unproductive first half. He headed into the All-Star break as a .195/.278/.356 hitter overall and a .231/.315/.446 hitter against southpaws.
While off for the All-Star Game, Jones got some unsolicited advice from his mother, who suggested that he go back and look at old tape from when he was raking with the Braves. He widened his stance to feel more comfortable at the plate, and the results came immediately. Jones hit a pair of homers in his first game after the All-Star break, drove in another run in his next start, then ran off a stretch of five hits (including a double and another homer) in three starts after that. At one point in late August, he went deep four times in the span of 16 at-bats.
Andruw turned his season around with his mother's help, and hit .291/.416/.612 with nine homers in 125 second half plate appearances. He annihilated lefties, tagging them for a .344/.452/.639 batting line after the break. That performance raised his season numbers to .247/.356/.495 overall (.371 wOBA) and .286/.384/.540 against lefties (.400 wOBA), so on a rate basis he did manage to outperform Thames, by a not small margin either. Jones only got one playoff plate appearance against the Tigers right-handed heavy pitching staff (a sac fly), and late in the season we learned that he was playing through a small tear in his left knee that had to be drained multiple times. Kinda makes his second half surge that much more impressive.
Eric Chavez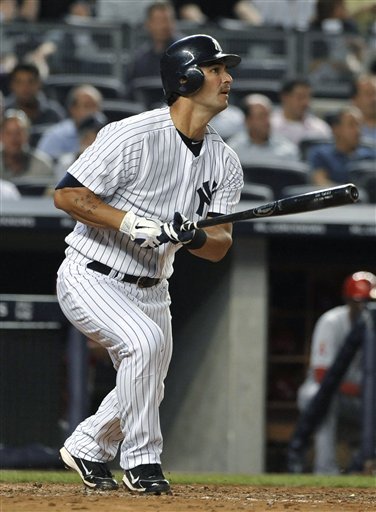 It's easy to forget now, but not only was Chavez in camp as a non-roster invitee this spring, he was competing for a roster spot against Ronnie Belliard. Mini-Manny showed up to camp out of shape and suffered a leg injury shortly thereafter, effectively taking him out of the race. The job was Chavez's to lose at that point, and he responded by hitting .395/.422/.558 and staying generally healthy (there were some calf spasms, but nothing crazy) during Spring Training. He opened the season as the backup corner infielder/left-handed pinch-hitter.
Chavez got just one plate appearances through the team's first seven games of the season (he reached on an error), but he made an impact in his first start in game eight. He went 3-for-5 with two doubles off the Green Monster in Fenway Park, filling in at DH. He started the next day at third base and picked up another hit, then started to earn more and more playing time. The power production wasn't really there, but Chavez was hitting .303/.410/.424 with six walks and just three strikeouts on May 5th, when the inevitable happened.
While legging out a triple against the Tigers, Chavez came up limping at third base and was immediately removed from the game. He was originally diagnosed with a small fracture in his left foot, but that was later changed to a really deep bone bruise. He dealt with setback after setback during his rehab, and didn't return to the lineup until July 26th, 72 team games after suffering the injury. Chavez stepped right in and played a healthy amount of third base when he came back because Alex Rodriguez was on the shelf, picking up 11 hits (including his first homer) and a walk in his first 33 plate appearances post-injury. He also started to take some DH at-bats away from Jorge Posada.
Chavez ended the season in a bit of a slump (.213/.255/.298 in his final 51 plate appearances) that dragged his overall numbers down (.263/.320/.356 in 175 PA, a .294 wOBA), but he was a monster with men on base (.379/.447/.561) and in scoring position (.415/.468/.537). Despite the years of injuries, he was surprisingly good on defense, flashing some of that old Gold Glove caliber ability at the hot corner. I don't think many of us expected much out of Chavez, so he exceeded just about every expectations. He's reportedly "leaning heavily" towards retirement, which is understandable after the injuries. He was a nice veteran guy to have on the bench, someone still capable of putting together quality at-bats and having value in the field.