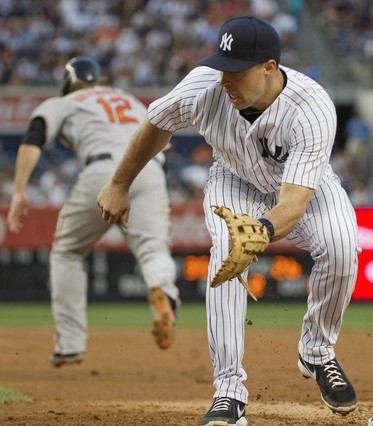 The non-waiver trade deadline is less than seven hours away, and like everyone else the Yankees have holes to fill. Alex Rodriguez's injury created the need at third base, and the need for a solid non-matchup reliever has been obvious for weeks. Russell Martin and Chris Stewart have been one of the least productive catching tandems in baseball this season, so there's lots of room for improvement behind the plate. Add in Mark Teixeira's wrist injury, and another bat could become a need in a hurry.
Naturally, Brian Cashman downplayed the team's needs and potential dealings yesterday. "Tomorrow's a big day, 4 o'clock deadline … A big day where we'll do nothing, most likely, but a lot of false hustle goes into this stuff too," he said. Obviously he won't reveal too much; the Yankees could be working on a four-team blockbuster and he would say nothing's up. Here are a few random thoughts in the hours leading up to the deadline…
The Yankees should do something …
As I said, the needs are obvious. The Yankees should know more about Teixeira's wrist relatively soon — they won't announce anything until after the trade deadline for leverage reasons, I assume — and that figures to change their plans one way or another. If it's a day-to-day thing, then no big deal. Anything more than that will require some kind of action. I know they have a seven-game lead in the loss column, but the worst thing they could do is rest on their laurels.
… but not anything significant.
The Yankees don't need a major move. Ichiro Suzuki was their big move and that was a big move in name only — he's just a complementary player. Adding a reliever, replacing Chris Stewart, and finding a spare infielder to team with Eric Chavez and Jayson Nix aren't complex moves that will require top prospects or tying up future payroll. A middle reliever, a backup catcher, and a bench player. That's it. The Yankees swung three trades in 2010 — Lance Berkman, Kerry Wood, Austin Kearns –and that was their busiest deadline in a while. They don't need wholesale changes, just minor upgrades to the fringes of the roster.
Don't count on health.
The team can sugarcoat it all they want, but Andy Pettitte just suffered a setback. When you have to scale back physical activity because things aren't healing as expected, it's a setback. A-Rod's hand is a concern because hand injuries can linger, and when you don't have the strength to hold or the swing the bat properly, you don't produce. I know the Yankees expect both guys back and that's swell, but adding some depth for that worst case scenario would be a pretty smart thing to do. Finding a spare starter for Pettitte will be damn near impossible, but David Phelps could fill that role if they replace him with another arm. Adding a bench player to replace Ramiro Pena during A-Rod's absence seems all to obvious.
Patience, but not too much.
The one thing that Cashman has added to the front office since supposedly getting full control of the baseball operations is patience. They almost never rush into moves — panic moves are a thing of the past — and will wait out the market for the best possible deal. That's how you get Bobby Abreu for nothing and Hiroki Kuroda on a below-market, one-year contract. Waiver trades can still be made in August, but sometimes the solution pops up sooner than expected (coughYorvitTorrealbacough). No need to wait on that stuff. The potential downside is so low that it might as well be nonexistent.
* * *
I'm a big believer in not sitting tight — a contender thinking they have all the right pieces and do not need to make any moves no matter how small. There is always room for improvement, and that is certainly true for this year's Yankees. I don't expect them to do anything more than add a bench player today — they already tried to acquire Brendan Ryan — though we know they have a tendency to pull off surprise moves. The three-game losing streak and ridiculous stretch of one-run losses make their current situation seem way worse than it really is, but the club does need to make a few minor adjustments and add depth as long as Teixeira's injury is nothing significant. If it is, well there's little they could do to fill that hole anyway.