Over the next few weeks we're going to spend some time reviewing the entire 2012 season, which featured another division title and unfortunately another disappointing playoff exit.
There is still baseball being played but the Yankees are not involved in any of it. They were bounced from the postseason in an embarrassing four-game sweep by the Tigers in the ALCS last week, a very one-sided series that featured little offense by New York. They scored six runs in the four games and never once held a lead, which is unthinkable for an offense that led the AL in homers (245), ISO (.188), OBP (.337), SLG (.453), OPS (.790), wOBA (.342), and wRC+ (113). Everything that could have gone wrong offensively did.
All told, the Yankees hit just .188/.254/.303 in their nine postseason games, the lowest batting average in history by a team who played at least seven playoff games. It wasn't just the ALCS either, they had a hard time scoring in the ALDS even though they won the series. The so-called Bombers scored just 22 runs in the nine games, and nine of those runs came in two innings — five in the ninth inning of ALDS Game One and four in the ninth inning of ALCS Game One. After scoring those four runs off Jose Valverde in Game One last Saturday, the Yankees scored just two runs on ten hits in the final 30.1 innings of their season.
Offensive ineptitude of this caliber requires a total team effort. Ichiro Suzuki was a singles machine in the postseason and Derek Jeter did is part before going down with a fractured ankle in ALCS Game One, plus Raul Ibanez hit enough jaw-droppingly clutch homers to avoid any criticism. The rest of the lineup? Not so much.
Robinson Cano
Of all the offensive failure, Cano's miserable postseason was by far the most surprising. He was once again the team's best hitter during the year and he finished the regular season on an insane hot streak (24-for-39, .615), but he was invisible in the playoffs. Cano doubled in two runs in that big ninth inning off Jim Johnson in ALDS Game One and he doubled in a run in the first inning of ALDS Game Two, and that was pretty much it. He fell into a hideous 0-for-29 slide that featured weak grounder after weak grounder, and it wasn't until the ninth inning of ALCS Game Three that he got off the schneid with a line drive single to left.
Robbie reached base four times in 41 postseason plate appearances, adding an intentional walk to those two ALDS doubles and ALCS single. His .098 OBP is the lowest in playoff history (min. 35 PA) while his .075 AVG is the fourth lowest. Cano has had an up-and-down playoff career but this kind of ineffectiveness was unthinkable. He was, by far, the biggest drain on the team's offense. There's no doubt about it.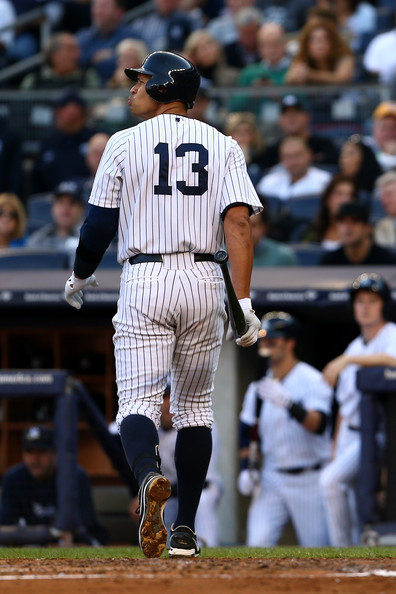 Alex Rodriguez & Eric Chavez
I'm going to lump these two together because they shared third base duties during the postseason. A-Rod struggled after coming off the DL in September and it carried over into the postseason, as he went 1-for 12 with seven strikeouts in the first three games of the ALDS. Things got so bad that Joe Girardi famously lifted Alex for a pinch-hitter in ALDS Game Three, leading to two of those memorable Ibanez homers (first the game-tying shot, then the game-winner in extra innings).
A-Rod did not start the decisive Game Five of the ALDS and did not start the final two games of the ALCS. He started six of nine playoff games but did not finish three, instead being lifted for pinch-hitters against right-handed pitchers late and for good reason — Alex went 0-for-18 with a dozen strikeouts against same-side hitters in the postseason. All told, he had three singles and two walks against those 12 strikeouts in 27 playoff appearances.
The decision to lift A-Rod for pinch-hitters or outright bench him against righties was completely justifiable due to his performance, but Chavez didn't exactly force the issue. He failed to reach base in 17 playoff plate appearances, striking out nine times. All told, the Yankees received an .086/.135/.086 batting line out of their third basemen in 37 postseason plate appearances. A-Rod drew the boos and got all the media attention,  but he wasn't even the worst performer at his own position.
Nick Swisher
Unfortunately poor postseasons became a routine during Swisher's stint in New York, a stint that will almost surely end after four years this winter. He opened these playoffs with a very productive ALDS Game One, drawing two walks to go along with a single and a sacrifice fly. After that, he went 2-for-28 (.071) with a walk and nine strikeouts the rest of the way. One of those hits was a run-scoring double in ALCS Game Four, which had zero impact in the grand scheme of things. Swisher hit .167/.235/.233 in the team's nine playoff games and will likely leave the Yankees with a .162/.252/.308 batting line in 148 postseason plate appearances with the club.
Curtis Granderson
Granderson came into the year as a postseason monster, with a .267/.375/.535 overall playoff batting line and a .313/.459/.583 playoff line with the Yankees. He was instead a non-factor this year, going just 3-for-30 (.100) with one homer and three walks (one intentional) in the nine postseason games. Two of those hits came in consecutive at-bats in ALDS Game Five. Like Swisher, he was benched for one ALCS game in favor of Brett Gardner. Curtis struck out an insane 16 times in 33 playoff plate appearances, so basically half the time. It's impossible to be productive when you don't put the ball in play, and Granderson's strikeout issues became extreme in October.
Russell Martin
Unlike the other guys in the post, Martin at least had a signature moment this postseason. He hit the go-ahead homer off Johnson in the ninth inning of ALDS Game One, a hugely clutch shot that gets forgotten because the Yankees went on score another four runs in the inning to turn the game into a laugher. It was a big homer, don't forget it. That said, Martin went just 5-for-31 (.161) with the homer, a double, and three walks in the postseason (.235 OBP). He reached base twice in the ALCS and three times in the team's final six playoff games. Martin was up and down all season (mostly down), and outside of the homer he was contributed little to a postseason offense that needed substantially more from these six players.