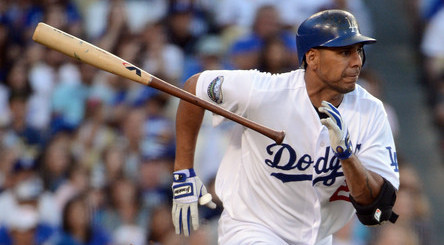 February 5th: Jon Heyman and Ken Rosenthal say the contract is worth $1.2M guaranteed if Rivera makes the team, with another $800k available in incentives. I guess that's the going rate for mediocre right-handed hitting outfielders these days — Diaz's contract has the exact same terms.
January 28th: The Yankees have added another player to their inevitable right-handed outfield bat competition in Spring Training. Andrew Marchand and Wally Matthews report New York has signed former Yankee Juan Rivera to a minor league contract with an invitation to big league camp. No word on the money, but I'm guessing it's in the low seven-figures if he makes the team. Chances are he can ask for his release if he doesn't make the club rather than report to Triple-A.
"Obviously, he'll compete for that vacancy for the right-handed hitting outfielder," said Brian Cashman to Anthony McCarron. "He played for (High-A Tampa manager Luis Sojo) in Venezuela and Sojo said he was playing well and in good shape. We'll see what he can do."
Rivera, 34, originally signed with the Yankees as a 17-year-old out of Venezuela back in 1997. He spent parts of three seasons in the Bronx before being traded to the Expos as part of the package for Javy Vazquez during the 2003-2004 offseason. Rivera spent just one year with the Expos before being traded to the Angels for Jose Guillen. He's played for the Blue Jays and Dodgers most recently.
A career .274/.323/.443 (102 wRC+) hitter, Rivera owns a .286/.333/.489 (115 wRC+) career line against southpaws. Over the last three seasons those wRC+ numbers are 92 and 109, respectively. As I wrote earlier this month, Rivera does a swell job of getting the bat on the ball (12.9 K% and 84.2% contact rate since 2010) and he'll even take the occasional walk (7.1 BB%). He will not, however, play anything more than passable defense in the outfield corners or at first base. Speed and stolen bases aren't happening either.
Rivera joins fellow scrap heap pickups Matt Diaz (minor league deal) and Russ Canzler (waiver claim) as right-handed bats with a chance to make the team out of Spring Training. Internal options like Melky Mesa and Ronnie Mustelier should not be ruled out either. The Yankees recently signed Dan Johnson to a minor league deal, and I suppose any of these guys is a candidate for the DH role as well. That position as well as bench help will be the priorities in the coming weeks.