Starting this week and continuing through the end of the Spring Training, we're going to preview the Yankees position-by-position and on a couple of different levels.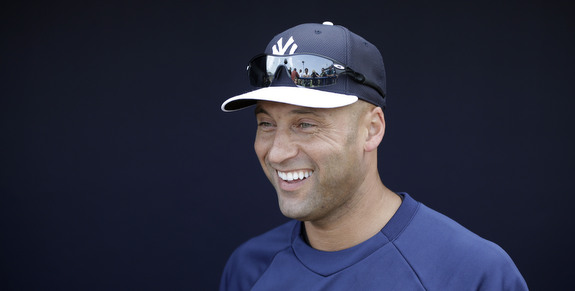 The Yankees have been getting above-average production from the shortstop position for nearly two decades now thanks to Derek Jeter, who continued to prove doubters/me wrong by hitting .316/.362/.429 (117 wRC+) with a league-leading 216 hits at age 38 last summer. His postseason ended prematurely due to a fractured left ankle — after playing on a bone bruise pretty much all September — that required offseason surgery, and he's yet to play this spring as he rehabs. The shortstop position is a question mark for New York and it's not just because of Jeter's injury.
The Starter
It will be Jeter, hell or high water. Despite his lack of Grapefruit League action to date, he hasn't suffered any kind of setback and is expected to be ready in time for Opening Day. The Yankees will, however, use the Cap'n as their DH against left-handed pitchers quite a bit (i.e. all the time) in April to give him the occasional break and day off his feet. They did something similar last year and will do it again this year, but it's a bit more of a necessity now.
Offensively, the projections hate Jeter because he's a 38-year-old shortstop coming off a major injury, but he's been legitimately driven the ball since working with former hitting coach Gary Denbo during his midseason DL stint in 2010. He's managed a .321/.369/.434 overall batting line in over 1,000 plate appearances since then — including a respectable .298/.351/.377 against righties, who handled him very well from 2010 through the start of the DL stint — which is no small sample. Those hits weren't ground balls with eyes or bloops in front of poor defensive outfielders, it's been vintage Jeter slashing the ball to right and occasionally over the fence.
The defense is what really concerns me. The Cap'n has pretty much always been a below-average defender and he hasn't gotten any better with age, but now we're adding the ankle injury on top of it. If he loses any more mobility, forget it. He'd be completely unplayable at shortstop even though the Yankees would never consider moving him down the defensive spectrum. Jeter's arm is fine and his glovework — he handles whatever he can get to — is strong, but his limited range could be even worse in 2013. With a ground ball heavy rotation (outside of Phil Hughes), it could be a major problem. For now the Yankees will count on Jeter to again ignite the offense from atop the lineup and live with his flaws, which is what they've been doing for several years now.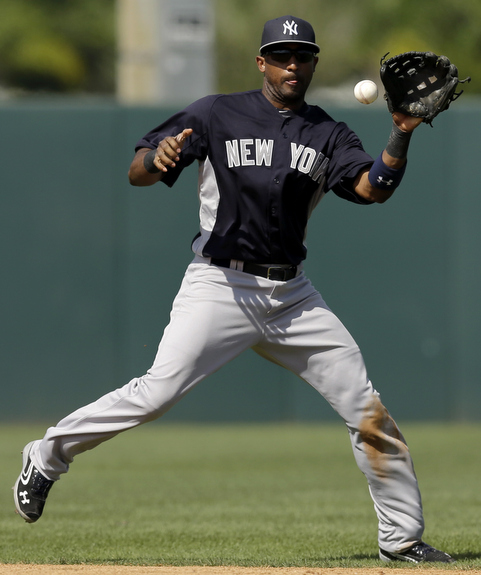 The Backup
It's obvious the Yankees want it to be Eduardo Nunez. They're giving him every opportunity to show he can handle the position, starting last year with his demotion and continuing this spring with his 36 defensive innings, two shy of team leader Melky Mesa. They've worked with him on shortening his arm action and all sorts of stuff, but nothing has taken. Still, they're apparently intrigued by the 25-year-old's offensive potential, which stems almost exclusively from his contact ability and speed. If they get their way, it will be Nunez soaking up all those shortstop innings while Jeter spends the day at DH against left-handed starters.
Jayson Nix is the only alternative here and is more of an emergency option at shortstop that someone you'd want to run out there several days in a row if need be. Neither he nor Nunez inspires much confidence, really.
Knocking on the Door
The Bombers do not have a shortstop prospect in Triple-A at all. There's an outside chance Nunez will get sent down to start the season, but I wouldn't count on it. The Scranton club will rely on the likes of 33-year-old Gil Velazquez and 26-year-olds Addison Maruszak and Reegie Corona at the infield's most important position. Velazquez and Corona are no-hit/all-glove types while Maruszak doesn't really do much of anything well. The team's only real in-house shortstop options are Jeter, Nunez, and Nix. They'd sooner make a trade than run Velazquez, Corona, or Maruszak out there semi-regularly.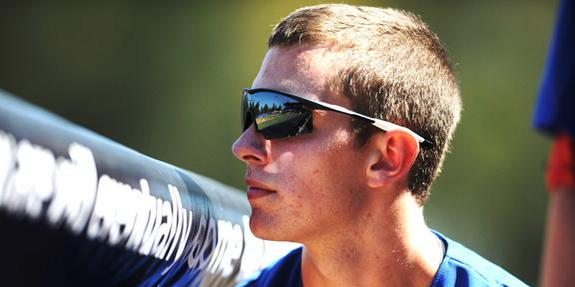 The Top Prospect
The Yankees don't have a standout shortstop prospect but they do have a very interesting one in 19-year-old Austin Aune, the team's 14th best prospect overall. Last summer's second rounder received a $1M bonus and hit .273/.358/.410 (130 wRC+) with one homer and five steals in 163 plate appearances for the rookie level Gulf Coast League affiliate, though his inexperience was evident in his 27.6% strikeout rate. Aune was a top quarterback recruit who passed on a commitment to TCU to sign with New York, so the Yankees are hoping that focusing on baseball full-time will allow him to reach his considerable ceiling. Aune has big power potential from the left side to go along with his strong throwing arm and athleticism, but there is a lot of work to be done. He'll likely begin the season in Extended Spring Training before joining Short Season Staten Island at midseason, so he's far from being a big league factor.
The Deep Sleeper
Cito Culver and Claudio Custodio are New York's most well-known lower-level shortstop prospects, but neither hit much last season or projects to be a real impact player. The Yankees' most intriguing shortstop prospect way down in the minors is 18-year-old Abi Avelino, who signed for $300k back in 2011. He's a standout defender with a good arm, good instincts, and good body control, and his offensive game is built around an easy right-handed swing that produces an awful lot contact. Avelino obviously has a long, long way to go before he becomes a factor in the Major Leagues, but he has all the tools to breakout and establish himself as one of the team's best prospects. The Yankees are expected to bring him stateside with one of their two rookie level GCL affiliates this summer.
* * *
The Curtis Granderson and Mark Teixeira injuries mean Jeter's return from his ankle surgery is extremely important to the team's early season success. He needs to get on the field, stay on the field, and get on-base so Robinson Cano has someone to drive in. The Yankees will ease him back into the shortstop position with those DH days, but the Cap'n's bat is the most important thing. There is no real immediate help at the position coming up behind Jeter just in case, that is unless Nunez suddenly figures out how to make routine throws. I'm not counting on it.
Other Previews: Catchers, First Basemen, Second Basemen