Another six questions this week, so I tried to keep the answers relatively short. If you want to send us anything throughout the week, use the Submit A Tip box in the sidebar.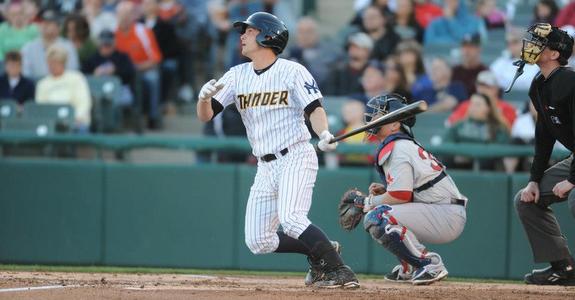 Andrew asks: How long do you think J.R. Murphy has to continue tearing the cover off the ball before he gets a shot? He can't be worse than Austin Romine or Chris Stewart. Seriously, I think it's statistically impossible.
Oh, it's possible. David Adams tore the cover off the ball in Triple-A but has been worse than Jayson Nix. Thomas Neal was worse than Vernon Wells after his big Triple-A performance. The "he can't be worse" idea is a terrible reason to make a move. They can almost always be worse.
With that said, I don't think the Yankees should replace Murphy with Romine, not right now. The kid just got to Triple-A and is having his first real standout season since turning pro, and I wouldn't risk screwing that up for the sake of upgrading the backup catcher spot. Not when Ramon Hernandez and Kelly Shoppach are freely available. Joe Girardi's not going to not play Chris Stewart, so I don't see the point of calling him up to play twice a week. Let Murphy work on his catching and continue to rake in Triple-A. Rushing a prospect to plug a big league hole would only compound the problem.
Mitchell asks: MLBTR says Aramis Ramirez and maybe Jonathan Lucroy are available. Does one or both make sense for the Yanks? And what would it take, do you think, to get him/them?
Matt wrote about Ramirez the other day, so all I'm going to add to that is that I don't like the idea of adding another aging veteran on the wrote side of 35 who is under contract through 2014. The Yankees have met their quota already. Ramirez would certainly help the team right now, but he's battling continued knee problems while his strikeouts are up and his power is down. Classic signs of decline in a slugger, otherwise known as "The Kevin Youkilis." Not a fan.
Lucroy, on the other hand, would be great for the Yankees. The 27-year-old has hit .274/.321/.443 (108 wRC+) this year and .285/.333/.443 (111 wRC+) since becoming the full-time catcher in 2011, plus he's signed affordably ($9M through 2016 with a $5.25M club option for 2017). Lucroy isn't all that good at throwing out attempted base-stealers but he grades out okay in the other defensive aspects of catching. Given his age and contract, I imagine it'll take quite a haul to get him. At least two very good prospects, probably two plus a third piece.
Paul asks: Joe Girardi has stacked lefties recently. The criticism is that late in games you are likely to have the platoon disadvantage as the opposing manager will deploy a lefty reliever. My question is this: isn't that a little negated by having the platoon advantage for the first 5-7 innings? What about neutralizing their righty relievers, or, better yet having them use a righty closer against your lefties?
Stacking the lefties isn't ideal because of those late game matchups, but given the current Yankees roster, I'm perfectly fine with it. They don't have many good hitters as it is, so the ones they do have need to bunched together if they want to generate any kind of rally. Breaking up Brett Gardner and Robinson Cano with Nix defeats the purpose, really. Those mid-to-late-inning lefty specialists are problematic, but stacking the left-handers is a net positive for New York right now given their personnel.
Ted asks: Can you guys please clarify injuries and insurance? If the Yankees are getting money back from insurance for Mark Teixeira's recent DL stint, then shouldn't they also have boatloads of money if they have insurance policies on Alex Rodriguez and Derek Jeter (not to mention all the other injuries)? Thanks!
From what I understand, team don't purchase insurance for everyone, nor do they fully insure the contract either. A lot of times teams will only get coverage for what is morbidly referred to as "total loss or death" because the premium are so damn high. For pitchers with huge contracts with CC Sabathia and Zack Greinke, the premiums could wind up costing more than the actual contract. In that case, they just pass. The Yankees are apparently getting 80% of Teixeira's salary back for this injury, but I have no idea what the case is for the other injured guys. I assume there's some protection in place, but who knows how much.
Brad asks: Next season, as everyone moves up a rung in the bullpen, do you think Dellin Betances gets a shot in the show?
It depends entirely on how well he pitches the rest of the season. If he continues this strong run, then yeah I think they would find room for him in the bullpen next year. Not as a setup man or anything like that, just as the last arm for blowout games or whatever. At least at first, he could always pitch his way into more responsibility.
If Betances starts pitching like he did as a starter, he'd be a candidate to get taken off the 40-man roster over the winter. There would be no value there. Joba Chamberlain, Boone Logan, and Mariano Rivera will all hit free agency after the season, so there figures to be some bullpen competition in Spring Training even if the Yankees sign a free agent reliever or two.
Steve asks: Any reason the Yanks wouldn't go after Eric Thames?
Not really. I mean, he isn't all that good. He's a career .250/.296/.431 (97 wRC+) hitter in 684 career big league plate appearances with awful, awful defense, yet he continues to put up very good numbers at Triple-A (124 wRC+ before being designated for assignment last week). Thames hasn't been resigned to Quad-A status yet, but he's getting there.
That said, he's 26 and a left-handed hitting outfielder with minor league options remaining. The Yankees also drafted Thames in the 39th round of the 2007 draft back in the day, so they liked him once upon a time. They have an open 40-man roster spot — Youkilis is prime 60-day DL bait as well — and an open outfield spot in Triple-A (for the time being), so it's close to a no risk move. I don't think it would be some great travesty if they passed, however.