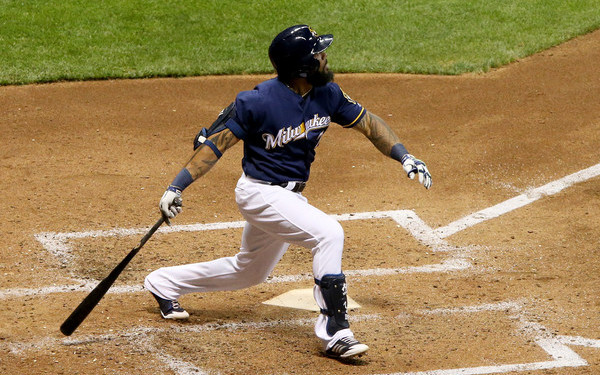 Barry Bonds has returned to Major League Baseball. Or at least an approximation of Barry Bonds has arrived. Eric Thames, the former Blue Jays outfield prospect, is currently hitting .370/.489/.904 (251 wRC+) with an MLB leading eleven home runs as a first baseman for the Brewers. Thames has always had power — he swatted 27 home runs in 130 Double-A games years ago — but now he's paired it with Joey Votto level plate discipline. He doesn't chase off the plate, and when pitchers throw a pitch in the zone, he crushes it. It's very Bonds-esque.
Thames, as I'm sure you know, returned to MLB this past offseason after spending the previous three seasons with the NC Dinos of the Korea Baseball Organization. He washed out with the Blue Jays and Mariners years ago, hit .349/.451/.721 with 124 home runs in 390 games with the Dinos from 2014-16, then signed a three-year deal worth $16M with Milwaukee in November. They signed him very early in the offseason. (The Brewers cut Chris Carter to clear a 40-man roster spot for Thames.)
That $16M contract is looking like a massive bargain right now — for what it's worth, FanGraphs values Thames' production at $15.3M this month alone — even though we know Thames probably won't keep up this pace all season. Or maybe he will. Who knows? Either way, there are 29 teams in baseball kicking themselves right now for not pursing Thames more aggressively during the offseason, including the Yankees, who originally drafted him in the 39th round of the 2007 draft. (He didn't sign and went back to Pepperdine for his senior year.)
"We talked to his agent, but the financial considerations weren't a match. It looks like (the Brewers) got a bargain. Good for them," said Brian Cashman to George King recently, acknowledging the Yankees checked in on Thames this offseason. The Yankees went into the offseason planning to sign a designated hitter, and, well, they're now paying Carter and Matt Holliday a combined $16.5M in 2017. Thames will make $16M total from 2017-19. D'oh!
Joel Sherman recently spoke to Adam Karon, Thames' agent, who explained he went into this past offseason with very specific demands. From Sherman:
Karon established three criteria to sign his player back in the majors or else Thames would either enlist back in Korea or perhaps go to Japan: 1) a three-year contract; 2) contractual language that prevented him from being sent back to the minors (he has one option left); 3) no platoons.
Add those three small demands together and you get one big "he needs to play every single day" demand. Right now that sounds silly. Of course he's going to play everyday! But back during the offseason, no one knew quite what to expect from Thames. After all, Byung-Ho Park put up Thames-level numbers in KBO, then came to MLB and found himself in Triple-A after three months. Park went unclaimed on waivers in Spring Training.
Knowing what they know now, of course the Yankees would have gone after Thames more aggressively, as would every team. They'd love to drop his military style plate discipline and Yankee Stadium friendly left-handed power into the middle of their lineup. A missed opportunity, this was. That all said, Karon's demands indicate Thames and the Yankees were never really a match from the start, for two big reasons.
1. The Yankees want to get under the luxury tax threshold soon. As good as Thames has been, no one really knew what to expect when he came back from Korea. The Yankees are trying like crazy to get under the luxury tax in 2018 and any multi-year contract will make it more difficult. That's why the Yankees focused on one-year deals with Holliday and Carter. Anything longer would make it harder to get under the luxury tax threshold next year.
That three-year, $16M deal Thames signed with the Brewers comes with a $5.33M average annual value — that's his luxury tax "hit," so to speak — which is little in baseball terms, but is real dollars. The Yankees would have had to outbid the Brewers — what if it would have taken, say, $9M a year to get Thames after a bidding war? — and they weren't willing to do that. Not with so much uncertainty surrounding his potential impact. Thames was a mystery as recently as four weeks ago, and the Yankees didn't want to tie up luxury tax space on an unknown.
2. The Yankees wanted to retain roster flexibility. The Yankees have a wonderful farm system with several high-end prospects close to the big leagues. Clint Frazier should arrive at some point this year and I don't think it's out of the question we'll see Gleyber Torres at some point too. Others like Tyler Wade and Dustin Fowler are also knocking on the door, and the Yankees want to be able to give these kids a chance when the time comes.
Between the three-year contract and the fact he can't be sent to the minors or platooned, Thames doesn't offer much roster flexibility. He'd get a set lineup spot, good or bad, which meant less playing time available for the prospects whenever they arrived. As it stands, the Yankees are already looking for ways to get Aaron Hicks in the lineup more often, and it won't be long before they're looking for ways to get Tyler Austin at-bats too.
* * *
Keep in mind free agency is a two-way street. A rebuilding team — a true rebuilding team like the Brewers, not a "transitioning" team that is trying to contend like the Yankees — always made the most sense for Thames because they could afford to give him a long leash. Do I wish the Yankees had signed Thames? Of course! Now I do. Back during the offseason, I was totally cool with looking elsewhere for a short-term DH. I wasn't too keen on the idea of committing multiple years to the DH, nevermind one with zero MLB success to his credit. Thames would look wonderful in the lineup right now. Back during the offseason though, the two sides didn't seem to match up all that well. C'est la vie.