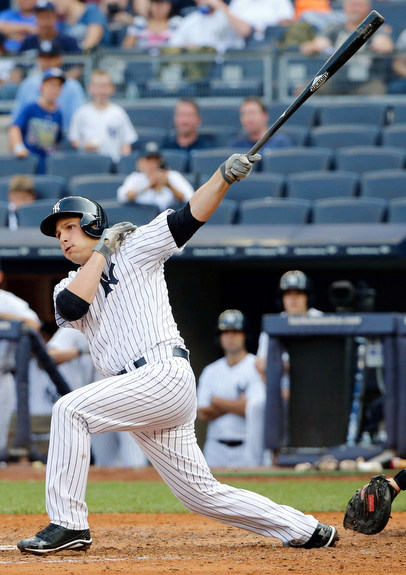 Baseball America wrapped up the Yankees-relevant portion of their league top 20 prospects series yesterday, posting the Double-A Eastern League (no subs. req'd). SS Xander Bogaerts (Red Sox), 3B Miguel Sano (Twins), and RHP Noah Syndergaard (Mets) make up the top three of a generally star-studded list.
C J.R. Murphy was the only Yankees farmhand to make the cut, and he ranked 18th. The 22-year-old hit .268/.352/.451 (116 wRC+) with six homers in 211 plate appearances for Double-A Trenton this summer before being bumped up to Triple-A Scranton (117 wRC+ in 257 plate appearances) and eventually finishing the season in the big leagues.
"Scouts now seen him as a potential regular catcher as his defensive chops have improved," said the subscriber-only write-up. "He has a line-drive stroke that he uses to spray balls to all fields …. Managers around the league noted how well Murphy handled Trenton's pitching staff and consistently ranked him as one of the better catch-and-throw guys in the circuit … His solid-average arm is accurate and aided by a quick transfer."
Neither OF Slade Heathcott and OF Tyler Austin did not make the list, obviously. In the subscriber-only chat, Josh Norris said "there were significant questions about [Heathcott's] plate discipline, makeup and being injury-prone," while "most evaluators I surveyed only thought of [Austin] as a fourth-outfielder type." Not exactly a ringing endorsement. OF Ramon Flores simply doesn't have enough power to be considered a top prospect, Norris added.
All of the Yankees-relevant lists have now been posted: Rookie Gulf Coast League (six players ranked), Short Season NY-Penn League (one), Low-A South Atlantic League (one), High-A Florida State League (two), and Triple-A Intentional League (zero). The rankings actually do a pretty good job of summarizing the state of the team's farm system. Lots of interesting talent at the lower levels but nothing at the upper levels to help the team in the immediate future, either as trade bait or by stepping into the roster. System in a nutshell.