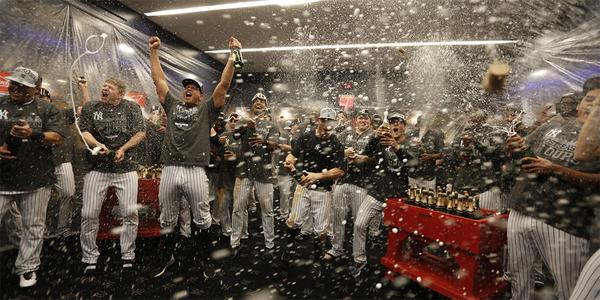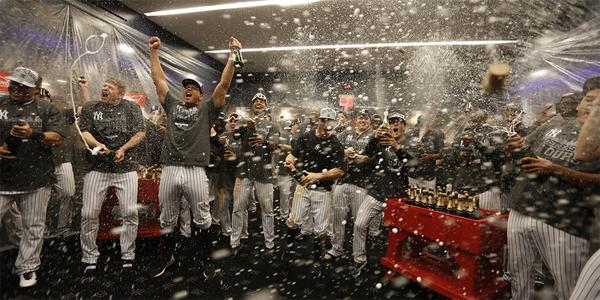 In a matter of hours, the 162 game marathon that is the Major League Baseball season will be officially over for everyone (unless we get some tiebreaker action!). The Yankees are one of ten teams both skilled enough and lucky enough to keep marching towards the ultimate goal of winning the World Series. As a team they already got to celebrate–and why shouldn't they? This is a team that very few people thought could make the playoffs. In most best-case scenarios in February and March, this was an 85-win team that might scratch at contending for the second wildcard spot. Now, they sit assured of a spot in that wildcard game that will probably (hopefully?!) be in the Bronx. The notion that the Yankees–or any team–shouldn't celebrate making the Wildcard Game is just silly to me. What that team is celebrating is not just the accomplishment of making it one more day, but acknowledging the impressive feat of being one of ten teams standing after 162 games. These celebrations are as much about–if not more–what has happened rather than what will happen. Anyway, now that the team has celebrated and been celebrated, let's take a look at some individual Yankee players and what they have to celebrate about 2015.
Starting with number one, there are some pitchers we should discuss; chief among them is Masahiro Tanaka. TANAK may not have been quite-as-brilliant in 2015 as he was in 2014, but this was still a successful year for him. By the way, let's talk for a moment about how crazy it is that I'm saying a year for a pitcher was "successful" and "not-quite-as-good" despite a K/BB of 5.71 and a WHIP of 0.994. The former is good for fifth in the AL among pitchers with at least 150 IP and the latter is good for first. Performance, though, is only part of why Tanaka's been successful this year. While he missed some time recently, his elbow has more or less held up despite a whole lot of armchair-doctoring by media and fans alike at the beginning of the season. There's a reason that doctors, the Yankees, and Tanaka didn't opt for surgery and this year has proved it a wise decision. His elbow ligaments could snap tomorrow, but that goes for any pitcher at any time and one should never have surgery when it isn't necessary. Try to imagine the Yankees' season without Tanaka in the rotation. He's the only one among the Yankees' starters with at least 100 IP who has an ERA+ of over 100 (114); without him, there's no way this team is in the postseason.
Sticking with the starters, there's Luis Severino. Few, expected him to be on the team this year; even fewer expected him to have this much of an impact as a starter. Despite some hiccups and some general first-time-in-the-Majors-rough-around-the-edgesness, Severnio has been spectacular. He's held his own against big lineups at times. He's flashed plus stuff. He's helped Tanaka carry the rotation in the second half and has definitely pitched his way into not only the playoffs, but also the 2016 rotation.
Lastly in the pitching category, appropriately enough, there's the dynamite combo of Andrew Miller and Dellin Betances. You'd be hard-pressed to find a better 1-2 bullpen combination than this one anywhere in the Majors. While Betances has looked more human lately, he managed to mostly repeat an incredible 2014 and he and Miller solidified a very-shaky-at-times relief corps to give the Yankees a much-needed late-game edge. Miller, meanwhile, stepped right into the line of Yankee closers and wowed us all year with a dominant fastball/slider combination that left many batters baffled. The back end of a bullpen is important in a regular season, but is paramount the in the playoffs; the more we see these two in the coming weeks, the more likely it is that they and the team have done something special.
Moving to the lineup, we'll start with number two–don't worry, this isn't going to be a position-by-position breakdown–and discuss Brian McCann and John Ryan Murphy. Like most of the Yankee offense, McCann hasn't looked great of late, but that doesn't mean this season isn't something to celebrate. He raised all four portions of his slash line from last year and managed to belt a career high 26 homers. He's also already tied his career high in RBI with 94, so anything he drives in today will represent a new career high. His backup also had a great season as JRM hit more-than-admirably and seemed like a veteran behind the plate in very limited duty. As a bonus, he also provided the hands-down best quote of 2015 by anyone in the Yankee organization.
I've already touched on Mark Teixeira's great season, so I'll be brief here. Tex had a fantastic season and his absence has definitely been felt in the last few weeks, even if Greg Bird has done incredibly well both for the team and himself, something completely unexpected in and of itself, and also worthy of celebration. The Yankees now have a very good problem regarding Bird, Tex, and the next two guys we'll touch on–Alex Rodriguez and Carlos Beltran–and how to get them all at bats.
Raise your hand if you thought Carlos Beltran wasn't toast after April. Put your damn hand down, you liar. At the end of April, Carlos had an OPS of .481 (!) and had exactly zero home runs. From May on, he's hit .292/.352/.506 with 19 homers. His bat was steady and stable throughout the summer and we'll finally get to see his playoff prowess put to the test.
Then, finally, there's Alex Rodriguez. Al. Al from Miami. Summer of Al. How many times did we tweet these things over the last few months? The finish hasn't been pretty, but how delusional would you have seemed in March if you said A-Rod was going to hit 33 homers this year? I thought he MIGHT, MAYBE hit 15-20 and be average overall at the plate. He completely shattered those expectations and now a finalist for Comeback Player of the year. Considering there were a lot of people who said he might never play a game for the Yankees again, this is nothing short of an amazing year for Alex and I couldn't be happier for him. Even though a lot of the crap he's dealt with is of his own doing, he still deserves to celebrate this year just as much as anyone, if not more. Here's hoping for a repeat of 2009 from Alex and his teammates.