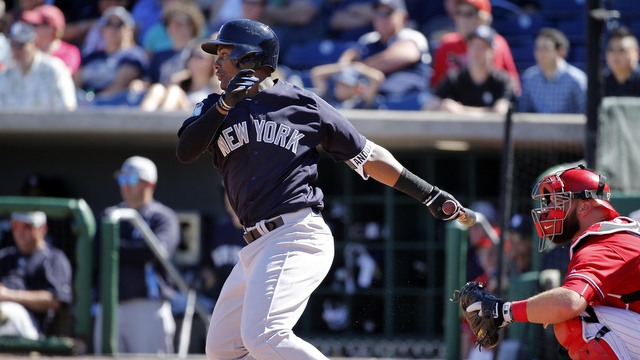 The Yankees will wrap up their first series of the season later today, then enjoy yet another off-day tomorrow. Two off-days in a series at a domed ballpark. Not the best move by the schedule makers. Anyway, here are some bits of news and notes to check out.
Minor league rosters announced
The minor league regular season begins tomorrow and, over the last few days, the Yankees' full season affiliates have started releasing their Opening Day rosters. The farm system is loaded, so the rosters are pretty exciting. Here are links to the rosters and the top 30 prospects at each level:
Triple-A Scranton: OF Dustin Fowler, OF Clint Frazier, LHP Jordan Montgomery, SS/OF Tyler Wade, OF Mason Williams
Double-A Trenton: 3B Miguel Andujar, RHP Chance Adams, IF Thairo Estrada, RHP Domingo German, RHP Chad Green, OF Billy McKinney, LHP Justus Sheffield, SS Gleyber Torres
High-A Tampa: Still waiting!
Low-A Charleston: RHP Albert Abreu, OF Estevan Florial, OF Leonardo Molina, SS Hoy Jun Park, OF Blake Rutherford
There's always one roster holdout and that is High-A Tampa this year. They haven't announced their roster yet. We can figure out which top 30 prospects are likely to be on the roster through the process of elimination though: RHP Domingo Acevedo, LHP Ian Clarkin, SS Kyle Holder, RHP James Kaprielian, SS/OF Jorge Mateo, LHP Josh Rogers, and RHP Dillon Tate. That's a hell of a rotation.
3B Dermis Garcia is not on the Charleston roster and will instead start the season back in Extended Spring Training. Even without him, the RiverDogs are stacked. Non-top 30 prospects like IF Oswaldo Cabrera, SS Diego Castillo, OF Isiah Gilliam, RHP Nick Green, RHP Nick Nelson, RHP Freicer Perez, and C Donny Sands are all on the roster and worth knowing. Cabrera, Castillo, Nelson, Perez, and especially Sands could be top 30 prospects next year.
I should note that while Montgomery and Green are on the Triple-A and Double-A rosters, respectively, both will pitch for High-A Tampa tomorrow. The weather in the Northeast isn't looking too good and the Yankees want to make sure those two get their work in and stay lined up for the fifth starter's spot.
Yankees rank third in Opening Day payroll
According to the Ronald Blum, the Yankees opened the 2017 season with a $195M payroll, third highest in MLB. That's down from $225M last year. The Dodgers (duh) rank first in payroll this year at $225M while the Tigers are second at $199.75M. This is the first time since 1993 that the Yankees are not among the top two teams in Opening Day payroll. Been a while, huh?
Keep in mind this payroll number reflects the Opening Day active roster and disabled list only, so the Yankees aren't getting dinged for the $21M they have to pay Alex Rodriguez this season. Or the $5.5M they're paying Brian McCann. Their payroll for luxury tax purposes is much higher. The Yankees are looking to get under the luxury tax threshold soon and the 2018 season will be their best chance to do it. A-Rod and CC Sabathia will be off the books, possibly Masahiro Tanaka as well.
Yankees, Betances discussed two-year deal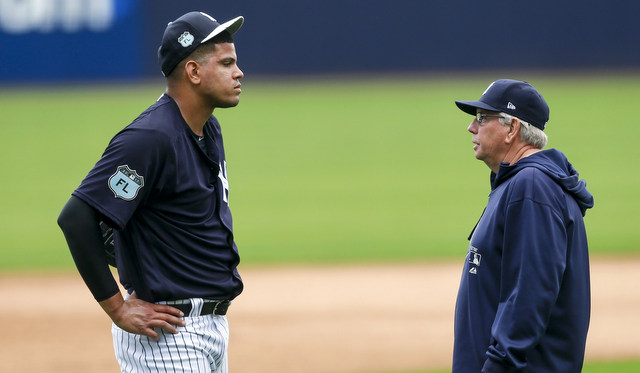 At some point prior to their arbitration hearing, the Yankees and Dellin Betances briefly discussed a two-year contract, reports Jon Heyman. We heard the two sides talked about a multiyear deal a few weeks ago, though now we know the term. It was a two-year deal, not a longer contract that would have bought out free agent years. The Yankees beat Betances in arbitration and will pay him $3M this season, not the $5M he was seeking.
Betances, 29, will not be eligible for free agency until after the 2019 season. A two-year contract would have given him a nice little guaranteed payday and the team cost certainty over his next two seasons. These two-year "bridge" deals that buy out arbitration years but not free agent years are becoming quite popular around baseball. Nolan Arenado, Josh Donaldson, A.J. Pollock, Eric Hosmer, Todd Frazier, and Bryce Harper are among those who have signed one within the last few years. As good as Betances is, I'm totally cool with going year-to-year given his history of command issues.
Tiebreaker rules officially added in low minors
The extra inning tiebreaker rules have officially been approved for the low minors, according to Josh Norris. Extra innings in the rookie level Gulf Coast League, Arizona League, and Dominican Summer League will begin with a runner on second base. (The Yankees have affiliates in the GCL and DSL.) The rules will be in effect for the regular season only. Not the postseason. Also, the automatic intentional walk rule has been implemented at every level of the minors.
The extra inning tiebreaker rules were used during the World Baseball Classic and my gosh, they were terrible. Thankfully commissioner Rob Manfred said they are not being considered for MLB. They're using the tiebreaker rules in the low minors to avoid overworking young pitchers, which is totally cool with me. Those games don't mean anything — the crowds are basically friends and family at that level, so it's not like there are many paying customers in attendance — and protecting the young players is the smart move. I'm guessing it'll be only a matter of time until the tiebreaker rules make their way to other levels of the minors.