The following is a guest post from Adam Moss, who goes by Roadgeek Adam in the comments. He's previously written guest posts on Tim McClelland, Frankie Crosetti, the No. 26, Casey Stengel, Leo Durocher, Miller Huggins, Jerry Kenney, the Copacabana incident, Mark Koenig, Earle Combs, Urban Shocker, Michael Milosevich, and Snuffy Stirnweiss.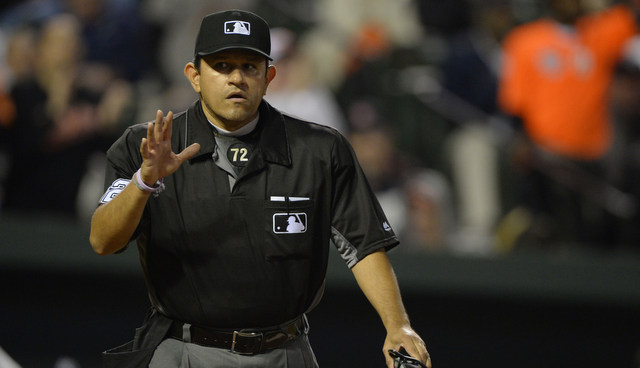 Just like in 2015, it is that time again. The New York Yankees are in the postseason (choose what you want to call it). I for one follow MLB and call it a postseason game. The team is playing the Minnesota Twins and since it is the postseason, my umpire reviews go from the comments section to the front page of RAB. During the season, there are four man crews. 92 umpires called games behind the plate this season. During the postseason, there are six umpires per game, which helps make tougher calls easier (or easier to blow, depending on your point of view.)  On Monday afternoon, Major League Baseball announced the assignments for the postseason, including our game. Let us look at who we have tonight.
Home Plate – Alfonso Marquez (No. 72)
Alfonso Marquez is our home plate umpire tonight. This is his 18th season in the majors and the first time calling a game in the Wild Card era. The native of Zacatecas, Mexico has three World Series assignments in his name (2006, 2011 and 2015). During the 2017 season, he amassed a 4.34 umpire's ERA in 27 games behind the plate. This is 50th of the 92 umpires who have called at least one game. For those who have read my pieces, you know I invest in many different numbers when rating an umpire. Marquez has a 9 hits/9 average, which is basically a hit per inning with him behind the plate. Marquez has a 3.5 walks/9 average, which is absurdly high statistically. As a result, it stands to reason that his 7.2 strikeouts/9 average is understandable. We have a hitter's umpire. Batters average a .263/.333/.442 line with Marquez behind the plate.
Strangely, we have not seen Marquez behind the plate this season. He was part of the series against the Angels at the Stadium in June and the Brewers at the Stadium in July. He never saw home plate.The Yankees do not have a checkered history with Marquez. Of his 57 ejections since his debut, only Kevin Long was ejected on July 1, 2014 for arguing balls and strikes. That was a game between the Rays and Yankees in which Hiroki Kuroda got no run support (shocking, I know). Marquez's debut was on May 13, 1999 in the second game of a doubleheader between the Montreal Expos and the Colorado Rockies as part of Jerry Crawford's crew.
First Base – Mike Winters (No. 33 – CC)
Mike Winters is the crew chief. I am going to use editorial privilege to say we should be glad we have Marquez and not Winters behind the plate. Winters has an aggravating strike zone and it is clearly obvious in the 2017 statistics. In 31 games behind the plate, the native of Carlsbad, California managed a 4.90 ERA (which was good enough for 5th of those who called at least 1 game; 4th for 2-plus because Dale Scott's career is over after a concussion hit early in the season). His numbers are similar to Marquez, but with some higher numbers. Winters had 9.1 H/9, 3.2 BB/9 and 8 K/9 in those games, and hitters averaged 1.4 HR/9 innings. The batting line was .263/.324/.448, which is a tad less than Marquez.
Winters is the crew chief and one of the remaining umpires who started in the 1980s. His crew is notable for being considered the 4 Ms (Marty Foster, Mike Muchlinski and Mark Wegner is his fellow crew). Hired by the National League, Winters made his debut on July 9, 1988 at Dodger Stadium in a game between the Pittsburgh Pirates and the Dodgers under the legend John McSherry's crew. His MLB postseason record is long with 4 World Series (2002, 2006, 2010 and 2015), 5 LCS (1997, 2004, 2008, 2011 and 2012), 10 LDS (1998, 1999, 2000, 2001, 2002, 2006, 2010, 2013, 2014 and 2015) and most importantly two Wild Card games (2012 and 2016).
Winters is a hothead. There's no denying his 103 ejections since his debut in 1988. Like Marquez, we have not seen Winters behind the plate and have not since June 12, 2016. He has two ejections historically against the Yankees, October 6, 2001 of Enrique Wilson for a called third strike and Joe Girardi on May 14, 2011 for arguing balls and strikes. Thankfully umpires are warned to not eject people unless absolutely positively necessary in the postseason.
Second Base – Eric Cooper (No. 56)
If Cooper's name sounds familiar, he was the home plate umpire for the 2015 American League Wild Card Game. To give you an idea of things, here is what I wrote in 2015:
The Des Moines, Iowa native, Eric Cooper, is our home plate umpire for tonight's game. Cooper, who was with the crew run by Gary Cederstrom (Crew Q), called home plate for 17 games in the 2015 season, logging a 3.79 umpire's ERA and a 1.20 umpire's WHIP. The former is good enough for 46th of the 89 umpires in Major League Baseball this year. Hitters with Cooper behind the plate have had 8.1 hits per 9 innings, a 2.7 walk per 9 innings, and 7.8 strikeouts per 9 innings rate, numbers that would lead you to believe he is a hitter's umpire. However, his tendency is to have a large strike zone and it shows. Cooper has called three no-hitters, including Hideo Nomo's 2001 over the Orioles and both of Mark Buerhle's in 2007 and 2009. Hitters are hitting a mere .241/.296/.401 with Cooper behind the plate and only a 1.04 HR per 9 innings, which also corresponds well to the size of the zone.
So, here are those numbers in 2017: Cooper had a 4.47 umpires' ERA behind the plate in 27 games with a 1.32 WHIP. He has a 8.9 H/9, 3.0 BB/9 and 8.7 K/9 line which should handle the idea that he is still an average umpire. It is within reason that his numbers are affected by the dubiously-juiced baseball. Batters had a line of .257/.317/.434. Everything reads average.
That day, I called him "Car Wreck" because of the famous moment when he got his first MLB World Series assignment:
Finally, the "Car Wreck" nickname comes from Cooper's World Series assignment last year, when Joe Torre called from New York to tell Cooper he would be umpiring the Fall Classic. He and his wife were in West Des Moines coming back from a showing of Gone Girl, and he nearly wrecked his car in amazement with his wife in it. They ended up switching positions in the car after the call. He ended up calling one of his fellow veteran umpires, and one of my favorites, the great Tim McClelland about the decision, who told him to "soak it all in."
As noted in the previous review, he has never ejected a Yankees member. He has had 4 more ejections since the last season, and none are of Yankees. For more information, just read my post from 2015, it tells you everything.
Third Base – Lance Barksdale (No. 23)
The last time we saw Lance Barksdale, it was during the series at Citi Field with the Tampa Bay Rays. Serving as the third member of Ted Barrett's crew, Barksdale was one of three members of that crew who lost their luggage. Everyone that series were required to use another umpires' coats, shirts, etc. for the purpose of wearing something. The native of Brookhaven, Mississippi (known as Robert Lance Barksdale), is a pitchers' umpire. His lines are normal in that area (8.5 H/9 and 8.6 K/9) except in walks per 9, in which he averages a high 3.6. Hitters have a .247/.324/.410 batting line with Barksdale behind the plate.
Barksdale and the Yankees have no history. Barksdale, who made his MLB debut on May 29, 2000 at Dodger Stadium in a game versus the Mets with Terry Craft's crew, has never ejected a New York Yankee on any occasion. He has 39 career ejections, managing to go the entire 2016 season without swinging his arm. Most importantly, this is his 2nd go-around at the Wild Card rodeo. He called right field in the 2013 National League Wild Card Game. He also has three Division Series to his name (2014, 2015 and 2016).
Left Field – Hal "Tripp" Gibson III (No. 73)
The first of the two postseason rookies, Hal Gibson III (known as Tripp Gibson) is calling the game in left field. The Mayfield, Kentucky native gets his first postseason appearance under this crew. He is one of the recent promotions to full-time status in the last two years due to a rash of retirements. In 28 games behind the plate, Gibson has a 4.63 ERA with a 1.33 WHIP. His numbers reek of hitter's umpire in everything except batting average. With Gibson behind the plate, batters average 8.9 H/9, 3.2 BB/9 and 8.4 K/9. The strange discrepancy is in his average of line which is .254/.322/.426.  The latter two make sense. The .254 batting average is average between hitters and pitchers ump. Because of the other numbers, I would say a hitter's umpire is a good description.
Being relatively new, the Yankees do not have much experience with him. The Yankees last saw Gibson in the last Red Sox series. Since his debut on July 8, 2013 between the Dodgers and Diamondbacks at Chase Field, he has all of 10 ejections, including three this season (Don Cooper on May 16; Andy Green on August 6; Jeff Banister on August 13). Three is not a career high, as he tossed five players/coaches in the 2015 season, his 2nd season of at least 120 games. There is not much to do in left field as an umpire. Hopefully he refrains from any flagrantly wrong infield fly calls.
Right Field – John Tumpane (No. 74)
The other postseason rookie is one we also saw last at the series in Citi Field against the Rays. John Tumpane, who I call "Tumpy," was the one who had donate his clothing for his fellow crew (Ted Barrett, Angel Hernandez and Lance Barksdale) to wear. As a result, all the umpires that series wore #74 on their arm. It has been a very up and down season for the 34-year old native of Evergreen Park, Illinois. Tumpane has a stringent strike zone and it reads in the statistics. Hitters average of all 8.1 H/9, 3.5 BB/9 (!), and 8.3 K/9. Borderline strikes are not his thing. Hitters had a .239/.313/.391 line. All of this culminated in a 3.83 ERA, good for 81st of the 92 umpires. As a result, he has had a busy season with the right-arm with players and managers. He has 6 ejections this season (a career high), leaving him 18 reports since his debut on August 2, 2010. None of are the Yankees, but he is on record as the last to eject Bartolo Colon, something no one had done in 11 years.
If the name John Tumpane sounds familiar, Tumpane made headlines while in Pittsburgh. Before calling a game behind home plate at PNC Park, he took a midday run and lunch from their hotel. While crossing the Roberto Clemente Bridge (the one visible in most scenes at PNC Park), he passed a woman climbing over the side of the bridge and looking down at the river. He grabbed the woman to prevent her from jumping and after some struggle, a passerby helped keep her down until emergency services arrived. Tumpane told her she would do so much better if she stayed alive. In justice, he worked the plate that night as the Pirates took down the Tampa Bay Rays. A hero at the right time when needed.
That said, tonight, hopefully he will be a non-issue.
Conclusion
A lot of the complaining in the last year has been about the idea of having a robot umpire behind the plate calling balls and strikes. It is a well-known fact on RAB that I do not support robot umpires and prefer the human aspect of the game (for the most part). That said, the only strike zone that matters tomorrow is Marquez's. I just included the numbers of the others like I do on Disqus when I write these reviews. I will be watching and hope you all enjoy knowing about our home plate umpires. If we do beat the Twins, I will write the next piece on Wednesday.