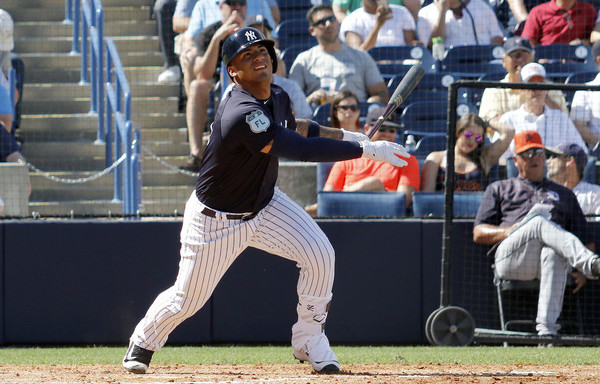 Monday night was the deadline for teams to set their 40-man roster for the Rule 5 Draft, and, as expected, the Yankees added top prospect SS Gleyber Torres to the 40-man. Also added were RHP Albert Abreu, RHP Domingo Acevedo, IF Thairo Estrada, RHP Jonathan Loaisiga, and OF Billy McKinney. The 40-man roster is now completely full. Garrett Cooper, Caleb Smith, Nick Rumbelow, and Ronald Herrera were all traded away in recent days to clear space.
Torres, 21 next month, is currently rehabbing from Tommy John surgery on his non-throwing elbow, and is expected to be ready in time for Spring Training. He came over from the Cubs in the Aroldis Chapman trade and hit .287/.383/.480 (141 wRC+) in 55 games between Double-A and Triple-A this season. MLB.com currently ranks Torres as the best prospect in baseball. Protecting him from the Rule 5 Draft was a no-brainer.
The 22-year-old Abreu is the second best prospect added to the 40-man, at least in my opinion. He came over from the Astros in the Brian McCann trade. Abreu had a 3.37 ERA (3.12 FIP) with 27.6% strikeouts and 8.1% walks in 53.1 Single-A innings around elbow and lat injuries this year. He then went to the Arizona Fall League and threw 27.2 innings with a 2.60 ERA in six starts. Great finish to the season, that was.
McKinney, 23, is a former first round pick who went from the Athletics to the Cubs (Jeff Samardzija trade), then from the Cubs to the Yankees (Chapman trade). He bounced back in a big way this season, hitting .277/.338/.483 (124 wRC+) with career high 16 homers in 124 games split between Double-A and Triple-A. The Yankees had McKinney start learning first base in the Arizona Fall League to increase his versatility. We heard he'd be added to the 40-man a few weeks ago.
The 21-year-old Estrada is a personal favorite, and he had a breakthrough with Double-A Trenton this season, hitting .301/.353/.392 (107 wRC+) with a tiny 10.3% strikeout rate. He's a good defensive shortstop who also has a lot of experience at second and third bases. Guys with good bat-to-ball skills and strong defensive chops on the middle infield are worth keeping around. The Yankees added a lot of talent to the 40-man today, but don't sleep on Thairo. Kid can play.
Acevedo, the prospect who goes by Big Sunday, threw 133 innings with a 3.25 ERA (3.25 FIP) with 26.0% strikeouts and 6.0% walks at three levels this season. The 23-year-old is one of the more divisive prospects in the system. On some days Acevedo will look like a future ace and on others he'll look like a middle reliever with little more than a big fastball. It's worth keeping him around to see how he develops, for sure.
Loaisiga, 23, is a lottery ticket the Yankees picked up a few years ago, after he had been released by the Giants. Loaisiga had Tommy John surgery last year, returned this year, and threw 32.2 innings with a 1.38 ERA (2.17 FIP) in the various short season leagues.
Johnny Lasagna has been getting talked up as a breakout prospect in recent weeks
, and these days rebuilding teams have no problem popping low minors kids in the Rule 5 Draft and stashing them on the roster all year. That's what the Padres did with Luis Torrens last year.
Among the notable prospects the Yankees are leaving exposed to the Rule 5 Draft are IF Abi Avelino, LHP Nestor Cortes, OF Rashad Crawford, RHP J.P. Feyereisen, 1B Mike Ford, RHP Anyelo Gomez, RHP Brady Lail, OF Alex Palma, and LHP Stephen Tarpley. I suspect Cortes and Gomez will get selected in the Rule 5 Draft. Feyereisen and Tarpley are candidates to get picked.
As a reminder, players selected in the Rule 5 Draft must remain on their new team's 25-man active big league roster all of next season, or be placed on waivers and offered back to the Yankees. Most Rule 5 Draft players do not stick. The Yankees lost four players in the Rule 5 Draft last season (Torrens, Smith, Tyler Jones, Tyler Webb) and all but Torrens were returned.