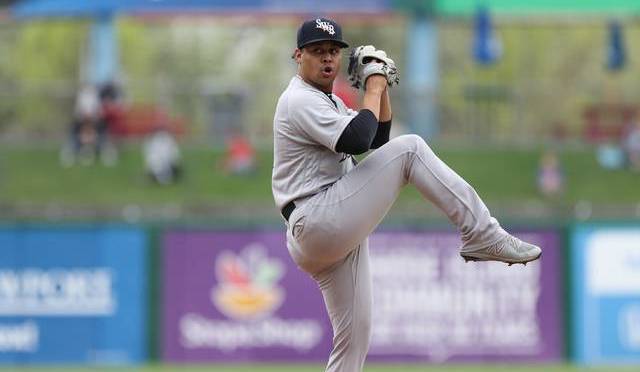 In one week and two days all 30 MLB teams will be able to expand their active roster from 25 players to 40 players. Most teams wind up carrying 30-35 players in September. September call-ups have become somewhat controversial but I am 100% for them. I explained why a few years ago. It seems likely the rules will change at some point in the future. Right now, the rules are what they are, and teams can have 40 active players on their roster as of next Saturday.
In recent years the Yankees have been a very aggressive September call-up team. They tend to call up lots of players and they call them up early. Some teams only add a third catcher and an extra reliever on September 1st. Not the Yankees. They go all out. Last year they called up five players on September 1st. The year before it was seven players on September 1st. The year before that? Eight players on September 1st. I expect lots of September 1st call-ups again.
So, with that in mind, let's take a moment to sort through the team's September call-up options and figure out where each player fits, if at all. Some call-ups are kept around for emergencies only. Spare long relievers and a third catcher, guys like that. Others are brought up for a specific reason or to fill a specific role. Let's get to it.
Injured Players
Might as well start here. The Yankees have lots of players on the disabled list right now and sometimes, rather conveniently, players will get healthy on September 1st. That happened with Matt Holliday last year. He was on the disabled list with a back issue and was activated on the first day rosters expanded. Funny how that works.
Aaron Judge (wrist) and Clint Frazier (post-concussion migraines) are both making progress but it seems very unlikely either will be ready to return next Saturday. Gary Sanchez, however, will begin a minor league rehab assignment either today or tomorrow. He's going to play a few games in the rookie Gulf Coast League before joining Triple-A Scranton for what Aaron Boone called a "week's worth of games." Sure seems like Gary will return on September 1st.
Didi Gregorius is eligible to be activated next Thursday and it's unclear right now whether he'll be ready to be activated that day. The Yankees said they have to see how his heel responds the next few days before knowing when he'll return. If Gregorius is ready to go Thursday, would the Yankees give him the proverbial two extra days and wait until Saturday to activate him? I don't think so, but you never know. It would be quite easy to give Didi those two extra days to make sure he's 100% ready to go.
Aroldis Chapman landed on the disabled list yesterday and he isn't even eligible to be activated until next Saturday, so even if he comes back after the minimum ten days, he'll return with expanded rosters. That makes life easy. Whenever Chapman is healthy, the Yankees will activate him and add him to the roster. They won't have to send someone else down to accommodate him.
The Up & Down Guys
Okay, let's get to the minor leaguers. Generally speaking, the first wave of September call-ups — those are the September 1st guys — are players who have been going up and down all year. Many of them are already in the big leagues because of the injuries though. Tommy Kahnle, Ronald Torreyes, Luke Voit … they're with the Yankees now. If I'd written this post a week ago, those three would've been identified as September 1st call-ups.
There are two up-and-down guys in Triple-A right now: Tyler Wade and Luis Cessa. I expect both to come up on September 1st. Wade to give the Yankees another bench player (a four-man bench? madness!) and Cessa to be another long man and occasional spot starter. The only thing with Cessa is that he might come up as the 26th man for Saturday's doubleheader game in Baltimore. If he does, he has to go back down after the game, then he'll have to wait ten days to be called back up. The ten-day rules means Cessa won't be eligible to be called back up until September 4th. Point is, as soon as he's eligible, I think Cessa comes up.
40-Man Guys Who Might Have To Wait
At the moment the Yankees have five healthy players on the 40-man roster and in the minors: Cessa, Wade, Albert Abreu, Ryan Bollinger, and Chris Rabago. I am fairly certain Chance Adams will be sent down tomorrow when CC Sabathia is activated — Adams threw 46 ineffective pitches last night and I don't see the Yankees keeping him around when Sabathia returns — so it's really six healthy players on the 40-man and in the minors.
Abreu is a Single-A pitcher who's thrown 62.2 innings around injuries this year. There is no reason to call him up in September only to have him sit in the bullpen as the 38th or 39th or 40th guy on the roster. Abreu needs to pitch. He needs to spend September in Instructional League in Tampa. That's the best thing for his development. Rabago was claimed on waivers yesterday and is a light-hitting Double-A catcher. He's not a call-up candidate. He's a guy who gets dropped from the 40-man roster when a spot is needed.
Bollinger has had two one-day stints with the Yankees as an emergency arm this year and I don't think he's getting a September call-up. He is much more likely to be dropped from the 40-man roster to clear a spot for someone else. Bollinger is not even in Triple-A. He's a 27-year-old journeyman with a 4.03 ERA (3.42 FIP) in 91.2 Double-A innings. Those two call-ups were "we need a warm body" call-ups, not "we like this guy" call-ups. Sorry, Ryan.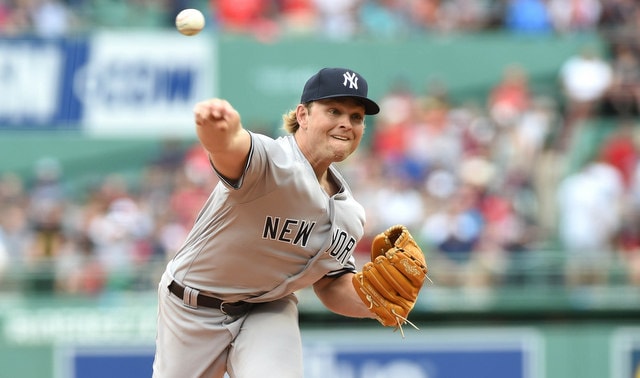 As for Adams, assuming he is sent down for Sabathia, he will be back in September for sure. I wouldn't be surprised to see the Yankees leave him in Triple-A until Scranton's season is over though. They might not make the postseason, so it might be over soon, but if they do make the postseason, Adams could be part of the rotation. Remember, when the Yankees called Adams up for that spot start a few weeks ago, it was only because Cessa was unavailable. Letting Adams pitch in Triple-A through the end of their season seems like the way to go.
The Yankees have three injured minor league pitchers on the 40-man roster right now: Domingo Acevedo, Domingo German, and Jonathan Loaisiga. All three recently started pitching in rehab games but might not be ready to come up on September 1st. I think German comes up right away, as soon as he's deemed fit for MLB. Acevedo and Loaisiga need innings and I expect both to stay with Double-A Trenton through the postseason. (Trenton is definitely going to the postseason.) German comes up as soon as he's healthy. Acevedo and Loaisiga are probably going to have to wait.
Non-40-Man Roster Players
The shift to the bullpen earlier this week all but confirmed Justus Sheffield will be called up in September. The Yankees say they are going to give him 3-4 relief appearances in Triple-A — that suggests he could be a September 1st call-up — to prepare him for bullpen work in the big leagues. A September call-up has felt inevitable for weeks now. Now we know it'll happen, and we know Sheffield will work out of the bullpen.
"We're starting to transition him to the bullpen so that hopefully he can get a couple of outings under his belt down there, and then play a part with us in our 'pen down the stretch," said Boone after the Sheffield move was announced. "We think there's some great value he could bring."
Sheffield is getting called up in September. Stephen Tarpley might as well. Brian Cashman mentioned the southpaw by name last week when discussing call-up candidates. Tarpley has been excellent this year — his 71.0% ground ball rate leads affiliated baseball — and he'll almost certainly be added to the 40-man roster after the season to avoid Rule 5 Draft exposure. I think he'll get added to the 40-man in September and called up. Will he pitch? Probably in mop-up duty only, and that's fine. Countless relievers broke in as September mop-up guys.
There are three other non-40-man players who I think I have a chance to be called up in September: George Kontos, Erik Swanson, and Gio Urshela. I don't see guys like Mike Ford or Ryan McBroom or Abi Avelino getting called up. Avelino is the only real prospect of the bunch and he's a fringe guy who might not get a 40-man spot after the season. Injuries could always force a call-up. I just don't see the Yankees creating 40-man space to call those guys up though.
My hunch is George Kontos will be a September 1st call-up guy. I thought it was pretty weird a guy with his track record and service time accepted an outright assignment to Triple-A when he was designated for assignment last week. Usually a guy in his spot elects free agency and finds a team with a better shot at MLB playing time. Seems like their might've been an "accept the outright, go to Triple-A for two weeks, and we'll call you up on September 1st" conversation at some point.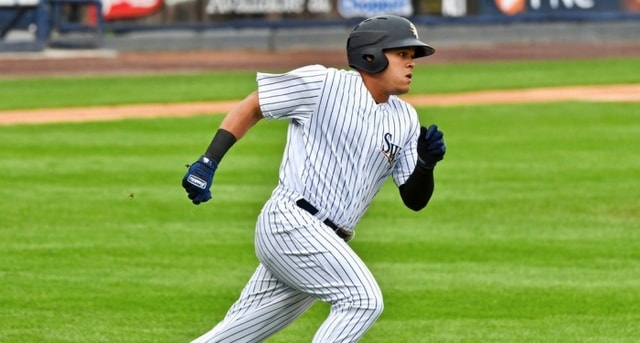 Urshela is an interesting case. The Yankees got him in a cash trade earlier this month and he's played well with Triple-A Scranton, hitting .310/.333/.483 in 16 games. He's a fantastic gloveman who would be a great defensive replacement for Miguel Andujar. How many infielders do the Yankees want to carry though? They'll already have Wade and Ronald Torreyes on the September bench, plus Neil Walker could always play the infield as well. The x-factor here might be whether the Yankees want to keep Urshela for next year. Add him to the 40-man, play him in September, keep him over the winter, then bring him to camp next year? Hmmm.
Swanson? I think he'll fall victim to the numbers crunch. Cashman did mention him by name along with Tarpley last week, but Swanson has already thrown a career high 109.1 innings this year, and the Yankees are already set to carry several spare September long men (Cessa, German, eventually Loaisiga). Do they need another one? Do they want to clear a 40-man spot to carry another one? I don't think so. Either way, Swanson figures to stay in Triple-A through the postseason before being called up, if he is called up at all.
As for 40-man space, the Yankees are full after claiming Rabago yesterday. Both he and Bollinger can easily be dropped to open space though. Is Clint Frazier a 60-day DL candidate at this point? The Yankees could call up the injured Thairo Estrada and put him on the 60-day DL to clear another spot. That means giving Thairo a month of big league pay and service time, but that's not a huge deal. They've done it before. Looks to me the Yankees have three easily available 40-man spots (Sheffield, Tarpley, Kontos?), and possibly a fourth if Frazier is indeed a 60-day DL guy.
What About A Designated Pinch-Runner?
Contending teams will often call up a crazy fast guy specifically to pinch-run and sometimes that guy winds up on the postseason roster too. Two years ago the Yankees made a minor trade for Eric Young Jr. to be their designated pinch-runner. Remember Rico Noel in 2015? Heck, Freddy Guzman was on the 2009 postseason roster as the pinch-runner. He pinch-ran twice in the team's 15 postseason games.
Last year the Yankees did not acquire a designated pinch-runner. Why? Because they had Jacoby Ellsbury on the bench, and also Wade, who is fast as hell. Shane Robinson can also run. I don't think the Yankees will trade for a Young or Noel or Guzman type this year, even with Ellsbury injured. I think they'll use Wade as their primary pinch-runner with Robinson the secondary option. Never say never. Trading for a dude to pinch-run just seems so unlikely this year.
What About The Luxury Tax?
September call-ups of course count against the luxury tax payroll. Every player on the active roster or big league disabled list counts. Based on my last estimate, the Yankees have about $3.3M in wiggle room under the $197M luxury tax threshold. That number is probably closer to $2.8M or $2.9M now because the Yankees have had to call up injury replacements the last few weeks, but still, that's plenty.
Just consider the "worst" case September call-up scenario. Say the Yankees call up the maximum 15 players on September 1st and they're all making $600,000 at the MLB level. That is $3,225.81 per day per player. Call it $3,300 to make the math easy. Fifteen players times 30 days in September (the season ends September 30th) times $3,300 per day equals $1.485M added to the luxury tax payroll. That fits within the team's available payroll, and remember, this is a very conservative example. Fifteen players making $600,000? Not happening. The luxury tax won't be an issue for September call-ups.
* * *
Now that I think about it, I don't expect Acevedo to get a September call-up. He did spend one day in the big leagues earlier this year, but that was an emergency situation. Injuries have limited Acevedo 63.2 innings this season — he threw a career high 133 innings last year — and the Yankees may rather send him to Instructional League so he can actually pitch. Acevedo would be what, the 15th option out of the bullpen in September? Yeah, I think he gets a call-up.
Okay, so based on all that, here are the call-ups I expect to happen in September:
September 1st: Cessa (September 4th?), Kontos, Sheffield, Wade
Called up/activated once healthy: Chapman, German, Gregorius, Sanchez
Called up after minor league seasons ends: Adams, Loaisiga, Tarpley
Not including the injured big leaguers, that is eight players added to the roster in September. Judge and hopefully Frazier will be activated at some point as well. So that's eight minor league call-ups (Adams, Cessa, German, Kontos, Loaisiga, Sheffield, Tarpley, Wade) and five injury activations (Chapman, Frazier, Gregorius, Judge, Sanchez), giving the team 13 additional players in September and a 38-man roster.
Urshela is the wildcard here, moreso than Swanson. I don't expect the Yankees to open up a 40-man spot to carry yet another pitcher in September. (Another pitcher who doesn't figure to pitch much.) Urshela would be a high-end defensive caddy for Andujar and another warm body for mass substitutions in blowouts. The Yankees will need 40-man spots for Kontos, Sheffield, and Tarpley. If they open another one, I think it goes to Urshela. Another pitcher is overkill, even in September.