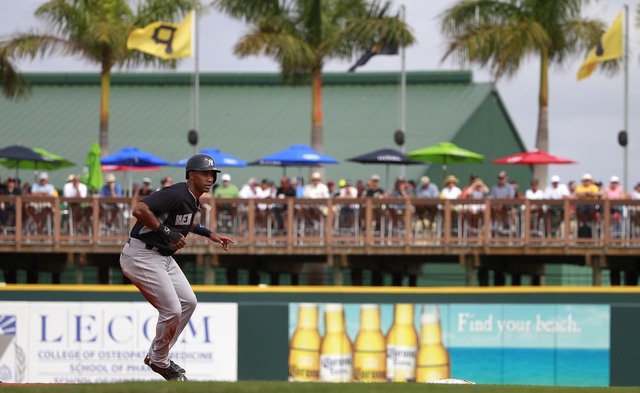 For the first of three times this spring, the Yankees are playing a pair of split squad games today. Half the team will face the Phillies in Clearwater this afternoon and the other half will face the Pirates at home in Tampa later tonight. Only the afternoon game will be broadcast, however. That's better than nothing in my book.
Because they're playing two split squad games today, the Yankees called up several players from minor league camp for this afternoon's trip. They sent a skeleton crew of big leaguers — the minimum four required for a Spring Training road game — with a whole bunch of prospects and organizational player types. As you can imagine, most of the veteran big league players stayed in Tampa and will play the home game tonight.
Today's reason to watch: Prospects! The Yankees' three best position player prospects (according to me!) are in the starting lineup this afternoon and their most recent true first round pick is up from minor league camp and scheduled to come off the bench. Oh, and Bryan Mitchell is making his spring debut. He's kind of important this year as the team's default sixth or seventh (or eighth) starter.
Here is the starting lineup for the first of today's two games:
Available Pitchers: RHP Nick Goody, RHP Jaron Long, LHP Matt Tracy, and RHP Mark Montgomery are all scheduled to pitch. LHP James Pazos, RHP Caleb Cotham, and RHP Branden Pinder are the extra arms.
Available Position Players: C Kyle Higashioka, 1B Kyle Roller, 2B Rob Refsnyder, SS Nick Noonan, 3B Eric Jagielo, LF Michael O'Neill, CF Mason Williams, RF Taylor Dugas, and DH Trent Garrison will all come off the bench. C Alvaro Noreiga is also on the trip and available if needed.
It's cloudy with temperatures in the low-70s in Clearwater this afternoon, but there's no rain in the forecast and that's what matters. If you're in the Philadelphia market, you can watch this afternoon's game on television on CSN. If you're not, you're stuck watching online on MLB.tv. There is no live YES or MLB Network feed this afternoon. Sucks, but hooray MLB.tv. Enjoy the game everyone.