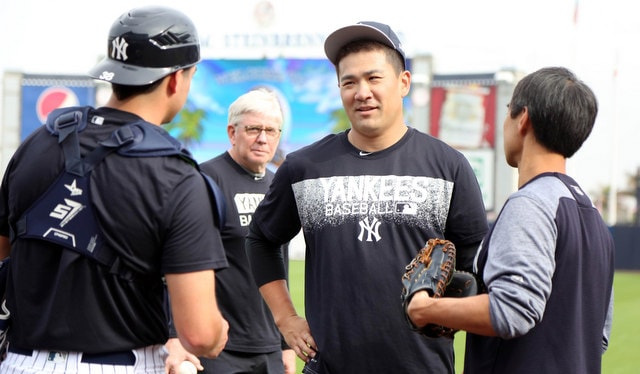 This is the second week of Spring Training, and all the regular members of pitching staff are starting to get into games. Dellin Betances made his spring debut Wednesday and CC Sabathia made his spring debut yesterday. Today it's Masahiro Tanaka's turn. To further point out the meaninglessness of Grapefruit League stats, here are Tanaka's last two springs:
2016: 7.36 ERA (3.07 ERA during regular season)
2017: 0.38 ERA (4.74 ERA during regular season)
Yup. Get your work in, don't get hurt, then get ready for the next start in five days. That is the goal for today. Tanaka is a big league veteran now. He knows what he has to do in the spring to prepare for the season. Here is the Braves' lineup — top prospect Ronald Acuna made the trip, so that's fun — and here is the Yankees' lineup:
LF Brett Gardner
RF Aaron Judge
DH Giancarlo Stanton
C Gary Sanchez
1B Greg Bird
SS Didi Gregorius
3B Miguel Andujar
CF Estevan Florial
2B Tyler Wade
RHP Masahiro Tanaka
Apparently Russell Wilson might get an at-bat today. "It looks like I'm going to get a chance to get an at-bat, potentially. You guys are going to have to pay attention," he said to Bryan Hoch. Wilson is leaving Sunday morning, so if the Yankees give him an at-bat, I imagine they'll do it today at home rather than tomorrow on the road. We'll see.
Anyway, the weather in Tampa is much nicer than it is here in New York today. Good grief is it nasty out. Partly cloudy and warm down at George M. Steinbrenner Field. No rain in the forecast. Today's game will begin at 1:05pm ET and you'll be able to watch on YES locally and MLB.tv nationally. Enjoy.