Not dead yet! The Yankees were one out away from elimination Wednesday night, but Mark Teixeira kept the season alive with a colossal walk-off grand slam against the Red Sox. How about that? The final score was 5-3 good guys. Amazing. Love this team, you guys.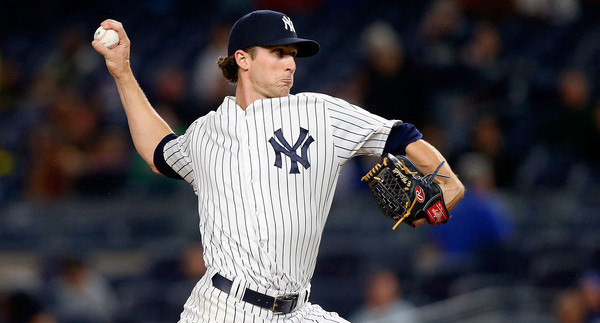 That's Mr. Mitchell To You
What a way for Bryan Mitchell to close out his season. This was a tough year for him because of the freak toe injury, but in his final start Wednesday night, he held the high-powered Red Sox to two stupid little hits in seven shutout innings. He did walked five and strike out only two, so that's no good, but hey, seven scoreless innings is seven scoreless innings. This is a start Mitchell can take into the offseason and feel really, really great about.
Mitchell's biggest jam of the night was self-inflicted. He walked Hanley Ramirez on four pitches to open the fifth, then Gary Sanchez bailed his pitcher out by throwing Hanley out trying to steal. Replays showed Chase Headley, who was over there playing the shift, missed the initial tag, but got Ramirez with a follow-up tag when his foot game off the bag for an instant. Hooray replay! Mitchell then walked Jackie Bradley Jr. and Brock Holt, so he walked each of the first three batters in the inning. The next two guys made outs on the first pitch to end the threat.
The seventh inning got a little dicey as well thanks to a leadoff single and a two-out walk, but Joe Girardi stuck with Mitchell and let him work through the mess, which he did. Sandy Leon grounded out weakly to end the inning and Mitchell's night. All told, the young right-hander pitched to a 3.24 ERA (4.22 FIP) in five starts and 25 innings. He also walked more batters (12) than he struck out (11), and that's never good. Still, Mitchell can feel pretty good about what he did in these five starts, especially after the dumb toe injury.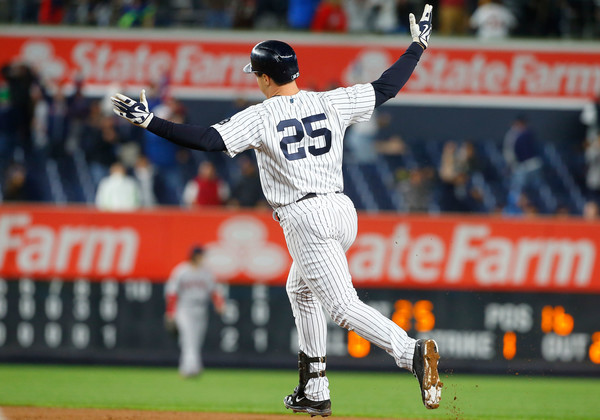 BLOWN SAVE
We can skip over the Red Sox scoring their three runs, right? Mookie Betts hit a two-run chopper over Headley's head, then a Sanchez passed ball allowed the third run to cross the plate. All three runs came in the eighth inning to break the scoreless tie. I'm not sure we need to relive that half-inning any more than that.
So anyway, the Yankees did a whole bunch of nothing offensively for the first eight innings. They had four baserunners in those eight innings: a single and two walks by Brett Gardner, and a walk by Teixeira. That's it. The offense couldn't get anything going on against Clay Buchholz, annoyingly. We've seen a few too many games like this, where the bats are completely silent.
The ninth inning rally started with a Gardner single and continued with three straight walks by Craig Kimbrel. The third of those three walks was maybe the at-bat of the season. Brian McCann fell behind in the count 0-2 before working an eleven-pitch walk to force in a run. Sanchez walked immediately prior to that and Kimbrel threw him nothing but curveballs. Didn't even bother to throw a fastball. The rookie's getting some respect already.
After the McCann walk, both Starlin Castro and Didi Gregorius made quick and unproductive outs. Castro struck out on three pitches and Didi popped up in foul territory. Those two aren't the most disciplined hitters in the world. The Yankees were down 3-1 with two outs after that, though the bases were loaded. Then Teixeira did this:
"I hope this was my last home run. I really do. That was incredible. These fans. I love you guys," said Teixeira during the on-field interview with YES after the walk-off grand slam. What an awesome moment. I can't stop thinking about Teixeira yelling "blow save!" at Jason Grilli from the dugout Monday night after that ninth inning homer. He's been doing a lot of save-blowing of late. (Phrasing!)
I wonder if Teixeira will sit out the last four games of the season so he can go out with the walk-off grand slam as his final act on a baseball field. Probably not, but who knows. That was a pretty awesome moment. Did you know this is his first ever regular season walk-off homer? Crazy. He had one in Game Two of the 2009 ALDS, but never before in the regular season. Go Tex.
Leftovers
Adam Warren was charged with all three runs, but only one was earned because Castro made a bad error to allow the leadoff runner to reach base. It was a soft ground ball right to him, and he just bobbled it. Pretty bad. Tommy Layne, Jonathan Holder, and James Pazos all pitched in this one too. Pazos picked up his first career win, so congrats to him.
The Yankees had three hits total (two Gardner singles, Teixeira grand slam) and also six walks, including three in that ninth inning. They didn't have a runner reach third base until the final inning. Gardner (two), Jacoby Ellsbury, Sanchez, McCann, and Teixeira drew the walks. Not much offense, but timing is everything is in this game, so it was enough to win.
The Orioles beat the Blue Jays, which means the Yankees' tragic number is down to one. One more loss or one more Orioles win knocks New York from playoff contention. Here's what needs to happen these next four days:
Yankees go 4-0 (one vs. Red Sox, three vs. Orioles)
Orioles go 0-4 (one vs. Blue Jays, three vs. Yankees)
Tigers go 1-3 or worse (one vs. Indians, three vs. Braves)
Mariners go 2-2 or worse (four vs. Athletics)
Astros go 2-1 or worse (three vs. Angels)
If all of that happens, the Yankees and Orioles will tie for the second wildcard spot. That's the best the Yankees can do at this point. They can't win the second wildcard spot outright. It's a Game 163 tiebreaker or bust.
The win was the 82nd of the season for the Yankees, clinching a winning season for the 24th (!) straight year. The 1926-64 Yankees had a winning record in 39 straight season, which is bonkers. If the Yankees keep this current streak going and match that 39-season streak, Gary Sanchez will be 38 when they get there. Geez.
And finally, the Red Sox clinched the AL East title because the Blue Jays lost, but you know what? They clinched in literally the worst way possible and they didn't get to celebrate on the field at Yankee Stadium. I'll take it.
Box Score, WPA Graph & Standings
Go on over to ESPN for the box score and updated standings, then MLB.com for the video highlights. We have Bullpen Workload and Announcer Standings pages. Here's the amazingly awesome win probability graph:
Up Next
The Yankees will look to finish the sweep Thursday night against a presumably hungover Red Sox team. CC Sabathia and fellow lefty Henry Owens will be on the mound. RAB Tickets can get you in the door for that game or any of the other three games left this season.