By

Here's a fun one to while away the last two innings of this excruciating compelling Spring Training match-up between the Yanks and Blue Jays: Earlier today, Pete Abe wrote a short post on rooting for a player because of a shared characteristic. In the 1930s and 1940s, for example, my grandparents and a lot of their fellow New Yorkers rooted for Hank Greenberg because he's Jewish. I'm pulling for the Pirates' Pedro Alvarez because he and I went to the same high school, he graduated with my sister and I played baseball with him for a day when he was 14 and I was 18. So RAB readers: Which players do you root for because of some random connection? Spill the beans. · (105) ·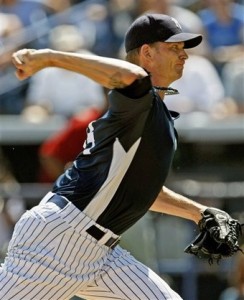 Looking to improve upon his stellar spring (6 IP, 1 baserunner), AJ Burnett will face his most recent former team tonight, the Toronto Blue Jays. Well, at least a bunch of guys wearing the Jays uni anyway. Only three players off the Jays projected starting nine made the trip to Tampa, the best of the bunch being second baseman Aaron Hill. The opposing starter will be Casey Janssen, who missed all of 2008 due to a torn labrum.
Following Burnett will be Mariano Rivera, who's going to make his second appearance of the spring. Based on his last outing, Mo's already in midseason form. Jorge Posada will make his third appearance behind the plate tonight and will probably catch five or six innings. Here's the rest of the starting nine:
Posada, C
Damon, LF
Swisher, 1B
Matsui, DH
Nady, RF
Ransom, 3B
Melky, CF
Berroa, SS
Pena, 2B
Scheduled Pitchers: AJ Burnett, Mariano Rivera, Edwar Ramirez, Dan Giese, Brian Bruney
YES will have the action, first pitch is at 7:15.
Photo Credit: Kathy Willens, AP
By

Sky Kalkman was a big contributor to the thread about an optimized Yankees lineup yesterday. Over at his home site today he breaks things down himself. We match up with Jeter and Teixeira hitting 1-2, but he plugs in Nick Swisher No. 3, where I had Johnny Damon. From there it's A-Rod, Matsui, Posada, Damon, Cano, and Gardner. I'm not a lefty-righty-lefty-righty junkie, but three lefties in a row is not something you'll see in many major league lineups. Still, it's a neat exercise in re-thinking the traditional roles in the batting order. Hey, at least he's not suggesting something crazy like Matsui hitting leadoff… · (5) ·
We've got new Yankee Stadium on the mind this week. After looking at the parks issue earlier today, I came across another bit on the current retro trend in stadium design. This piece — on Fast Company via Shysterball — takes a more "old is old, new is new" approach to the new digs in New York.
While The New Yorker's architectural critic likes the new stadium, Fast Company's Zachary Wilson is underwhelmed. He writes:
Baseball fans are loyal not just to their teams, but also to the history of the game. Ever since Camden Yards opened in Baltimore in 1992, new stadiums have chased nostalgia. "Teams want to rebirth themselves into who they were in the first era of baseball," says HOK Sport senior principal Earl Santee. "People want to see a traditional sport like baseball played in a traditional building." So the Yankees' new $1.3 billion park echoes their original 1923 one, with the same vaulted arches and stone facade. The main entry is still at Gate 4, guarded by golden eagles, and the seats are the same blue.

For the price, the Yankees didn't make much architectural progress, but that's not what they intended. "U.S. clients are more conservative, especially in the baseball industry. Architects get roped into doing retro ballparks over and over," says Manica Architecture principal David Manica, who is designing stadiums in China and Belarus. "We're trying to push clients in the U.S. to think in a different way, but international clients are just more open to experimenting." For example, Manica has a project in Guangzhou, China, that will look like a spaceship, while HOK Sport's Nanjing Olympic Sports Centre, also in China, has huge, glowing red arches that show the firm's daring side…

The focus on nonbaseball elements foreshadows a more multidimensional future for stadiums. Until now, they've been mostly single-use venues plopped on a plot of land with little regard for the surroundings. Fans came, they saw, they left. But the stadium of the future must be — and do — much more. "These very expensive facilities just cannot sit empty for days and days," says Steve Burrows, director of the London-based venue-design firm Arup Sport. "You need to build some retail and commercial to give the stadium life every day. When it works, it's like a magnet."
Wilson ends in calling both CitiField and new Yankee Stadium "bold, costly and disappointingly retro." What though is the alternative?
The Yankees were replacing a historic building and opted for a new take on the old façade. The Mets were replacing a dump and are opening a modernized stadium evoking Ebbets Field. Perhaps these buildings aren't as crazy as the Water Cube in Beijing, but are they really supposed to be?
CitiField and Yankee Stadium are baseball stadiums designed to bring modern amenities in a setting that relates back to the rich and stories history of baseball in New York. Maybe, as Craig at Shysterball writes, architects should think about instilling a modern sensibility into new stadium design, but there's nothing wrong with tipping the past at the same time.
You know what's a great complement to the NCAA Tournament? Yep, the RAB Radio Show. Watch your favorite teams on TV while listening to your favorite radio hosts on your computer. Ok, done with the cheezy intro.
As we get closer to the season, there will be a lot more to talk about. The show goes a bit long today, with Mike and I just talking some baseball for a bit. We do discuss the Yanks, particularly the pitching staff. We're pleased with what we've seen.
One question we kick around: With Angel Berroa likely to make the roster as a utility infielder and with Brett Tomko looking like the best long man candidate at this point, who do the Yanks remove from the 40-man to clear the space? Our difficulty in answering this question, I think, signals that the Yanks will add only one to the 40-man this spring. Giese is the likely casualty.
Also, I'm going to take this opportunity to pimp our feeds. You can follow us on Twitter, which is always fun. You can also subscribe to our RSS feed, which brings delivers posts instantly to any RSS reader. If you have any questions about RSS, email me. I'm putting together a comprehensive resource for those interested. Finally, you can friend us on Facebook. We promise, we'll be more active there this season.
Onto the podcast. It is available in a number of formats. You can download it here by right clicking on that link and selecting Save As. If you want to play it in your browser, just left click the link. You can also subscribe to the podcast feed, which will send it to you every Thursday. You can also subscribe in iTunes. Finally, we have the embedded audio player below.
Audio clip: Adobe Flash Player (version 9 or above) is required to play this audio clip. Download the latest version here. You also need to have JavaScript enabled in your browser.
Podcast: Play in new window | Download (85.2MB)
As the Yanks have constructed a $2 billion behemoth on the northwest corner of River Ave. and 161st St., the team has faced off with Bronx community activists unhappy with the way the team displaced valuable parkland and hasn't delivered on the promise of jobs. Now, the Yankees are extending something of an olive branch to their Yankee-loving neighbors.
The Yankees will be opening up the gates of new Yankee Stadium on Thursday, April 2 for Bronx residents. The team will distribute 15,000 free tickets to Bronx community boards, Bronx-based community organizations and union workers who helped construct the new stadium. The 12 community boards will each get 1000 tickets to distribute to residents.
Beyond that, I don't know how distribution will work, but I'd pay for one of those tickets. I'm just putting that out there for our Bronx-based readers. Contact info for the Bronx community boards can be found here.
Meanwhile, the Yanks and borough activists are still sparring over the lack of replacement parks. NY1 News' Shazia Khan reports that the various rooftop parks that will cover the new parking lots surrounding Yankee Stadium won't be completed until 2010. She also has news on the fate of old Yankee Stadium:
The old Yankee Stadium will be transformed into Heritage Field Park. Demolition is slated to start next month and construction of the park is expected to be completed by spring 2011.

Critics, however, say that's not soon enough.

"It's completely outrageous that elected officials and this administration have allowed this Yankee Stadium to still stand," said New York City Park Advocates President Geoffrey Croft. "The New York Mets, the day after demolition, started taking down their field. This community deserves much better than that and this community is desperate for recreation."
At some point in the next two years, the Bronx will have its parks and numerous trees to replace what once was lost. I don't, however, blame the community and park activists for feeling slighted. Shea Stadium was recently turned into a parking lot in short order. The city could have made an effort to do the same with Yankee Stadium.
The NCAA Tournament kicks off this afternoon, and I started a Tournament Challenge group at Yahoo that you can join. There aren't any prizes, just bragging rights, but you'll get to pick your brackets and have fun following along. The scoring doubles each round, from one point in the first round to two points in the second to four in the fourth, and so on. If you want in, go here and click "Join A Group."
League ID#: 187724
Password: hiphipjorge (not sure if it's case sensitive)
There's a limit of 500 people in the group, so first come first serve. The games start in like, an hour, so get to filling your brackets out. Oh, and if you have anything you want us to answer in today's podcast, email it to either Joe or myself using the links on the right.
On June 19, exactly three months from today, the Yankees will not be able to use a Designated Hitter for the first time all season. That day, the team travels down to Miami for a three-game Interleague set with the Florida Marlins, and on that day, Hideki Matsui will finally test his surgically repaired knee.
For months now, Hideki Matsui's lack of mobility has been an open secret around Yankee Universe. When Matsui went down last season, it was clear that his days in left field were long behind him. If Matsui returns to full health — if he can generate enough power at the plate from two surgically-repaired knees — he'll do so merely as a DH. According to numerous articles published this week, that's a-OK with Matsui.
But for the Yankees, it poses a difficult question of depth and lineup construction. Earlier this week, Joe tackled just that issue as he assembled a 1-through-9 that should strike fear into the hearts of any opposing pitcher. While Joe proposed an efficiently-maximized lineup with Jeter in the one hole, Teixeira behind him and Damon batting third, odds are good that Damon will lead off followed by Jeter and Tex.
That part doesn't matter. It what happens next that I want to tackle. Back-to-back behind A-Rod once he returns will be Hideki Matsui and Jorge Posada, both returning from injuries and both limited in their playing time. On days when Jorge catches, Matsui will DH. But what to do on days when Posada doesn't catch?
According to the optimistic Yanks, Posada will be behind the dish for around 110 games this year. That still leaves Jose Molina and his anemic career OPS+ of 61 with 52 starts. When Molina is in the lineup, he and Brett Gardner or Melky Cabrera will make for a rather tame bottom of the order.
Here is where the Yanks need to rely on Gardner (or Cabrera) to pick up the slack. Here is where the Yankees need to hope that no one else gets injured and that Hideki's knees can withstand the beating of a season.
In a way, the need to DH Jorge will pay dividends for Matsui. He'll be able to rest his knees and stay fresher. But if the Yanks lose Matsui at all this year, the team's DH will be…Cody Ransom? Jose Molina? Shelley Duncan? All of a sudden, the Yanks' great lineup, while still very good at the top, looks quite weak the bottom.
In a roundabout way, then, the Yanks' bench looks to be an Achilles Heal. If anyone on the bench is asked to contribute in a meaningful way, the Yanks won't have much to offer. Hopefully, this reality won't come to pass, but with Matsui's inheriting the DH spot in the news, this depth — combined with an old Yankee team — is something to consider as Opening Day nears.
Updated (10:56 p.m.): As many commenters have noted, I omitted a discussion of the Xavier Nady/Nick Swisher platoon from this piece. That was a grave oversight on my part. Clearly, if Matsui were to go down, the odd man out of that combo will slot in as the DH. Still, I'm not sold on that idea.
Nady had a good month and a bad month in New York last year, and his career numbers pale in comparison to Hideki Matsui's. I feel far more comfortable with Swisher who had a bad year last year but has seen his OPS+ over 120 the two years prior. Of course, their presence adds a lot of depth to the Yanks, but that doesn't solve the Jose Molina problem.
Last time out, Chien-Ming Wang wasn't able to make it out of the second when the BoSox lit him up for six hits and seven runs in 1.2 innings. He worked with pitching coach Dave Eiland to clean up a mechanical issue between starts, and order was restored to the universe. Wang tossed five innings of one run ball against the Astros this afternoon, giving up just three hits while striking out two and inducing ten groundballs against just three in the air. Shortly before the game Houston agreed to use the DH, so the Yanks were off the hook and didn't have to worry about Wang hurting himself on the basepaths. Again.
Robinson Cano was the late add as DH, so the Yanks had someone personally drive him the 90 minutes to Osceola County Stadium. He responded by going 2-for-4 and is now 4-for-10 since returning from the WBC, so I guess the sore shoulder can't be that bad. Hava Molina chipped in a pair of hits as well, while Johnny Damon, Cody Ransom, Melky Cabrera and Justin Leone combined to go 0-for-14, though the Melk-man drove in the game tying run in the 6th with a RBI groundout. Mark Teixeira and Nick Swisher batted three-fourm in the lineup and each picked up a hit, while Eric Duncan (yes that Eric Duncan) drove in a pair of insurance runs in the ninth. Angel Berroa put the Yanks on top for good with an RBI single in the sixth and went 1-for-3 on the day, dropping his spring line to .421-.436-.711.
Phil Coke, Brett Tomko, Jose Veras and Jon Albaladejo combined to throw four scoreless after the Wanger, allowing just one hit (by Coke) and a pair of walks (both by Veras). You can tell the regular season's getting closer, because the relievers are starting to see some situational duty rather just "you're pitching X inning today." Austin Jackson stole a base and scored a pair of runs after picking up a single and pinch-running for Molina. PJ Pilittere also scored a run after a 1-for-1 effort, so overall it was a good day the for the young guys. The 4-1 loss pushed Houston's preseason record to an unsightly 1-15-3, and they've been outscored 119-52. The Pythag Record for that run differential is … 26-136. No wonder Pedro won't sign with them.
AJ Burnett will look to continue his torrid spring tomorrow night against his former team (the most recent one), and YES will carry the action.