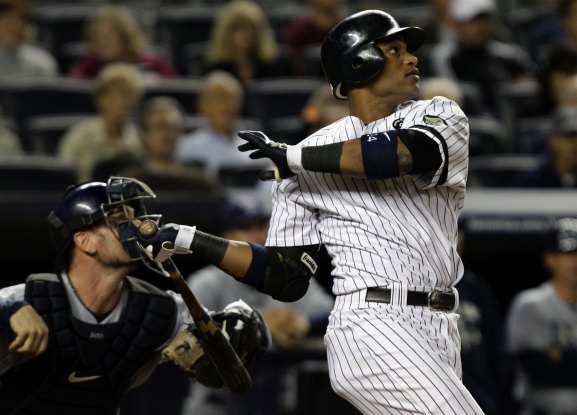 Something seemed to click with Robinson Cano this year. After a poor 2008 season he rebounded for a solid 2009, his best overall season since 2007. Then this year, charged with a prime lineup spot, he put it all together. In April he hit .400/.436/.765 and immediately stirred a "could this be Cano's year?" narrative. It was an enjoyable one, and while he has dropped off a bit in the second half he still finds himself in the MVP conversation. Credit that to Josh Hamilton missing the final month. Given the current circumstances, where exactly does Cano stand in the MVP picture?
In late August I wrote about the MVP race and where Robbie ranked among his peers. At that time the race looked like Josh Hamilton, Miguel Cabrera, and then everyone else. That didn't mean Cano was out of the conversation, but rather than he would have to post some stellar numbers in September to get his name atop the list. That Josh Hamilton ended up missing time should have helped his case. But Cano did himself no favors, hitting just .262/.304/.346 during the month, easily his worst of the season.
When looking at a season-long award like MVP, I like to start with an all inclusive stat. For our purposes that means WAR. It doesn't end the conversation, but it can be a productive beginning. Here are the current AL WAR leaders:
AL War Leaders
| Player | fWAR | bWAR |
| --- | --- | --- |
| Josh Hamilton | 8.0 | 5.8 |
| Adrian Beltre | 7.2 | 6.3 |
| Carl Crawford | 7.0 | 4.7 |
| Jose Bautista | 6.7 | 5.4 |
| Evan Longoria | 6.5 | 7.6 |
| Miguel Cabrera | 6.4 | 7.0 |
| Robinson Cano | 6.3 | 5.5 |
| Shin-Soo Choo | 5.9 | 7.1 |
| Joe Mauer | 5.8 | 5.4 |
| Brett Gardner | 4.9 | 3.7 |
FanGraphs' version of WAR, which uses UZR for defense and linear weights for offense, still rates Hamilton the highest despite his missing September. Cano there ranks seventh. Evan Longoria actually leads the bWAR pack, while Cano again ranks seventh, tied with CC Sabathia. Baseball-Reference's WAR, remember, uses Base Runs on offense and Total Zone on defense. The framework is the same, but the components are different. This helps give us different perspectives on player value.
The all-in-one stat, then, does not at all favor Cano for the MVP. Both implementations rank him as the seventh most valuable player, and while that's not the be-all, end-all, it does suggest that there have been better players this year. Adrian Beltre, Evan Longoria, and Miguel Cabrera have all produced 6 or more WAR using both formulas, and Hamilton's fWAR is off the charts. I think that those guys will get the most consideration. But because we're talking about Cano let's dive a bit deeper into his offensive and defensive numbers.
To measure offensive output I prefer wOBA, because it assigns a value to each outcome for the hitter. That is, a single is worth more than a walk, but a walk is far more valuable than an out. Doubles, triples, and homers also have values that are more closely tied to run scoring than the traditional 2 = double, 3 = triple, 4 = home run formula we see in SLG. Here are the AL wOBA leaders.
AL wOBA Leaders
| Player | wOBA |
| --- | --- |
| Josh Hamilton | .449 |
| Miguel Cabrera | .428 |
| Jose Bautista | .421 |
| Paul Konerko | .412 |
| Adrian Beltre | .391 |
| Shin-Soo Choo | .386 |
| Luke Scott | .385 |
| Robinson Cano | .383 |
| Carl Crawford | .378 |
| David Ortiz | .378 |
Again, Cano ranks in the top 10, but he's not quite near the top. He and Adrian Beltre are the only infielders on the list, which should give them an advantage. But is it enough to overcome all the players that sit ahead of him?
wOBA, of course, is a rate stat, which gives it many advantages. It can help scale players regardless of playing time. Yet playing time is important. The counting stat associated with wOBA is wRC — weighted runs created.
AL wRC Leaders
| Player | wRC |
| --- | --- |
| Miguel Cabrera | 130.5 |
| Jose Bautista | 130.2 |
| Josh Hamilton | 121.9 |
| Paul Konerko | 116.7 |
| Robinson Cano | 112.1 |
| Adrian Beltre | 109.4 |
| Mark Teixeira | 107.4 |
| Shin-Shoo Choo | 106.5 |
| Evan Longoria | 105.3 |
| Carl Crawford | 103.8 |
Cano fares a bit better here. As the highest ranked infielder on the list he does have a better case with the counting stat than he does the rate one. I'm not sure I'd give Cano the MVP even based only on this list, but it's certainly the best point in his favor so far.
If linear weights aren't your thing, we can take a look at OPS+. In case you're not familiar, OPS+ basically takes the two components of OPS — on base percentage and slugging percentage — weighs them a bit towards OBP, since the SLG scale is 4.000 and the OBP scale is 1.000, and then adjusts for park factors. It is rated on a scale where 100 is the league average, and higher numbers are better. Here are the AL leaders.
AL OPS+ Leaders
| Player | OPS+ |
| --- | --- |
| Miguel Cabrera | 180 |
| Josh Hamilton | 175 |
| Jose Bautista | 166 |
| Paul Konerko | 156 |
| Shin-Soo Choo | 146 |
| Adrian Beltre | 143 |
| Luke Scott | 142 |
| Evan Longoria | 142 |
| Joe Mauer | 137 |
| Robinson Cano | 137 |
Let's just say that if you're trying to argue for Cano's MVP case, OPS+ is not the stat you'd want to cite.
We can see that on offense Cano ranks among the league's best, but he's not quite at the top. He does make up for that by playing an up-the-middle position, though, and he seemingly plays it well. We've seen him make a number of stellar plays this season, ranging to both sides and making throws that perhaps no other second baseman can make. But fielding is included in both WAR formulas, as is his position, so Cano's performance on defense seemingly hasn't vaulted him ahead of the competition. Here is how the three major defensive stats rate Cano.
Robinson Cano Fielding
Where TZ = fielding runs above average per Total Zone, and DRS = defensive runs saved per John Dewan's +/- system.
While Total Zone and UZR rate Cano around league average, defensive runs saved ranks him near the top. If we were to substitute Cano's DRS for his UZR in the fWAR formula, he would come out at 6.8 or 6.9 rather than 6.3. That would vault him to fourth in the AL immediately. If we swapped Carl Crawford's 22 UZR for his 14 DRS he'd end up around 6.1, 6.2 WAR. That would put Cano in third, just barely behind Beltre (whose UZR and DRS figures are nearly identical). Evan Longoria would get a slight bump, though, perhaps reaching Cano's level. Still, that certainly does strengthen Cano's case.
Cano's defensive ratings might appear confusing, since we watch the games and he looks so solid out there. We had a question regarding that just tonight:
Why does Cano get no love from advance defensive metrics?  His errors are way down plus he has great range and turns the double play extremely well. It doesn't compute.
The answer is that we remember the excellent plays and forget the balls that he simply didn't get to. In fact, since we don't watch every second baseman in the league it's tough to make an accurate comparison between Cano and his peers just by watching the Yankees games. Twins fans, I'm sure, rave about Orlando Hudson's defense, while Boston fans rave about Dustin Pedroia's and A's fans rave about Mark Ellis's. Cano is certainly good, and we can see that. It appears his weakness is in range — that is, the balls he just doesn't get that other second basemen do. It's tough to see that on a day-to-day basis, since 1) he's not getting to the ball and therefore we might not make a mental note of it, and 2) we don't see the other second basemen in the league frequently enough. I'm not saying that UZR perfectly captures Cano's defensive value, but rather explaining why his rating might be so low when we think so highly of it.
(What might also contribute to this is that Cano has the best error runs above average among AL second basemen and the fifth highest in the league. So when he does get to balls he makes the plays. Which is valuable. But not as valuable as all those balls he doesn't get to in the first place. By the by, Derek Jeter ranks third and Alex Rodriguez ranks fourth in error runs above average.)
Yet there are a few reasons why, despite all the evidence to the contrary, that Cano could sneak in with the 2010 AL MVP.
1) Some writers will downgrade Hamilton because he missed September.
2) It seems like the consensus is not only that Cano plays stellar defense, but that he has improved greatly this year.
3) Cano is one of few players in the conversation headed for the playoffs.
4) There doesn't seem to be an odds-on favorite, as Joe Mauer was last year.
Given a vote, I wouldn't place him any higher than third. Hamilton added so much value to his team in the first five months that missing September isn't that big a knock on him. I also think that Adrian Beltre put up an MVP-worthy season, and that Evan Longoria should factor into the conversation. This is a similar situation to the 2008 season, where there was no clear-cut winner. The second baseman could certainly take it home again.