By

One guy I always enjoyed in the YES booth was Jim Kaat. He has a fine grasp of the game and can relate amusing anecdotes to kill some of the down time a commentating team faces over the course of a season. He retired after the 2006 season and his replacement, John Flaherty for the most part, hasn't been up to snuff in my opinion. Good news, though: Kaat will be on the team for the first game at the new Stadium. The bad new: he'll be joined by Bob Costas (get over yourself) and Harold Reynolds (B-Jobber).

What saddens me most, though, is that according to the above-linked Bob Raissman article, Kaat wanted to return to the booth. YES said no, however, opting to go with their current rotation. True, Kaat probably doesn't have many more years in him, but he's clearly better than a few of the personalities YES puts alongside Michael Kay and Ken Singleton.

h/t BBTF · (36) ·
By

After coming back from the WBC with what appeared to be minor injuries, Robbie Cano and Damaso Marte will get MRI's tomorrow after being checked out by team doctors. Cano's injury is being described as right shoulder tendonitis, while Marte is dealing with left shoulder inflamation. Cano pinch hit in today's game game against the Astros and played catch after the game, so hopefully that's a sign that it's not too serious. Marte hasn't tested the shoulder as far as we know, and says he hurt himself working with 25 pound weights. · (1) ·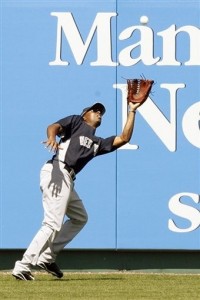 The Yankees have played three games in the last twenty hours or so, meaning we haven't had much time to recap all the action. Last night's game against the Red Sox was a forgettable one, as the only regulars in the lineup were Brett Gardner and Xavier Nady, and even those two are fighting for starting jobs. Chien-Ming Wang made his third start of the preseason and didn't fare to well, giving up seven runs (only one earned) and six hits in 1.2 innings, victimized by Juan Miranda throwing the ball into center field as he tried to turn a 3-6-3 double play. Both Mike Lowell and David Ortiz took the Wanger deep, Ortiz's being a uber-clutch two run job in the second inning with his team leading by five.
Other than that, not all that much happened in that game. Brett Tomko threw 3.1 strong innings while Kei Igawa chipped in another scoreless frame. Xavier Nady doubled while Cody Ransom tripled, and Angel Berroa picked up two hits to raise his spring batting avg to .444. Boston won 8-4.
AJ Burnett flashed his greatness in today's game, twirling four perfect innings on just 40 pitches. He was so efficient that he had throw an extra ten pitches in the bullpen. The fastball was an effortless 94-96, and the curve was dropping in for strikes at the knees. I know it's just March, but Burnett had no-hit stuff today, and even a lineup of All-Stars wouldn't have touched him. Johnny Damon hit a first inning solo homer before the Yanks tacked on two unearned runs in the fourth. Cody Ransom picked up another two hits, he's been really impressive since A-Rod went down. Edwar Ramirez made his spring debut, and although he struggled to locate his fastball he still pitched an effective frame. Jason Johnson picked up the save in his debut, nailing down the 3-1 win.
As Burnett was carving up the Astros, Phil Hughes had his first rough out of the spring an hour south against the Pirates. He gave up first inning solo homers to Nate McLouth and Adam LaRoche, and finished the day with two hits and three walks allowed in 3 IP. He said afterward that he was working on his changeup, but overall he just didn't have it today. Mark Melancon also had his first bad outing, allowing seven baserunners (six hits, one walk) and five runs in just two-thirds of an inning. It was bound to happen sometime, but as Ben noted in an email, this probably guarantees he'll be in Triple-A Scranton to start the year.
The offense was highlighted by the Yanks' two best prospects, as both Austin Jackson (pictured) and Jesus Montero knocked a ball out of the park. Montero's shot was a salami, and he now has two career Spring Training homers to his credit, both grand slams. Mark Teixeira struck out in all three of his at-bats, so he clearly can't handle the pressure of New York and is a bust. Doug Bernier drew three walks, Nick Swisher just one (today). The Yanks swept today's split-squad action with a 13-10 win.
Andy Pettitte will take to the mound for the second time this spring tomorrow, when the Twinkies come to Tampa. Otherwise here's your open thread for the night. The only local team in action tonight is the Devils, who are up in Montreal. Marty Brodeur has a chance to tie Patrick Roy's NHL record 551 wins tonight, and me thinks it has to happen just because of all the stars lining up (Roy will be in the house, he played for Montreal, etc.). Talk about whatever your heart desires, just be nice.
Photo Credit: Keith Srakocic, AP
He wasn't invited to Spring Training, but Eric Duncan was summoned for today's split-squad game as a bench player. Mike profiled Duncan earlier this month, just ahead of the A-Rod injury. No one thought, nor does anyone currently think, that Duncan can step into even a substitute role at this point. That doesn't mean he's not trying anymore.
He's failing for sure — a .233/.295/.366 line as a 23-year-old in AAA is about as far from inspiring as you can get — but it's not for lack of effort. Yet now with both corner infield spots locked down for the next eight years, Duncan realizes that if he's going to become a major leaguer — and that's his stated goal — it might have to be with another team. He'll be a minor league free agent after this season, and if he performs well he might catch on with a team that has an opening.
He doesn't blame the Yanks, though. From Mark Feinsand:
"Seeing those guys get locked up at the corners isn't the frustrating part, because you know the Yankees are going to do whatever they have to do to win at this level," Duncan said. "The frustrating part for me is knowing I can do better than what I've done. I know there's more. If I do what I know I can do on the field, the other stuff will take care of itself."
Here's to hoping that something clicks this year and he shows why he was so highly touted coming out of Seton Hall Prep in 2003. It's possible, but certainly far from probable. Yet if he can find his swing this year and can handle a corner outfield role, maybe he could help the Yanks in 2010.
By

Mariano Rivera took the mound and threw live batting practice today, another step forward as he rehabs from offseason shoulder surgery. Mo was originally scheduled to throw thirty pitches, but he felt so good that he threw an extra ten pitches. In case you're  wondering, the last time Mo threw forty pitches in a regular season game was August 4th, 2004, when he threw 51 pitches in two innings against Oakland. The Sandman is scheduled to make his official preseason debut against the Pirates this coming Tuesday. · (3) ·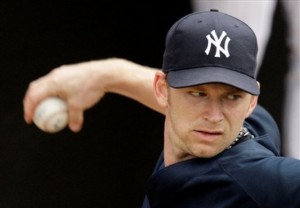 We've got our first split-squad action of the spring today [insert "you usually have to pay double for that kind of action, Cotton" joke here], and each game will feature a former Yankee great. AJ Burnett will take on the Astros at home, who will have Aaron bleeping Boone playing first and batting fifth. Phil Hughes and Co. are making the hour long drive down to Bradenton to face on the Pirates, who are sending old pal Ross Ohlendorf to the hill. This will be Burnett's second start and Hughes' four appearance (third start) of the spring.
Short on bodies because of the double-dip, the Yanks brought Eric Duncan, Walt Ibarra and Edwar Gonzalez over from minor league camp and will have them suit up for Team Burnett. Here's the starting … err … eighteen:
Home vs. Astros
Gardner, CF
Damon, LF
Nady, RF
Matsui, DH
Ransom, 3B
Molina, C
Miranda, 1B
Berroa, SS
Leone, 2B
Scheduled Pitchers: AJ Burnett, Dan Giese, Brian Bruney, Edwar Ramirez, Chris Garcia
Away at Pirates
Melky, CF
Swisher, RF
Teixeira, 1B
Posada, DH
Austin Jackson, LF
Cash, C
Bernier, 2B
Russo, 3B
Pena, SS
Scheduled Pitchers: Phil Hughes, Ian Kennedy, Jason Johnson, Jon Albaladejo, Mark Melancon
Both Edwar and Jason Johnson will be making their spring debuts after battling a sore shoulder and retinal cancer, respectively. The game against Houston will be on YES at 1:15, but I think I'd rather be watch the squad out in Bradenton. Hey, it's better than nothing.
Photo Credit: Gene J. Puskar, AP
By

Still unemployed, Ivan Rodriguez said he'd be willing to play somewhere other than catcher if it helps the team win him get a job. This one comes from MLB.com's Joe Frisaro (h/t BTF). Other than catcher and DH, Pudge has played 55 innings at first and two innings at second in his career (both back in 2006), but he specifically mentions first base and third base as possibilities. He's currently hitting .545-.583-1.182 for Puerto Rico in eleven WBC at-bats. If Pudge is willing to play third for a while and then settle in as the backup catcher … no, I didn't just … no way, right? · (12) ·
By

Believe it or not, the Spring Training is nearing it's halfway mark, and Chad Jennings took it as an opportunity to take stock in what's gone on so far. The rotation and infield have basically been set since December, but the bullpen, outfield and bench – as well as just about the entire Triple-A Scranton roster – still have some unanswered questions. I'll tell you what, Brett Tomko is making one helluva case to win that long man job, especially after tonight's effort. Anyway, make sure you give it a look, as usual Chad is spot on. · (16) ·
The Yankees are playing the Red Sox in Fort Myers tonight, but alas the game will not be seen by those of us in the New York area. YES asked MLB Network to black the game out (as well as the ones on March 22nd and 28th), which is their right. I'm not sure why, but it's dumb. Apparently no one ever bothered to ask them if MLBN could broadcast Yankees' games. In case you're one of the lucky ones who will be able to watch the game, here's the lineup:
Gardner, CF
Ransom, 3B
Miranda, 1B
Nady, RF
J-Rod, DH
Molina, C
Shelley, LF
Berroa, SS
Pena, 2B
Scheduled Pitchers: Chien-Ming Wang, Brett Tomko, Mike Dunn, Anthony Claggett
Teams are only required to send three regulars on road trips, so they obviously took advantage of it this game. Here's a slightly abbreviated hodgepodge of Friday Randomness links:
Here's your open thread/game thread for the night. In addition to the Yanks, the Knicks and Nets are both in action tonight. Anything goes here, just be civil.