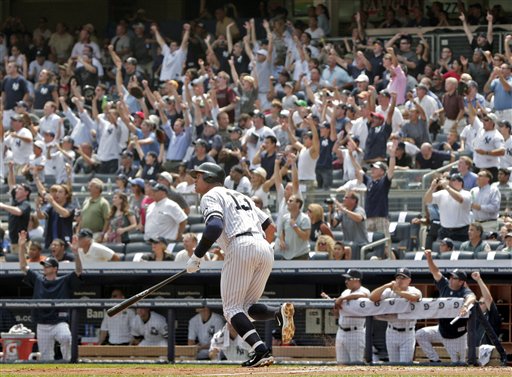 As I'm sure you already know, Alex Rodriguez hit his 600th career homerun this afternoon, crushing a 2-0 fastball from Shaun Marcum into Monument Park in the very first inning. It was a long time coming, but that doesn't cheapen the accomplishment at all. As you can imagine, there's a whole bunch of stuff about it on the interviewed right now, so let's round it up…
First things first: here's the video if you haven't seen it already. A reader sent us this video from the Stadium as well.
Here's what Hal Steinbrenner had to say: "Congratulations to Alex on this great achievement and on adding another highlight to Yankees history. We are especially proud he accomplished this feat as a Yankee and here before the most loyal fans in baseball." Short and sweet.
Courtesy of the Yankees, here's a look at the ball. Michael Kay said during the broadcast that Alex and the Yanks were prepared to trade a signed ball, bat, and jersey for the historic homerun ball, and if that didn't work, the next step was offering a private dinner with A-Rod and Cameron Diaz. That woulda been pretty cool.
The Associate Press put together this cool little interactive package about Alex's life and career leading up this afternoon's homer.
Jack Moore took a look at A-Rod's career going forward compared to some other members of the 600 HR club.
We'll of course have our regular game recap later tonight, but for now here's a spot to wax poetic about this historic feat, something everyone should take a second to appreciate. No matter how you feel about the guy, this is one hell of an accomplishment. It takes talent, durability, and a whole lotta luck.
Photo Credit: Kathy Willens, AP