Even though it is not really the halfway point of the season, there is no better time to review the first half than the All-Star break. This week we'll hand out some simple and straightforward grades, A through F, for the catchers, infielders, outfielders, rotation, and bullpen. These grades are totally subjective. We've already covered the catchers and infielders, so now let's move on to the outfielders.
Brett Gardner — Grade A
Through the first 94 games of the 2014 season, Gardner has been the Yankees' best position player. The team got out ahead of his impending free agency by signing him to a four-year extension worth $52M in Spring Training, a deal that looked sensible at the time and looks like a bargain now given his production and the lack of quality outfielders in the upcoming free agent classes.
Among players with at least 100 plate appearances, Gardner leads the team in one-base percentage (.353) and total bases (146), ranks second in batting average (.279), slugging percentage (.424), stolen bases (15), OPS+ (116), and wRC+ (116), and first in both bWAR (2.9) and fWAR (2.7). He's already set a career-high with nine homers. Gardner actually started the season in a funk, going 15-for-62 (.242) in the team's first 18 games, but he's hit .286/.366/.447 (126 wRC+) in the 76 games since. That'll do just fine.
Gardner's defense continues to be excellent as well. He slid back into left field seamlessly and has performed up to his usually defensive standards, which are rather high. Inside Edge data rates his glovework very well. The Yankees tried shuffling things around and actually started Gardner in right field during a game at Fenway Park in April, but that was a disaster. It looked like he had never played the outfield before. Left field is where he remains and whenever the need has arisen for whatever reason, he's slid over and filled in at center without missing a beat.
The only negatives in Gardner's game are his career-high 21.7% strikeout rate and career-low 11.6% stolen base attempt rate. The strikeout issue seems to have to do with him being a little more aggressive in certain counts and swinging for a fences, hence the homers. The stolen base this is weird — he ran in 14.3% of his opportunities last year and in 25.0% of his opportunities from 2010-12. Gardner is still on pace for 26 steals (in 33 attempts), but it appears his days of 45+ stolen bases are over. That's a shame. Either way, he's having an unreal season.
Jacoby Ellsbury – Grade B
As the story goes, it became clear to the Yankees they were going to lose Robinson Cano on a Friday, so they acted quickly to sign Ellsbury before a bidding way broke out. The two sides were in agreement the following Tuesday, and the Friday after that, Cano hooked on with the Mariners. The Yankees replaced Cano with the second best free agent in Ellsbury even though he wasn't a great fit for the roster — they already had a perfectly capable speedy leadoff hitter and strong defensive center fielder in Gardner.
Ellsbury has been very good through his first season in pinstripes, hitting .282/.346/.400 (105 wRC+) with six homers and 24 steals in 29 chances. That's right in line with the .289/.341/.407 (103 wRC+) batting line he put up from 2012-13 following his outlier 2011 campaign. Ellsbury's power has not ticked up despite the move into lefty friendly Yankee Stadium and that makes total sense — almost all of his hits are line drives to left and center field. That's not a bad thing, it's just not conducive to taking advantage of the short porch.
As expected, Ellsbury has had an impact both on the bases and in the field. He's on pace for 41 steals with an 82.8% success rate, which would make him the team's first 40-steal guy since Gardner in 2011. The defensive stats hate Ellsbury this year and I don't get it — it's a Gardner thing, it happened with Curtis Granderson too, he must be stealing outs and hurting the center fielder's defensive numbers — but based on the eye test he's been phenomenal in center. Better than Gardner last season and Gardner was awesome.
Because of injuries and underperformance and all that, the Yankees and Joe Girardi have had to improvise with their lineup. That means Ellsbury has been miscast as a three-hole hitter for most of the year while Gardner bats leadoff. They really don't have an alternative at this point. Ellsbury lacks the traditional three-hole hitter skills in that he can't create a run with one swing, but that's not his fault. He's a leadoff hitter the team is asking to hit third. Either way, Ellsbury was pretty awesome in the first half.
Carlos Beltran — Grade F
Worst case scenario? Possibly. The Yankees signed the 37-year-old Beltran (for three years!) to be the middle of the order hitter they lost in Cano, but so far all they've gotten is a broken down former star who has struggled to both be productive and stay on the field. This is the position player version of Randy Johnson — the right player, only nine years too late.
Beltran has hit .216/.271/.401 (78 wRC+) with nine homers in 228 plate appearances this year while missing time with elbow, knee, and concussion problems. He has a bone spur in his elbow that cost him a month and will require offseason surgery. It has relegated him to full-time DH duty because he can't throw. (He tried a throwing program but had to shut it down due to discomfort.) The concussion was a fluke injury that occurred when he lined a ball off the cage and back into his face during batting practice. It's that kinda year.
It's easy to forget Beltran actually mashed at the start of the season. He was hitting .298/.339/.614 (151 wRC+) with four homers through the team's first 16 games, then he flipped over the short wall in Tropicana Field while trying to catch a foul pop-up, and has hit .189/.249/.331 (56 wRC+) in 193 plate appearances since. I don't know it it's just a coincidence or if he hurt himself flipping over the wall, but he hasn't hit for nearly 200 plate appearances now. Clutch hits? Beltran hit that walk-off homer against Zach Britton but otherwise has a .156/.216/.297 (25 wRC+) batting line with men in scoring position and a .130/.241/.391 (55 wRC+) batting line in high-leverage situations.
Because he's not hitting and can't play the field — not that his defense was a positive, he hurts the team less as the DH, to be honest — Beltran has very little value to the Yankees right now. He could start hitting at any moment and it would be a huge help if he did, but the combination of injuries and age are working against him. Beltran's first three and a half months in pinstripes couldn't have gone much worse.
Alfonso Soriano — Grade F
Man, this sucks. Soriano was one of the most fun to watch players when he on a roll and having a full season of him was supposed to give the Yankees a big offensive shot in the arm. Instead, he put up a .221/.244/.367 (60 wRC+) line with six homers and an unsightly 71/6 K/BB in 238 plate appearances before being dropped from the roster roughly two weeks ago. He wasn't even hitting lefties anymore (80 wRC+). That's it. Without warning he went from 34 homers and a 121 wRC+ in 2013 to being done in 2014. Like done done.
Soriano started the year as the full-time DH in deference to Gardner, Ellsbury, and Beltran in the outfield. He eventually moved to right — he had never played the position before (other than Spring Training) and I thought he did about as well as he could have realistically been expected to perform defensively — once Beltran got hurt, but eventually he lost playing time to Ichiro and was pushed into the light half of a platoon. The Yankees released Soriano earlier this week and he told Marly Rivera he might simply retire rather than continue playing. It was not a pretty end.
Ichiro Suzuki — Grade C
The Yankees relegated Ichiro to fifth outfielder status with their offseason spending spree, and even that was only after they were unable to trade him. And yet, through the traditional first half, he has batted 220 times and appeared in 81 games, the sixth most on the team. He took over as the most of the time right fielder a few weeks ago thanks to both his strong performance and the underwhelming performance of others.
Ichiro is hitting .297/.347/.337 (90 wRC+) with six stolen bases on the season, though his bat predictably cooled once pressed into everyday duty. He went 25-for-37 (.373) with a 142 wRC+ as a reserve player during the first 47 team games of the season but has managed only a .259/.308/.289 (63 wRC+) line as a regular in the 47 team games since. Ichiro's defense has been fine and he'll still steal the occasional base, but that's pretty much it. He's a very good extra outfielder and a pretty terrible regular outfielder at this point of his career.
Zoilo Almonte — incomplete
I get the feeling the Yankees are not going to give Almonte an opportunity to show whether he can be of some use at the MLB level, even as a nothing more than a fourth outfielder. He's been up and down a few times this year thanks mostly to Beltran's injuries, getting into ten games and going 4-for-25 (.160) with a homer. Even with Soriano gone, the Yankees have opted to play Ichiro everyday and sub in Zelous Wheeler on occasion. Meh
* * *
Coming into the season, the outfield was expected to be the strength of the team, and it has been. It just hasn't been as strong as expected due to Beltran's struggles and Soriano's brutal ineffectiveness. Gardner and Ellsbury have been the team's two best players all season and have lived up to expectations in my opinion. Everyone else in the outfield has kinda stunk. Getting Beltran back and producing at an above-average rate will be imperative in the second half. The Yankees will only be able to acquire so much offense in trades.
With an assist to leadoff hitter and Yankees captain Derek Jeter, the American League beat the National League by the score of 5-3 in the 2014 All-Star Game on Tuesday night. The AL will have home field advantage in the World Series this fall, which will be helpful after the Yankees make their huge second half surge and secure a postseason spot.
Jeter received the loudest ovations of the night, both during pre-game introductions and before each at-bat. He was pulled after taking the field in the fourth inning and was cheered as he exited to the dugout, eventually coming out for the curtain call. It was a pretty cool moment. Jeter went 2-for-2 with a double off Adam Wainwright in the first and a single off Alfredo Simon in the third, both to the opposite field (of course). He scored the game's first run on Mike Trout's triple. Trout was eventually named MVP. I thought Jeter would get it.
Following the game — or really in the middle of it — Wainwright created some controversy by saying he grooved a pitch to Jeter in his first at-bat. He eventually backtracked and said he misspoke, but whatever. It's not the first time a pitcher has grooved a pitch to a legend in an All-Star Game, see Chan Ho Park and Cal Ripken Jr. Don't forget Ian Kinsler's weak attempt to field a Chipper Jones ground ball during the 2012 Midsummer Classic, allowing it to scoot by for a hit. Who cares. Grooved pitch or not, it was an awesome night for Jeter.
Dellin Betances did not pitch in the game and as far as I know he did not even warm up. Disappointing but I'm fine with it. He could use the rest. Masahiro Tanaka, the team's third All-Star, was not in Minnesota because he is receiving treatment for his partially torn elbow ligament. What a sad sentence. Here is the box score, if you're looking for it. There is no Major League Baseball at all these next two days. Everything returns to normal on Friday, when the Reds come to the Bronx for a three-game weekend set.
Some notes:
Triple-A Scranton is off until Thursday for the All-Star break. The actual game is tomorrow night. UTIL Jose Pirela was the only Yankees farmhand selected to the International League squad.
I enjoy the All-Star Game more than most people seem to. It's the cool thing to bash, I guess. It's totally silly that the game determines home field advantage in the World Series, I have no idea why that is a thing, but the game itself is a lot of fun. You've got all these great players in one place, they wear funny looking cleats and batting gloves, it's cool. It's the perfect game to just chill out and watch.
The Yankees have three All-Stars this year but only two are in Minnesota. The players voted Masahiro Tanaka into the game — he received more votes than any other starting pitcher — but he is currently dealing with the partially torn ligament in his right elbow. For shame. Derek Jeter was voted into the starting lineup by the fans and he will leadoff for the AL team. Dellin Betances was voted in by the players as well. AL manager John Farrell said he would like to get as many players into the game as possible, and as awesome as it would be to see Betances pitch, I would be more than fine with him getting the night off and resting.
There are a total of 81 All-Stars this season between players originally elected to the game and various replacements. Basically 11% of the league. If you're an MLB player right now, there's better than a one in ten chance you're an All-Star. Crazy. That might be a few too many. Anyway, here are the full rosters and here are the fan-voted starting lineups:
National League
CF Andrew McCutchen, Pirates
RF Yasiel Puig, Dodgers
SS Troy Tulowitzki, Rockies
1B Paul Goldschmidt, Diamondbacks
DH Giancarlo Stanton, Marlins
3B Aramis Ramirez, Brewers
2B Chase Utley, Phillies
C Jonathan Lucroy, Brewers
LF Carlos Gomez, Brewers
RHP Adam Wainwright, Cardinals
American League
SS Derek Jeter, Yankees
LF Mike Trout, Angels
2B Robinson Cano, Mariners
1B Miguel Cabrera, Tigers
RF Jose Bautista, Blue Jays
DH Nelson Cruz, Orioles
CF Adam Jones, Orioles
3B Josh Donaldson, Athletics
C Salvador Perez, Royals
RHP Felix Hernandez, Mariners
Unlike last night, the weather in Minneapolis is nice and clear tonight. It is cool and cloudy but there is no rain in the forecast, thankfully. The All-Star Game can be seen on FOX and the broadcast is scheduled to begin at 7:30pm ET. They have to go through the baseline introductions and all that first, remember. Talk about the All-Star Game or anything else right here tonight. Enjoy the game.
By

As expected, the Yankees have officially released outfielder Alfonso Soriano. He was designated for assignment a little more than a week ago and the team was apparently unable to work out a trade. No club bothered to claim him and his salary off waivers either. No surprise there.

Soriano, 38, hit .221/.244/.367 (60 wRC+) with six homers in 238 plate appearances this year, including a weak .247/.269/.416 (80 wRC+) against lefties. He is free to sign with any team for the pro-rated portion of the league minimum now, but there is a chance his career is over all together. Soriano said he would consider retiring if he had a poor year in 2014, and this certainly qualifies. Sucks. · (11) ·
The Yankees came into the All-Star break five games back of the Orioles in the AL East but only 3.5 games back of the Mariners for the second wildcard spot. The problem: they have to jump four teams to get that wildcard spot. Going for the division title figures to be a little easier thanks to all the head-to-head games remaining.
The team's focus will likely be on pitching at the trade deadline in the wake of Masahiro Tanaka's elbow injury, but they can't forget about the offense either. They average only 3.99 runs per game, one-third of a run below the AL average. They're getting below-average production from every position other than left field, center field, and first base, but they are unable to make changes at some spots due to contract status, iconic status, etc.
Right field and third base are the easiest positions for the Yankees to upgrade. They're shaken things up a bit by cutting ties with Alfonso Soriano and giving Zelous Wheeler a chance, but that has had negligible impact. The Yankees will need to make a trade (or two) to improve their run-scoring, and one of the teams that will be a seller at the deadline is the Padres, who are currently between GMs. That complicates things. Last week we looked at their pitchers, now let's look at their position players.
3B Chase Headley
Over the last three weeks or so we've heard the Yankees are both "regularly" scouting Headley and not strongly pursing him. Both are probably true. The Padres are terrible and Headley is an obvious trade candidate, so the Bombers have to do their due diligence and get some eyes on him. They don't have to be knocking down the door trying to trade for him at the same time either.
Headley, 30, is having a miserable season, hitting .226/.296/.350 (87 wRC+) with seven homers and a career-low 7.5% walk rate in 74 games. He has been better of late, going 21-for-63 (.333) with a 109 wRC+ in his last 18 games, which coincidences with his return from four games on the shelf with inflammation near a disc in his lower back. (He received an epidural.) Headley had a monster 2012 season, putting up a .286/.376/.498 (145 wRC+) line with 31 homers, and even last year he hit a solid .250/.347/.400 (113 wRC+) with 13 homers. This season has been a disaster though, and Headley doesn't believe a simple change of scenery will do the trick.
"Even when things are going full-on crappy, like now, I'm confident that sometime in the near future, I'm going to get healthy, stay healthy and start playing the way I know I'm capable of," he said to Chris Jenkins recently. "I don't look at it like, 'Man, I gotta get out of here to be me again.' I'm going to be me again, whether it's here or somewhere else."
Petco Park is a notorious pitcher's park, even after the walls were brought in last season. Headley is a career .286/.360/.444 (118 wRC+) hitter on the road (.243/.331/.371 (107 wRC+) at home), including a 154 wRC+ away from Petco Park in 2012 (97 wRC+ on the road from 2013-14). If the Yankees were to acquire Headley, he would be moving from one of the worst hitting parks in the game to one of the best. It would be damn near impossible for his numbers not to improve.
Headley's struggles this year are not all ballpark related, however. Obviously his back was acting up at some point and that likely hurt his performance. How could it not? He is hitting fewer ground balls this season — 40.3% compared to 46.1% last year and 45.1% career — and the average distance of his batted balls in the air is down a bit from recent years. From Baseball Heat Maps:
That seems like something that could be explained by the back issues. Headley's plate discipline numbers are right in line with his career norms and his numbers from both sides of the plate are down as well, so it's not like he's been fine as a lefty and brutal as a righty or something like that. Headley isn't hitting the ball as far (and thus as hard) as he did the last few seasons, which could be attributed to the back injury or something else entirely, like a swing or mechanical problem. It could be both.
On the surface, Headley is a great fit for the Yankees as a switch-hitter with some power and a lot of patience from both side of the plate. He has also consistently graded out as an above-average defender at the hot corner, so he's a true two-way player. That's not who Headley is right now though, at least not at the plate. He hasn't hit this year at all, and while the last few weeks have gone better, that's not enough to erase three pretty terrible months.
The Padres missed their best opportunity to trade Headley following that huge 2012 campaign. He is due to become a free agent after the season and has about $5M still coming to him in the second half. I can't imagine the Padres will give him a qualifying offer after the season — the qualifying offer is expected to be north of $15M this winter, and after what happened with Stephen Drew and Kendrys Morales, I think Headley would accept it in a heartbeat — so it won't require a ton to get him in a trade. Nothing as valuable as a first round pick, obviously.
The list of rental hitters traded in recent years includes Kevin Youkilis and Shane Victorino, both of whom were once productive players going through disappointing seasons mired with injury concerns. Youkilis netted the Red Sox two fringe big leaguers (Zach Stewart and Brent Lillibridge) and salary relief while Victorino brought the Phillies a fringe big leaguer (Josh Lindblom), a middling prospect (Ethan Martin), a non-factor player to be named later, and salary relief. Seems like decent framework for a Headley trade, no? He is very much available and I don't think the Yankees would have much trouble actually acquiring him. The question is whether he will produce in the second half.
OF Carlos Quentin
One of the many reasons the Padres can't seem to get out of the gutter are their failed contract extensions. Guys like Cameron Maybin, Cory Luebke, Nick Hundley, and Jeff Gyorko simply haven't lived up to expectations either due to poor performance or injury. Quentin belongs in that botched extensions group as well, though he was already a veteran and established when San Diego gave him four years and $37M three years ago.
The 31-year-old Quentin is hitting a weak .182/.287/.322 (78 wRC+) this season, though he has only appeared in 45 games due to lingering knee problems. He has played in only 331 of 581 possible games (57%) since 2011 due to ongoing problems with both knees, including four surgeries. Quentin hit .262/.356/.498 (137 wRC+) with 53 homers from 2011-13, so up until this season he had always hit when healthy. He was just never healthy.
The Yankees have zero right-handed power on the roster right now — their right-handed hitters have hit 16 (!) homers all season — and Quentin would provide that, at least in theory. He has always been a patient hitter who draws a healthy amount of walks (10.2% from 2012-14) and gets on base, which is something the Yankees lack in general as well. Quentin has zero base-running value and he's more or less a DH who can play the outfield, so if he doesn't hit, he's useless.
Unlikely Headley, Quentin would not be a rental. He is owed roughly $4.5M through the end of the season plus another $8M next season. Unless the Padres eat a bunch of money like the Cubs did with Alfonso Soriano last year, I'm not sure Quentin is someone the Yankees want on their roster despite their need for righty pop. He should come cheap as a salary dump player, but there is no room for a defensively challenged, injury prone player on the roster.
OF Chris Denorfia & OF Will Venable
These two don't have the name value of Headley and Quentin, but they have been quality platoon bats who also provide some value in the field and on the bases. Denorfia, 34, is hitting only .244/.295/.329 (79 wRC+) overall this year, but he has mashed lefties at a .296/.357/.458 (131 wRC+) rate since 2012. It won't exactly solve the team's right-handed power problem, but it would help. Denorfia is a rental. He'll be a free agent after the season.
Like so many of his teammates, the 31-year-old Venable is having an awful year, hitting .201/.258/.277 (54 wRC+) overall. Just last season he managed a .268/.312/.484 (122 wRC+) line, and since 2012 he's hit .252/.311/.417 (104 wRC+) against righties. Introduce him to Yankee Stadium and the short porch and his power output should tick up. Venable is arbitration-eligible for the fourth time as a Super Two next season, though his salary won't be anything crazy. He's making $4.25M this year. A year ago, both Denorfia and Venable would have been solid additions. This year, they aren't worth much thought because they've stunk.
* * *
Outfielder Seth Smith would have been the best fit for the Yankees as a left-handed power-hitter for right field, but San Diego gave him a two-year contract extension two weeks ago. Jon Heyman says the Padres told Smith he will not be traded following the extension, so forget about that. He is hitting .283/.387/.508 (155 wRC+) with ten homers and would have been a wonderful fit as a rental right fielder. Too bad he's off the table now.
Aside from the prospect of buying super low on Headley and hoping he rebounds in the second half, the Padres don't have many quality position players to offer in a trade this summer. I'm guessing they would move Quentin today if some team was willing to take on his contract, and neither Denorfia or Venable are impact players even when they're at their best. They're just quality role players. If the Yankees can get Headley for a Youkilis or Victorino-esque package, they should be all over him. Other than that, there aren't many reasons to call San Diego this trade season.
By

Via Anthony McCarron: Free agent-to-be David Robertson confirmed he has not yet had any contract extension talks with the Yankees. "We'll see what happens (after the season)," he said while noting he'd like to remain in New York. "There haven't been any talks, so we'll see … There's just been zero talks. When the offseason comes, it comes and we'll hear what other teams and everybody else wants to say."

Robertson, 29, is 23-for-25 in save chances with a 2.76 ERA (1.73 FIP) in 32.2 innings during his first year as Mariano Rivera's replacement. Among pitchers to throw at least 30 innings this year, he leads baseball with 16.26 K/9 (by 1.45!) and 44.7 K% (by 3.6%!). I am terrible at predicting free agent contracts but I hope something in the neighborhood of Rafael Soriano's three-year, $35M deal would work. That means he'll probably end up with four years and $52M or so. I am all aboard team #ExtendDRob. Keep him and Dellin Betances and enjoy the luxury of having two elite relievers. Guys who can handle the late innings in pinstripes don't grow on trees, you know. · (74) ·
Even though it is not really the halfway point of the season, there is no better time to review the first half than the All-Star break. This week we'll hand out some simple and straightforward grades, A through F, for the catchers, infielders, outfielders, rotation, and bullpen. These grades are totally subjective. We started yesterday with the catchers, now let's move on to the infielders.
Mark Teixeira — Grade B (A+ for Foul Territory)
There were a lot of questions about the infield coming into the season in general, but especially Teixeira. The Yankees' first baseman missed almost all of last season due to a tendon sheath injury in his wrist that eventually required surgery, and wrist surgery can be very problematic even after the player has been cleared to play. Remember, Teixeira started Spring Training late and has still felt soreness during the season. It has caused him to miss a game or two here and there. (His only DL stint was hamstring related.)
Despite that, Teixeira has been the team's most consistent and productive power hitter this summer, coming into the All-Star break with a .241/.341/.464 (120 wRC+) batting line with a team-leading 17 homers. His power output (.222 ISO) is right in line with his last full healthy season (.224 ISO in 2012), which is definitely encouraging after the wrist surgery. Most importantly, he's done most of his damage against right-handed pitchers (130 wRC+), who used to give him the most trouble. Is he Teixeira of old? No, of course not. That guy isn't coming back. But he's returned to his pre-surgery ways and been a much-needed force in the middle of the lineup.
Weirdly enough, the biggest issue for Teixeira this season has been his defense. He's already committed six errors this season, his most since 2004, and while errors are not the best way to evaluate defense, most of them were plays we're used to seeing Teixeira make. I think his scooping at first has been fine. It's the hard-hit balls he used to turn into outs that are now eating him up. I think it's a combination of rust from the lost 2013 season and a decline in his skills. Either way, Teixeira has definitely been a positive for the Yankees this year, especially when you consider he's coming off major surgery.
Brian Roberts — Grade C
There was no way the Yankees were not going to have a massive drop off in production at second base this year. Robinson Cano was the best player at the position last year and has been for several years running, so by definition he is irreplaceable. Roberts was not exactly a popular choice as Cano's replacement given his long injury history and the fact that he wasn't all that productive even when healthy ways. The Yankees love veterans though, especially AL East proven guys.
Roberts has remained remarkably healthy so far this year — he missed a handful of games with a back issue in April, but that's it — while being more than a total zero at the plate. His .241/.306/.376 (87 wRC+) batting line comes with the occasional homer (five), the occasional stolen bases (seven), the occasional walk (8.4%), and always a very long at-bat (4.04 pitches per plate appearance). Roberts has been fine defensively at second if not an asset. He's a perfectly capable stopgap and No. 9 hitter who has been asked to bear more responsibility. Will Roberts hit a wall later in the year after not playing a full season since 2009? I have a hard time thinking his second half will be better than his first, honestly.
Derek Jeter — Grade C
Like Teixeira, Jeter was coming off a major injury. He missed just about all of last season with a series of leg problems, including a twice-fractured ankle. Add in the fact that he is a 39-year-old shortstop — a demographic that is not well-represented throughout history — and things were definitely stacked against the Cap'n coming into 2014.
Jeter's season has been underwhelming statistically but I don't it's worst case scenario stuff. Like I said, a 39-year-old shortstop coming off a major leg injury could have been really, really ugly. Jeter is hitting .272/.324/.322 (80 wRC+) overall, so his power is non-existent, but he does rank third among qualified AL shortstops in OBP and is only five points away from leading. Is it vintage Jeter? Absolutely not. But relative to the league average shortstop (.308 OBP and 87 wRC+), he's been passable.
Defensive is another matter. Jeter's glovework has never been good and at this point he's barely mobile. The old "he makes the plays on the balls he gets to" rhetoric doesn't even apply anymore. He's booted more grounders and made more offline throws this season than I can ever remember. Inside Edge data says he has converted only 46.2% of "likely" plays into outs, which are defined as plays that would be make 60-90% of the time on average. He hasn't make anything tougher than an "even" play (40-60%) either. It's been ugly.
The total package, offense plus defense, has not been good for the Yankees this year. At the same time, I'm generously giving Jeter a C instead of a D or F because he has played better than I expected coming off the ankle injury at his age. Maybe I'm just a giant homer. The Cap'n has not been good this season though, certainly not by his standards, but it could have been much worse given everything that happened last year.
Kelly Johnson — Grade D
The Yankees have put Johnson in a tough spot for most of the year — playing once or twice a week, usually at an unfamiliar position like first or third base — but, at the same time, he knew what he was walking into when he signed as a free agent over the winter. He has hit .214/.299/.380 (87 wRC+) with six homers in 211 plate appearances, including a disappointing 83 wRC+ against righties and an even more disappointing 87 wRC+ at Yankee Stadium. Five of his six long balls have come in the Bronx.
Johnson's defense has been a problem, though again, he has mostly played out of position — he came into the season with only 18 innings at first base and 118 innings at third base. He has spent 199.2 innings at first and 255.1 innings at third this year, committing nine total errors and not looking particularly graceful either. Johnson was a shrewd signing and a wonderful fit for the roster on paper — left-handed hitter with power who can play the three non-shortstop infield positions as well as left field — but it just hasn't worked out halfway through the season.
Yangervis Solarte — Grade B
Man those first eight or so weeks were fun, weren't they? I like to think I'm well-versed in the minor leagues but even I had not heard of Solarte before the Yankees signed him as a minor league free agent over the winter. It goes without saying that no one expected to take over as the starting third baseman for the first eight weeks of the season, during which he hit .299/.368/.458 (128 wRC+) in 229 plate appearances. Solarte was a godsend for a beleaguered offense.
The Solarte Partay came to crashing halt after that, unfortunately. He has hit .111/.238/.130 (10 wRC+!) in 63 plate appearances since, earning him a demotion to Triple-A Scranton. Yangervis has owns a .255/.338/.382 (101 wRC+) line in 288 trips to the plate overall and holy crap, no one expected that. Even if he never hits again, those first eight weeks made the signing more than worth it. That's even considering Solarte's occasionally shaky defense. He was a great story and a tremendously productive player into early-June. His days as a useful MLB player may have already come to an end, but boy did Solarte contribute in a big way when given an opportunity early this season.
Brendan Ryan — Grade C
Giving Ryan two years plus a player option this past offseason definitely flies under the radar as a lolwtf offseason move. I mean, yeah, I get it. Jeter was a major question mark, but geez. Ryan spent the first five weeks of the season on the disabled list with a back injury, and he's nothing more than a no-bat (.235/.273/.255, 43 wRC+ in 55 PA), good but no longer elite glove infielder who plays maybe once a week. It's far from the best use of the roster spot, but the Yankees are stuck with him. It's just a weird fit. Even weirder are all those times Ryan played first base while Jeter manned short. He's fine as the 24th man on the roster. Just a pricey and not at all versatile (in terms of bringing different things to the table) insurance policy for Jeter in his final season.
Zelous Wheeler, Dean Anna, Scott Sizemore — incomplete
These three guys have combined for 61 total plate appearances — Anna has the most at 25 — and have hit a combined .232/.246/.438. Most of the power production comes from Wheeler, who has hit two homers in his 20 plate appearances. He is currently with the team in that revolving door 25th man spot while Sizemore is stashed in Triple-A awaiting an injury. Anna has already been designated for assignment (to make room on the roster for Zelous) and claimed off waivers from the Pirates. I wonder how many more guys will cycle through this role in the second half.
* * *
There were some serious concerns about the infield coming into the season. Teixeira and Jeter were huge question marks following their injuries and the same was true of Roberts given his history. Johnson was the sure thing on the infield at the start of camp. The defense has been hideous — Yankees' pitchers have a .258 BABIP on ground balls, the seventh highest in baseball (league average is .244), and even more grounders would sneak through for hits if not for the club's aggressive shifting — and that was fairly predictable.
The infield has, by and large, been more productive than I expected, mostly because Solarte was awesome for a while and Teixeira has shown no lingering issues with the wrist when it comes to raw production. Roberts is the new Lyle Overbay — the best of all the bad players and therefore giving off the appearance of being good — and Jeter's Jeter. He's untouchable. The Yankees have some internal options who may improve the infield, namely Triple-A Scranton second baseman Rob Refsnyder, but either way  it's clear they could use some help in the second half. Beefing up third base is an obvious upgrade area.
The video above is C/1B Peter O'Brien taking some hacks during batting practice before yesterday's Futures Game, courtesy of Baseball America. Here are some more notes:
Triple-A Scranton is off until Thursday for the All-Star break. The actual game is Wednesday night. UTIL Jose Pirela was the only Yankees farmhand selected to the International League squad.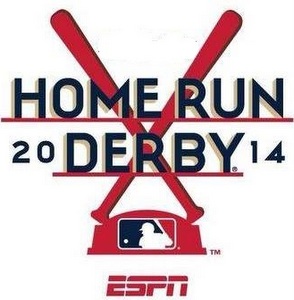 The All-Star break is officially underway and tonight is the annual Home Run Derby. It's an event that, like just about everything else in the history of the universe, is better enjoyed in person than on television. It can get a little slow and start to drag on at times, but hey, I love homers. This is fun.
If you haven't heard, the Derby has a new format this year. There are five players per league and they each get seven outs per round, not ten. The top three homer totals in the first round in each league advance. The player with the most homers in each league gets a bye to the third round while the players with the second and third most meet head-to-head in the second round. The winner of the third round in each league meet in the finals, so it'll be AL vs. NL. Kinda cool. Little more exciting that the old format, that's for sure.
There are no Yankees in the Home Run Derby this year, which isn't all that surprising. Mark Teixeira is pretty much only guy on the roster who belongs in the same sentence as the Home Run Derby but meh. Robinson Cano represented the Yankees every year from 2011-13. Here are the ten Home Run Derby participants. I don't know the order in which they'll swing, but we'll find out soon enough.
American League
Jose Bautista, Blue Jays (captain)
Yoenis Cespedes, Athletics
Josh Donaldson, Athletics
Brian Dozier, Twins
Adam Jones, Orioles
National League
Todd Frazier, Reds
Justin Morneau, Rockies
Yasiel Puig, Dodgers
Giancarlo Stanton, Marlins
Troy Tulowitzki, Rockies (captain)
I thought it was kinda weird there are two Athletics and two Rockies in the Derby, but it turns out it's not uncommon for two teammates to participate. It happened as recently as 2011 (David Ortiz and Adrian Gonzalez) and has happened a bunch of other times throughout history. My official prediction is Frazier over Jones. Don't ask me why. It's just a guess.
The Home Run Derby is scheduled to begin at 8pm ET and you can watch on ESPN. Talk about that or anything else right here. Enjoy.