By

11:20pm: Prado has been preliminarily diagnosed with tightness in the hamstring, the Yankees announced. He'll head for an MRI next.

10:43pm: Martin Prado left tonight's game with a left hamstring injury, according to the army of beat reporters with the team. He will see the doctor tonight. No word on the severity or anything like that, but we'll find out soon enough. · (125) ·
So much for starting the homestand off on the right foot. The Red Sox clobbered the Yankees by the score of 9-4 in Tuesday night's series opener, New York's fourth loss in their last five games. The Yankees are now 24-29 against the AL East this year, including 9-20 in their last 29 intra-division games.
Shane Slammed
Shane Greene is one of the few reasons the Yankees can even pretend to still be in the race for the second wildcard spot. He's been really good since coming up just before the All-Star break. But Greene got destroyed on Tuesday night, allowing six runs on six hits and three walks in only three innings of work. Five of the nine base-runners reached in two-strike counts, which gives you an idea of how much he was struggling. Batters had a .175 OBP in two-strike counts against Greene coming into the game.
There's no real mystery about what happened here. Greene was simply catching way too much of plate and giving hitters plenty of pitches to hammer. The box score says 38 of his 67 pitches were strikes (57%), but that doesn't say anything about the quality of his pitches, which were awful. Even a few of his outs were hard hit. What can you do? Greene picked an unfortunate time to have his worst start in the big leagues. Now he has to shake it off and get back to where he was before Tuesday. The Yankees are falling out of the playoff race but he's still competing for a 2015 rotation spot.
Fifth Inning Fight
Aside from Martin Prado's solo homer in the third inning, the Bombers didn't put up much of a fight against Joe Kelly in the first four innings. The homer was their only base-runner in those four innings, in fact. That all changed in the fifth thanks to a patented 2014 Yankees rally that could have been a whole lot bigger if they were able to get out of their own way.
Carlos Beltran, Brian McCann, and Prado opened the inning with back-to-back-to-back singles — McCann bunted to third to beat the shift — but the end result was runners at second and third with one out and no runs scored. Beltran got a poor read on Prado's hit over the left fielder's head and was only able to advance to third. Prado, thinking it was an easy double, took a big turn around first only to see McCann standing at second. He was caught in a rundown for the first out. Beltran got a bad read but ultimately Prado has to know what the runners in front of him are doing.
Anyway, the Yankees ran themselves out of a bases loaded situation there but Chase Headley drew a walk following Prado's single to re-load (?) the bases. Kelly then walked Francisco Cervelli to force in the team's second run. Jacoby Ellsbury lined out to short for the second out and Derek Jeter grounded out weakly to short for the third out … until Joe Girardi challenged and it was overturned, scoring a run and re-loading the bases. Jeter hit the ball so weakly that he was able to beat it out. I'm not joking.
That set things up for Brett Gardner, the number three hitter du jour and the team's best player pretty much all season. He saw five pitches from Kelly, all outside the zone, swung at one of them, and was called out on strikes. Strike three was such an awful call. Here's the strike zone plot, courtesy of Brooks Baseball: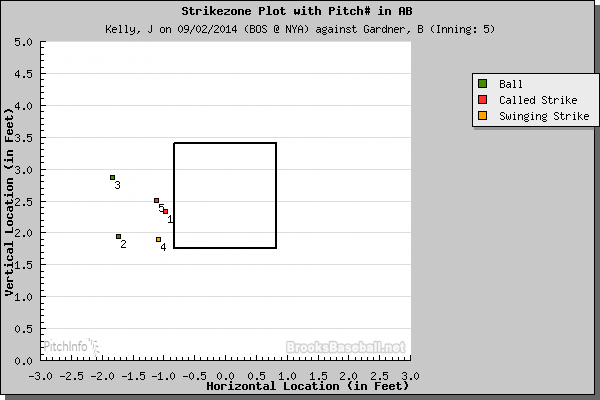 Terrible. The only actual strike in that at-bat was a strike because Gardner swung at it and missed (pitch four). YES showed an overhead angle and strike three was in the other batter's box. Home plate ump Tim Timmons had a pretty crappy zone all night (strike zone plots) but that call took the cake. Gardner slammed his bat, slammed his helmet, and got himself ejected. That only compounded the problem. I know he was mad and rightfully so, but he's way too important to get himself thrown out of a September game with his team fighting for a postseason spot. Four hits, two walks, two runs. 2014 Yankees.
Last Four Innings
After that self-stifled fifth inning rally, the game pretty much flew by. Esmil Rogers replaced Greene and served up a solo homer in the fourth, but otherwise he and three other relievers (Rich Hill, Adam Warren, David Huff) combined to retire 12 of 13 Red Sox batters from the fifth through eighth innings. Chaz Roe allowed two runs in the ninth. I've already seen enough of him to know whatever the Yankees gave the Marlins was too much. The bullpen more or less held up its end of the bargain until Roe showed up.
The offense never came, of course. It never does. The Yankees had runners on base in the sixth (one-out walk by Beltran), seventh (Prado reached on an error and Headley walked, both with no outs), and eighth (two-out walk by Teixeira) but couldn't score. McCann banged into a double play to end the sixth, Cervelli banged into a double play to short-circuit the seventh, and Beltran flew out to end the eighth. McCann hit a garbage time solo homer off the shell of Koji Uehara in the ninth for no apparent reason.
Leftovers
The Yankees had seven hits as a team. Prado and McCann had two each while Jeter, Headley, and Beltran had one each. Two of the seven (Jeter and McCann) were infield singles and another (Beltran) was a ground ball with eyes. Really knocked it around on Tuesday. Teixeira, Beltran, Cervelli, and Headley (two) each drew walks. There's your offense.
The Red Sox, meanwhile, managed to pick up 12 hits as a team even though five of the nine players in their starting lineup went hitless. Mookie Betts (three hits), Yoenis Cespedes (three hits), Daniel Nava (two hits), and Xander Bogaerts (four hits) did all the damage.
Box Score, WPA Graph & Standings
The box score and video highlights are at MLB.com. FanGraphs has some other stats and the updated standings are at ESPN. The Yankees are now five games back of the second wild-card spot and FanGraphs puts their postseason odds at 4.7%. They were only 3.5 games out of a playoff spot after 136 games last year, before they committed $500M+ to free agents.

Source: FanGraphs
Up Next
The Yankees and Red Sox will continue the series Wednesday, when Hiroki Kuroda and Anthony Ranaudo square off. RAB Tickets can get you in the door if you want to catch that game or any of the other seven games left on the homestand. There are only 16 home games left this season, you know.
Yay, Yankees-Red Sox. Yay. The rivalry has definitely lost some luster through the years and that has been especially true this season, with the Red Sox quickly falling out of the contention and the Yankees slowly fading in the standings. Is it better to burn out or fade away? I'm thinking fade away. I prefer to have a September baseball game make me feel something other than complete indifference.
Anyway, the Yankees start a nice nine-game, ten-day homestand tonight, and they're going to need to win about seven of the nine games to have a chance at the second wildcard spot. That probably won't happen, but that's okay. It's worth a try though. Boston is out of it and they've been playing terribly of late, so let's start the homestand off on the right foot. Here is the Red Sox lineup and here is the Yankees lineup:
It is crazy hot and humid in New York. The sky is nice and blue, but I wouldn't exactly call this weather comfortable. It's like standing in soup. This evening's game will begin at 7:05 pm ET, and you can watch on either YES locally or MLB Network nationally. Enjoy the game, everyone.
Updates: In case you missed it earlier, the Yankees called up eight players now that rosters have expanded in September … tests came back clean on Masahiro Tanaka's sore arm and he has been diagnosed with fatigue … Ellsbury's big week earned him AL Player of the Week honors.
By

Tests on right-hander Masahiro Tanaka's sore arm came back clean, Joe Girardi told reporters. The doctor said it's just fatigue. Tanaka has been working out at Yankee Stadium these last few days and he played catch this afternoon. He is scheduled to throw a bullpen session sometime later this week. Worth repeating: the tests came back clean. Exhale. · (122) ·
The calendar has flipped to September, which means it's time for rosters to expand The Yankees announced they have called up eight players from Triple-A Scranton this afternoon: RHP Chaz Roe, RHP Chase Whitley, RHP Bryan Mitchell, RHP Preston Claiborne, LHP Rich Hill, C John Ryan Murphy, OF Chris Young, and OF Antoan Richardson. They're all available for tonight's game. Young took Alex Rodriguez's locker, if you're interested in that sort of stuff.
Whitley, Mitchell, Claiborne, and Murphy are already on the 40-man roster. To make room for Roe, Hill, Young, and Richardson, the Yankees released Matt Daley, designated Zoilo Almonte for assignment, and transferred both Masahiro Tanaka (elbow) and Slade Heathcott (knee) to the 60-day DL. Tanaka has been on the disabled list since July 10th, so he is eligible to be activated next Monday. Heathcott technically had to be called up from Double-A Trenton before he could be placed the 60-day DL.
The Yankees acquired Roe from the Marlins over the weekend and signed Young to a minor league deal last week. It had become obvious Almonte was never going to get a chance in New York, so he has been swapped out for the speedy Richardson, who stole 26 bases in 27 attempts with Triple-A Scranton. Whitley, Mitchell, Claiborne, Murphy, and Hill were all up with the Yankees at some other point this season. Austin Romine is the notable September call-up snub since he's already on the 40-man roster.
As always, the September call-ups won't play all that much these next few weeks. They're there to eat innings in blowouts and give the regulars some rest. Young will probably see time against left-handed starters and Richardson will be the pinch-runner specialist. Given the state of the bullpen, maybe Claiborne or Mitchell will pitch their way into the Circle of Trust™ these next few weeks. Crazier things have happened. Either way, there are some extra warm bodies on the roster now.
Labor Day weekend is over and it's time for another surprisingly unimportant Yankees-Red Sox series. I mean, it's not totally meaningless, the Yankees aren't completely out of the second wildcard race, but the Red Sox are. In fact, they're on pace to finish with the second worst record by a defending World Series champion in baseball history, behind only the ain't even tryin' 1998 Marlins. The Yankees are 8-5 against Boston this season, including 4-3 in the Bronx.
What Have They Done Lately?
The Sawx split four games with the Rays in Tampa over the holiday weekend and they've lost eleven of their last 15 games overall. Boston is 12-17 since trading away all their good pitchers at the deadline and they currently sit in last place in the AL East at 60-77 with a -73 run differential. That is the fifth worst record in all of baseball.
Offense
The Red Sox have averaged 3.84 runs per game with a team 89 wRC+ this year, giving them a comfortably below-average offense overall. Since the trade deadline they are averaging 3.83 runs per game with a 101 wRC+. So they're hitting better without scoring more runs, if that makes sense. 2B Dustin Pedroia (101 wRC+) is unlikely to play this series due to concussion symptoms after getting elbowed in the head during a play at second base. OF Shane Victorino (87 wRC+) is done for the year following back surgery.
Manager John Farrell's new-look lineup is built around the power bats of OF Yoenis Cespedes (112 wRC+), DH David Ortiz (135 wRC+), and 1B Mike Napoli (127 wRC+). Ortiz and Napoli always kill the Yankees, but you knew that already. New pickup 1B/OF Allen Craig (78 wRC+) hasn't hit since hurting his foot last year and SS Xander Bogaerts (74 wRC+) has been a colossal disappointment this season. That guy was supposed to be well on his way to superstardom by now.
The rest of the regular lineup includes UTIL Brock Holt (101 wRC+), who has slowed down quite a bit in recent weeks, and platoon OF Daniel Nava (87 wRC+). 3B Will Middlebrooks (47 wRC+) still plays regularly for whatever reason. C Christian Vazquez (52 wRC+) and C David Ross (67 wRC+) split time behind the plate. 2B/OF Mookie Betts (119 wRC+ in limited time) is getting an extended audition this month and the bench includes September call-ups IF Jemile Weeks and IF Carlos Rivero.
Pitching Matchups
Tuesday: RHP Shane Greene (vs. BOS) vs. RHP Joe Kelly (vs. NYY)
Boston acquired the 26-year-old Kelly from the Cardinals in the John Lackey trade and so far he has the same number of walks as strikeouts (18) with the Red Sox. He has a 4.14 ERA (4.57 FIP) in 12 starts and 63 innings overall this year, pairing mediocre strikeout (6.14 K/9 and 15.8 K%) and walk (4.00 BB/9 and 10.3 BB%) rates with an excellent grounder rate (53.1%). Kelly has done an okay job keeping the ball in the park (0.86 HR/9 and 12.5 HR/FB%) and his platoon split is tiny. A mid-90s two-seamer is his main pitch, which he'll use to set up low-80s changeups and upper-70s curveballs. He'll throw a handful of mid-90s four-seamers and mid-80s sliders per start as well. The Yankees did not see Kelly when they played the Cardinals earlier this year or the Red Sox last month.
Wednesday: RHP Hiroki Kuroda (vs. BOS) vs. RHP Anthony Ranaudo (vs. NYY)
Ranaudo, 24, has three big league starts (18 innings) are under his belt, and he's won them all despite a 4.50 ERA (6.57 FIP). He has more walks (4.00 BB/9 and 10.3 BB%) than strikeouts (3.50 K/9 and 9.0 K%) and gives up a ton of homers (2.00 HR/9 and 12.9 HR/FB%) because he gets so few grounders (31.1%). Righties (.356 wOBA) have hit him harder than lefties (.332 wOBA) in a small sample. Ranaudo is primarily a two-pitch pitcher who has thrown his low-90s four-seamer more than 75% of the time in the big leagues. An upper-70s curveball is his top secondary pitch, though he'll also throw a handful of low-80s changeups per start. Ranaudo held New York to two runs in six innings in his first career start a few weeks ago.
Thursday: LHP Chris Capuano (vs. BOS) vs. RHP Allen Webster (vs. NYY)
The 24-year-old Webster, who was part of the big blockbuster trade with the Dodgers a few years ago, was the first young pitcher to get the call when the Red Sox started trading away their veteran hurlers earlier this year. He's been awful, pitching to a 6.69 ERA (4.70 FIP) in seven starts and 35 innings, with more walks (5.91 BB/9 and 14.4 BB%) than strikeouts (5.40 K/9 and 14.4 K%). The only thing he's done exceptionally well is limit homers (0.26 HR/9 and 2.8 HR/FB%), and that is an unsustainably low homerun rate. Webster has done a good job keeping the ball on the ground (45.9%) and his platoon split is nonexistent (.353 vs. .352 wOBAs). He'll sit in the low-to-mid-90s with two and four-seam fastballs, backing them up with low-80s sliders and changeups. The Yankees hammered him for four runs and six walks in only two innings a few weeks ago.
Bullpen Status
Since they're out of it, the Red Sox have said they will ease up on closer RHP Koji Uehara (2.66 FIP) and setup man RHP Junichi Tazawa (3.09 FIP) these last few weeks to control their workload. Both pitched a ton the first five months of the season. RHP Edward Mujica (3.77 FIP) is going to see some save opportunities in the meantime.
RHP Burke Badenhop (3.22 FIP) and LHP Craig Breslow (5.18 FIP) are Farrell's other bullpen regulars while guys like LHP Tommy Layne (3.13 FIP) and RHP Alex Wilson (3.89 FIP) were called up in recent weeks. Knuckleballer RHP Steven Wright was the club's only pitching call-up when rosters expanded yesterday. Badenhop, Breslow, Tazawa, Mujica, and Layne all pitched yesterday, none more than an inning. Our Bullpen Workload page has details on Joe Girardi's relievers. Head over to Over The Monster for everything you need to know about the Red Sox.
The holiday weekend is over and it's back to business as usual. These first days after a long weekend are always the worst. The Red Sox come to town for a three-game starting tonight as well, and those games are always a chore. Anyway, here are some miscellaneous thoughts following the off-day.
1. By far, the biggest storyline of September will be Masahiro Tanaka's rehab from his partially torn elbow ligament. His recent "general soreness" setback was not encouraging, but, based on what we know right now, it seems like a dead arm phase. He has worked out at Yankee Stadium the last few days and even played catch. I know it feels like Tommy John surgery is inevitable — it is really, it's only a matter of time once the ligament tears even a little bit — but I strongly disagree with everyone who says Tanaka should have the surgery now just to get it over with. I know the procedure has a high success rate, but all the pitchers who have had complications during their rehabs from elbow reconstruction just within the last year (Cory Luebke, Daniel Hudson, Patrick Corbin, Brandon Beachy, Jonny Venters, etc.)are a reminder of how risky it still is. And besides, four (four!) doctors advised the Yankees and Tanaka to go the rehab route. Brian Cashman said Tanaka was personally examined by Dr. David Atlchek, Yankees team doctor Dr. Chris Ahmad, and Dodgers team doctor Dr. Neal ElAttrache during the injury conference call, and Jon Heyman reported the test results were also sent to Dr. James Andrews for consultation. When four (four!) of the leading doctors in the field tell you go with the rehab option, you go with the rehab option. Having the surgery against the recommendation of four doctors would have been beyond irresponsible. It would have been a fireable offense for whoever ordered it. Tanaka might end up having surgery because that's just how elbows work. Pitchers break. But hopefully this "general soreness" is just a blip in the rehab and he's able to make a start or two late in the season just so we can some chance to evaluate him heading into 2015.
2. I'm disappointed we are unlikely to see Jacob Lindgren this month but I get it. He's thrown 80 innings this year, which is a ton for a slider-heavy reliever, and there is definite risk to adding a player to the 40-man roster before he is Rule 5 Draft eligible, especially since you're only calling him up for a few weeks in September. I do wonder how much of this is related to the team's place in the postseason race though. Would the Yankees have been more willing to bring him to help out these last few weeks if they were only, say, a game out of the second wildcard spot rather than four games back with four teams ahead of them? Lindgren made his first appearance with Double-A Trenton on August 6th, when the Yankees were only one game back of the second wildcard. He then threw 3.1 innings in his first three outings with the Thunder while the big league squad fell to four games back of a postseason spot. Lindgren then threw two innings in each of his next four appearances. Maybe that's when the decision was made that he would not come up in September, so they moved forward with a plan to make sure he got all of his innings in before the end of the minor league season. Either way, I fully expect Lindgren to come to big league Spring Training next year with a chance to win a bullpen job. He'll certainly make his MLB debut at some point in 2015. You don't draft a reliever with your top pick unless you intend to get him to the show in a hurry.
3. As of this morning, the Yankees have 43 players on the 40-man roster when you include Alex Rodriguez (suspended) and both CC Sabathia and Ivan Nova (60-day DL). I count eight players who will come off the 40-man as free agents this winter (Chris Capuano, Hiroki Kuroda, Brandon McCarthy, David Robertson, Stephen Drew, Chase Headley, Derek Jeter, Ichiro Suzuki) and another five who can be easily cut loose (Matt Daley, David Huff, Josh Outman, Esmil Rogers, Zelous Wheeler), giving the team ten open spots heading into the winter. Tyler Austin is a lock to be added to avoid Rule 5 Draft exposure while others like Branden Pinder, Nick Goody, Mark Montgomery, Mason Williams, and Danny Burawa are on the fence. I'd bet on at least three of those guys being protected, maybe even four. (Just don't ask me which three or four.) Anyway, add those guys and those ten open spots are really five or six open spots. Calling up Lindgren and/or Rob Refsnyder for a month before they're Rule 5 eligible would even further limit roster flexibility. Guys like Jose Campos, Slade Heathcott, Chase Whitley, Preston Claiborne, and Austin Romine could wind up getting the axe this winter just so the team can re-sign or replace Robertson, McCarthy, et al as it is. I'm not quite sure where this is heading, but the point is the Yankees are facing a real 40-man crunch this winter and I have a hard time seeing how it will improve without the unexpected unloading of a big money contract or three.
4. Yesterday ESPN stats guru Mark Simon posted some hard-hit ball data — I really wish this stuff was available publicly somewhere — and the Yankees ranked dead last in all of baseball in hard-hit ball rate for the month of August at 12.4%. That is hard-hit balls per at-bat, not balls in play, just to be clear. The Twins (!?) led baseball at 19.1% last month and the league average is somewhere around 15.2%. This is all based on human stringers watching every game and recording the data, so it is imperfect. It's not HitFX data. Anyway, I dug through Simon's archives and found that, as of August 4th, the Yankees had the 14th highest hard-hit ball rate this season at 15.3%, so basically league average. That number obviously came down last month, after the trade deadline. This matches up with the eye test, in my opinion. The Yankees as a team don't see to hit the ball hard all that consistently, with Brett Gardner and Jacoby Ellsbury the only notable exceptions. There are a ton of weak fly balls and five or six-hop ground balls every game. More than usual. When I look up and down the roster and see, say, Brian McCann with a .245 BABIP or Mark Teixeira with a .235 BABIP or Carlos Beltran with a .254 BABIP, it's not surprising. It doesn't seem like anyone on the roster is having a "bad luck" season. These guys just flat out are making crap contact and getting crap results as a result. That is totally subjective, of course, but Simon's data does back up what my eyes are telling me. Unless these guys magically regain bat speed in the future, it's difficult to believe their offensive performances will substantially improve based on the quality of the contact they're making.
5. The Yankees have 17 home games left this season — the most in baseball, by the way — and I would put money on Derek Jeter starting all 17 of those games. Barring injury, of course. Maybe not all at shortstop, but in the lineup every single day. The team is fading out of the postseason race and their attention will shift to maximizing all things Jeter this month, especially profits. It's just smart business. They'd be stupid not to do that. I know Jeter hasn't been very good this year, especially these last few weeks, but holy crap there's only a month left in his career. I have a very difficult time remembered the pre-Jeter years and I think the post-Jeter years will be weirder than the post-Mariano Rivera years. Jeter is the last tie to the dynasty years, teams that were a huge part of my formative year. You don't forget that stuff and with Jeter gone, the page will be officially turned. It's just … weird. I feel like all I've known is the Jeter era Yankees — I know I'm not the only one who feels like that — and that whole chapter of franchise history is about to close. Getting old sucks, man.
This is the final DotF of the year, folks. The 2014 minor league season is over for all six of the Yankees' affiliates. The Arizona Fall League season starts on October 7th — the Yankees are sending several high-profile prospects to the desert this year — and the other winter leagues start, well, in the winter, but we'll keep you updated along the way. Until then, DotF is on hiatus until the AzFL.
Triple-A Scranton Game One (2-1 win over Lehigh Valley, walk-off style) completion of yesterday's game, which was suspended due to rain in the top of the eighth
2B-SS Jose Pirela: 0-4, 1 K — hit .305/.351/.442 with 21 doubles, eleven triples, ten homers, 15 steals, 37 walks, and 73 strikeouts in 130 games
DH Chris Young: 0-3, 1 K — played yesterday, not today
PH-DH Scott Sizemore: 0-1, 1 K — played today, not yesterday
CF Zoilo Almonte: 0-3, 1 BB, 2 K
1B Kyle Roller: 2-4, 1 R, 1 HR, 1 RBI, 2 K
RF Ramon Flores: 0-4, 1 K
C John Ryan Murphy: 2-3, 1 2B – played yesterday, not today … finishes the season with a .246/.292/.397 batting line and nine doubles, six homers, 13 walks, and 42 strikeouts in 51 Triple-A games, a disappointing follow-up to last year's breakout
2B Rob Refsnyder: 1-1, 1 2B, 1 RBI — took Murphy's spot in the lineup today and hit a walk-off double
RHP Diego Moreno: 3 IP, 2 H, 0 R, 0 ER, 1 BB, 3 K, 5/2 GB/FB — 30 of 50 pitches were strikes
RHP Danny Burawa: 2.2 IP, 1 H, 0 R, 0 ER, 0 BB, 6 K, 1/1 GB/FB – 26 of 44 pitches were strikes (59%) … back up from Trenton for the final weekend of the season … finishes the year with a 79/30 K/BB in 62 innings after a 66/42 K/BB in 66 innings last year
RHP Nick Rumbelow: 2.1 IP, 2 H, 1 R, 1 ER, 0 BB, 2 K, 4/1 GB/FB — 24 of 39 pitches for strikes (62%) … last year's seventh rounder climbed four levels this year and posted a 2.67 ERA with a 83/18 K/BB in 60.2 innings
LHP Tyler Webb: 1 IP, zeroes, 3 K — eleven of 18 pitches were strikes (61%) … last year's tenth rounder climbed three levels this summer and had a 97/22 K/BB in 69.2 innings
For the first time since 2005, the Yankees have an off-day on Labor Day. That is kinda weird. Not bad though. It'll be nice to spend the holiday doing something else besides focusing on baseball. We'll post any breaking news or whatnot, plus we will have the final DotF of the season later tonight, but otherwise use this thread to talk about whatever throughout the rest of the day. Enjoy the holiday, folks.
The Yankees are off today, and when they regroup at Yankee Stadium for the series opener against the Red Sox tomorrow, there figures to be a bunch of extra players in the clubhouse thanks to expanded rosters. Here are a bunch of injury updates in the meantime, courtesy of Wally Matthews, Ken Rosenthal, George King, and Brendan Kuty.