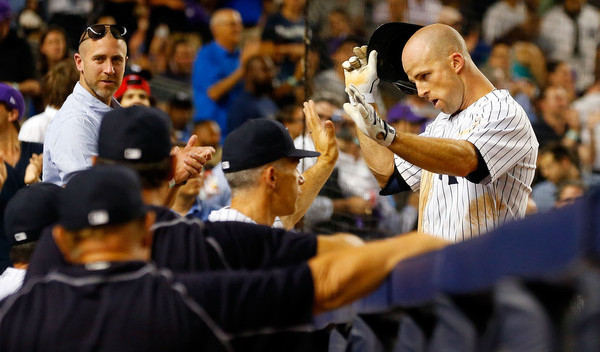 For the second straight offseason, the Yankees have focused on improving their team through trades rather than free agency. They've made four trades so far this offseason, sending out a total of eight players in exchange for Aroldis Chapman, Starlin Castro, Aaron Hicks, Luis Cessa, and Chad Green. Chapman and Castro are the headliners, but the depth additions shouldn't be overlooked either.
Brett Gardner and Andrew Miller have been the subject of trade rumors all offseason, mostly because they're the most tradeable veterans on the club. They're making real money and have positive trade value. Gardner and Miller represent opportunities to cut costs and add young talent. The cutting costs part is sorta dumb for a team with New York's resources, but adding young talent? That always makes sense.
Meanwhile, a couple hundred miles west and in the other league, the Cubs have completed their rebuilding process and are now taking steps to improve their status as contenders. They've added John Lackey, Ben Zobrist, and Jason Heyward this offseason, plus Adam Warren and Trevor Cahill as depth pieces. The Cubs are where the Yankees want to be in the near future, albeit without all those messy fifth place finishes along the way.
Even after all those moves, the Cubs still have some roster issues. They're in great shape, probably the best team in baseball at this very moment, but there are always upgrades to be made. The Cubbies could really use a center fielder to push Heyward back to this natural right field — can you imagine their outfield defense when Heyward is out of the lineup? goodness — and another high-end reliever wouldn't hurt. In fact, Bruce Levine says the Cubs are "hell bent" on improving the bullpen.
The Yankees, as it just so happens, have both a center fielder (Gardner!) and a high-end reliever (Miller!) to offer. The Cubs asked about Gardner early in the Castro trade talks, so we know they have some level of interest in him. As for Miller, well, every team wants him. He's great and he's affordable. If he weren't a Yankee, we'd be talking about ways the Yankees might be able to get him. Brett Taylor at Bleacher Nation did a great job breaking down the Miller/Cubs stuff.
The potential for a trade is so obvious. The Yankees could send Gardner and/or Miller to the Cubs and the Cubs could send some young players to the Yankees. There's a slight problem with that though. The Yankees have been focusing on young starting pitching in any Gardner or Miller trade — it's a clear organizational need — and Chicago doesn't have any to offer. The closest is Kyle Hendricks, who's a fine pitcher, but is the kind of upper-80s fastball guy who goes from high-3.00s ERA/low-3.00s FIP in the NL to mid-4.00s ERA/high-3.00s FIP in Yankee Stadium and the AL East.
The Yankees match up well with the Cubs but the Cubs don't necessarily match up well with the Yankees, not unless the Yankees change their plans and stop prioritizing young pitching. When you're talking about an above-average everyday player like Gardner and an elite player like Miller, I don't think it would be wrong to focus on getting the most talent regardless of position. That said, the Yankees don't have to trade Gardner or Miller. Trading them almost certainly makes the 2016 (and 2017?) Yankees worse.
If the Yankees are going to stick to their guns and continue to ask for a young pitcher, then a direct trade with the Cubs probably won't happen. That said, Brian Cashman and Cubs president of baseball operations Theo Epstein have both shown they are very willing to get creative, so I do think the potential for a three-team trade exists. Gardner and/or Miller go to the Cubs, the Cubs send young players to the third team, and the third team sends a young pitcher to the Yankees. That seems … doable? I guess so. There are two hurdles to clear.
1. Who is the third team?
The elephant in the room. The third team will need to have a young starter they're willing to move for a young position player(s) to make this work. (Since the Cubs have no young arms, position players it is.) These are the clubs that jump to mind:
Angels: Need a left fielder and a second baseman, the cheaper the better. Could spare Nick Tropeano or even Andrew Heaney if the price is right. The Cashman-Billy Eppler connection doesn't necessarily mean talks would go smoothly.
Athletics: The A's are in a perpetual rebuild and will take any decent young players they can get their hands on. Sonny Gray ain't happening. What about Jesse Hahn or Kendall Graveman?
Indians: Need outfielders, also the cheaper the better. They have plenty of young pitching, both high-end (Carlos Carrasco, Danny Salazar) and low-end (Cody Anderson, Josh Tomlin).
Nationals: Need an outfielder to replace Denard Span, preferably a center fielder but it's not imperative. (Bryce Harper can play center.) Joe Ross and A.J. Cole are among their youngins. The Yankees could probably do a direct trade with Washington. No need for three-team fanciness.
Rays: They'll take pretty much anyone who's young and have been listening to offers for both Alex Cobb and Jake Odorizzi this offseason. Would they do a deal with the Yankees and vice versa? I think it's unlikely.
So that's my list. I came up with five teams that could fit as the third team in a Yankees-Cubs three-team swap, and one of those five teams is the Rays. I would be surprised if the Yankees and Rays are open to dealing with each other. So in reality, it's four teams: the Angels, A's, Indians, and Nationals. I didn't miss anyone obvious, did I?
2. What wouldn't the Cubs just keep the young starter for themselves?
A good question! The Cubs have been looking for a young starter themselves this offseason. Joel Sherman says they offered Jorge Soler for Shelby Miller and were the runner-up to get him. Marc Topkin says they talked to the Rays about sending Javier Baez to Tampa for Cobb. So the Cubbies are out there trying to get a young starter themselves.
So I guess the answer to the question is … the Cubs are in win-now mode and they don't need a young starter to win in 2016. That make sense? Their rotation is full as it is and they have some depth as well (Travis Wood, Warren, Cahill). They need the center fielder and top notch reliever more than a future rotation piece at the moment. The Yankees are kinda sorta trying to contend in 2016 but are mostly focusing on 2017 and beyond.
* * *
This is where I acknowledge the odds of a Gardner/Miller Yankees/Cubs three-team trade are very small. Three-team deals are complicated, and at this point of the offseason, most teams have handled their major business and aren't looking to shake up their roster.
The potential for such a trade does exist though. The Yankees have the pieces to address Chicago's biggest needs, and the Cubs have the kind of young talent that can pry loose a young starter. Given Cashman's and Epstein's willingness to get creative and made big deals, don't be surprised if the two sides explore a three-team blockbuster as a way of getting what they need.