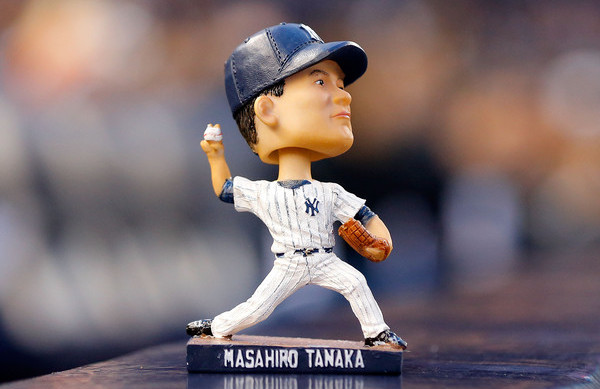 The Yankees won for the tenth time in 12 games last night, clinching their fourth straight series win, yet it was a bad day for the team overall. Masahiro Tanaka unexpectedly went down with wrist tendinitis and a "small" forearm strain, injuries that will "conservatively" keep him out for a month according to Brian Cashman. This is bad. This is a very bad thing. So I have thoughts to share.
1. There is no such thing as a "small" or "minor" or "slight" forearm strain for Tanaka. Forearm strains are very common precursors to Tommy John surgery and he already went through the whole partially torn elbow ligament thing last year. The wrist issue is whatever. The forearm strain is the real concern. I'm one of those people who think the Yankees and Tanaka absolutely did the right thing last year by rehabbing the ligament tear. Do exactly what the doctors recommend. Coming back from Tommy John surgery is hard. We never know the full story with injuries, all we know is what is what the team is willing to tell us, and based on everything we know about Tanaka's elbow, I think trying to avoid surgery was an easy call. This new forearm strain doesn't change that. It's a scary injury given his situation, there's no arguing that, but it doesn't make the decision to rehab the injury the wrong one in my opinion. Listen to the doctors! That's common sense, right?
2. As we've seen the last few years, the Yankees are not the type of team that will go out and make a knee-jerk trade following Tanaka's injury. They'll cycle through their internal options first before going outside the organization for help. When Ivan Nova got hurt last year, Vidal Nuno stepped in. When CC Sabathia went down, it was Chase Whitley. When Tanaka got hurt, Shane Greene got his chance. I expect the Yankees to do the same now. Joe Girardi already confirmed Whitley will remain in the rotation for the time being, and Bryan Mitchell is another option down in Triple-A. Chris Capuano (quad) is pitching in Extended Spring Training games and is expected to be back in mid-May, so Whitley and Mitchell only have to hold down the fort until then. Nova (elbow) is a little further away and not due back until June. Whitley and Mitchell are Plan A. Capuano is Plan B. Nova is Plan C. Hopefully they don't need a Plan D. The Yankees might bring in a depth arm — like Capuano last year — but otherwise I wouldn't get my hopes expecting a trade for a noteworthy starter anytime soon.
3. Now, that said, of course the Yankees will keep an eye on the trade market for a starter. They do that literally 365 days a year. Someone might become available who could help and I'm sure they'd pull the trigger if it makes sense. Cole Hamels and Johnny Cueto are the big names, but the Yankees figure to face some stiff competition for those guys (Red Sox, Dodgers, Cardinals) and I'm not sure they have the prospect power to make it work anyway. They might have to scour the trade market for second tier (Kyle Lohse? Matt Garza?) or even third tier (Aaron Harang? Dan Haren?) rotation options. A repeat of the McCarthy trade would be ideal — buy low on someone, make some tweaks, get a few weeks of high-end performance. I'm not sure doing that again is realistic, at least not to extent McCarthy worked out, and I'm not even sure who would be a candidate for such a move. Yovani Gallardo? Point is, if the Yankees do make a trade for pitching, I don't think it'll be a big one.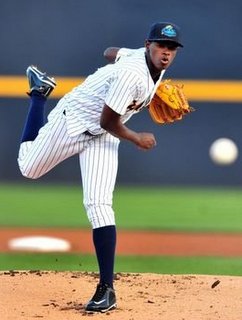 4. I do not think the Yankees should turn to Luis Severino to replace Tanaka. Not right now. Tanaka's injury shouldn't change Severino's timetable at all. His development path isn't any different today than it was 24 hours ago. Severino has made three Double-A starts this year and he's been excellent (2.40 ERA and 2.01 FIP), but he's yet to top 88 pitches in an outing and I'm not sure he's capable of going through a big lineup multiple times at this point. The Yankees have moved Severino up the ladder pretty aggressively the last two years and I'm sure he'll be up with Triple-A Scranton sooner rather than later. Maybe he'll be a big league option later in the season, say July or August. Right now is not the time though. Whitley and Mitchell are perfectly fine fill-in starters until Capuano and eventually Nova return. Severino's development is not something to screw around with in the wake of this unfortunate yet not entirely unpredictable Tanaka injury.
5. With Tanaka out, the Yankees really need Sabathia to step up and be more of a factor every fifth day. Nathan Eovaldi still has some things in his game to develop and I don't think it's fair to ask him to take an immediate step forward to pick up the slack. Sabathia has to be the guy. He's the grizzled vet, the guy making big bucks, the one who knows how to be a horse and lead a staff. It has now been more than two full years since Sabathia was even an average MLB starter, so expecting him to be that sort of pitcher is probably unrealistic. He can still spare the bullpen every fifth day though and that will be a big help. Six innings every time out, occasionally seven, that sort of thing. The Yankees need Sabathia to be an innings eater to ease the load on the rest of the staff, because the bullpen has worked a lot already this year and they only figure to work more now that Tanaka is injured. Sabathia's gotta step up.