By

Unfortunately it is not embeddable, but ESPN's Sports Science put together a neat and relatively short video examining Masahiro Tanaka earlier this week. They analyzed his exceptionally long stride, his "rising" four-seam fastball, and the movement on his trademark splitter. It's definitely a must watch. Here's the link again. Don't miss it. · (11) ·
In more ways than one, the Masahiro Tanaka signing was the Yankees' biggest move of the offseason. They ventured back into the big name international market for the first time since the Kei Igawa disaster and they landed a premium, 25-year-old starting pitcher. Someone who has been a workhorse and played on winning teams throughout his career. The kind of player who rarely becomes available for nothing but money, basically.
The Yankees committed a total of $175M to Tanaka back in January, giving him a seven-year contract worth $155M on top of the $20M release fee they will pay his former team, the Rakuten Golden Eagles. That contract includes an opt-out after the fourth year, but that isn't worth worrying about or discussing right now. We're hear to discuss what Tanaka can do right now, for the 2014 Yankees.
So far this spring we've had two chances to see Tanaka in action, and he was impressive both times. He threw two scoreless innings against the Phillies the weekend before last, and then last week he held that same Phillies squad to one solo homer in three innings. Tanaka has allowed just the one run on four hits and no walks in his five innings so far, striking out four and getting seven ground ball outs compared to four in the air. His third outing of the spring was a simulated game against some minor leaguers yesterday.
By all accounts, Tanaka has handled the transition well so far. He threw the first simulated game of his life yesterday, just to give you an idea of how new this all is to him. Tanaka has handled the baseball part of it well and seemingly the cultural change just fine too, though we can't know that for sure from where we sit. I think the best thing I can say about him right now is that he's looked very much like a veteran pitcher going about his business and getting ready for the season. He's not trying to light up the radar gun or impress onlooker with nasty breaking balls. Tanaka has been doing what he needs to do to prepare, nothing else.
Before the Yankees landed Tanaka, I compiled this post with everything I could find on the guy. Scouting reports, statistical evaluations, video, workload questions, the whole nine. If I thought it was reliable, I put it in there. It's everything we knew about the guy coming into Spring Training and right now we don't know much more. The whole "number two starter pretty much right away" expectation still exists. For a jumping off point about his possible performance, here are the various projections from FanGraphs:

Right away you see how little value the projections provide thanks to Oliver, which has Tanaka starting 39 games in 2014. I'll bet the under on that. If he had been playing in the big leagues for a few years now, projections would have a bit more value. Because he's coming over from Japan and changing leagues, these numbers don't help us much. It's pretty great to see that all of them expect him to a +3.5 WAR pitcher right away, I'd rather see than +1.0 WAR or something, but ultimately it means nothing.
There are three reasons why I think Tanaka can pretty damn successful right away for the Yankees. One, he pounds the zone. The scouting reports indicated as much and we've seen it so far in his two outings. Tanaka's shown a very no nonsense approach, getting ahead in the count and not nibbling. He controls the at-bats when he's on the mound. Two, Tanaka has two above-average offspeed pitches. We all know about the splitter …
… but he also throws a very good slider. It's not as good as the splitter, but it's not a show-me pitch either. Tanaka isn't some two-pitch pitcher. Far from it.
And the third reason why I think he can be successful right away is his makeup and competitiveness, which people smarter than I have rated as through the roof. The grind of a baseball season is tough enough, but going through that grind for the first time in a new country with a new team in a new league against new batters in a new ballpark and yadda yadda yadda can be overwhelming. Does his makeup and competitive guarantee he will be successful? Of course not. But they do make me feel better about his chances.
On the other hand, there are some reasons to think Tanaka might not be so successful this season. First and foremost is the the five-day schedule rather than a seven-day setup. Tanaka had some big individual game workloads with Rakuten over the years but he also had two extra days of rest between each start. The Yankees won't ask him to throw 130+ pitches each time out, but how will he adjust to pitching every fifth day instead of every seventh? Seems like everything is going well so far, but what happens in a few months when it's 90 degrees with 90% humidity every start? It's something to watch, no doubt about it.
Secondly, Tanaka likes to pitch up in the zone. That was the report coming over from Japan and he's done it in his two spring starts so far. He had one high pitch smashed into the right-center field gap for a double and another hit out to deep right for a fly out in his last start, a ball that might have been gone in Yankee Stadium. Pitching up in the zone is not necessarily a bad thing in and of itself — it's a great way to get swings and misses — but in the Bronx more fly balls mean more homers. I don't think Tanaka will be Phil Hughes when it comes to fly balls and dingers or anything, but the potential for the ill-timed gopher ball is there.
I don't think there is any way we can reasonably estimate what Tanaka will do this season. Can he give the team 180 innings of 3.50 ERA ball? I'd love that in his first year in the show. The first year has typically been a transition year for recent Japanese imports with the second year being the big breakout, so I'd take that 180/3.50 performance no questions asked. Based on everything we've heard and the little bit we've seen, Tanaka has the tools to be an excellent starting pitcher in MLB. Not just good, but one of the top 20-25 pitchers in the game. There are more factors at play here than stuff and command though. The new culture and routine will affect his performance.
Given his age — Tanaka turned 25 in November, so he'll spend the entire season at that age — the amount of money the team sunk into him, and the rest of the roster (both MLB and MiLB), I think Tanaka is the single most important player in the organization. Not necessarily for 2014, but going forward. He's not the only one trying to make a transition, you know. The Yankees themselves are transitioning out of the dynasty years with Mariano Rivera retired and Derek Jeter following him after the season. Tanaka is the key player going forward, the young cornerstone player they can build around in the future. That's a lot of responsibility and his first step towards becoming the next great Yankees begins this year.
Once again, Hiroki Kuroda is flying under the radar. It feels like he's done it his entire Yankees career. Everyone is talking about Masahiro Tanaka or the healthy Michael Pineda or CC Sabathia's missing fastball this spring, but no one is talking about Kuroda, the team's best pitcher over the last two years. He's allowed two hits and one walk in his 4.2 Grapefruit League innings so far, striking out seven. Business as usual, I guess.
Right-hander Jose Campos, the other guy in the Pineda-Jesus Montero trade, is scheduled to make his spring debut this afternoon. The Yankees have been taking it slow with him in camp and really in general since he missed most of 2012 with a small fracture in his elbow. Campos, 21, had a 3.41 ERA and 2.83 FIP in 87 innings for Low-A Charleston last summer while working short, very controlled outings. I ranked him as the team's 15th best prospect last month.
The Tigers made the short trip over from Lakeland for this afternoon's game. They didn't bring too many of their regulars, only Ian Kinsler, Victor Martinez, and Alex Avila among the position players. Top prospect and new third baseman Nick Castellanos will be in the lineup as well. Anibal Sanchez is on the mound. Here is Joe Girardi's starting lineup:
SS Derek Jeter
1B Russ Canzler
And on the mound is Kuroda for the third time this spring. He's probably scheduled for something like four innings or 60-65 pitches.
Available Pitchers: RHP Shawn Kelley, RHP Jose Campos, RHP Robert Coello, RHP Danny Burawa, RHP Yoshinori Tateyama, and LHP Fred Lewis are all scheduled to pitch. As I said, Campos will be making his spring debut. RHP Chase Whitley, RHP Shane Greene, RHP Chris Leroux, and RHP Bryan Mitchell are the extra arms.
Available Position Players: C Austin Romine, 1B Jose Gil, 2B Zelous Wheeler, SS Dean Anna, 3B Jose Pirela, LF Yangervis Solarte, CF Antoan Richardson, RF Adonis Garcia, and DH John Ryan Murphy will be the second string off the bench. C Francisco Arcia, C Peter O'Brien, C Gary Sanchez, IF Corban Joseph, OF Zoilo Almonte, and OF Ramon Flores are also available.
Now, the bad news: It has been raining all morning in Tampa and the forecast isn't great for the rest of the afternoon. I don't know what that means for the game, but they did wait out a torrential downpour a weekend ago against the Phillies, when Tanaka was making his second start. There might be a delay at some point or the game might be postponed all together. We'll see. The game is scheduled to start a little after 1pm ET and can be seen live on YES, MLB Network, and MLB.tv. Enjoy.
Update (12:44pm): First pitch has been pushed back to 1:30pm ET. Not too bad.
I'm about to jinx the hell out of it, but this has been a very quiet Spring Training for the Yankees. Last spring was an injury filled nightmare, as I'm sure you remember. This year though? No complaints so far. Knock on wood.
That is not the case with the Braves. Their pitching staff has been hit hard by injuries, with Kris Medlen (elbow), Mike Minor (shoulder), and Brandon Beachy (biceps) all going down and questionable at best for Opening Day. Medlen's injury sounds rather serious too. Things are getting so bad that manager Fredi Gonzalez said "thank God we sign Freddy Garcia" the other day. Imagine that.
The Braves signed Ervin Santana to a one-year deal this morning, but one pitcher does not replace three. You can be sure Atlanta is still seeking depth arms. The Yankees have four pitchers competing for their final rotation spot, so they're one of the few teams that could trade a starter for help elsewhere. Do David Phelps, Adam Warren, or Vidal Nuno interest the Braves (I assume Michael Pineda is off limits)? Who knows. What does Wren have to offer? Let's look.
2B/SS Tyler Pastornicky
Pastornicky, 24, has hit .251/.292/.327 (84 wRC+) in 221 plate appearances over the last two seasons, only 33 of which came last year. He's been pushed aside by Andrelton Simmons and is currently competing with former Yankee Ramiro Pena for a bench job. Pastornicky managed a .292/.354/.392 (111 wRC+) batting line with four homers and nine steals in 320 plate appearances in Triple-A last summer.
Baseball America (subs. req'd) ranked Pastornicky as the team's seventh best prospect prior to the 2012 season, saying he "has a good feel for hitting and makes consistent line-drive contact … He has above-average range at shortstop, and he could get more out of his average arm with a more consistent arm slot." Some of the bloom has come off the rose the last two years as his bat has failed to develop, but Pastornicky can legitimately play short (he spent more of last year at second because Simmons isn't going anywhere) and the Yankees are in need of young infield help.
2B Dan Uggla
This is an automatic no for me. Has to be, right? We've already lived through the Vernon Wells experiment, no need to take on the infield version*. The 34-year-old Uggla hit .179/.309/.362 (91 wRC+) with 22 homers last season, struggling so much in the second half that he was benched in favor of Pena and Elliot Johnson at times, and was left off the postseason roster completely. He's also not much of a second baseman anymore and he's owed $26M through 2015. We heard the Yankees had no interest in Uggla in December and there's no reason to have interest in him now, no matter what the infield looks like.
* Okay, fine. Uggla has not been Vernon bad, but he's been bad. I'm not interested in seeing if he can recapture past magic.
2B Tommy La Stella
La Stella, 25, is local kid from New Jersey and the Braves' top middle infield prospect. He's expected to replace Uggla at second, perhaps as soon as Opening Day. La Stella managed a .356/.444/.492 (174 wRC+) batting line with five homers and eight steals in 352 plate appearances at (mostly) Double-A last summer, though he was obviously a bit old for the level. Here's what Baseball America (subs. req'd) had to say when they ranked him as the team's ninth best prospect a few weeks ago:
La Stella has hit at every level thanks to great hand-eye coordination and above-average bat speed. He has an excellent approach and exceptional feel for the strike zone, which helps him rack up more walks than strikeouts. La Stella also shines as a situational hitter with his ability to advance runners via the hit-and-run or by bunting. He runs the bases well and with intelligence despite not being blessed with great quick-twitch athleticism. Defensively, he makes all of the routine plays at the keystone and has an average arm. Nagging injuries, including an elbow issue this season, have kept him from playing even 100 games in a season.
The numbers are great and the scouting report indicates a classic number two hitter profile, though that might equal a number eight or nine hitter in a good lineup. La Stella's appeal is obvious given the Yankees' need for long-term infield solution, but I'm pretty sure the Braves would make him off limits while discussing back-end starters. This one ain't happening.
* * *
The Yankees don't need any outfielders and trading a potential starter for a reliever doesn't make a whole lot of sense, so it's infield or bust with the Braves. With La Stella off the table, it's Pastornicky or Uggla. With Uggla being awful, it's basically Pastornicky, and there have been no indications he is actually available. The Santana signing removed any real sense of urgency.
This is not a similar situation as potentially trading a spare catcher to the Diamondbacks for one of their young infielders. Not only do those infielders have more ceiling than Pastornicky, who looks more like a utility man than anything at this point, but dealing Phelps or Warren or Nuno would directly impact New York's big league roster. Nuno might be the low man in the fifth starter competition, but we're still going to see him in the show this summer, either in relief or making a start or ten.
Unless the Braves put La Stella on a table, I don't see much of a trade match between them and the Yankees. Nuno for Pastornicky might make some sense, but the Bombers are chock full of fringy infielders already and I'd rather have the extra arm at this point. Atlanta doesn't have an obvious short or long-term infield upgrade to offer, so the Yankees' best move here is to just stand pat. They're under no obligation to make a move just between they have what the other team needs.
Following Monday's off-day, the Yankees lost 3-2 to the Nationals this afternoon. CC Sabathia looked pretty bad, allowing three runs on four hits and two walks in three innings. He struck out three, threw his new cutter a handful of times out of 61 total pitches, and sat 86-87 mph while touching 89 with his fastball according to Adam Kilgore. That's not exactly encouraging.
"I sucked. We can leave it here in Vero or Viera or wherever we are and just go on to the next one," said Sabathia to Wally Matthews. "I was kind of erratic, like all over the place. I couldn't get my delivery down, and try to push off, try to get some leverage throwing downhill, it was just hard for me. I don't know if I was just jumping off the mound, leaving too early. From my point of view, I just felt like I was rushing."
In other news, Eduardo Nunez tripled for the team's first base-runner of the game with two outs in the fifth. Jacoby Ellsbury, Brett Gardner, Mark Teixeira, Brian McCann, and Scott Sizemore went a combined 0-for-16. Dean Anna drove in a run with a single, Gardner plated the other with a sac fly. Five relievers combined to allow one hit in five innings. Here's the box score and video highlights, and here's the rest of the day's news.
Here is your open thread for the evening. MLB Network will re-air today's game at 9pm ET, if you're interested. The Rangers and Devils are both playing as well. Talk about another of those games or anything else right here. Enjoy.
By

Via Jon Heyman: There is currently "nothing doing" on the trade market for Ichiro Suzuki and it's likely he will start the season with the Yankees. They've been shopping him pretty much all winter, but haven't gotten any bites.

Ichiro, 40, hit .262/.297/.342 (71 wRC+) last season and has been pushed into a fifth outfielder's role. He'll be counted on to pinch-run and play late-inning defense in right, two things he should be quite good at if he adjusts to the reducing playing time. Zoilo Almonte could do the same job and maybe even do it better though, so if the Yankees find a way to unload some of Ichiro's contract, they should jump on it. · (37) ·
For most of these season preview posts, we've been lumping players together based on similar skills or roles or whatever. I was planning to do the same for the breakout candidates as well, but looking over the projected big league roster, not many guys fall into the category. David Phelps and Adam Warren? Yeah, maybe. But how high are their ceilings, really? Michael Pineda and Dellin Betances? They haven't had an extended stint on the Yankees' roster yet.
When I think about players who could be in store for a breakout season, I think about guys who have been in the show for a year or three and appear to be ready to take that next step. David Robertson broke out in 2011. Brett Gardner broke out in 2010. Robinson Cano broke out in 2009. Those are breakouts to me. Not someone who is getting their first taste of the big leagues. As far as I'm concerned, there is only one true breakout candidate on the Yankees' roster this year.
These last three years have been really up and down for Ivan Nova. He has alternated being excellent and awful, which, really, isn't all that different from most young pitchers. We've seen enough flashes of dominance to think Nova can pitch near the front of a rotation down the road, assuming he puts it all together at some point. Does that mean he'll be Max Scherzer or Felix Hernandez? No, of course not. Those guys are very rare. Can he be as valuable as Anibal Sanchez for a few years though? I think we'd all take that. I know I would.
Unfortunately, taking that step forward to become a consistent, top flight starter is really tough. Many have tried, most have failed. Nova does two things that make you think he can one of the few to take that step forward: he misses bats and he gets ground balls. Or at least he's shown the ability to do those things at various points over the last three years. After striking out 13.9% of batters faced with a 6.6% swing and miss rate in 2011, Nova has bumped it up to 20.2% and 9.1%, respectively, the last two seasons. He also sandwiched an okay 45.2% ground ball rate in 2012 around 52.7% and 53.5% ground ball rates in 2011 and 2013, again respectively.
The ability is there, we've seen it every so often. Nova needs to find a way to marry that 2012-13 strikeout rate with the 2011 and 2013 ground ball rates to be the best possible pitcher he can be. He did that last summer, at least for a little while. He was pretty terrible before going on the DL with a triceps problem, but he resurfaced in late-June and pitched well through the end of the season. That's the guy the Yankees want to see all the time, the late-June through September version of Nova. That guy racked up both strikeouts and ground balls*.
* Nova's walk rate (2.97 BB/9 and 7.7 BB%) has been pretty consistent over the last three seasons, in case you're wondering. If he and the Yankees want to try to cut down on the free passes, great. He's fine right where he is right now though.
I think that, in general, Nova is a tough pitcher to wrap your head around. He looks like he should be one of the best pitchers in baseball because he's got some really good stuff, the big frame scouts love, and confidence that borders on arrogance, but there's a disconnect between what he looks like and what he actually is. I think part of the reason why he's so difficult to understand is the way he's changed just over the the last three seasons. Look at his pitch usage, courtesy of Brooks Baseball: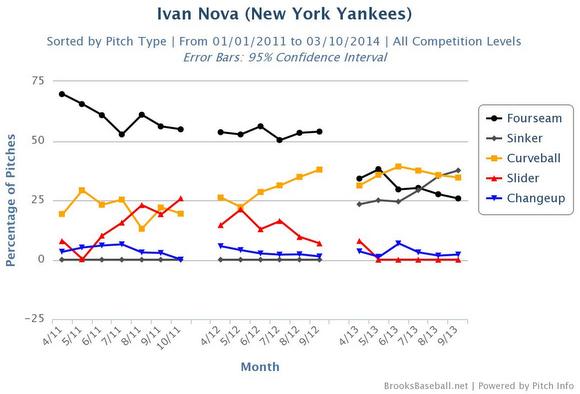 Look at how much it changes from year to year. When Nova dominated in the second half of 2011, it was because he emphasized his slider. Less than two full seasons later, the slider was a non-factor and the curveball became his go-to secondary pitch. The red and yellow lines head in completely opposite directions. It's also worth noting Nova doesn't use his fastball as much as he once did these days, and in fact for most of the last year he threw his curve more than his heater. That's … uncommon.
The pitch usage suggests Nova is still looking for what works for for him. That's a guy making adjustment after adjustment, not for the sake of fine tuning his game or perfecting his craft, but out of necessity. If Nova didn't start throwing his curveball so much last year, he might have been stuck in Triple-A. Maybe the new fastball-curveball approach is the one that leads to the breakout and long-term success. We did wonder the same thing about his fastball-slider approach after 2011, remember. I don't think we can say anything definitive about what pitch mix works before for Nova. The guy's a mystery.
And yet, the flashes are there. The strikeouts, the ground balls, the fastball-breaking ball combination … we've seen it all over the last few years, just not all at the same time. Not often enough anyway. Last season was a step in the right direction but now another step forward is needed. Nova needs to put together a full, productive season from start to finish. No more wake-up call demotions to Triple-A (he's out of options anyway), no half season of awfulness followed by a half season of excellence, just a full year from start to finish.
I think Nova is capable of having that kind of season in 2014. It's about time he does, really. He's making some decent money ($3.3M during his first trip through arbitration) and he turned 27 back in January, so Nova is entering what should be the best years of his career. If he doesn't break out this summer, you have to wonder if he ever will. I wouldn't go as far as calling this a make or break year for Nova, it's not like he'll never pitch in the big leagues again if he doesn't perform well, but this is the time for him to advance his career and cement himself as a cornerstone piece for the Yankees going forward.
By

The Yankees made the cross-state trip to Viera to play the Nationals this afternoon, though the game will not be on television anywhere in New York. It will be on MASN for those of you near the beltway, otherwise it's MLB.tv or nothing. Here are the Yankees and Nationals lineups. CC Sabathia is starting and, if I'm not mistaken, this will be the first time Jacoby Ellsbury and Brett Gardner play the outfield together. Time to develop some communication. First pitch is scheduled for a little after 1pm ET. Talk about the game here if you're watching. · (56) ·
By

Via Chad Jennings: Left-handed pitching prospect Nik Turley expects to be shut down for another two weeks or so with arm tightness. He has been sidelined since camp started and has not thrown at all. Tests showed no structural damage, the team is just being cautious.

Turley, 24, had a 3.88 ERA (4.18 FIP) in 139 innings with Double-A Trenton last season, making one spot start with Triple-A Scranton. I ranked him as the team's 23rd best prospect last month. With both Turley and Jose Ramirez (oblique) unlikely to start the season on time, the Triple-A rotation is suddenly short an arm or two. Manny Banuelos and Bruce Billings seem to be the only locks with Vidal Nuno a strong possibility. Might have to grab a straggler free agent to eat some innings for a few weeks. · (8) ·
Early on in Spring Training, it was obvious the Yankees were showcasing their young catchers for trades. Gary Sanchez, John Ryan Murphy and Austin Romine were (and still are) playing just about every game, either behind the plate, at DH, or off the bench. It's no secret the Yankees need infield and bullpen help, and when you sign Brian McCann to an $85M contract, trading a spare backstop for help elsewhere makes sense.
We know at least two teams (Brewers and White Sox), have been scouting the Yankees' catchers, so all that showcasing is not going to naught. Someone is out there watching and that's exactly what the Yankees want. They can force anyone to make a trade. The young catchers are not the only guys out there being put on display though. The Yankees are also showcasing their extra outfielders this spring after signing both Jacoby Ellsbury and Brett Gardner long-term, as well as sinking big money into Carlos Beltran on a shorter term deal.
Both Ramon Flores and Mason Williams have played in nine of the team's first dozen Grapefruit League games so far, more than every outfielder in camp other than Adonis Garcia and Antoan Richardson, who have played in ten games each. Flores is second to Ellsbury in plate appearances among outfielders, and he's played all three outfield spots as well. Williams has played both his usual center field as well as right, where he has zero career games in the minors. Even Ichiro Suzuki, who was shopped all winter, has started a game at each of the three outfield spots this spring as the Yankees continue to look for a taker.
Now, part of the reason why Flores and Williams are playing so much is injury. Had Slade Heathcott (knee) and Tyler Austin (wrist) been healthy this spring, they surely would have grabbed some at-bats and games in the outfield. For the purposes of showcasing their young outfielders — Flores and Williams are the team's most tradeable outfield prospects in my opinion, though none of these guys are close to untouchable — the injuries allow the Yankees to give Flores and Williams (and even Ichiro) all that playing time. No team will trade for a player based on how he looks in Spring Training, but the extended looks give them a chance to update their internal evaluations. That can be a bad thing in some cases.
As with the catchers, the Yankees have a decent amount of outfield depth in the minors. They have a better (but more injury prone) version of Williams in Heathcott, who is also one level closer to the big leagues. Flores had an okay year in Double-A last season but he and Austin are similar players, though they bat from different sides of the plate. Holding onto every prospect isn't a good idea no matter how badly you need homegrown players. Not at all. Some of them are going to flame out through normal attrition and knowing when to cut bait is just as important as knowing who the keep*.
* The Cardinals are great player development organization and it's not just because of the guys they produce. When a Brett Wallace (2008 first round) or Zach Cox (2010 first round) goes bad, they get rid of them quickly (for Matt Holliday in 2009 and Edward Mujica in 2012, respectively). The Yankees did this with C.J. Henry (2005 first rounder, for Bobby Abreu in 2006) back in the day. Knowing your own players and being honest about their ability is super important.
What could the Yankees get for Flores or Williams? Who knows. A scout recently told Peter Gammons the Yankees "could be a player" for Astros third baseman Matt Dominguez, who fits their need for a young infielder. The 24-year-old Dominguez is a top notch defender with some power (21 homers in 2013) but a questionable bat in general. Would I trade Williams for five years of Dominguez? Yeah, I probably would. Double-A prospect for a young guy who can step right into the MLB lineup to fill a position of need? What else should are they supposed to trade him for? That's just one example of a potential trade match that, as far as we know, isn't actually on the table.
Anyway, the point is that the Yankees have some extra young outfielders and are giving teams an opportunity to scout them this spring. They're doing the same for their extra young catchers. Given the obvious needs on the infield (and also in the bullpen, but less so) and the team's depth in the outfield and behind the plate, showcasing these guys makes all the sense in the world. It's due diligence, only the other way around. Instead of asking about guys, they're letting other teams see their players. This is the time of year to showcase people, and so far the Yankees have done a lot of it.