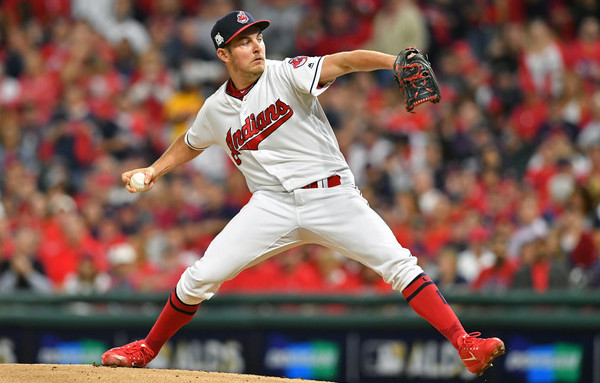 Last night, in Game One of the ALDS, the Yankees were thoroughly dominated by Trevor Bauer for the first six innings and change. Bauer held the Yankees to two hits and one walk in 6.2 scoreless innings, and struck out eight. He, along with Andrew Miller and Cody Allen, held New York to three hits total in the shutout loss. The Yankees were overmatched.
Bauer pitched very well down the stretch in the regular season — he had a 2.42 ERA (3.66 FIP) in his final 12 starts and 78 innings — so last night's performance didn't come out of nowhere. It was just a continuation of what he'd done over the final three months of the season. What was different was Bauer's pitch selection. He went curveball heavy Thursday night.
Fastball: 50.0% (49.5% during the regular season)
Curveball: 36.7% (29.1%)
Cutter: 9.2% (8.2%)
Changeup: 4.1% (6.3%)
Sample size noise? Sure, that's always possible. Recent postseason history suggests it was by design, however. Last postseason the Indians went to the World Series by emphasizing breaking pitching pitches and making life miserable for hitters. Josh Tomlin, the epitome of a back-end starter, had great success doing exactly that. Consider Cleveland's pitch selection last year:
| | Regular Season | Postseason |
| --- | --- | --- |
| Fastballs | 65.4% | 57.9% |
| Curveballs | 11.9% | 16.9% |
| Sliders | 10.3% | 15.1% |
| Changeups | 9.7% | 4.5% |
Fewer fastballs, fewer changeups, more bendy pitches. Why more bendy pitches? Because bendy pitches are hard to hit. The Indians increased their breaking ball usage considerably in the postseason last year and they're poised to do it again this year. They did it last night. Bauer, Miller, and Allen combined to throw 38.5% breaking balls last night. Four out of ten pitches were breaking balls. It was 29.4% during the regular season.
The Yankees were a good breaking ball hitting team during the regular season. They were a good hitting team overall during the regular season. All types of pitches. You don't lead baseball in homers and finish second in runs by hitting only fastballs. Look at their numbers:
Fastballs: .360 wOBA (.351 league average)
Curveballs: .274 wOBA (.267 league average)
Sliders: .297 wOBA (.274 league average)
Changeups: .351 wOBA (.304 league average)
That's all well and good, but here's the thing: it's harder to hit breaking balls than fastballs. Look at the league averages. Generally speaking, a great curveball hitting team hits curveballs worse than a bad fastball hitting team hits fastballs. Bendy stuff is hard to hit, even if you're good at it. The Indians are trying — and based on last postseason and last night, succeeding — to gain an advantage by emphasizing breaking balls.
Also, keep in mind the Indians do not have a normal pitching staff here. They have pitchers with great breaking balls. Miller's slider. Allen's curveball. Bauer's curveball. Corey Kluber's slider. Carlos Carrasco's slider. The Indians aren't sending a bunch of generic middle relievers out to the mound and telling them to throw more breaking balls. They're telling pitchers with some of the best breaking balls on the planet to throw more breaking balls. That's tough.
So what do you do if you're the Yankees? It's easy to say "sit breaking ball," but that creates it's own set of problems. Do that and you're going to miss hittable fastballs. Most hitters prefer to sit fastball and adjust to the breaking ball because it's easier to react and slow down your bat than react and speed it up to catch up an unexpected heater. Maybe sit location and zero in on that, then adjust when you're down to two strikes? I'm not sure.
A case can be made the Indians had the best pitching staff in history during the regular season. I won't make that case, but it can be done. Now that they're in the postseason, the Indians are again going breaking ball heavy, which means their pitching staff will be that much harder to hit. The one thing the Yankees can't do it sit back and wait for fastballs. They're not coming. They'll instead have to hope for mistakes, and try to hit a steady diet of some of the nastiest curveballs and sliders in the game.