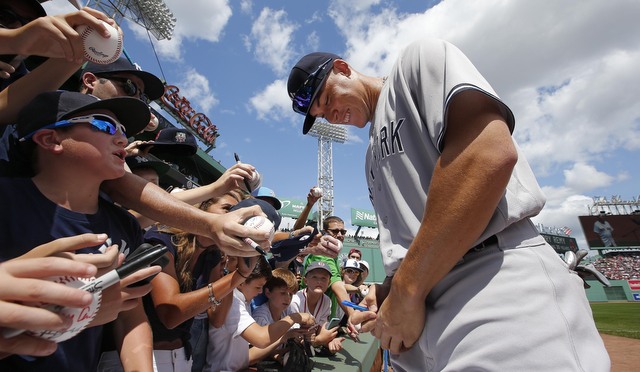 Well, technically there are five weeks and five days to go in the regular season, but close enough. The Yankees had one of those weird mid-road trip off-days yesterday and will begin a three-game series with the Tigers in Detroit tonight. It would be nice to see the Yankees treat the Tigers like the 54-69 team they are and pad the wildcard lead a little bit. Anyway, I have some thoughts, so let's get to 'em.
1. So apparently Aaron Judge is dealing with some sort of shoulder issue right now? Judge had his left shoulder heavily wrapped and iced following the game Saturday and Sunday, and apparently this has been a regular thing for a little while now. Judge was asked about his shoulder Sunday and said "it's not affecting me at all," to Bryan Hoch. He was asked how he hurt it, and he said "it's not affecting me at all." Okay then. This is the time of year when every player is beat up and most guys are icing something after games, but geez, I feel like maybe we should be hearing more about this. Judge is a right-handed hitter, so the left shoulder is his front shoulder when hitting, and the front shoulder is the power shoulder. As Katie noted yesterday, Judge's hard contact rate has nosedived recently. Hmmm. I don't think this shoulder issue is the primary cause of his second half slump. It could be contributing to it, no doubt, but the slump has been going on a while now, and supposedly this shoulder issue is relatively new. I'm just wondering why in the world he's playing with an achy shoulder. The Yankees haven't been great with injuries this year. They let Greg Bird play through an ankle injury for a month before shutting him down. Judge has shown he can be a dominant offense force and he's a huge part of the future going forward. Why would the Yankees risk a potentially serious injury by letting him play through an apparent minor injury? I have basically no information here, but man, whatever it is, I wish the Yankees would just sit Judge down for ten days and knock it out. And I'd say that even if he were still hitting like first half Aaron Judge.
2. Hot take: I don't think Aroldis Chapman will save another game this season. Not even a stray save here and there. Even during his scoreless inning Sunday, Chapman's location was awful — he was missing his spot by feet — and hitters were taking big comfy swings against him. It's shocking how comfortable hitters look in the box against Chapman even though he throws 100 mph and has no idea where it's going. The Yankees have two viable closer alternatives in David Robertson and Dellin Betances, and because of that, I don't see Chapman swooping in to vulture saves at any point. Chances are at least one of those two guys will be available most games. Mostly though, I'm not very confident Chapman will get things straightened out this year. It would be great if he did. I'm not really counting on it though. He's look dominant — truly dominant — maybe five times in his 39 appearances this year. Hopefully this is nothing more than a nasty World Series hangover and Chapman is not broken forever. I do think he'll come to Spring Training next year as closer. But the rest of this season? I don't see him regaining that role. Betances or Robertson (probably Betances) closes the rest of the way is my guess.
3. Speaking of the bullpen, the SuperBullpen hasn't been so super lately, huh? It's not just Chapman. Tommy Kahnle had a rough week last week — he's allowed four runs and eleven baserunners in his last four innings after allowing two runs and six baserunners in his first 8.1 innings with the Yankees — and Chad Green has struggled a bit of late too. He's allowed six runs and 13 baserunners in his last six outings and 11.2 innings. Adam Warren allowed a run Saturday and another run Sunday. Not a great week or so for the new-look bullpen. Robertson and Betances have dominated and that's pretty much it. I think it'll pass though. Green was bound to have a stretch where he wasn't untouchable and Warren has been dynamite all season. Even after this weekend, he has a 2.03 ERA (2.74 FIP) in 53.1 innings. Sometimes bullpens have bad weeks. It just so happened this new-look bullpen had its first bad week — prior to last weekend's series with the Red Sox, the bullpen had a 2.19 ERA (2.62 FIP) in 74 innings since the Robertson/Kahnle trade — at an inopportune time. Blowing two late leads against the Red Sox really, really stinks. Those two games could be the difference in the AL East race.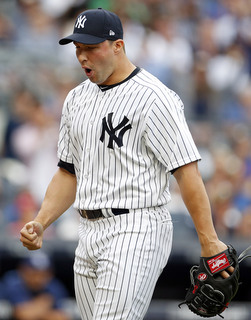 4. That all said, I will admit to being more worried about Kahnle than I normally would be after four bad innings, only because his track record of excellence is so short. Half a season, basically. Kahnle was great the first few weeks after the trade: 8.1 IP, 6 H, 2 R, 2 ER, 0 BB, 12 K in nine appearances. The last seven outings have been rough: 4 IP, 7 H, 4 R, 4 ER, 4 BB, 3 K. When a guy with career long control issues starts walking people, it's a red flag. Remember when Betances lost the plate earlier this year? It was ugly. He walked 16 batters in nine innings at one point. But! Betances has walked only seven batters in 19.2 innings since, so he straightened himself out. Kahnle's recent control issues haven't been nearly as extreme as Dellin's, so hopefully he can right the ship and soon. When he's on, he's electric. We saw it earlier this year. And you know what? If Kahnle doesn't get things straightened out and he reverts back to his walk everybody ways, such is life. You win some and you lose some. (Kahnle has an option remaining, so the Yankees could send him down to the minors, if necessary. Not this year since the minor league season ends soon, but next year. I don't think it'll come to that.)
5. Not-so-fun fact: the Yankees have had Bird, Gary Sanchez, and Didi Gregorius in the starting lineup together exactly zero times this season. Not one game. Gregorius and Sanchez were hurt in April and Bird went down in early May. Never once did they take the field together. That will hopefully change later this week, when Bird returns from his rehab assignment. Bird is on his way back, Starlin Castro is coming back, and Matt Holliday is coming back too. Don't forget Masahiro Tanaka either. He'll be activated off the disabled list to make tonight's start. The Yankees have had their fair share of injuries this year. Bird has been out since May, Sanchez and Gregorius each missed a month, Castro and Aaron Hicks missed several weeks, Michael Pineda is done, Tanaka and CC Sabathia have been out … lots of injuries. Lots and lots of injuries. It seems they might finally get close to fully healthy later this week, once Bird, Castro, Holliday, and Tanaka return. I am so looking forward to it. They're getting two potential impact bats (maybe three if Holliday clicks) and a potential impact starter back this week. That's huge. Hopefully it gives the Yankees a nice boost and they finish the season strong.
6. A quick word on expectations, because I've seen a lot of people talking about them on social media and in the comments. Coming into the season, I would've been pretty darn excited to hear the Yankees would wake up on the morning of August 22nd with 66-57 record and a 2.5-game lead for first wildcard spot (and a three-game lead for a wildcard spot in general). I thought they were destined for 83-84 wins and lots of growing pains with the kids. Now, on August 22nd and after having watched the first 123 games of the season, I'm kinda bummed the Yankees have fallen 4.5 games back in the AL East race, even while they sit three games up on a wildcard spot. Expectations change. Maybe that's irrational, but they do. The Yankees got off to an insane start, I bought into them being much better than expected (and they still are!), and it's been a bit disappointing to see them slide back the last few weeks. They're 40-41 in their last 81 games. Meh. Maybe that's my fault for buying into them prematurely. But that's part of being a fan, right? What's the point if you're not going to get excited when your team plays well? Overall, the Yankees have had a successful season because so many of their young players are establishing themselves as cornerstone type players, and that won't change regardless of where they end up in the postseason race.