So this is a fun series. The Yankees are doing what they're supposed to do against a bad team. They're not just winning, they're dominating. The Yankees won Tuesday's game 10-2 and they've outscored the Tigers 23-6 in the two games. They've 7-2 in their last nine games. The Yankees, not the Tigers.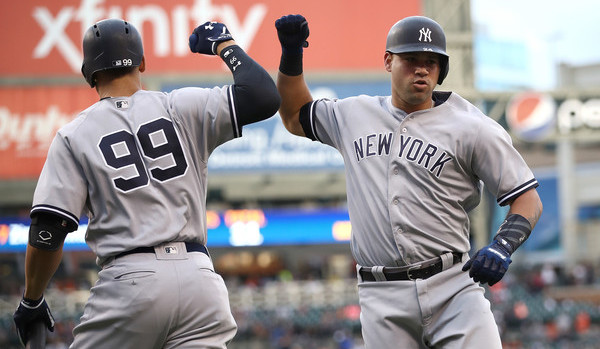 Score Early, Score Often
I enjoy this neat new thing where the Yankees score lots of runs against bad pitchers. Remember when they got shut down by Anibal Sanchez, Jordan Zimmermann, and Trevor Bauer in the span of four games earlier this month? That was annoying. Thankfully they beat up on Matt Boyd in the series opener Tuesday, then did the same against Zimmermann on Wednesday.
Once again, it was Gary Sanchez who got the Yankees on the board first. His first inning home run Wednesday did not travel nearly as far as Tuesday's, but it still counts the same. Well, no, it doesn't. He hit a two-run homer against Boyd. Against Zimmermann it was a solo shot. That gave the Yankees 1-0 first inning lead. They eventually broke the game open with a five-run third inning. Let's annotate the play-by-play:

(1) I'd like to think that, now that's coming off the bench, Jacoby Ellsbury is playing with a big chip on his shoulder. He led off that third inning with a little looper to center field, and he tagged up and went to third on Brett Gardner's fly ball, which wasn't hit deep it all. I thought Ellsbury would bluff the tag to draw the throw, but no, he went to third, and he made it. Heads up play by Ronald Torreyes to advance to second when the throw went to third. Real smart baserunning right there. (Who is this team?)
(2) That Aaron Hicks walk to load the bases showed the difference between 2016 Hicks and 2017 Hicks. Zimmermann threw him pretty nasty 1-2 and 2-2 sliders below the zone, and Hicks spit on them like he knew they were coming. He's always had pretty good plate discipline — he has a career 14.3% walk rate in over 2,600 minor league plate appearances — but he's cranked it up another notch this year. Hicks laid off two pretty good sliders, took the fastball wide for ball four, and loaded the bases.
(3) When you're hot, you're hot. Sanchez crushed a solo home run in the first inning and he found grass with a little blooper for a two-run single in the third inning too. More good baserunning on this play as well. Torreyes read it well from second base and third base coach Joe Espada waved him home. He was easily safe at home. Sanchez is on everything right now. Even when he doesn't square the ball up, it's still falling in for hits. He's living the good life.
(4) That Aaron Judge double would've been a home run in many other ballparks, including Yankee Stadium. It hit about halfway up the center field wall 420 feet from home plate. Well-struck, it was. Only one run scored on the play because Sanchez was the runner on first, but that's okay. Judge hit the ball well and that's the important. Maybe it's the bad Tigers pitching, but he's looking a bit better at the plate this series. He reached base in his sixth consecutive plate appearance that at-bat.
(5) Chase Headley was having one of those series before cranking a solo home run in the seventh. He hit three line drives for outs Tuesday, then in his first at-bat Wednesday, he hit a hard-hit chopper back up the middle that Zimmermann managed to stick out his glove and grab. In his second at-bat he squared up a pitch for long sac fly, and when the YES cameras cut to him in the dugout, you could see Headley was miffed he hit a ball that hard and made an out. In his third at-bat he hit another liner that Andrew Romine caught at his shoestrings in center field. Finally, in his fourth at-bat, Headley hit one over the wall. That's one way to get it away from the fielders. Anyway, the sac fly gave the Yankees a five-run third inning and a 6-0 lead.
Splendid Severino
Ho hum, another fantastic outing for Luis Severino, who didn't face his first sticky situation until the score was well out of hand. The Yankees were up 8-0 when Ian Kinsler smacked a leadoff home run in the sixth inning, and Alex Presley and Justin Upton followed with hard with singles. Three hangers. The Tigers had a run on the board and two men on base with no outs, but two fly outs and a strikeout later, the inning was over. Severino's only jam.
Severino retired 14 of the first 15 batters he faced Wednesday, and the one baserunner was a little seeing-eye Victor Martinez single — can a soft line drive be seeing eye, or is that reserved for ground balls only? — that managed to find grass beyond the shift. His final line: 6.2 IP, 6 H, 1 R, 1 ER, 1 BB, 8 K. He threw 100 pitches on the nose. Severino has allowed no more than one run in 13 of his 25 starts this season, which is ridiculous. No other pitcher has more such starts this year. What a stud this kid is. Performances like this are the norm.
Leftovers
The Yankees continued to tack on runs against the bullpen after that big third inning. Didi Gregorius hit a solo home run in the fifth. Torreyes plated a run with a single in the sixth. Headley cranked his home run in the seventh. Hicks got a run home with a single in the eighth. The Yankees have scored double-digit runs in back-to-back games for the third time this season. That seems good. Probably is.
Big night for the offense, obviously. Four hits for Torreyes. Four! Sanchez, Judge, and Gregorius each had two hits, so the 3-4-5 hitters went a combined 6-for-13 with a double, two homers, four runs scored, and six runs driven in. Austin Romine, who pinch-hit for Judge late in the game, also had a single. So I guess it's technically 7-for-14 for the 3-4-5 hitters. Gardner and Todd Frazier were the only starters without a hit. Gardner reached on an error, Frazier drew a walk. The Yankees went 5-for-11 (.455) with runners in scoring position.
With the big lead, Joe Girardi got two of his struggling relievers some work. Chad Green struck out four in his 1.1 innings and Tommy Kahnle gave up a garbage time solo bomb to Jose Iglesias in his inning. I suspect Kahnle will continue to see low-leverage work for a while.
Box Score, WPA Graph & Standings
Go to ESPN for the box score and updated standings, the MLB.com for the video highlights. Here's our Bullpen Workload page and here's the win probability graph:

Source: FanGraphs
Up Next
The Yankees will look to finish the sweep of the Tigers in the series finale Thursday afternoon. That's a 1pm ET getaway day start. Jaime Garcia and Michael Fulmer are the scheduled starting pitchers.