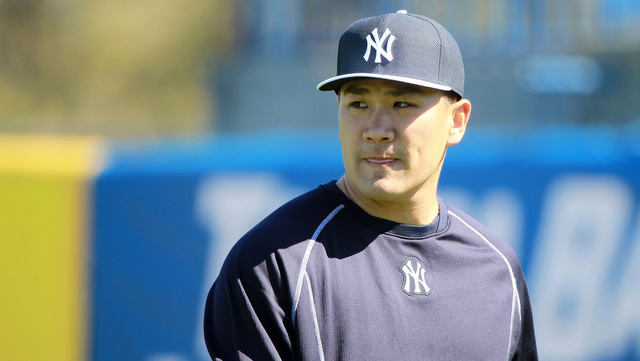 Spring Training games don't mean anything, but boy oh boy is tonight's Grapefruit League match against the Braves important. Staff ace Masahiro Tanaka is making his spring debut — he's scheduled to throw two innings — and of course he is trying to pitch with that partially torn ligament in his elbow. We've been waiting all winter to see Tanaka back on the mound and testing that elbow.
Multiple doctors — world renowned doctors — have cleared Tanaka to pitch following last summer's rehab work, so it's not like the Yankees are sending him out there on a whim. But we're all nervous. It's only natural to wonder if Tanaka's next pitch will be his last before the ligament gives. So far everything has gone well though. Tanaka's thrown multiple bullpens in camp, faced hitters in live batting practice, and thrown a simulated games. Nothing compares to the adrenaline rush of a real game though.
The Braves took the hour ride to Tampa from Disney, and, as you can imagine, not too many big league players made the bus trip down for the Spring Training night game. Here's their lineup.
Tonight's reason to watch: Tanaka. Tanaka Tanaka Tanaka. That's all the reason you need to tune into tonight's contest.
Here is tonight's starting lineup, which looks like the potential Opening Day lineup:
Available Position Players: C Austin Romine, 1B Kyle Roller, 2B Jose Pirela, SS Nick Noonan, 3B Jonathan Galvez, LF Ramon Flores, CF Jake Cave, RF Tyler Austin, and DH Aaron Judge will be the second string off the bench. C Kyle Higashioka, C Trent Garrison, C Francisco Arcia, 1B Greg Bird, 2B Rob Refsnyder, SS Cito Culver, OF Slade Heathcott, and OF Mason Williams are also available if needed.
Available Pitchers: RHP Scott Baker, RHP David Carpenter, LHP Justin Wilson, RHP Kyle Davies, and RHP Wilking Rodriguez are also scheduled to pitch. LHP Jacob Lindgren, LHP Chasen Shreve, RHP Jose Ramirez, and RHP Branden Pinder are the extra arms.
It is pretty cloudy in Tampa and there is a very small chance of rain later tonight. If it does rain, it looks like it will be long after Tanaka's night is done. Tonight's game is scheduled to begin at 7:05pm ET and you can watch on YES locally and MLB.tv nationally. There is no MLB.tv blackout in the Yankees' market. The game will also be replayed on MLB Network at midnight ET. Enjoy the game, folks.