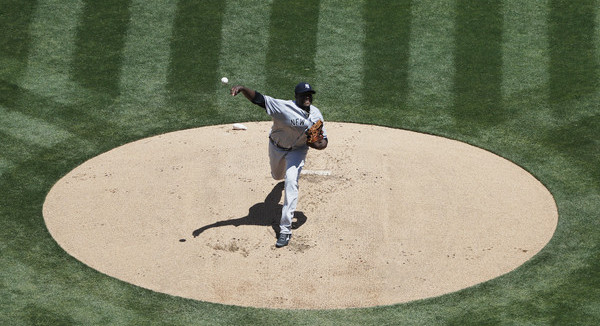 Overall, this has been a pretty crummy season for Michael Pineda. He comes into Saturday's game with a 5.88 ERA on the season, but only three starts ago he had a 6.92 ERA. Pineda has pitched well the last three times out after some mechanical tinkering at the behest of pitching Larry Rothschild.
Regardless of whether you're all-in on this season and think the Yankees can contend, or think they're screwed and need to sell, you want Pineda to do well. Pitching well will help the team get back into contention and it'll also help raise his trade value, which was pretty much zero a few weeks ago. Anyway, here is the Twins' lineup and here is the Yankees' lineup:
It's warm and a bit cloudy in the Twins Cities, and there's a slight chance of rain pretty much all day. It doesn't look like anything that will cause a delay or a postponement, however. First pitch is scheduled for 2:10pm ET. You can watch on YES locally and MLB Network nationally. Enjoy.
Injury Update: Mark Teixeira (knee) is progressing quite well. He's been taking batting practice and he was able to do some running yesterday. He'll run the bases today. Sounds like Teixeira might be able to begin a minor league rehab assignment Tuesday.