Got ten questions for you in the mailbag this week. The "For The Mailbag" form is gone and it's never coming back. If you want to send us a question, email us at RABmailbag (at) gmail (dot) com. There's a reminder in the sidebar should you ever forget the email address, but that's a pretty easy one, right?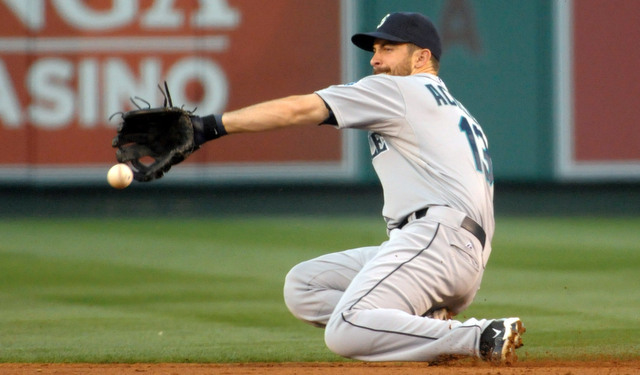 Chip asks: Does it makes sense to move Dustin Ackley back to 2b this coming winter so that he can be ready to play there when Spring Training rolls around?
Sorry Chip, I had to shorten the question. Anyway, yes I do think it makes sense and I think the Yankees will have Ackley work out at second base over the winter and in Spring Training because why not? There's nothing to lose. It's not a new position, he's just getting reacquainted with an old position, so in theory it shouldn't be a huge undertaking to get back into the second base groove. Adding that little bit of versatility can only help.
Now, as for Ackley starting at second next year, I think that should be the Plan C or D, not Plan A. The Yankees have Rob Refsnyder, who is as close to big league ready as he's going to get, and there are some are some quality second baseman set to become free agents after the season. Ben Zobrist, Howie Kendrick, Chase Utley, Asdrubal Cabrera, and Daniel Murphy are the most notable. Obviously some are more desirable than others. If the Yankees can't get a good deal on a free agent and Refsnyder isn't up to the task, then turn to Ackley at second. I wouldn't make him Plan A. We've got more than 2,200 plate appearances telling us he's a below-average player. Make him earn an everyday job.
David asks: If Didi Gregorius continues to play and improve what do you think the Yanks will do with the "untouchable" Jorge Mateo when he is ready for the Majors – 3rd base, 2nd base, or trade him?
I'm going to cop out and say "worry about this when the time comes." Mateo is still in High-A, remember. What's the best case scenario timetable for him? Start next year in High-A, move up to Double-A at midseason, then start 2017 in Triple-A and maybe get called up at midseason? That's the best case. I think Mateo is more likely to have to wait until 2018 to be a big league option. Gregorius will be just one year away from free agency at that time. Mateo could be ready just in time to replace Didi before he leaves as a free agent. If Gregorius is still worth a regular lineup spot and Mateo is big league ready at some point in the next few years, celebrate. Having too many good young shortstops is a wonderful luxury.
Jhonny asks: Michael Pineda returns healthy. Now you have: Pineda, Masahiro Tanaka, CC Sabathia, Nathan Eovaldi, Ivan Nova, Luis Severino. Who's going to the bullpen? It obviously should be CC, but that's not going to happen. Thoughts?
No one. I expect the Yankees to use a six-man rotation once Pineda returns. Big Mike is making his second minor league rehab start tonight, so if he makes his next start in the big leagues next week, the Yankees will only have to go a few days with either a short bullpen or a short bench (a short bench, I bet) until rosters expand on September 1st. Then obviously once rosters expand, it'll be much easier to stick with the six-man rotation full-time. The Yankees have gone to great lengths to give their rotation extra rest whenever possible this year and there's no reason to think they'll stop in September. They'll actually have six healthy starters and expanded rosters will allow them to pull it off. Unless there's an injury or Severino needs to be shut down for workload reasons, I would be surprised if they didn't use a six-man rotation in September. Everything they've done this year points in that direction.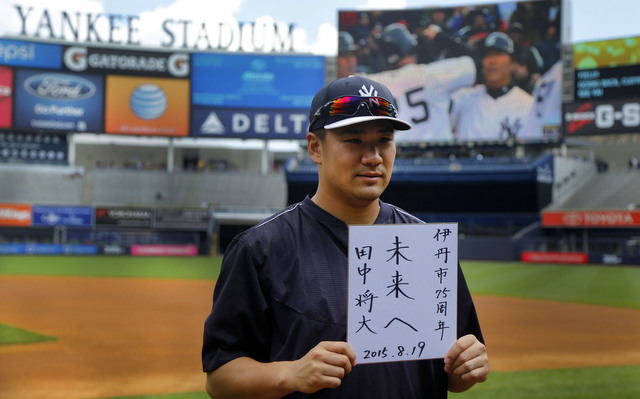 Jonathan asks: Do you think the decision to not have Masahiro Tanaka undergo surgery had anything to do with his opt-out clause in two years? Possibly to maximize Tanaka's value before he opts out for a longer deal with another team? How much of a factor do you think the opt-out clause is influencing the Yankees medical decision with Masahiro?
I don't think it's a factor at all. Surgery is something you try to avoid and the doctors recommended going to rehab route, so that's what they did. The doctors couldn't care less about Tanaka's opt-out situation. The opt-out is just an unfortunate little wrinkle in this whole saga. The Yankees want as much out of him as possible, but at the end of the day it is Tanaka's choice, remember. The Yankees can't make him have surgery any more than your employer can make you have surgery. It's as simple as multiple world renowned doctors saying he doesn't need his elbow cut open, so they didn't cut him open. It's a boring answer but that's what happened.
Daniel asks: With the impending 40-man roster crunch, should the Yankees look to move 3-4 prospects in the offseason for an upgrade at positions of need (maybe 2nd or in the rotation)? It seems like it would make sense to deal from their depth at outfield, bullpen, and catcher.
I feel like we say this every season but it never happens. Trading three or four players for one or two players to simultaneously plug roster holes and clear 40-man roster spots sounds like a great idea, but you have to find another team willing to clog up their 40-man roster with fringy big league players, and that's tough to do. The only time I can remember this happening was the Mark Melancon-Joel Hanrahan trade a few years ago. The Red Sox traded Melancon and three spare parts for Hanrahan and the no one knew he would be good version of Brock Holt. The Yankees should look to make a trade like this and if they can do it, great. They're just really hard to pull off. Lots of my stuff for a little bit of your better stuff trades rarely happen.
Justin asks: Coming up the Yankees have a three game series a the Braves, and in September a three game series at the Mets. Can they afford to not have A-Rod in the lineup for those games especially with the division being as close as it is? Is it possible to see A-Rod go to 3B and Chase Headley to 2B during those series?
Possible? Sure, it's always possible we see Alex Rodriguez at third. It's just extremely unlikely at this point. The Yankees have been committed to keeping Alex at DH to keep him rested, and given his recent slump, I'm sure they're looking forward to getting him off his feet for a few consecutive days. Also, there's zero chance Headley plays second. He's never played the position ever. Not even in college. Headley was at third, Stephen Drew was at second, and A-Rod was on the bench during the team's NL park interleague series earlier this year and I'm sure that will be the case going forward.
Ruby asks: With Greg Bird looking like he truly belongs and Mark Teixeira having proven that he still has All-Star abilities, can you see the Yanks trading Teixeira over the winter?  What could the Yanks get in return for Teixeira?
Let's pump the breaks a little on Bird. I love him as much as anyone, but he's got a week's worth of plate appearances under his belt, so I wouldn't go trading Teixeira just yet. I'm not sure there's anything Bird can do the rest of the way to convince me Teixeira is expendable. Besides, Teixeira has full no-trade protection thanks to his ten-and-five rights and has indicated he is unwilling to go anywhere else. I joked about trading him to the Pirates — they need a first baseman and a real cleanup hitter behind Andrew McCutchen — on Twitter the other day but that was just a joke during Bird's two-homer game. I'm not sure how much value a very good yet expensive two-way player has on the market anyway. I feel like the Yankees would have to eat some money to facilitate a trade, and Teixeira has been too good this year to eat money to move him. A-Rod and Teixeira have stayed relatively healthy this year, but what about next year? It's not hard to see a scenario in which Teixeira gets 120 games, Bird gets 100 games, and A-Rod gets 100 games in 2016.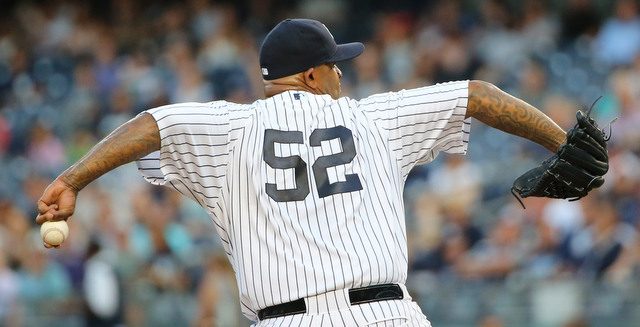 Mike asks: In last night's game CC was excellent, but I couldn't help but feeling that that 7th inning was doomed to end badly. He's struggled the third time through the order, but, paradoxically, he also leads the team in innings pitched. Does it make sense to pull CC earlier, even when he's pitching well, before he makes a mistake – or do the Yankees really need him to eat those innings? Feels like a weird Catch 22.
They needed Sabathia to eat innings the other night because the bullpen was taxed — Bryan Mitchell took the line drive to the face the night before. That was an outlier compared to the rest of the season. Sabathia has recorded an out in the seventh inning in just seven of his 23 starts this year — he started the seventh and did not record an out in one other occasion — and after years of being baseball's preeminent workhorse, he's averaged just 93.3 pitches per start this year. He's thrown 100+ just five times. It used to be a surprise when Sabathia didn't thrown 100+ pitches. The other night was a bit of a special case because the bullpen was taxed. Otherwise Joe Girardi has been quick to pull Sabathia this season because he does struggle the third time through the lineup, and I definitely expect that to be the case in September, when the bullpen will have all those extra bodies thanks to expanded rosters.
John asks: Drew hit a horrible .153 for the first two months of the season, but beginning June 1st his average has been more like .230-.240.  With Brendan Ryan also hitting above .240 and both able to play multiple positions well, do you figure that the team really isn't looking for an alternative at 2B anymore?  Seems like .240 going forward is adequate, and I doubt anyone good and cheap is going to drop into Brian Cashman's lap.
At this point there is no decent second basemen left on the market, so even if the Yankees were still looking for one, the pickins are slim. Chase Utley is a Dodger and I'm not sure he would have been much of an upgrade anyway. The Marlins seem to be holding onto Martin Prado, and besides, he went into last night's game hitting .269/.314/.348 (82 wRC+). That is pretty crummy. Right now the best option at second base is simply stand pat, stick with Drew against righties and maybe give some of Ryan's platoon at-bats to Refsnyder in September. Once Zobrist came off the board, there were no realistically available second basemen who could be considered substantial upgrades.
Dylan asks: If Carlos Beltran continues to rake, and is the de facto starting RF next year, do the Yankees call up Aaron Judge to be the 4th outfielder off the bench? I know you always talk about the value to rookie catchers to come up as back-ups, but would the same hold true for OF?
Yeah I think Beltran will be the starting right field next season, at least at the start of the season. Judge is striking out a ton in Triple-A and can use more time at that level. I don't think he would be a good option for fourth outfielder. Catcher is a different animal. Those guys have a lot more to worry about than hitting. I think there's a lot of value in a young catcher sitting in on big league game plan meetings and catching the staff in the bullpen and what not. An outfielder doesn't do any of that. I say let Judge start the year in Triple-A so he can play every single day. He needs at-bats more than anything.