By

According to multiple reports, the Reds have signed Cuban right-hander Rasiel Iglesias to a seven-year contract worth a guaranteed $27M. The team also confirmed his name is spelled Rasiel, not Raciel. There was some confusion about that. The deal will not become official until he secures a work visa, which doesn't figure to be a problem.

Iglesias, 24, is a skinny little guy (5-foot-11 and 165 lbs.) who has been a reliever his entire career, though apparently the Reds are going to give the opportunity to start. Reports indicated that teams felt he could step right in to help a big league bullpen in the second half. Iglesias had been working out and holding showcases in Haiti, though there were no reports the Yankees (or any other team, for that matter) had interest in signing him. The deal with Cincinnati came out of nowhere.

With Iglesias off the board, the best available Cuban free agent is power-hitting outfielder Yasmani Tomas, who defected earlier this month. Here's more on him from Ben Badler. Tomas will not be eligible to sign for another few months — he has to establish residency and be unblocked by the Office of Foreign Assets Control before being declared a free agent by MLB — and from what I understand, he will be the last potential impact bat to come out of Cuba for a while. · (34) ·

Source: FanGraphs
That was as close to perfect as a Yankees-Red Sox game can get. Yankees win? Check. Quality pitching performance from an unexpected source? Check. Flawless bullpen work? Check. Dingers? Check. Game under three hours? Check! I'll take a weekend full of games just like this. Let's recap the 6-0 shutout:
Reverse Lock: Just as we all expected, Vidal Nuno held the Red Sox to two hits and two walks in 5.2 scoreless innings. He seemed to be amped up too — he sat 91.2 mph with his fastball after averaging 90.1 mph as a starter all year. Nuno walked the last man he faced — Brett Gardner failed to catch a David Ortiz foul pop-up in that last at-bat because he thought he was closer to the wall than he actually was, it seemed — but retired ten straight and 14 of 15 before that. Fourteen of his 17 outs were recorded on the infield and only once (Brock Holt's third inning double) did Nuno allow a runner to reach second base. Joe Girardi yanked him before he could face Mike Napoli a third time, which was the right move in my opinion. Helluva job, Vidal.
Back to Basics: The Yankees played for one run in the third inning by having Gardner bunt, and that eventually led to blowing a bases loaded, one out situation. After that, they went back to their Bronx Bomber roots. Kelly Johnson hit a two-run homer in the fourth and Gardner followed with a solo shot to go back-to-back. I think that's the first time the team has hit back-to-back homers this year, but don't quote me on that. Brian McCann tacked on some insurance with a two-run shot (off a lefty!) in the eighth. It's the first time the Yankees have hit at least three homers in a game since May 17th (Pirates series) and only the fifth time all year.
Bullpen Bullies: A four-run lead isn't technically a save situation, but Girardi used his ace relievers anyway before McCann broke things open. Dellin Betances allowed a hit and a walk in 1.1 innings, striking out two. Adam Warren followed with a perfect eighth (one strikeout) and Matt Thornton with a perfect ninth (one strikeout). I'm pretty sure that if the score was still 4-0 in the ninth, we would have seen David Robertson. The Red Sox did not have a runner reach third base all night and the staff retired ten of the last eleven and 24 of the last 28 batters they faced. That's how you close it out after grabbing an early lead.
Leftovers: Scary moment in the seventh inning, when Betances slipped on the mound while delivering a pitch. Girardi came out to talk to him, but Betances stayed in the game and looked fine afterwards. Caught a spike or something. Exhale … Brian Roberts had what looked like a homer robbed by Holt in the second inning. It was close. It was going to hit off the very top of the wall … the Yankees took a quick 1-0 lead in the first when Mark Teixeira plated Derek Jeter with a sacrifice fly … Jeter, Teixeira, and McCann all had two hits. The top four hitters in the lineup went 6-for-13 (.462) with a walk, a sac bunt, and the sac fly.
MLB.com has the box score and video highlights, FanGraphs some other stats, and ESPN the updated standings. The White Sox beat the Blue Jays and the Orioles split their doubleheader with the Rays, so the Yankees are two games back of first place and 1.5 games back of second. There's still more than half a season to go. I think I'm getting ahead of myself with the standings updates. Anyway, Masahiro Tanaka and Jon Lester will be on the mound in a matchup of aces on Saturday night (argh). Make sure you check out RAB Tickets if you want to catch that game or any other game on the homestand in person.
RHP Luis Severino ranked second on this week's Prospect Hot Sheet while LHP Ian Clarkin, C Gary Sanchez, and 2B Rob Refsnyder all made the In The Team Photo section. Big week for the system.
Triple-A Scranton (6-0 win over Syracuse)
LF Jose Pirela: 0-5, 1 K
C John Ryan Murphy: 1-5, 1 RBI
RF Zoilo Almonte: 0-5, 2 K
1B Kyle Roller: 2-3, 2 R, 1 3B, 1 RBI, 1 BB, 1 K – 7-for-18 (.389) with the triple and a homer in his last five games
DH Scott Sizemore: 1-4, 1 R, 1 2B, 1 K
2B Rob Refsnyder: 2-3, 2 R, 1 HR, 2 RBI, 1 BB — dude does nothing but hit
SS Dean Anna: 1-2, 1 RBI, 1 BB
RHP Shane Greene: 7 IP, 1 H, 0 R, 0 ER, 1 BB, 4 K, 8/3 GB/FB — 64 of 95 pitches were strikes (67%) … lost the no-hitter with a leadoff single in the seventh … best start of the season for him by far
The Yankees and Red Sox open their three-game series in the Bronx tonight, and, looking at the pitching matchups, this feels like it should be an easy win for Boston. With all due respect to Brandon Workman, that feeling has more to do with Vidal Nuno than anything. He's been pretty terrible since moving into the rotation, especially at home: 35 runs and 63 base-runners in 39.1 innings. Thirteen homers too.
That's really, really bad! If a pitcher like that was getting ready to face the Yankees, I'd be pretty thrilled. At least until I realized it was a reverse trap. The pitching matchup looks so favorable that things play out exactly the opposite of what you expect. You know what I'm talking about, right? Hopefully this is a reverse trap game for the Yankees and Nuno, and he pitches admirably to open this six-game homestand. Here is the Red Sox lineup and here is the Yankees lineup:
It's been warm and sunny in New York all day. Pretty great night for baseball. First pitch is scheduled for a bit after 7pm ET and you'll be able to watch on YES locally and, depending on where you live, MLB Network nationally. Enjoy the game.
By Mike Shackil, Tiq IQ
The AL East standings are pretty much the reverse of what everyone thought they'd be before the season started. The Tampa Bay Rays are safely in the basement as the Toronto Blue Jays lead the division. Even the Boston Red Sox and New York Yankees are currently out of a playoff spot, with the Red Sox a far ways away just a season after winning the World Series.
But some things turn out as expected, and the latest installment of the famed Red Sox and Yankees rivalry is looking like a pretty expensive series. Currently the average price of the series is 20 percent over the average ticket price for the remaining home games at Yankee Stadium. That average was already the highest in the league at $144.65, and Yankees tickets for the series are averaging $173.98. For fans who have purchased the Yankees Six-Game Flex Pack, you can add one of these three games to your package.
6/27 BOS Brandon Workman at NYY Vidal Nuno | Avg. Price: $241.09 | Get-in Price: $73
Brandon Workman is making his first start since serving a suspension for throwing at Rays' third baseman Evan Longoria. Workman has been a solid addition the Red Sox pitching staff since making his major league debut in the bullpen last July, and has likely earned a spot in the rotation after filling in due to injuries. In five starts he has a 3.21 ERA and has gotten better and better as he's been stretched out. But despite his improvement it's still shocking to see this as the most expensive game of the series by far, especially with Vidal Nuno starting for the Yankees. In 12 starts Nuno ranks at replacement level with a 5.29 ERA and 1-4 record. The average for the game is $241.09 and the get-in price is $73. To put that get-in price in perspective, half the league has an average season price around $73.
6/28 BOS Jon Lester at NYY Masahiro Tanaka | Avg. Price: $178.77 | Get-in Price: $50
The following game is the true marquee matchup of the series, with aces Jon Lester and Masahiro Tanaka taking the mound for the Red Sox and Yankees, respectively. Both have WARs above 3.0 this season and rank near the top of the league in most statistical categories, and Tanaka is the likely runaway winner with AL Rookie of the Year after coming over from Japan. The game is averaging $178.77 a ticket and has a get-in price of $50.
6/29 BOS John Lackey at NYY Chase Whitley | Avg. Price: $102.08 | Get-in Price: $26
The final game of the series is easily the cheapest. With an average of $102.08 it is the only game below the Yankees season average in the series. Even the get-in price of $26 is pretty reasonable. The pitching isn't bad either. John Lackey gets the start for the Red Sox, and he has been their best pitcher outside of Lester. For the Yankees, rookie Chase Whitley gets his ninth start, and he has been surprisingly solid for the Yankees. He's got a great K/BB ratio, and despite a 4.07 ERA, he has a FIP that only trails Tanaka on the team.
Get ready for a weekend of hype and attention that is disproportionate to the relevance of the teams in this series. The Red Sox are in town to play three games against the Yankees, and it is always a Very Big Deal whenever these two clubs meet. In reality, this series is about a pair of teams trying to dig themselves out of holes in the AL East, one bigger than the other. The Yankees took three of four in New York and two of three in Boston against their rivals back in April.
What Have They Done Lately?
The Red Sox just wrapped up a brutal West Coast trip through Oakland and Seattle, losing five of seven and being outscoring 36-23. They are 36-43 overall with a -31 run differential. That puts them five games back of the Yankees and in fourth place in the AL East.
Offense
Boston had a powerhouse lineup last year, one that was deep with disciplined hitters who worked long at-bats and hit for extra-bases. This season they are averaging only 3.81 runs per game with a team 89 wRC+, so they are comfortably below average. Boston is currently without OF Shane Victorino (hamstring, back), 1B/OF Mike Carp (foot), and 3B Will Middlebrooks (finger). There's a chance Middlebrooks will return this series, but the other two definitely will not.
As usual, manager John Farrell's revolves around DH David Ortiz (119 wRC+). 1B Mike Napoli (136 wRC+) is his right-handed complement and UTIL Brock Holt (122 wRC+) has been stellar since taking over the leadoff spot. 2B Dustin Pedroia (97 wRC+) is having a subpar year and, at age 30, you wonder if he's hitting the early decline phase we've seen strike many second basemen. Wouldn't that be something, if Pedroia's days as an above-average hitter are already over? Crazy.
3B Xander Bogaerts (101 wRC+) has been very streaky this year and is on the downswing at the moment. SS Stephen Drew (-21 wRC+ in limited time) hasn't hit a lick since re-signing and platoon bats OF Jonny Gomes (93 wRC+) and OF Daniel Nava (76 wRC+) have been more down than up. The catching tandem of C A.J. Pierzynski (72 wRC+) and C David Ross (51 wRC+) invokes memories of Chris Stewart and Austin Romine. OF Jackie Bradley Jr. (63 wRC+) has been terrible overall but better of late after making some mechanical changes. IF Jonathan Herrera (59 wRC+) is the last guy on the bench.
Pitching Matchups
Friday: LHP Vidal Nuno (No vs. BOS) vs. RHP Brandon Workman (vs. NYY)
Workman, 25, moved back into the rotation after starting the season in the bullpen. He has a 2.88 ERA (3.36 FIP) in 34.1 innings spread across five starts and three relief appearances after a stint in Triple-A. Workman has kept the ball in the park (0.52 HR/9 and 5.9 HR/FB%), but otherwise his strikeout (7.34 K/9 and 20.4 K%), walk (3.15 BB/9 and 8.8 BB%), and ground ball rates (41.5%) are no better than okay. Lefties (.258 wOBA) have had slightly more success than righties (.239 wOBA) in small samples. Workman sits right around 90 mph with his four-seam fastball and a tick below that with his cutter. His two secondary pitchers are a big overhand curveball in the upper-70s and a mid-80s changeup. The Yankees did not see Workman in their previous two series with Boston.
Saturday: RHP Masahiro Tanaka (vs. BOS) vs. LHP Jon Lester (vs. NYY)
Believe it or not, the 30-year-old Lester is in the middle of his best season, right in time for free agency this winter. He has thrown 106 innings of 3.14 ERA (2.84 FIP) ball in 16 starts, and his strikeout (9.25 K/9 and 25.0 K%), walk (2.29 BB/9 and 6.2 BB%), and homerun (0.68 HR/9 and 7.3 HR/FB%) numbers are top notch. His ground ball rate (38.9%) is a career low, however. Lester might run into a little rough patch and see that homer rate climb at some point considering his home and divisional ballparks. His platoon split is literally zero — both lefties and righties have a .304 wOBA against him this season. Lester has really scaled back the usage of his mid-80s changeup this year, throwing only a handful per start, so he is essentially a four-pitch guy with three fastballs now: low-90s four-seamers and sinkers, mid-to-upper-80s cutters, and mid-70s curveballs. The southpaw held the Yankees to two runs in 6.2 innings in Yankee Stadium earlier this season.
Sunday: RHP Chase Whitley (No vs. BOS) vs. RHP John Lackey (vs. NYY)
Somehow Lackey has improved upon his big return to form 2013 season. The 35-year-old has a 3.45 ERA (3.04 FIP) in 107 innings and 16 starts while walking almost no one (1.77 BB/9 and 4.8 BB%) and keeping the ball on the ground (46.1%). His strikeout (7.82 K/9 and 21.1 K%) and homer (0.76 HR/9 and 8.8 HR/FB%) numbers are good but not quite as good as the walk and grounder rates. Lackey doesn't have much of a platoon split (lefties have a .303 wOBA while righties have a .298 wOBA) and he doesn't have a changeup. I mean, he does have one, but he only throws it 1.4% of the time. One or two per start, that's it. Low-90s two and four-seamers, mid-to-upper-80s cutters, and upper-70s curveballs are Lackey's four main offerings. He has faced the Yankees twice this year and the starts were on opposite ends of the spectrum: six runs in 5.2 innings at Yankee Stadium and eight innings of one-run ball at Fenway Park.
Bullpen Status
Like the Yankees, the Red Sox were off yesterday, so their bullpen is as fresh as can be this time of year. Closer RHP Koji Uehara (2.82 FIP) has been very good but not as good as last season. He's allowed five runs this year, all on solo homers. LHP Andrew Miller (1.45 FIP) has been spectacular, RHP Junichi Tazawa (2.89 FIP) slightly less so.
The rest of the bullpen includes RHP Burke Badenhop (3.10 FIP), LHP Craig Breslow (4.50 FIP), and RHP Edward Mujica (4.73 FIP). RHP Rubby De La Rosa (3.19 FIP) just lost his rotation spot when Clay Buchholz came off the disabled list and is the long man by default. You can check up on the status of the Yankees' relievers at out Bullpen Workload page. For everything else you need to know about the Red Sox, I recommend Over The Monster.
Seven questions in this week's mailbag. If you want to send us something, use the Submit A Tip box in the sidebar. We get a lot of questions each week, so don't take it personally if yours is not answered.
Paul asks: What would happen if Derek Jeter decided he wasn't retiring?
I think we all know what would happen. The Yankees would re-sign him to a contract similar to this year's (one-year, $12M plus incentives) and he'd play shortstop everyday next season. I know it, you know it, Jeter knows it, the Yankees know it, everyone knows it. He has the organization wrapped around his finger.
What should happen? The Yankees should walk away if Jeter un-retires because their goal should be to put the best possible team on the field. Not the most marketable team, the team with the best chance to win. It's hard to see how the Cap'n at shortstop accomplishes that at this point of his career. The upcoming free agent shortstop crop (Hanley Ramirez, Jed Lowrie, J.J. Hardy, Asdrubal Cabrera) is deep and there are better options. It'll never happen though. Jeter's going to retire after the season and this is all hypothetical.
Masamyhiro asks: I know it's ridiculous but what's the real limitation to NYY signing even more of the international free agents this year? Is it purely financial, do certain players prefer other teams, or do the Yanks simply believe that some of them won't translate well to MLB? Following up on that, is there heavy recruiting in international free agency a la Masahiro Tanaka this past offseason, or do the kids simply follow the money?
It's a combination of everything, really. Every team views these players differently and not all think they're worth the money. The Latin American market is very secretive — teams find players when they are like, 13-14 years old, hide them at their academies and keep them out of sight from the other scouts. It happens all the time. You can't spend money on talent you don't get a chance to properly evaluate it. I suppose that's similar to a Tanaka-esque recruiting pitch — many times these players will agree to sign years in advance, occasionally with under-the-table payouts up front. Remember, a lot of these kids live in poverty, and signing to play baseball is the best way to help their families. They jump on whatever money they can get.
Preston asks: What do you think of Dexter Fowler as a trade target? He would slot nicely into the 2 hole between Gardner and Ellsbury and would be signed through 2016.
That would be three no-to-low power outfielders for a team already short on power. I'm not sure it fits. Fowler is a switch-hitter who consistently gets on base (.377 OBP this year and .380 OBP from 2012-14) and is a 15-20 steal, 10-15 homer guy at his best. The defensive stats hate him in center and he has one inning in right field in his career. Giving up some prospects to get him for right seems like a poor fit for both the offense and defense to me. The on-base ability to awesome, but the current roster is begging for another power hitter, not another speedy leadoff type.
CS Yankee asks: Good to see that Ty is finally pitching again. How did Ian Clarkin and Ty Hensley compare when they were drafted? Who had the higher scouting grades, BP rankings, and how did you (Mike) rate them?
In my opinion, Clarkin was the better prospect at the time of their respective drafts. Hensley threw harder and they had similar quality breaking balls, but Clarkin's changeup was much more advanced. He's also left-handed, which is a plus. Again, that's just my opinion. Here is how they were ranked by the various scouting publications in their draft years:
Keep in mind that they're being ranked in different draft classes. The 2013 draft was generally considered to be stronger than the 2012 class, so Clarkin ranking higher than Hensley despite the tougher overall draft class pretty much confirms he was considered the better prospect at the time. That's fine though, that doesn't mean Hensley wasn't a good prospect. He's obviously been derailed by injuries, but taking him 30th overall was perfectly reasonable.
Sandeep asks: If Bud Black is let go from the Padres, should the Yankees look into finding a role for him? He seems to be one of the smarter baseball managers out there and I believe he's often received praise on this site. What would his role be?
I like Black as a manager because he always seems to make good strategic moves — maximizing the platoon advantage, putting his players in good positions to succeed, etc. — whenever I watch the Padres. I have no idea what he's like managing people in the clubhouse, though I doubt he would have remained on the job for 7+ years if players didn't like him.
The Padres are terrible and they just fired GM Josh Byrnes, and there are rumblings even more moves will be made as the new ownership group cleans house and brings in their own people. Black is a pitching guy who played 15 years in the big leagues and was the Angels pitching coach under Mike Scioscia from 2000-06. Unless the Yankees were to fire Larry Rothschild (I don't see that happening at all), I'm not sure where he'd fit in. Minor league pitching guru? Would he be open to doing that after being on a big league coaching staff for a decade and a half? I like Black based on what I've seen but I'm not sure there's a role for him with the Yankees.
Pounder asks: With defensive shifts becoming more and more engrained, how will this affect the game in the long run? Will the "science" of hitting start to be taught among the lower levels of the sport, including Little League, high school and college? Could these shifts de-emphasize the power game as well, making Punch and Judy hitters more prevalent?
I'm pretty sure the art of hitting to all fields is taught at every level already, especially in the minors and in college. It's up to the players to do it though, the coaching staff can only do so much. Some players refuse or are flat out unable to adjust — it drives me nuts whenever Michael Kay talks about a player refusing to go against the shift and act likes it's a piece of cake. If it were take easy to hit the baseball exactly where you want, everyone would hit about .500 — or are simply at their best when they pull the ball. Brian McCann already has eleven opposite field hits this season after getting between 10-15 every year from 2009-13. He's hitting against the shift more often, but is it doing him any good? At some point don't you have to consider letting him go back to being himself?
Anyway, eventually hitters will adjust to the shift just like they adjusted to curveballs and sliders way back in the day. There will still be players who can't beat the shift just like there are players who struggle against breaking balls. The game evolves and those players either adapt or get run out of the league. If anything this should make power hitters more valuable. If baseball is going to devolve into a league of singles hitters, the guys who can put runs on the board with one swing will be even more important. That's just my opinion as a fan of the long ball. Trying to consistently score runs with extended rallies in an age of infield shifts and advanced scouting reports and specialized relievers strikes me as a fool's errand.
Brian asks: Have we seen anything from the 6th, 7th and/or the 8th starters to indicate that the Yankees may have a long term answer amongst them?
Vidal Nuno (12), David Phelps (ten), and Chase Whitley (eight) have only combined to make 30 starts so far, so we haven't seen a ton of them yet. (We have seen plenty of Phelps the last two years, obviously.) At this point, I think it's fair to say Phelps has the best chance of being a starter long-term while Nuno has the smallest chance. He is left-handed though, a niche in the bullpen always awaits. I'm not quite sure what to think of Whitley yet, but I feel better about his ability to pitch in the big leagues in some capacity than I did three months ago. The one thing I know for certain is that I hope the Yankees never need all three of these guys in the rotation at the same time again in the future.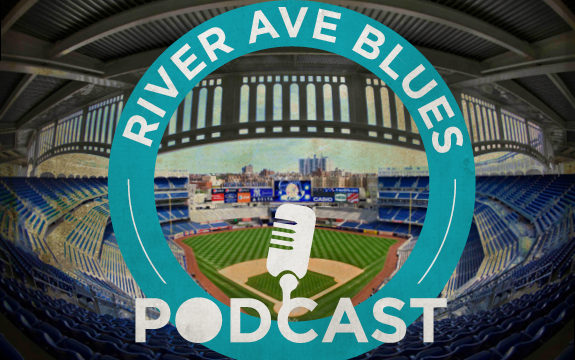 Guest: Tim Kurkjian of ESPN. He'll be covering the Yankees-Red Sox game on Friday, and then the Yankees-Rays on Monday. We talk about how those rivalries have changed over the last few years. There's also plenty of trade deadline talk.
Before that Mike and I talk for quite a while about the state of the team — it turns out you can talk for a while when you miss a week and change.
iTunes link: here
Remember to email in your questions before Friday's show (recorded Thursday night), podcast at riveraveblues.com.
You can also give us a call us at 716-393-5330 and leave a voicemail. We'll play it on air and answer it. It'll feel more radio-like that way.
Podcast: Play in new window | Download (Duration: 52:23 — 24.0MB)
In case you missed it earlier, Chad Jennings posted a ton of injury updates today. He spoke to VP of Baseball Ops Mark Newman about a bunch of other stuff as well, and you can read it in this post and this post. In other news, RHP Jordan Foley, 1B Connor Spencer, and RHP Joe Harvey were added to the Short Season Staten Island roster, the club announced. They were the Yankees' fifth, eighth, and 19th round picks a few weeks ago.
Triple-A Scranton Game One (7-4 win over Syracuse in seven innings) makeup of the April 4th rainout
LF Jose Pirela: 2-4
C John Ryan Murphy: 0-4, 1 R, 1 K, 1 PB
RF Zoilo Almonte: 2-4, 2 R
3B Zelous Wheeler: 1-3, 1 R, 1 2B, 2 RBI, 1 BB, 1 K — 11-for-34 (.324) in his last ten games
DH Kyle Roller: 2-3, 1 R, 1 BB
2B Rob Refsnyder: 2-3, 1 R, 1 2B, 2 RBI, 1 BB — got picked off first
SS Dean Anna: 0-2, 1 R, 1 BB, 2 K
CF Taylor Dugas: 1-3, 1 2B, 3 RBI, 1 K – I wonder if another team likes him enough that he can be a third or fourth piece in a trade before the deadline
RHP Alfredo Aceves: 4.1 IP, 5 H, 2 R, 2 ER, 0 BB, 5 K, 1 HB, 3/3 GB/FB — 54 of 75 pitches were strikes (72%)
RHP Danny Burawa: 1.1 IP, 3 H, 2 R, 2 ER, 0 BB, 2 K, 2/0 GB/FB — 18 of 27 pitches were strikes (67%)
RHP Matt Daley: 1.1 IP, 2 H, 0 R, 0 ER, 0 BB, 2 K, 1/0 GB/FB — 18 of 26 pitches were strikes (69%) … 29/5 K/BB in 20 innings at this level