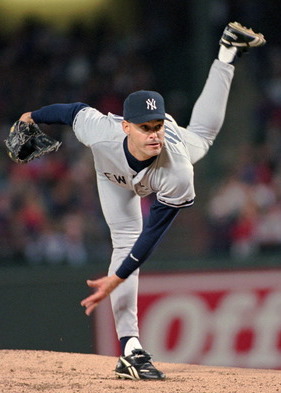 Getting spurned by big name free agents isn't a familiar feeling for Yankees fans, which is why the Cliff Lee decision last winter was so disappointing. We'd grown accustomed to the Yankees just getting whoever they wanted, and that was a shock to the system. Being told no by Lee was nothing compared to what happened two decades ago, however.
The 1992-1993 offseason was highlighted by a pair of in-their-prime superstar free agents: 28-year-old reigning NL MVP Barry Bonds and 26-year-old reigning NL Cy Young Award winner Greg Maddux. The Yankees wanted both, and started the winter by offering Bonds a five-year, $36M contract that would have made him the highest paid player in baseball. Then-GM Gene Michael made the offer the Monday before the winter meetings, but he gave Bonds and agent Dennis Gilbert just two days to accept. When they asked for a sixth guaranteed year, Michael broke off negotiations.
"We wanted him and now it's off," said Michael. "We're going for pitching. Maybe it's the right thing to do. We will not have Barry Bonds with a sixth year … We have to draw the line somewhere. I have no regrets saying we did not offer him a sixth year. We offered him a fantastic contract for five years. We really went out of our way to make a nice offer."
The day after making the offer to Bonds, Michael met with Scott Boras about Maddux and presented a standing five-year, $34M contract offer. Maddux was their true number one target that offseason.
"If we are going to step out, we're going to step out for this guy," said Michael. "He's the best pitcher available, and he knows our offer is serious … There is no scare in this kid."
A few days later, Bonds got his guaranteed sixth year from the Giants and headed to San Francisco for $43.75M. Boras was seeking $7M annually for Maddux, saying "if you're the Cy Young Award winner and the most durable pitcher in baseball, you deserve the premium salary." The right-hander had thrown 260+ innings in each of the previous two seasons and 235+ innings in each of the previous five seasons.
Maddux visited the New York area with his wife in early-December, and Michael showed them around New Jersey. The Yankees had acquired Jim Abbott from the Angels for three young players — Russ Springer, J.T. Snow, and Jerry Nielsen — earlier in the week, a move that reportedly impressed Maddux and seemed to boost the Yankees chances of signing him. Ultimately, it did not. A few days later, Greg Maddux was a Brave, taking less money to go to Atlanta and remain in the National League.
"This one hurts," said Michael. "He's the best one out there. I never thought I could say this, but he's a steal at [five years and $28M]. He's a steal … It's not over yet for us. We'll do some things."
The Yankees had multiple irons in the fire all winter, so Michael turned to Plans C, D, and E after being jilted by his top two free agent targets. He'd offered David Cone a three-year deal worth $17M earlier in the offseason, but the 29-year-old right-hander went home to the Royals for three years and $18M. Doug Drabek and Jose Guzman signed with the Astros and Cubs after being extended offered from the Yankees. Plans C through E were now off the table as well.
While Michael was busy dealing with Bonds, Maddux, Cone, et al., then-managing partner Joe Molloy was serving as the team's chief negotiator with free agent lefty Jimmy Key. Key was 31 at the time and had a bit of an injury history, but like Cone he had been an All-Star and won a World Series with the Blue Jays the year before. His wife Cindy was his agent, and the two were on vacation when they accepted the Yankees' four-year, $17M proposal a few days after Maddux headed to Atlanta.
"You can't dwell on Bonds or Maddux or Cone," said then-manager Buck Showalter. "I'm excited about getting a player of [Key's] background and with his track record coming to New York … As important as that is, I'm excited that he wanted to come to play in New York."
Since the signing was brokered by Molloy, questions about Michael's job security arose. George Steinbrenner had been banned from the team's day-to-day management two years earlier by commissioner Fay Vincent for the Dave Winfield fiasco, so Molloy was left to answer questions about who was running the team.
"[Michael is] an excellent general manager … As long as I'm the general partner, Gene should feel confident in his job as the general manager," said Molloy. "That's not to say if I get upset with Gene, I won't fire him either."
Key joined Abbott in the 1993 rotation, which also included holdovers Melido Perez and Scott Kamieniecki. He was the Yankees best pitcher in 1993 and 1994 (3.11 ERA in 404.2 IP), but he got hurt in 1995 and managed just five starts. Key returned in 1996 and wasn't as effective as he had been in the past, but he did help the club to the World Series. He got the ball in the deciding Game Six of the Fall Classic, and outpitched Maddux to give the Yankees their first title in 18 years. Not bad for a guy that was Plan F.