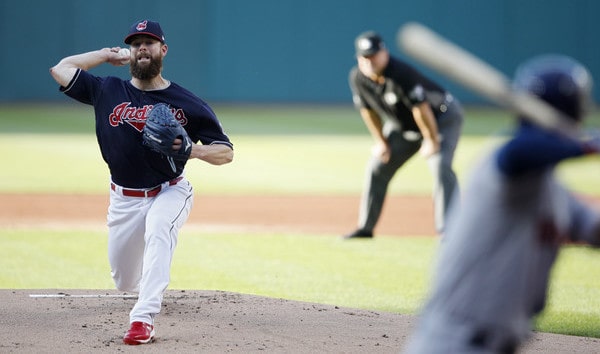 The GM Meetings are being held in Carlsbad, California this week and usually that means news — the Aaron Hicks trade went down at the GM Meetings — or at least some rumors and soundbites. "The Red Sox winning doesn't change the hunger level of trying to deliver a championship for our fan base," said Brian Cashman to Erik Boland yesterday. Here are the latest hot stove rumors.
Yankees will talk Kluber, Carrasco with Indians
According to Jon Heyman, the Yankees either will meet or have already met with the Indians today to discuss right-handers Corey Kluber and Carlos Carrasco. Cleveland will reportedly listen to offers for their top veteran players this offseason because a) every team listens to offers for everyone, and b) they are a small budget team and they're running out of money. Supposedly everyone except Francisco Lindor and Jose Ramirez is available. That doesn't mean the Indians are giving their veterans away, but they do seem to be available.
Kluber (2.89 ERA and 3.12 FIP in 2018) and Carrasco (3.38 ERA and 2.94 FIP) are both excellent and signed affordably. Assuming their options are picked up, Kluber is owed $52.5M from 2019-21 and Carrasco is owed $19.25M from 2019-20. They're both over 30 (Kluber turns 33 in April, Carrasco turns 32 in March), but they are exactly the kind of pitcher the Yankees crave. Front of the rotation arms who rack up strikeouts and are on affordable contracts. I don't see why the Indians would trade either Kluber or Carrasco without getting Gleyber Torres or Miguel Andujar (and more) in return. These aren't guys you get for three or four prospects you don't like.
Yankees interested in Paxton
In addition to Kluber and Carrasco, the Yankees also have interest in southpaw James Paxton, reports Heyman. The Mariners are reportedly considering a rebuild. They haven't been to the postseason since Ichiro's rookie season in 2001 — The Mariners have the longest active postseason drought in North American sports — despite spending a ton of money and gutting the farm system to make win-now trades in recent years. They're at least considering a full teardown.
Paxton, who turns 30 today, threw 160.1 innings with a 3.76 ERA (3.23 FIP) and 208 strikeouts this season. He is under control through 2020. For me, Paxton is clearly behind Kluber and Carrasco on the trade preference list. Those two are Plan A and Plan B (either order is arguable) and Paxton is Plan C. He has a very long injury history and I think the Mariners are going to demand an ace price for a guy who isn't really an ace. Don't get me wrong, Paxton's quite good and would be a significant upgrade for the Yankees. I just prefer Kluber and Carrasco.
Yankees will check in on Machado
Despite being "lukewarm" about Manny Machado, the Yankees will check in on the free agent infielder, and their interest level depends on the asking price, reports Heyman. Cashman ducked the Machado question, as you'd expect. "I'm going to be engaging the entire landscape in the free agent market … We will make sure we check every box in terms of what's available and the cost associated with what's available in both marketplaces, free agency and trades," he said to Brendan Kuty.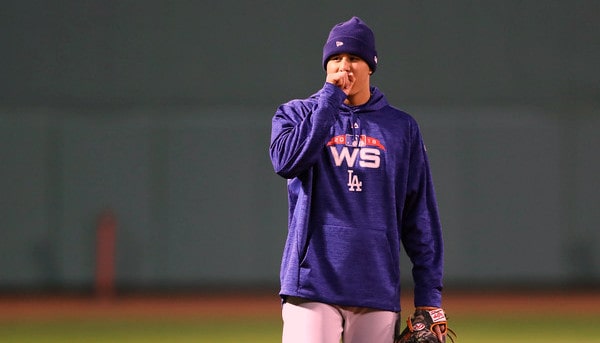 To sign Machado (or Bryce Harper), one of two things will have to happen. Either the Yankees will have to exceed the $206M luxury tax threshold next year, or they'll have to shed salary elsewhere and go cheap on pitching. Only one of those two options makes sense for a team with New York's revenues. There's a very anti-Machado sentiment that exists right now and I totally get it after his postseason, but this is a 26-year-old infielder who hit .297/.367/.538 (141 wRC+) with 37 homers this season and is a true talent +6 WAR player. How often do you get a chance to acquire someone like that for just cash?
Yankees would like to re-sign Sabathia, Happ
The Yankees would like to re-sign CC Sabathia and J.A. Happ, Cashman told Ronald Blum. "He's been a great Yankee, and he has time on the clock still. I think he'd like to stay, and I think we'd like to keep him," Cashman said about Sabathia. As for Happ, Cashman said: "I would think that there'll be a lot of interest in him. He has a great reputation throughout the game as a pro, and the performance level was exactly what we needed. So he put himself in a good position as a free agent."
For what it's worth, Heyman says Happ and Patrick Corbin are the team's two top pitching targets. That definitely passes the sniff test. Cashman mentioned yesterday the Yankees are looking to add multiple starters and they've reportedly been after Corbin for a while, and obviously they like Happ enough that they traded for him and started him in ALDS Game One. I do worry about Happ's declining four-seam fastball spin rate, which is kind of a big deal for a guy who throws so many heaters, especially up in the zone. As for bringing Sabathia back, I am all for it. Get it done.
Cashman reiterates intention to trade Gray
Not surprisingly, Cashman reiterated his intention to trade Sonny Gray this offseason. He's been very candid about this. "We are going to move him if we get the right deal because I don't think it is going to work out in The Bronx. I don't feel like we can go through the same exercise and expect different results," Cashman said to Joel Sherman. "There are enough teams that think highly enough of him, that are interested."
I get the feeling Gray is either going to be traded very early in the offseason, as in within the next week or two, or very late, as in February or even after Spring Training begins. Don't ask me why. Just a hunch. I still believe the Brewers are the most logical fit but man, who in the world knows? Gray was really good outside Yankee Stadium (3.17 ERA and 2.65 FIP) and he has a strong track record, so it would seem lots of teams would be interested in buying low. Then again, he was so bad this year that I wouldn't be surprised if teams shy away. We'll see. I think the Yankees will end up with a better than expected return for Sonny. Pitching is always in demand.