Twenty-three different position players came to the plate at least once for the Yankees this year, and we here at River Avenue Blues endeavor to give you a little something about each and every one of them in this series of reviews. These are the guys that opened the season in the organization and, for a variety of reasons, ended up playing relatively minor roles.
Brandon Drury
The Yankees have acquired quite a bit of talent from the Diamondbacks over the last five years; so much so that a deal between the two teams feels like an automatic win for the good guys. They've made five deals in that span, with the Yankees acquiring Brandon McCarthy, Martin Prado, Didi Gregorius, Tyler Clippard, and Drury, and giving up Vidal Nuno, Peter O'Brien, Shane Greene, Vicente Campos, Taylor Widener, and Nick Solak (the last two in the deal for Drury). That's 17.3 WAR in, and 3.4 WAR out, for those of you scoring at home.
But I digress.
Drury was acquired by the Yankees in February as a part of a three-team trade with the Rays and Diamondbacks. The aforementioned Solak went to Tampa, and Widener went to the desert; and both spent the entirety of 2018 at Double-A in their respective organizations. It's worth noting that both performed well in Double-A, to be sure, but neither is a standout prospect.
For his part, Drury opened the season as the Yankees third baseman, starting seven of the team's first eight games and pinch-hitting in the other. He hit a more than serviceable .217/.333/.391 (101 wRC+) in that span, and it seemed as though the team had found a perfectly adequate infielder. And when he was placed on the disabled list with migraines on April 7, he was expected back in relatively short order.
It didn't work out that way, of course. Miguel Andujar took over at the hot corner in Drury's absence, and hit the ground running. And when Drury's stint on the disabled list was over on May 14, he was optioned to Triple-A Scranton, where he would spend the next six-plus weeks tearing the cover off of the ball. It was clear that he didn't belong there, but it was also clear that they didn't have room for him on the big club.
Drury was called back up on June 29, and bounced around the infield for ten days before being sent back down. He only hit .136/.174/.182 in that stretch, so it was difficult to fault the Yankees. He came back up on July 20, and was essentially done as a Yankee on July 24, when he exited the game after being hit in the hand with a pitch. Drury was dealt to the Blue Jays (along with Billy McKinney) for J.A. Happ a couple of days later.
All told, Drury hit .176/.263/.275 (49 wRC+) in 57 PA in pinstripes. Injuries and superior options at second and third base hindered his chances of finding a role with the team before he really had a chance, and his bags were packed at the deadline. He followed that up by hitting .154/.241/.231 (33 wRC+) with the Blue Jays, albeit in just 29 PA as his season ended early due to a fracture in his left hand.
Clint Frazier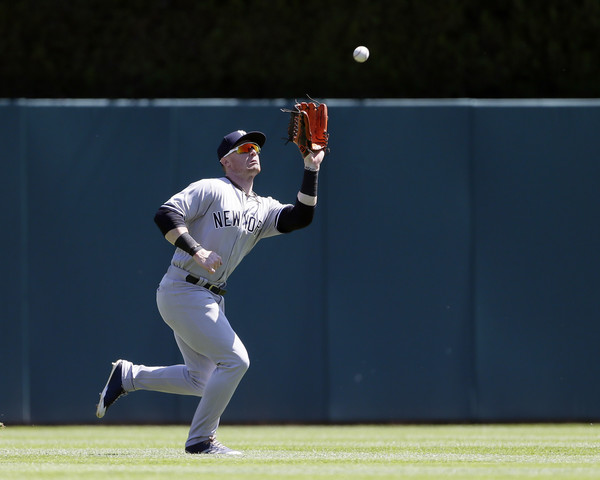 The 2017-18 off-season could not have been much fun for Frazier, who spent his time seeing his name in trade rumors, recovering from an oblique injury, and getting a much-publicized haircut. And seeing the Yankees add Giancarlo Stanton to an already crowded outfield picture was probably a bit disconcerting, as well. I don't want to editorialize too much, but I can't help but feel that he was relieved to start playing baseball again when February rolled around.
Unfortunately, Spring Training wasn't any better, as Frazier suffered a concussion after crashing into the outfield wall, and missed the first several weeks of the season as a result. He was activated from the disabled list on May 1 and optioned to Triple-A, where he hit .362/.423/.702 in 52 PA before being called-up for a double-header on May 19. He started one game, going 1-for-2 with two walks, and was sent back down to Triple-A.
Frazier spent the next two months bouncing between Triple-A and the show; he obliterated the minor leagues, posting a .311/.389/.574 slash line in 216 PA, and was adequate in 41 big league PA, posting a 113 wRC+. Unfortunately, the lingering post-concussion effects never really let up, and his season was over in August. And given how mightily the Yankees struggled to fill the void left by Aaron Judge's injury, Frazier missed a big opportunity, to boot.
Frazier's status is one of the low-key but still important storylines of this off-season. He's still only 24 with oodles of talent, but he hasn't been able to stay healthy over the last two years, and concussions are tricky at best. Moreover, the Yankees still have a crowded outfield, even if Brett Gardner hadn't re-signed. Frazier is ostensibly healthy and resting now, but this may well be another winter of trade rumors.
Kyle Higashioka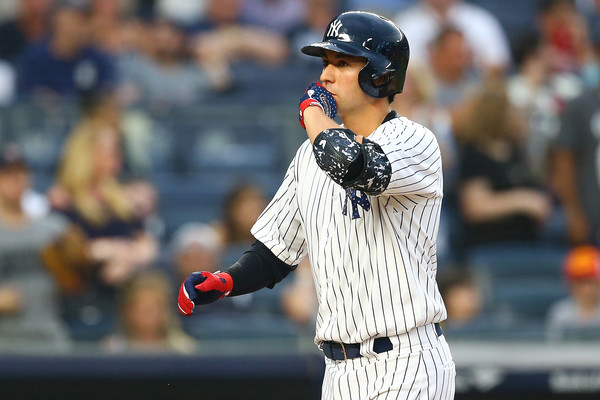 Higashioka entered the 2018 season as the team's third-string catcher, and the expectation that he wouldn't have much of anything to do in the majors this year barring some calamity. There was a calamity, of sorts, in Gary Sanchez's injury-riddled and disappointing season, which resulted in Higashioka spending about three months on the Yankees roster. Unfortunately for him, that meant a lot of sitting on the bench if deference to Austin Romine.
The 28-year-old backstop spent most of the first three months of the season in Triple-A, where he struggled mightily. He slashed just .196/.272/.337 through 52 games, which was a far cry from his strong performances there in 2016 (131 wRC+) and 2017 (113 wRC+). There was no clear path to playing time for Higashioka for most of this time, and he certainly wasn't forcing the issue.
When Sanchez hit the disabled list with a groin injury on June 25, Higashioka was called-up. He served in a timeshare with Romine, starting nine of the team's nineteen games in this stretch, and he slashed an intriguing .167/.242/.500 in 33 PA. Higashioka had the first three hits of his major-league career during this stint … all of which were home runs.
Higashioka was sent back down when Sanchez returned from the DL, and was recalled when Sanchez aggravated the groin injury a few days later. He'd go on to spend the rest of the season with the team, picking up eleven more starts along the way. Higashioka finished the season hitting .167/.241/.319 (51 wRC+) in 79 PA.
There were some reasons to be excited about Higashioka after his dominance of Triple-A in 2016, but that ship has likely sailed at this point. He'll be 29 in April, and the team clearly prefers Romine off of the bench. That doesn't mean that he can't be a useful bench piece – it just might not be for the Yankees.
Billy McKinney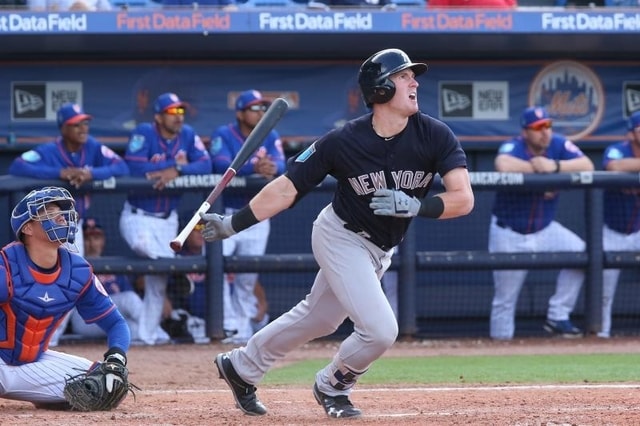 McKinney was acquired alongside Gleyber Torres way back in 2016, and was poised for a real opportunity with the Yankees when Frazier, Aaron Hicks, and Jacoby Ellsbury went down with injuries. He earned his first big league start (and hit) on March 30 … and was placed on the DL with a left shoulder strain after crashing into the wall on March 31.
By the time McKinney was activated on May 24, the Yankees outfield rotation was set, and he headed to Triple-A. He flashed some power there, slashing .226/.299/.495 (120 wRC+) with 13 HR in 234 PA, but his tenure with the team ended before he could claw his way back to the majors when he was sent to Toronto in the Happ trade.
McKinney spent his first month with his new organization in the minors, but he was called-up on August 18 (against the Yankees), and spent the rest of the year starting for the Blue Jays. He hit .252/.320/.470 (114 wRC+) in 128 PA down the stretch, and should have one of the corner outfield spots locked-up for 2019.
Jace Peterson
Peterson spent a whopping 112 days in the Yankees organization, a tenure that included one game in Triple-A and three at the highest level. That was long enough to have a play for the team's highlight reels, though, in the form of this excellent catch against the Orioles:
Peterson was claimed off of waivers by those same Orioles on April 24, and his Yankees career was over. He did hit .300 with the team, though (in 11 PA), so he has something to tell his grandchildren one day.
The 28-year-old utility player did find a good home in Baltimore, though, playing all over the field and appearing in 93 games. He hit just .195/.308/.325, but he stole 13 bases in 15 attempts … so, there's that.
Shane Robinson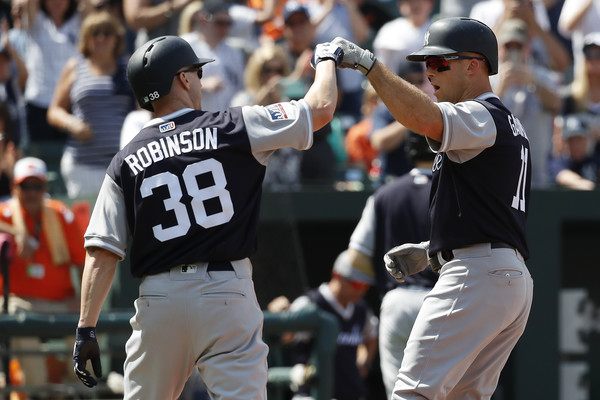 The aforementioned injuries to Clint Frazier, Ellsbury, and Judge as well as the trade of McKinney paved the way for Robinson to make 17 starts for the Yankees this year. That in and of itself is a fine argument both for how necessary depth is, and how quickly it can disappear. And it haunts me to this day.
Robinson was signed by the Yankees way back in February to serve as Triple-A depth. When he was signed, he was something like ninth or tenth on the organization's outfield depth chart, and for good reason. The now-34-year-old was a Quadruple-A player, having spent the previous eight years as an up-and-down guy for the Cardinals, Twins, and Angels, racking up a .226/.294/.297 line in 795 PA along the way. He's the sort of player every organization needs, but doesn't really want to see at the highest level.
He was called-up in early April for a two-game cup of coffee, going 1-for-3 with two walks in two games before being sent back down. He spent the rest of April through late-July in Triple-A (and missing all of June), posting a .628 OPS in 192 PA. But Judge's injury and McKinney's trade mere days beforehand forced the Yankees hand, and Robinson was recalled on July 28.
Robinson played in 23 of the team's Judge-less games, starting sixteen. He hit .130/.167/.217 in that time, which thankfully (mercifully?) came to an end when Andrew McCutchen was acquired on August 31. Robinson spent the rest of the season in purgatory, and became a free agent on October 10.