With the Yankees scaling back their spending, the Dodgers have emerged as baseball's new financial superpower in recent months. The team's new ownership has absorbed roughly $600M in salary obligation since July, and this year they're likely to set a new MLB payroll record. All of that money has brought stars to Los Angeles, including big name guys like Hanley Ramirez, Carl Crawford, Adrian Gonzalez, and Zack Greinke. It's been fun to watch from afar.
All of the spending has left the team with some surplus though, including on the infield as Ken Rosenthal notes. The Dodgers have seven (!) backup infielders after acquiring Skip Schumaker this week, though we should really say it's just six backup infielders because Juan Uribe is completely useless and likely to be released before Opening Day. Seriously, he's posted a 55 wRC+ in the two years since signing a three-year, $21M contract. Yikes. The Yankees need infield help among several other things, other things the Dodgers can offer as well.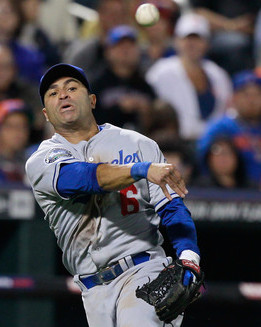 Jerry Hairston Jr. & Nick Punto
Two veteran utility men that offer different skill sets. We all remember the elder Hairston brother from his time with the 2009 Yankees, when he most notably scored the game-winning run in ALCS Game Two on Maicer Izturis' walk-off error. He's a contact-oriented (11.3 K% and 87.4% contact rate since 2010) right-handed batter who has little power (.111 ISO) but will take a walk (7.8 BB%). Hairston can adequately play almost any position, though he only played 13 innings at short over the last two years. Hairston had hip surgery in September (labrum tear and bone impingement) and is a question mark for Opening Day. He's 36 years old and is owed $3.75M in 2013.
Punto, 35, is a contact-oriented switch hitter who saw his strikeout (22.0%) and contact (84.1%) rates decline noticeably in 2012. It could be a small sample size thing (191 plate appearances) or it could be a sign that the end is near. Punto had a big platoon split this year (62 wRC vs. RHP and 107 vs. LHP) but hadn't in the past. He's an infielder who grades out as about average at second, third, and short these days. Neither he nor Hairston offer much speed, but Punto is a slightly better bet to steal a base. He's owed $1.5M next season.
Rosenthal says the Dodgers are most likely to move Punto (and Uribe, but yuck), which isn't much of a surprise. Hairston is the more desirable player despite his hip surgery, and they're going to keep him in an effort to win this year. Punto is never going to hit like he did in 2011 again (125 wRC+) and history suggests he's a true talent 70-75 wRC+ guy, which stinks. Is he better than Eduardo Nunez and Jayson Nix? Not offensively, but he surely is with the glove. He's someone the Yankees could look into just for depth if the Dodgers are willing to give him away.

Scott Van Slyke
Van Slyke, 26, was designated for assignment yesterday to clear room on the 40-man roster for Schumaker. He is Andy's son and a right-handed hitting corner outfielder/first baseman. Van Slyke didn't hit a lick in his big league debut this season (38 wRC+ in just 57 plate appearances), but his Triple-A performance was huge (152 wRC+). The problem is that it didn't just come in the Pacific Coast League, he also played his home games at altitude in Albuquerque. It's hard to find a more hitter friendly environment, so take the hitting stats with a big grain of salt.
Baseball America ranked Van Slyke as the team's #21 prospect prior to this season, saying he "has a nice swing with good wrist action (and) started showing solid power to all fields." They also note that he's adequate defensively in left and at first base. He tagged lefties for a .329/.398/.593 batting line with 10.9 BB% and 15.8 K% in the minors over the last two years (again, grain of salt), and profiles as a platoon corner bat.
What makes Van Slyke especially appealing is that he has two minor league options remaining, so he can be shuttled back and forth between Triple-A and the big leagues in 2013 and 2014 without having to be put on waivers. The Yankees need a right-handed platoon bat given their all-left-handed outfield, but I assume they would prefer someone more established. Van Slyke could be just a depth piece stashed in the minors though, which has value. I don't think he'll clear waivers, so the Yankees would have to swing a trade to acquire him.
* * *
The Dodgers don't have many roster holes to fill, but they do need a left-handed bat off the bench and a reserve outfielder capable of playing center field. Chris Dickerson, who obviously will never going to get an opportunity with the Yankees, fits both of those needs and could be dangled. He's not much, but then again neither are Punto and Van Slyke. They also need an extra catcher, but the Yankees aren't in a position to give away catching help at the moment.
There is absolutely nothing exciting about the prospect of acquiring players like Punto and Van Slyke, but they would potentially fill some needs for New York. The cost shouldn't be anything prohibitive and if either guys bombs, it would be easy to cast them aside and eat the money since it wouldn't have any impact on the plan to get under the $189M luxury tax threshold in 2014. The Yankees need infield help and a right-handed bat, and Punto and Van Slyke could serve as depth pieces in those roles.