The Yankees' perpetual search for a reliable left-handed reliever continues right before the trade deadline despite the millions and millions of dollars they've poured into players they thought were the solution. Part of the problem is that they're chasing a unicorn, consistent and reliable relief specialists just don't exist. By nature, their job is a small sample, and weird stuff can happen in small samples. Relievers are volatile, it's just the way it is.
But still, that won't stop them from scouring the trade market for a LOOGY before Sunday's deadline. George King wrote today that the Orioles and Cubs had scouts at Yankee Stadium for last night's game, fueling speculation about interest in Mike Gonzalez and John Grabow. This doesn't pass the sniff test though, it seems very unlikely that the Yankees (or any team) would give up someone off their big league roster for those two relievers. Let's explore them anything just because they're very much available and appear to fill a need. King throws the names of Will Ohman and Randy Choate into the ring as well, so let's tackle them too…
Randy Choate, Marlins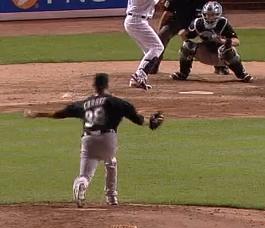 Here's the guy the Yankees needed to sign this past offseason, not Pedro Feliciano. Even if Feliciano didn't get hurt and was able to pitch this year, Choate is still straight up better. He's faced 62 left-handed batters this year and ten have reached base. Seven have gotten hits (just two extra-base hits, both doubles), two have walked, and one was hit by a pitch. That works out to a .121/.164/.155 batting line, and he also has 23 strikeouts and a 64.7% ground ball rate against same-side hitters. It's not a total fluke, Choate's been doing this since he resurfaced in 2009. Because he's signed through next year for dirt cheap (two-year deal worth $2.5M total), the Marlins aren't desperate to give him away. It'll take a decent prospect to pry Choate from Florida.
Mike Gonzalez, Orioles
The Orioles' fail at a lot of things, but giving Gonzalez two years and $12M was as bad as decisions get. He was hurt and ineffective last year, though at least this season he's provided some value as a situational lefty. He's held left-handed batters to a .229/.280/.357 batting line with 18 strikeouts and 51% ground balls in 75 plate appearances. The Yankees (or any team, really) could probably get him for next to nothing, just some salary relief and a Grade-C prospect, if that. It's worth nothing that Gonzalez and Rafael Soriano are very close friends from their days with the Braves, so perhaps having a buddy around lightens Soriano up and helps him pitch better.
John Grabow, Cubs
Another ill-advised multi-year deal for a lefty reliever, Grabow is making $4.8M this season, the second year of his two-year, $7.5M deal. In return for that investment, the Cubbies have gotten a 6.00 ERA in 69 IP since the start of 2010. Grabow's value comes as a pure LOOGY since he can't get righties out. He's held same-side hitters to a .238/.314/.365 batting line with just 11 strikeouts and 41.2% grounders in 71 plate appearances. He's another guy the Yankees could probably acquire for little more than salary relief, but there's a reason he'd come some cheap. He's just not very good.

Will Ohman, White Sox
The White Sox are a bad week away from blowing up the team, and Ohman is one of their few marketable pieces. He's holding lefties to a .204/.283/.315 batting line with 20 strikeouts and 41.2% grounders in 61 plate appearances this year, but his contract is a bit of red flag. Ohman is making just $1.5M this year but is under contract for $2.5M next season as well. He's not a rental, and although that's not necessarily a deal-breaker, it's less than ideal. The Yankees have enough money tied up in lefties as it is, even with Kei Igawa and Damaso Marte coming off the books after the season.
Since I know people are going to ask, yes there's also Matt Thornton. He's been one of the game's best relievers over the last few seasons regardless of handedness, and he's managed to regain that form somewhat after an early season hiccup. Left-handers are hitting .302/.333/.377 off him this year, but they've had sub-.600 OPSes off him the last two years. Thornton is owed $5.5M in 2012 and 2013 before a $1M buyout of his $6M option for 2014 comes into play. He's not young remember, that contract will take him through his age 37 season assuming the option is declined. It's easy to forget that you're not trading for 2008-2010 Matt Thornton, you're trading for the 2011-2013 version.
* * *
The Yankees still have J.C. Romero tucked away in Triple-A, and he's performed well in limited action. He's faced 13 lefties for Scranton and just two have reached base (a hit and a walk) against three strikeouts and eight ground outs (that means zero fly balls). Romero has been effective against lefties in recent years, in between DL stints that is. I'm kinda surprised they haven't called him up yet just to see what they have before deciding to pull the trigger on a trade, but it's entirely possible his stuff and command are awful and the numbers against lefties in Triple-A are the function of a small sample size. Either way, I expect their to be a new lefty reliever on the roster one week from today.