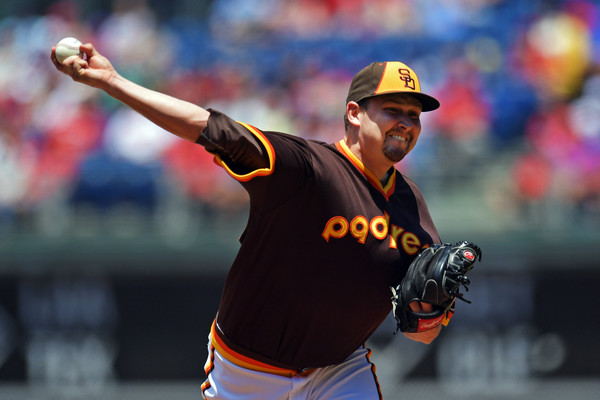 After Tuesday's seven-player trade, the Yankees loudly announced they were buyers. The trade solved many of their issues, but they still have a hole in the back of their rotation with Michael Pineda lost for the season after Tommy John surgery.
A veteran innings eater who can more reliably provide solid innings than Bryan Mitchell and Luis Cessa appears to be the logical next move for Brian Cashman. One pitcher who could not only eat those innings but potentially do so effectively is Trevor Cahill, the journeyman starter with a 55.1 percent career groundball rate who is currently with the San Diego Padres. On a cheap one-year deal, the 29-year-old righty has a 3.14 ERA (3.22 FIP) in 57 1/3 innings over 10 starts for one of the worst teams in baseball.
Let's dive into the Friars' top rotation piece at the present:
Current Performance
In the middle of 2015, it looked like Cahill's time as a starter was kaput. He'd been dealt to the Braves and had thrown 26 1/3 well-below-average innings before Atlanta DFA'd him. He'd made just three starts and had a 7.52 ERA in 15 total games.
But his career turned when he joined the Cubs late in the season. Used exclusively as a reliever, Cahill became a strikeout machine for the first time in his career while still keeping the ball on the ground as a sinkerballer. He pitched to a 2.61 ERA (4.10 FIP) in Chicago while upping his strikeout rate significantly. This came through an adjustment in his motion and upping the usage of his curveball and changeup.
Cahill turned down teams looking at him as a reliever and took a cheap one-year contract with the Padres, who gave him an opportunity to start and play near his hometown of Oceanside, Calif. It's paid off big time.
In his 10 starts, he's been able to translate his strikeout numbers from the bullpen into consistent success in the rotation. He has a 29.5 percent strikeout rate, up more than 10 percent from his last full season as a starter. His 8.3 percent walk rate is near the lowest mark he's posted as a starter. He's maintained a GB-to-FB ratio above two for the last three seasons and most of his career, making him ideally suited for a hitter's haven, let alone one of the largest fields in the league at Petco Park.
Cahill is a true five-pitch pitcher. His four-seam fastball and sinker sit in the low-90s with the sinker being his primary pitch, thrown 37 percent of the time (the lowest rate of his career). Off-speed, he turns to his low-80s, high-70s knuckle curveball, a mid-80s changeup and a mid-80s slider. Each of his pitches has been relatively effective this season, especially the curveball, which rates as one of the best in the game. Check out how he's able to get swings and misses on all his pitches.
His home/road splits are something of which to be wary. He has a 5.01 ERA away from Petco and you have to wonder whether his solid HR/9 numbers would slide even more at Yankee Stadium. His strikeout and walk rates have mostly held up away from home.
Injury history
Cahill comes with a bit of a checkered injury past. He's already spent time on the disabled list with two separate injuries. First, he missed 10 days in April with a back strain. He then lost over 1.5 months with a shoulder strain. He's spent 60 total days on the DL this season. He also missed time in 2013 with a hip contusion.
If you're looking for positives, the injuries and subsequent missed time could be a blessing in disguise. He hadn't thrown more than 65 2/3 innings since 2014, so it was unlikely he'd be able to handle 200 innings like he used to.
What would it take?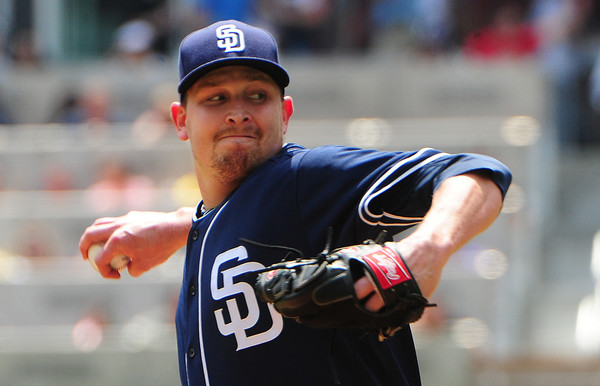 Mike had a pretty good breakdown of what you can expect a rental starter to cost in his breakdown of Jaime Garcia's trade value. Make sure to check that out here.
With Cahill, his cheap contract could make a small difference compared to other rentals. Signed for $1.75 million in the offseason, he has less than $1 million left on his base salary. He earns $250,000 for start No. 15, 20 and 25 this season and he'll earns a $250,000 bonus if he is traded.
Even with the incentives, he's one of the cheaper players on the market because of his prove-it contract. The Padres can presumably ask for a slightly larger return than he would normally get, although his injuries could limit his market.
Does he make sense for the Yankees?
Surely. A 29-year-old rental with strong strikeout and groundball rates at Yankee Stadium? Sign me up. Like with Garcia or any rental, the Yankees would get a close look at him for the last few months of the season with eyes towards perhaps re-signing him in the offseason.
You obviously can't overlook his injuries, but his numbers indicate that a team trading for him could catch lightning in a bottle for the stretch run. His experience in relief makes him slightly more attractive for a team with playoff dreams.