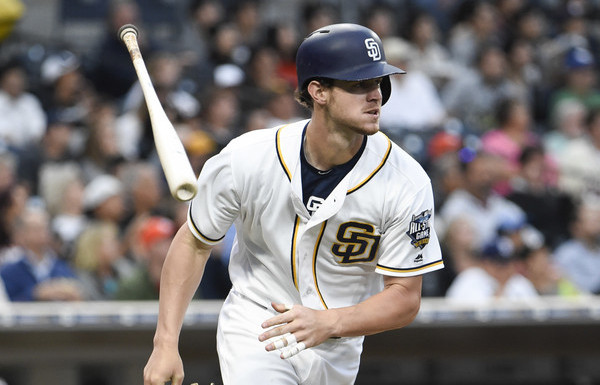 The Yankees are in an unfamiliar place right now. They're under .500 halfway through the season and contention seems like a long shot at best. FanGraphs puts their postseason odds at 8.8% as of this writing. At the very least, the Yankees have to seriously consider selling rental veterans like Aroldis Chapman and Carlos Beltran at the deadline. Moving guys with years of control remaining like Andrew Miller and Brett Gardner has to be on the table too.
Brian Cashman recently floated the idea of the Yankees being both buyers and sellers, which seem like conflicting ideas, but they're really not. Ultimately, the goal is to get better, and both buying and selling help accomplish that goal. Does that mean the Yankees should go out and add a rental veteran like, say, Rich Hill? No. That doesn't make sense. Buying a younger player who can stick around for a few years would be a smart move, however.
One such player is Padres first baseman Wil Myers, who is enjoying a breakout year at the plate. Myers has packed an awful lot into his four big league seasons. He's been an elite prospect, the 2013 Rookie of the Year, injured, disappointing, involved in two blockbuster trades, and a breakout star. Myers is still only 25, so even with the Padres in a deep rebuild, keeping him makes sense. He can be part of the solution. At the same time, trading him for a boatload of prospects could be a smart move too. Does Myers make sense for the Yankees? Let's look.
Offensive Performance
Prior to the 2013, the last time he was prospect eligible, Baseball America called Myers "an eventual No. 3 hitter in the lineup because of his batting eye and power potential." They ranked him the No. 4 prospect in baseball that season after ranking him No. 28 in 2012 and No. 10 in 2011. Myers was on the prospect radar for a long time. He was a big deal.
In the four years since, Myers has had three above-average offensive seasons and one disappointing season. He's yet to actually play a full season — he was called up halfway through 2013 and battled injuries in 2014 and 2015 — but is on track to do that this summer. Here are his career numbers:
| | PA | AVG/OBP/SLG | wRC+ | HR | BB% | K% | wRC+ vs. RHP | wRC+ vs. LHP |
| --- | --- | --- | --- | --- | --- | --- | --- | --- |
| 2013 | 373 | .293/.354/.478 | 129 | 13 | 8.8% | 24.4% | 131 | 127 |
| 2014 | 361 | .222/.294/.320 | 77 | 6 | 9.4% | 24.9% | 87 | 52 |
| 2015 | 253 | .253/.336/.428 | 116 | 8 | 10.7% | 21.7% | 110 | 135 |
| 2016 | 351 | .282/.350/.529 | 137 | 19 | 10.0% | 19.9% | 131 | 152 |
| Total | 1,338 | .263/.333/.439 | 115 | 46 | 9.6% | 22.9% | 115 | 113 |
Outside of that 2014 season, when he was hampered by a wrist injury (more on that in a bit), Myers has always hit for a lot of power. His .173 ISO in 2015 is his lowest among his three good seasons, and during those three seasons he averaged 24.6 homers per 600 plate appearances despite playing in pitcher friendly parks. We can't just wipe away that 2014 season. It did happen. The two years since have been promising though.
Going under the hood, there are some underlying trends in Myers' plate discipline and batted ball profile that suggest his breakout is for real, and that he is truly developing into a top tier hitter.
| | O-Swing% | Whiff% | GB% | LD+FB% | Pull% | Oppo% |
| --- | --- | --- | --- | --- | --- | --- |
| 2013 | 29.2% | 11.5% | 46.0% | 54.1% | 44.8% | 20.6% |
| 2014 | 27.8% | 10.3% | 48.1% | 51.9% | 48.9% | 22.8% |
| 2015 | 25.1% | 9.9% | 47.6% | 52.4% | 44.1% | 28.2% |
| 2016 | 24.5% | 7.9% | 44.3% | 55.8% | 36.3% | 24.1% |
| Total | 26.7% | 9.9% | 46.4% | 53.6% | 43.4% | 21.7% |
Myers has swung at fewer pitches out of the strike zone (O-Swing%) with each passing season. He's also swinging and missing (Whiff%) less each year. Those are two very positive trends. Furthermore, Myers is hitting the ball on the ground less often than ever before, and he isn't pulling the ball nearly as much as he did the past three years. Hitting the ball in the air to all fields sure is a great recipe for success.
Pulling the ball has a negative connotation these days because of the shift, but it's not inherently a bad thing. Most hitters do their most damage — meaning hit for the most power — when they pull the ball. That said, using the entire field is an obviously valuable skill. Myers is doing that this year and he's not only retained his power, he's hitting for more power than ever before. An all-fields power hitter? Gimme gimme gimme. We saw firsthand what Myers can do this past weekend:
That is as impressive as any homer you'll see this season. The FOX Sports San Diego folks did us a favor by cramming all the pertinent information into their little strike zone graphic: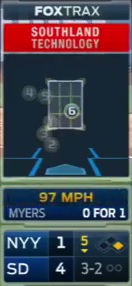 Myers inside-outed a 97 mph fastball for an opposite field home run. In spacious Petco Park, no less. There are not many hitters in baseball who can do that. He has a lot of natural power and now he's learning how to fully tap into. Myers isn't chasing out of the zone or swinging and missing as much as he has in the past, and he's getting the ball airborne to all fields. Good things are happening.
Oh, and as an added bonus, Myers is a pretty good baserunner too. He's gone 13-for-15 (87%) in steal attempts this year and 29-for-36 (81%) in his career. Myers has also taken the extra base — first-to-third on a single, etc. — a whopping 61% of the time this year and 52% of the time in his career. The MLB average is 40%. So not only are you getting the impressive all-fields power, you're getting value on the bases too. Pretty cool.
Defensive Ability
Since being drafted in 2009, Myers has moved from catcher to the outfield to third base to back to the outfield to first base. He's now a full-time first baseman in San Diego and has been solid there, especially when you consider his general lack of experience at the position. Myers has spent most of his career as an outfielder (right field, specifically) and boy, he was not good out there. Both the stats and the eye test say he was well-below-average. He's never going to live down his misplay in Game One of the 2013 ALDS, which led to a five-run inning:
Going forward, I think you have to consider Myers a full-time first baseman who can handle the outfield in a pinch. I'm not sure putting him back in the outfield full-time is a good idea at this point of his career. Myers has moved around an awful lot in his career and it seems he's finally found a comfortable home at first base.
Injury History
Injuries, specifically injuries to both wrists, limited Myers to only 147 of 324 possible games in 2014 and 2015. Wrist injuries are a pretty big deal. They're known to sap offensive production — you can't hit if you can't grip the bat properly — even after the player is given the green light to return to game action. Here are Myers' notable injuries:
2011: Missed a month with a knee infection in the minors.
2014: Missed close to three months with a fractured right wrist.
2015: Missed close to four months with left wrist inflammation and later surgery.
That's the big stuff. Myers has missed a few days here and there because he was sore after getting hit by a pitch, stuff like that, but every player deals with that. I'm not sure what brought about the knee infection, though it hasn't given him any problems since. The 2014 wrist fracture was the result of a full speed outfield collision …
… which is sort of a dumb fluky thing, but it happened and it did real damage to his wrist. The 2015 wrist injury is a bit more complicated. According to
Dennis Lin
, Myers missed a month because a tendon became inflamed after rubbing up against a bone spur he'd had since high school. After a month on the shelf, Myers returned, played three games, felt renewed discomfort in the wrist, then landed back on the DL. He had surgery to remove the bone spur in June and was able to return to the field in September.
It can be easy to dismiss this stuff — the fracture was the result of a collision and the bone spur was taken out, so what's the big deal? — but again, this is real damage to his wrists. Myers is mashing this season and is presumably healthy, but will he be prone to nagging wrist issues in the future? Does the fracture and/or surgery mean he'll have to deal with some inflammation from time to time? These are the kind of questions teams will ask themselves before agreeing to a trade.
Contract Status
It feels like Myers has been around forever, but he started this season with only two years and 104 days of service time time. The Rays did what they do and kept Myers in the minors long enough in 2013 that they not only delayed his free agency, they made sure he won't be Super Two eligible either. Now the Padres or some other team will benefit.
Myers is under team control through 2019 and he'll be arbitration-eligible every year from 2017-19, so while he will still be relatively cheap, he's not going to be making the league minimum either. Jason Heyward and Dexter Fowler made $15.95M and $21.1M, respectively, during their three arbitration years. They're not perfect comps for Myers but they at least give us a ballpark idea of what he'll earn from 2017-19.
The Rays called Myers up and added him to the 40-man roster in 2013, and he's never been back to the minors since other than for injury rehab assignments. He has all three minor league options remaining. That also means nothing as far as I'm concerned. If you trade for Myers and have to use one of his minor league options, something has gone wrong. The goal is to trade for this guy and make him one of the center pieces of your lineup right away.
What Would It Take?
Myers has already been involved in two blockbuster trades, and yet neither of them provides any context for his current trade value. He was dealt as a prospect as part of the package for James Shields back in the day, and two years ago he was part of a big four-for-five trade, when he still had five years of control remaining and was coming off the broken wrist. Now Myers is healthy and producing with three years of control left.
Jon Heyman recently reported the Padres want four top tier prospects for Myers, and that's just not going to happen. As good as he is and as bright as his future looks, Myers has a recent history of wrist injuries and he has "only" three years of team control remaining. I don't blame the Padres for wanting four high-end prospects. There's no harm in asking. But that figures to be their initial ask, from which they're willing to come down.
The list of young first basemen/outfielders traded three years prior to free agency is not particularly long. I went back a few years and found only two who might work as comparables:
Justin Upton: Traded from the Diamondbacks to the Braves with Chris Johnson for Martin Prado and four prospects, only one of whom (Randall Delgado) was a top 100 guy. Nick Ahmed, Brandon Drury, and Zeke Spruill were the others.
Mark Trumbo: Traded from the Angels to the D'Backs with A.J. Schugel for Hector Santiago and Tyler Skaggs. Baseball America rated Skaggs as the 12th best prospect in baseball a year earlier.
Colby Rasmus was also traded three years prior to free agency, but that was a very weird trade that involved Rasmus, rental Edwin Jackson, and four relievers. The Cardinals were trying to fill specific needs in an effort to win the 2011 World Series, and hey, it worked. They won the title.
Upton was traded as part of ex-D'Backs GM Kevin Towers' crusade against strikeouts. He traded away Upton, Chris Young, Mark Reynolds, Adam LaRoche, and Stephen Drew all in a relatively short period of time because he felt his team struck out too much. Trumbo was traded because the Angels needed pitching and had no real place to play him. Albert Pujols was at first, Pujols and Josh Hamilton were going to need time at DH, and C.J. Cron was on the way.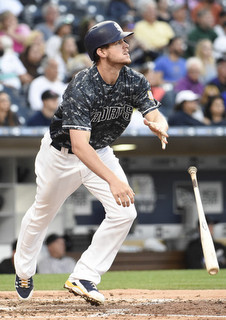 Myers is more Upton than Trumbo because he's a formerly high-end prospect tagged with a ton of expectations. Trumbo has had a nice career, but he didn't play his first full MLB season until age 25. Myers is 25 now and Upton was traded at 25. He had a very different career path than the other two guys. The Upton trade seems like the best trade benchmark we have, though the inclusion of Johnson, who was a pretty good player back then, complicates things.
Padres GM A.J. Preller is an international players guy. That was his specialty when he was in the Rangers front office and it's no coincidence he traded Craig Kimbrel for a package headlined by three international prospects. Preller also convinced ownership to spend big in international free agency this summer, which they've done. San Diego has gone on a spending spree last week akin to the Yankees' 2014-15 spending spree.
That's good, because the Yankees have a ton of international prospects to offer, led by Gary Sanchez and Jorge Mateo. Remember, the Yankees reportedly offered Mateo for Kimbrel last year at the deadline, though that didn't work out. You're not going to get a guy like Myers without trading a top prospect like Sanchez or Mateo, and if you ask me, moving Mateo makes more sense. The Yankees have a ton of shortstops in the minors, but they only have one Triple-A catcher who looks like a future middle of the order bat.
Keeping Sanchez might be possible too, since the Padres already have their catcher of the future in defensive wiz Austin Hedges, who is hitting .407/.456/.841 (235 wRC+) in 32 Triple-A games around a broken wrist. I'm getting into your trade proposal sucks territory here, but a package of Mateo plus secondary pieces like Miguel Andujar and Domingo Acevedo could pique Preller's interest. That's one top 50 prospect plus two other strong prospects plus whatever else (one of the spare Triple-A outfielders?).
I know that seems like a lot to give up, but it's really not. Mateo and Acevedo are still in High Class-A and Andujar just got to Double-A last month. Preller would probably want guys closer to the big leagues for Myers, who is pretty damn good and could be the center piece of their rebuild. Mateo plus Andujar plus Acevedo seems like a best case scenario for the Yankees, now that I think about it. Anyway, yeah, it's going to hurt to get this guy. Young middle of the order bats don't come cheap.
Wrapping Up
Right now, first base is a question long-term because of Greg Bird's shoulder surgery. We all hope and want him to come back and be the guy going forward, but until he gets back out onto the field, it's tough to know how he'll perform post-surgery. That's a serious injury and surgery he had.
Adding Myers and having to figure out how he and Bird could co-exist on the same roster — assuming Bird isn't traded for Myers, of course — would be one of those problems that isn't really a problem. First base is open long-term and there's always the DH spot too. Alex Rodriguez won't be around forever. There's always the option of playing Myers in the outfield too. I don't love that idea, but it's doable.
The Yankees should be selling at the deadline. They have to start planning for the future and use their veteran assets like Chapman and Beltran to get younger. Myers is one of the few cases where it makes sense to buy and give up young players in a trade. He's young himself, he offers several years of control, and he's a legitimate middle of the order thumper with positive plate discipline and batted ball trends. The Yankees sorely lack someone like Myers and pursuing him would be a very smart move in the opinion of this idiot blogger.