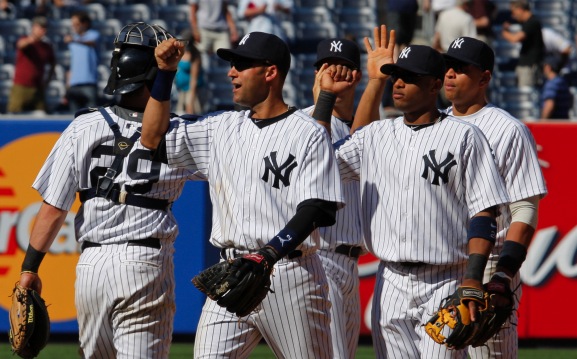 After the Yanks got through seven innings with a 6-1 lead, I thought I'd rest my eyes for the last couple of innings. Unfortunately, the speculation about Andy Pettitte's early exit raged, and it kept my attention. I was both glad that I saw the action, but enraged because the Yanks bullpen let Baltimore back into the game. When Al Aceves recorded the final out the O's had the tying run on base.
Pettitte will likely miss his next start with inflammation in his left elbow, though no one appears to think it's that serious. Look for the Sergio Mitre Experience on Tuesday against Detroit.
Biggest Hit: Johnson gets it started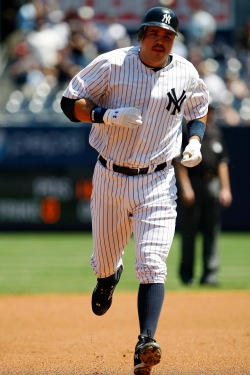 In a game where one team takes a big lead early, we typically don't see much fluctuation on the WPA leader board. There was no definitive play in this game, no at-bat that turned things around. The Yanks' offense got going from the beginning, and Nick Johnson started it all. He got all of David Hernandez's second offering, sending it all the way into the second deck. The ball left in a hurry, too. It might have been the hardest hit ball by any Yankee this year.
Johnson went 3 for 3 on the day while drawing two walks. He got thrown out at the plate on a close play in the third, but did score in the fourth on Mark Teixeira's two-RBI double. It's too early to say that Johnson has shed his slump, but a day like this can be nothing but encouraging.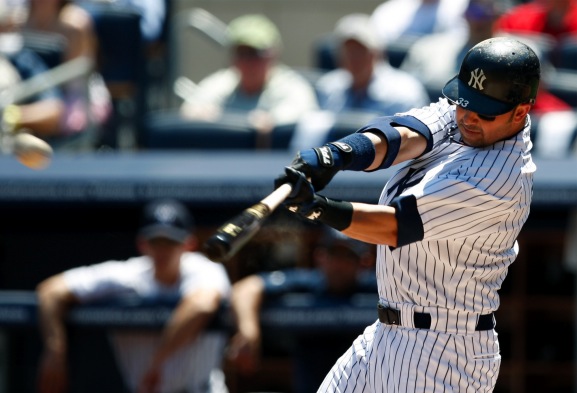 Honorable Mentions: Swisher's jack, Teixeira's double
While Nick Johnson wasted no time in pulverizing a Hernandez pitch, the other half of the New York Nicks characteristically took his time. He watched the first four pitches, leading to a 3-1 count. Hernandez threw a fastball on the outside edge, but Swisher got all of it, rocketing it into the right field seats for the Yankees second run of the game.
Mark Hendrickson came in to relieve Hernandez with two outs in the fourth, which flipped Teixeira to the right side. Hendrickson opened with a curveball that missed high, and then threw another one that crossed the middle of the plate. Tex crushed it to right center, out of the range of fill-in center fielder Lou Montanez. Since there were two outs both Jeter and Johnson scored, which put the Yanks ahead 6-1. At that point they had scored in each of the first four innings.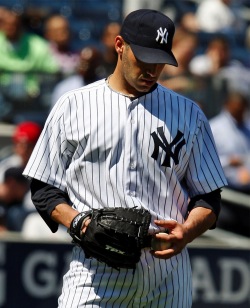 Biggest Pitch: Pettitte walks in a run
Elbow issues can wreak havoc on a pitcher's control. Only 46 of Pettitte's 77 pitches were strikes, 60 percent. That's below where usually sits. It resulted in only two walks, though they both proved costly. With one out in the fourth Pettitte battled through an at-bat with Garrett Atkins, throwing seven pitches. The last was a misplaced cutter for ball four. That loaded the bases. It was the first time in 2010 that Pettitte faced a bases loaded situation.
Pettitte then went to work on Matt Wieters, dropping a curve on the low-outside corner for strike one. He then came back with an inside fastball which Wieters fouled off, putting him in an 0-2 hole. After a fastball out of the zone and a fouled-off cutter, Pettitte delivered a fastball up and in, and Wieters couldn't hold up. Like Burnett the night before, Pettitte had struck out a batter at a crucial moment, with a runner on third and less than two outs.
Nolan Reimold then came to the plate, and Pettitte started him off the same way as Wieters, with a curveball on the low-outside corner for a called strike one. He missed with his next two pitches, both fastballs, before getting a called strike on a low and away fastball. After a foul on and up and in fastball, Pettitte missed low with his next two pitches, a cutter then a fastball, to walk in the Orioles first run. He came right back to finish the Orioles there, and then induced a ground ball double play to end the fifth. He might have been a bit off, but it didn't seem like anything serious…
Gardner just keeps hitting
Heading into the season many were uneasy with the prospect of Brett Gardner starting in left field. That tends to happen with small guys who don't hit for power. We've seen so many of them flop that we've come to expect it. I can't tell you how many emails I got this winter saying that Gardner was nothing more than a fourth outfielder, and he'd be lucky to stick in that role for a few years. So far, though, Gardner has done nothing but silence his critics.
After his 1 for 3 performance today, which included a walk, Gardner is hitting .346/.430/.432. Of the 40 times he's been on base he's attempted 14 steals and has been successful 13 times. He's cut down on his strikeouts, a good sign for a guy who was overpowered at times last year, and is walking more. He won't keep hitting at this level, but even if he cools off a bit he'll be an immensely valuable player for the Yankees this season.
Oh, and he leads AL left fielders in wOBA.
Bullpen meltdown averted
The worst part of this game, clearly, came at the end, when the Yankees' bullpen allowed four runs in the final two innings. Sergio Mitre, in his third inning of work, left two sinkers up in the zone, and Ty Wigginton crushed the second for a two-run homer. That'll happen. Mitre isn't exactly stretched out at this point, at least in terms of endurance. That happens when the pitching staff rarely needs a long man. The damage was minimal, though. Girardi immediately changed pitchers. Marte and Robertson finished off the inning.
Robertson came out to start the ninth, a move I applauded at the time. He hasn't gotten a chance for consistent work this season, and it shows in the results. With a 7-3 lead and just three outs to go, it seemed like a perfect situation. He retired Garrett Atkins on three pitches to start the inning, but then came trouble. With Matt Wieters batting from his strong side, Robertson delivered six straight fastballs. Why he didn't go with a breaking ball at any point I have no idea. The last one was thigh high across the middle of the plate, so of course Wieters deposited it in the second deck in right.
The next batter, Nolan Reimold, saw six pitches, five of which were fastballs. The lone curveball was actually a decent offering, dropping low and outside but just below the zone. Robertson then got Reimold to chase a high-inside pitch for strike two, missed high with a fastball for ball three, and then actually ran a pitch off the plate inside. Reimold got out in front of it, though, and crushed it off the foul pole in left. That was it for Robertson, but Al Aceves came on to finish the game.
WPA Graph
Were you worried? The graph says we shouldn't have been worried. I was worried for a bit, though.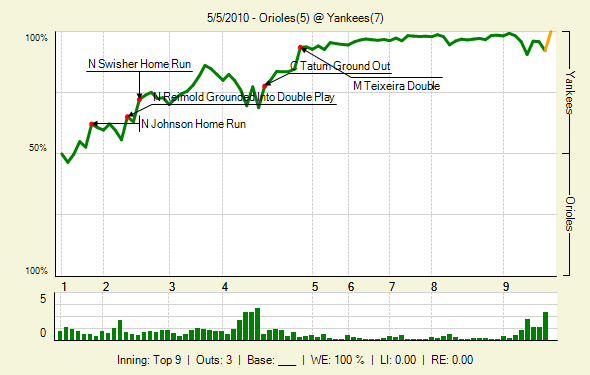 Next Up
The team gets an off-day tomorrow before heading up to Boston. Who the hell approves these schedules? First, second, and last Yanks-Sox series are in Boston. Anyway, it'll be on YES at 7 p.m. Friday evening. Phil Hughes vs. Josh Beckett.