On Monday night Ben reviewed seven Yankees who performed better than we could have expected heading into the season. Those players have helped keep the team moving as various players slumped. Some of those slumps lasted longer than others, and that resulted in a number of players falling short of the expectations we had for them early in the season.
Nick Johnson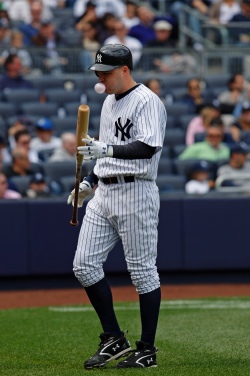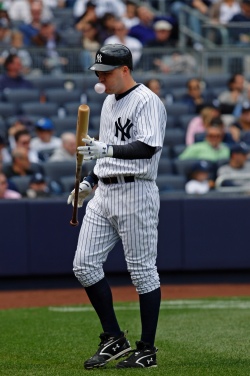 Was an injury to Nick Johnson expected? To some extent it had to be. Even last year, when he was mostly healthy while playing for the Nationals and Marlins, Johnson still hit the disabled list for two weeks. But a season-ending injury in May? While it was a certain possibility I'm not sure any but the most cynical of fans had that in mind. It pays to be a cynical fan in that way — if you're right you get to gloat and call everyone else an idiot, if you're wrong you're pleasantly surprised. It works well in a sport where the failures far outweigh the successes.
Even while Johnson was in the lineup he didn't perform to expectations. As normal his OBP was high, on the strength of his superhuman 24.5 percent walk rate, but Johnson didn't exactly hit to expectations. In fact, he had just 12 base hits in his 98 PA, while he walked twice as many times. Half of his hits did go for extra bases, a huge plus in a larger sample but mostly useless in Johnson's case. He has been the big disappointment this season.
Chances are his season is done, even though the Yankees could use someone exactly like him right now. That's a shame. There was so much potential there, and the Yanks realized none of it. They had to choose among injury risks for their DH spot, and they picked the one guy who didn't stay healthy. Such is life.
Mark Teixeira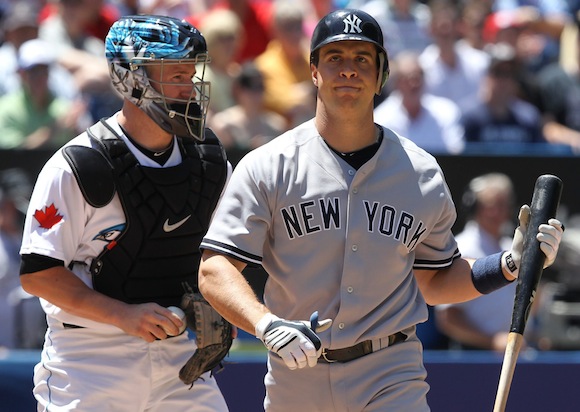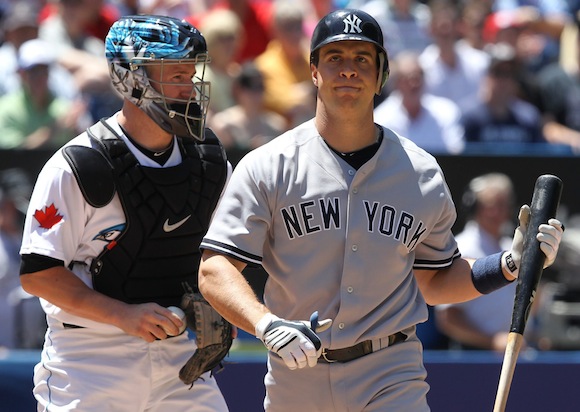 It hurts me just a little to put Teixeira on this list. Sure, he was the source of mass frustration in April, and then again in May, and then for a little of June. His slumps have put him in a tough spot, a .254/.360/.465 line headed into the break. In terms of his career that's off the mark, but a .361 wOBA looks pretty nice all considered.
Teixeira produced the worst April of his career, a mere .136/.300/.259, .271 wOBA. We were used to Tex getting off to slow starts, but this was much worse than last year when he hit .200/.367/.371, .330 wOBA. May started off well but then he slumped again and finished the month with a .280/.366/.475 triple slash, .366 wOBA. In June he stumbled again, a .353 wOBA, but he has recovered in July with a .545 wOBA through 50 PA. That makes his May 1 through the break numbers look a bit better: .291/.380/.529. I don't think anyone will complain if he maintains that pace for the rest of the season.
Derek Jeter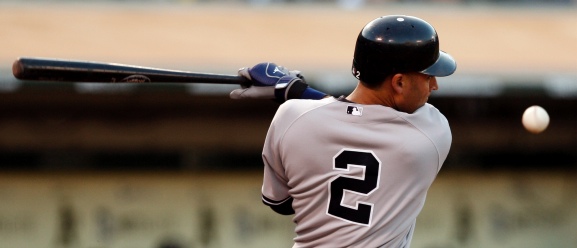 At the beginning Derek Jeter was an equal opportunity first-pitch swinger. It seemed like he was swinging at all of them and, for the most part, grounding them all to shortstop. Yet through his first 23 games he was hitting .333/.367/.510. The lack of walks was a bit concerning, but as long as Jeter was hitting all was well. Unfortunately, his torrid start ceased right there.
In the course of just a few weeks Jeter saw his average tumble to .266, a span during which he was 12 for 71. He then climbed back over the .300 mark for a bit, but has steadily declined since. He peaked on June 1, when he was hitting .307 after a 2 for 3 day. Since then he's hitting .221/.319/.321.
Why are we citing Jeter's batting average above all else? Because his game seems so dependent on it this year. Or, at least, it was. Since the April in which he walked in just 3 percent of his plate appearances, Jeter has steadily improved, walking 6.4 percent of the time in May before walking in nearly 13 percent of his PA in June and July. His BABIP has fallen off in these months, so if he can just put it all together I think he can have a fine second half. It won't look like last year, but it should look a bit better than 2008 if all goes well.
Alex Rodriguez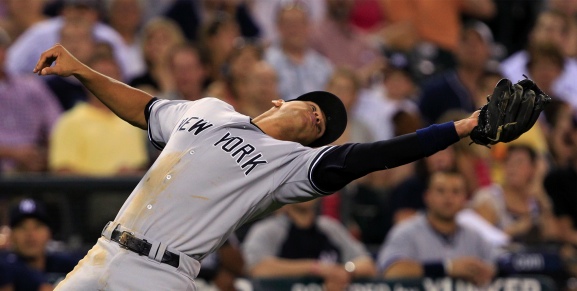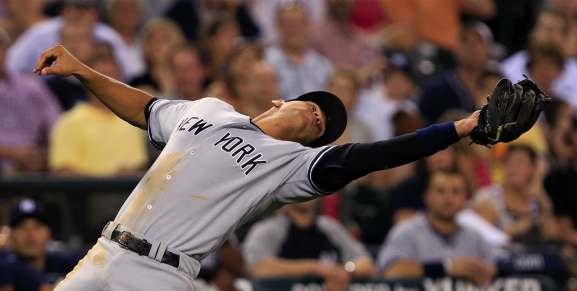 Again, this is not a guy I wanted to put on the list, but with his subpar first half numbers I couldn't leave him off. A-Rod has had some shining moments for sure, including three grand slams and a few game-changing hits. Still, on the whole he's been something of a disappointment, probably in part because of his hip issues.
Everything is down for Alex this year, even his strikeout rate. His defense has been fine, but suffered a bit when his hip hurt him the most (just before he sat out against Philly and Houston). Since June 1 he is hitting .232/.298/.464, which is nice from an isolated power perspective, but even then it's sub-par for A-Rod. Hopefully his proclamation at the Home Run Derby, that he felt stronger, holds true in the second half. The Yanks will need his production.
Curtis Granderson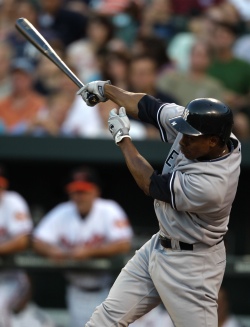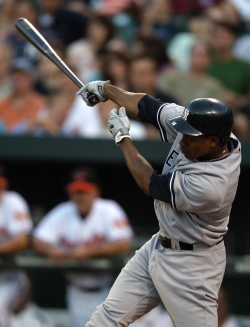 One thing we knew when the Yankees acquired Curtis Granderson is that he'd need to work with Kevin Long in order to correct the problems that plagued him last year. They went beyond mere bad luck on balls in play; Granderson was putting the ball in the air more often, and had been especially pull-happy. While lefties pulling the ball at the Stadium can produce quality results, it doesn't usually make for a well-rounded player.
Granderson's first half results can be rated as nothing but a disappointment. He has produced even less than he did last year, a .319 wOBA. His walk rate and power are down, which doesn't go well with his .280 BABIP. The good news is that he's putting the ball on the ground and hitting it on a line more often, so maybe he's working out of it.
Unlike the others on the list I don't have as high expectations for Granderson in the second half. It took Long a year to transform Swisher, just like it took him time to get Robinson Cano into a good spot. I imagine that we might see some improvement from Granderson in the second half — he can't really do much worse at this point — but I don't expect it to be revelatory. I will still maintain faith, however, that we'll see a different Granderson in 2011.
A.J. Burnett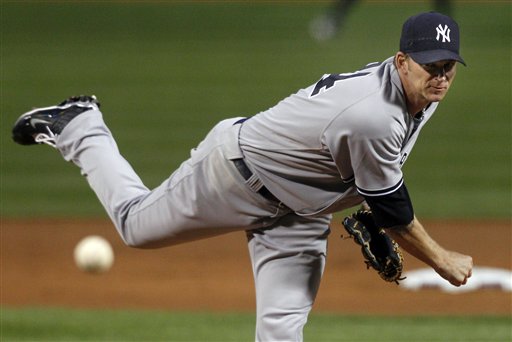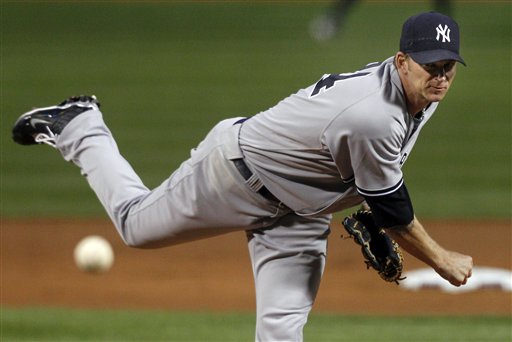 In April and May Burnett killed opponents, a 3.28 ERA and 3.37 FIP. He had a few bad games in there, notably a nine-run performance against Boston, but for the most part he was pitching very well despite a curveball that wasn't working like normal. So his strikeouts were down, but he made up for that by keeping the ball on the ground more often than last year. But then June came and ruined everything.
Burnett's June totals: 23 IP, 35 H, 29 R, 29 ER, 17 BB, 19 K, 9 HR. He had allowed four home runs in his previous 77.1 IP. That's the entire reason he comes in below expectations. Even with his two excellent starts in July he still has a 4.75 ERA and 4.73 FIP. That's not what the Yankees are paying $17.5 million for. Burnett will have to hold up his end of the deal in the second half. Thankfully, everyone surrounding him is picking up the slack.
The non-Mo bullpen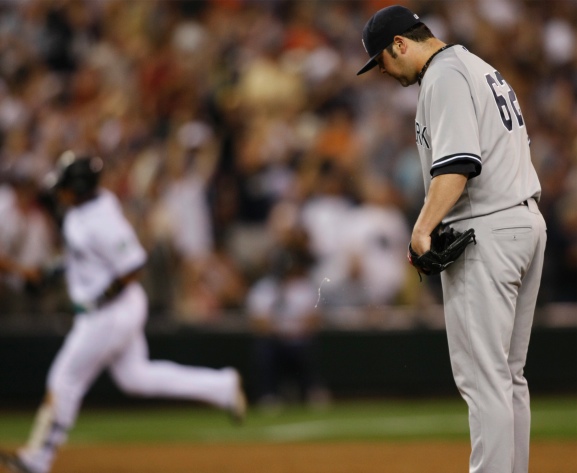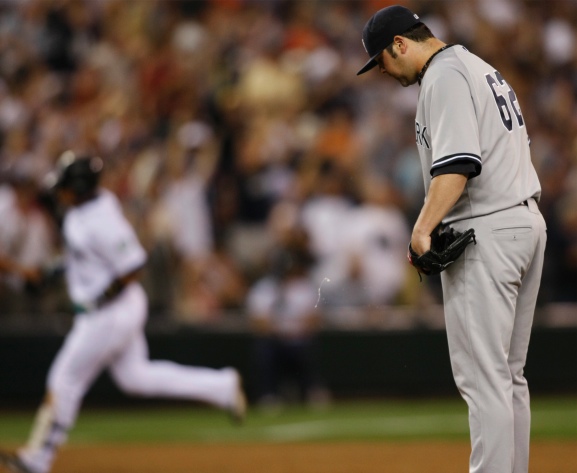 The list could go on forever if we listed all of these guys individually, so it's best to just lump them together. In terms of peripherals the unit has been adequate. They rank 4th in the AL in OBP against, 5th in SLG against, and 4th in WHIP. The strikeouts could be better, 7.43 per nine, 7th in the AL. But as a unit they're simply giving up too many runs, a 4.14 ERA that's good for 9th in the league.
Here's a quick rundown of the individuals in the pen and their deficiencies:
Joba: Too many hits allowed. Not sure if this is luck or him just trying to not walk guys. He has walked only 14 in 37.1 IP, a decent rate, but one he's going to have to eventually bring down if he's going to be a success in the setup role.
Robertson: Still trying to work off that Abreu grand slam. He walks way, way too many guys, though his strikeout numbers are again impressive, 32 in 29.2 IP.
Park: Hits, homers, and a lack of velocity. He's dialed it up recently, but with few positive results to show for it. His time is running short.
Marte: Again, too many walks. Lefties are hitting just .146 against him and he has allowed just one extra base hit to the 31 righties he's faced, but those walks — eight to righties — will hurt plenty. Especially with no one else in the pen to pick up for him.
Gaudin: Again with the walks. I see little reason to keep him around. He won't once the next guy returns.
Mitre: Very good all considered. His WHIP is 1.00, fueled by a low hit rate, but maybe that's something he can capitalize on in the pen. Once he returns from his batting practice injury I think he'll get a shot in one-inning stints.