Four questions and four answers this week. Remember to use the Submit A Tip box in the sidebar to send us anything throughout the week, mailbag questions or otherwise.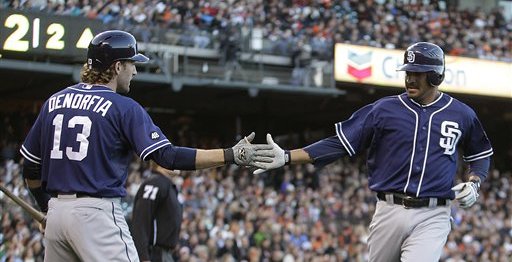 Travis asks: Do you think a trade with San Diego for Chris Denorfia could work? Denorfia had a .337/.390/.500 slash line with 15 walks and 16 strikeouts in 178 at bats against lefties in 2012.
Denorfia, 32, has very quietly emerged as one of the best right-handed platoon outfielders in baseball over the last few seasons. Since joining the Padres in 2010, he's hit .281/.339/.423 (115 wRC+) overall and .323/.388/.468 (142 wRC+) against southpaws. He rarely strikes out (9.9 K%) against left-handers, can steal the occasional base, and grades out as average or better defensively in the corners. Denorfia would be a fantastic target for that righty outfield platoon bat role, but the Padres just signed him to a two-year extension and I doubt they're looking to trade him.
Now, Denorfia is not San Diego's only right-handed platoon bat. They also have 28-year-old Jesus Guzman, who's hit .276/.339/.439 (118 wRC+) overall as a big leaguer and .311/.387/.509 (150 wRC+) against lefties. He doesn't make as much contact as Denorfia (16.0 K%) and he won't steal as many bases, but he draws walks (10.4 BB%) and can play all four corner positions while also filling in at second in a pinch. Guzman was a bit of a late-bloomer who didn't stick in the show until 2011.
While Denorfia just received his new contract, there was actually some talk the Padres might non-tender Guzman a few weeks ago. I was planning to write a Scouting The Market post the very next day had they cut him loose. Instead, they're going to bring him to camp and see how the bench shakes out. If there's no room — San Diego has a ton of bench players to sort through in Spring Training — they could trade him or just option him down to Triple-A for depth. Denorfia would be nice, but I think there's a much better chance of Guzman actually being available at some point. Needless to say, the Yankees should have interest in both.
A few people asked: What about Domonic Brown?
It's that time of year again, huh? The Phillies continue to show no interest in giving the 25-year-old Brown a legitimate chance, this time signing Delmon Young (!) to play right field everyday. Not only are they not giving him a chance, but now they're slapping him in the face in the process.
Anyway, I'm pretty much over Brown at this point. He didn't look so hot during his 212 plate appearance cameo last summer (.235/.316/.396, 91 wRC+), plus he played awful defense. Like, maybe he should be a first baseman defense. Brown is out of options, meaning he'll have to go through waivers to go back to Triple-A, plus the Yankees don't really have a need for another left-handed hitting outfielder. I suppose there's the DH spot, but meh. The Phillies did Brown no favors by jerking him around these last few years, but at some point we have to assign some blame to the player as well. I'm at that point and wouldn't give up much of anything for him.

Justin asks: With the Diamondbacks loaded on young pitching, should the Yankees try and pry away Pat Corbin from them?
Corbin, 23, was part of the trade that sent Dan Haren to the Angels a few years ago. He made his big league debut last season and pitched to a 4.54 ERA (4.00 FIP) in 107 innings spread across 17 starts and five relief appearances. The strikeout (7.23 K/9 and 18.9 K%), walk (2.10 BB/9 and 5.5 BB%), and ground ball (45.7%) rates were all pretty strong. Certainly a solid showing for a rookie.
The Diamondbacks added yet another young arm yesterday, getting Randall Delgado in the Justin Upton trade. Delgado, Corbin, and Tyler Skaggs (another part of the Haren trade and one of the best pitching prospects in baseball) will compete for the team's fifth rotation spot in Spring Training. The two losers will go to Triple-A and serve as depth. Kevin Towers is a pitching guy and will stockpile arms until the cows come home.
Baseball America (subs. req'd) said Corbin "projects as a No. 4 starter" before last season because he doesn't light up the radar gun and none of his offspeed pitches is a true swing-and-miss offering. He's almost like a left-handed (and slightly younger) David Phelps. That's someone who is nice to have, but not someone you go all out to acquire. Corbin would be nice to have in stock come 2014 after Hiroki Kuroda, Andy Pettitte, and Phil Hughes all hit free agency, but I think the Yankees should use their trade chips to acquire a bat first. That's a much more pressing need.
Tucker asks: Back in the 2010-11 offseason, there was speculation of a Robinson Cano-for-Matt Kemp trade. In hindsight, would you have made the move?
I'm pretty sure that was much earlier than 2010-2011, no? I thought it was during the 2008-2009 offseason, after Robbie had his awful year. That's usually when fans conjure up trade scenarios for players, after their down seasons. Anyway, I remember the idea was to trade Cano for Kemp and sign Orlando Hudson to take over at second base.
I was all for that trade at the time (not so much signing Hudson, but I digress) because I thought Kemp would turn into a star (he has!) and Cano would settle in a solid second baseman (he's been much, much better than that). That was back when the Yankees were looking at replacing both Johnny Damon and Hideki Matsui in the near future, and before they acquired Nick Swisher or had seen what Brett Gardner could do in a full season. There was a need for an outfielder and I was all for such a trade.
Now, looking at this in hindsight is another matter. Cano's been the better hitter (138 vs. 135 wRC+), the better defender (by a mile), and the healthier player (again by a mile) over the last four seasons. Kemp has the advantage in base-running (by a mile) and in terms of contracts ($21M vs. $39M). Despite the significant difference in salary, I would have not done that trade in hindsight. I valuable durability and Cano never ever misses a game. But, as I said, I was all for it at the time and it's not like Kemp is chopped liver either.