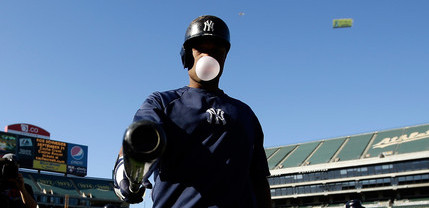 Robinson Cano has a been a Not A Yankee for a little less than three weeks now, but his market has yet to really take shape. He had not received any offers from other clubs as of November 10th. That isn't all that surprising, however. Things have been relatively quite for other top free agents like Jacoby Ellsbury and Shin-Soo Choo as well. The market for the big names usually starts to pick up during the Winter Meetings in early-December.
Until then, here is a roundup of the latest on Cano, courtesy of Ken Davidoff, George King, Andy Martino, Andrew Marchand, Andy McCullough, Wally Matthews, Tim Brown, and Joel Sherman.
Hal Steinbrenner confirmed the team will meet with Cano's people sometime this week, but also indicated they will continue to talk to other players in case things drag on too long. "We haven't really had any communication on any specifics yet, but it's the beginning of the process," said Hal.
Jay-Z and agents Brodie Van Wagenen and Juan Perez met with Mets owner Jeff Wilpon, GM Sandy Alderson, and assistant GM John Ricco at a Manhattan hotel yesterday. They supposedly made a "Scott Boras-like" presentation. Cano's camp initiated the meeting and it sounds like they're trying to drum up some leverage. The Mets aren't handing out the type of contract it will take to sign Cano, especially under the risk-averse Alderson.
"[Jay-Z is] going to be intimately involved in all areas, and that has been true for the last six months" said Van Wagenen recently. "Jay is a very, very successful businessman, who has a keen understanding of value, a keen understanding of brands, and a keen understand of what this player, Robinson Cano, wants to accomplish in his career. He's been at the table both in strategy sessions and in preparation. And he absolutely has, and will continue to be, involved in the actual negotiations with potential suitors."
Cano's camp has not yet budged off their ten-year, $305M request, but Randy Levine ain't havin' any of that. "We want Robbie back — we think Robbie is terrific — but we have no interest in doing any ten-year deals and no interest in paying $300M to any player. Until he gets a little more realistic, we have nothing to talk about," said the team president.
The Dodgers still insist they will not get involved in the bidding for Cano. We first heard that a few weeks ago. Los Angeles seems like an obvious fit for Robbie given their huge wallet and second base vacancy, but they appear to be saving the majority of their cash for the inevitable Clayton Kershaw extension. Maybe they'll circle back if they have some extra cash once that is taken care of.
Just in case you were wondering, the Marlins will not be in on Cano this winter. Shocking, I know. "We have to know our market and our payroll and our history, and our history is to build around young players and add pieces when it has become very clear that we are ready to win," said GM Dan Jennings.