Even though it is not really the halfway point of the season, there is no better time to review the first half than the All-Star break. This week we'll hand out some simple, straightforward, and totally subjective grades, A through F, for the catchers, infielders, outfielders, rotation, and bullpen. We've already covered the catchers, infielders, outfielders, and rotation, so now let's wrap up with the bullpen.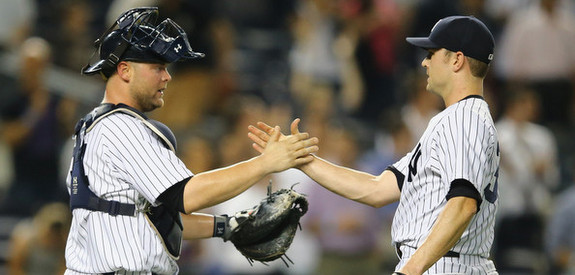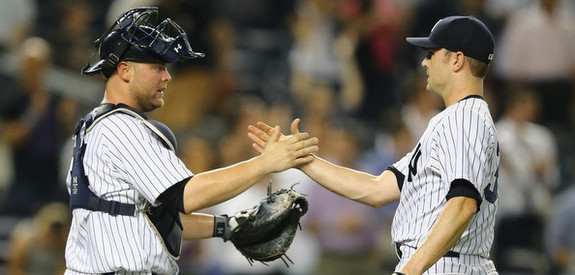 David Robertson — Grade A
So maybe replacing Mariano Rivera won't be so difficult after all. Robertson inherited the closer's job — to the dismay of more than a few — and has run with it, pitching to a 2.76 ERA (1.73 FIP) in 32 appearances and 32.2 innings. He is 23-for-25 in save chances with a career best strikeout rate (16.26 K/9 and 44.7 K%) and a career best ground rate (51.6%) while keeping his walk rate (2.76 BB/9 and 7.6 BB%) in line with the last two years. Robertson is also holding opponents to a .198 batting average, second lowest of his career (.170 in 2011) despite a career worst .356 BABIP.
Robertson has allowed ten earned runs this year with five coming in one disaster outing against the Twins on June 1st. He has allowed one run while striking out 27 of 56 batters faced since. Overall, 59 of 98 outs this season have been strikeouts, including 58 of 89 (65.2%) since coming off the disabled list (groin) in mid-April. No pitcher who has thrown at least 30 innings this season has a high strikeout rate. It's not even close, really. Robertson leads in K/9 by more than one full strikeout and in K% by roughly three percentage points. He's been dominant in every sense of the word.
The Yankees will need Robertson to continue his dominance in the second half for obvious reasons, though his looming free agency will be hanging over everyone's head. The two sides have not discussed an extension but that could change at any time. Relievers like Robertson — super high strikeout pitchers with proven late-inning/big market chops and no history of arm problems — are rare and the Yankees should make every effort to keep him beyond this season. If his work this year doesn't convince them he is the man to replace Rivera long-term, then I'm not sure they'll ever find someone good enough.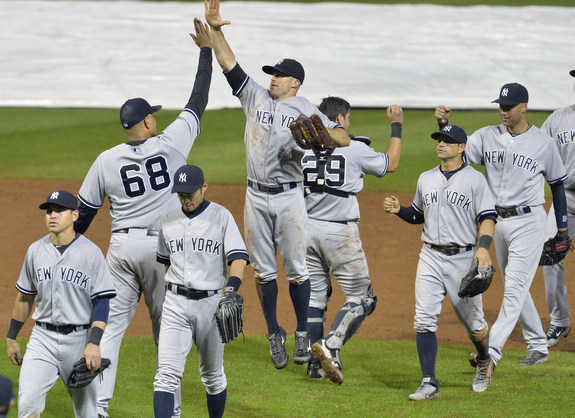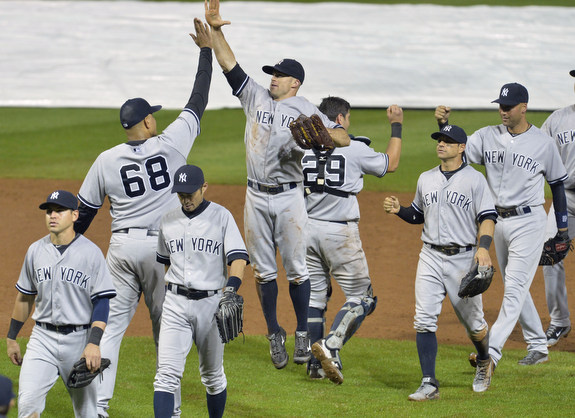 Dellin Betances — Grade A
Just a few short months ago, Betances had a win a roster spot in Spring Training. Now he's an All-Star high-leverage reliever who is 1996 Rivera to Robertson's 1996 John Wetteland. Betances has a 1.46 ERA (1.37 FIP) while ranking third among full-time relievers in innings (55.1) and first in both fWAR (2.1) and bWAR (1.7). His strikeout rate (13.66 K/9 and 40.8 K%) is a bit behind Robertson's but still among the highest in the league. He's also stopped walking dudes (2.60 BB/9 and 7.8 BB%) and is getting grounders (50.5%).
Joe Girardi has not been shy about using Betances for multiple innings given his history as a starter — Betances has recorded at least four outs in 25 of his 40 appearances and at least six outs 12 times — though he did take his foot off the gas right before the All-Star break because it did appear the big right-hander was starting to fatigue a bit. His stuff was still electric but not quite as crisp. Hopefully the break recharges his batteries. A little more than a year ago, Betances looked like he may soon be out of baseball. The move into the bullpen has saved his career and given the Yankees a second elite reliever to pair with Robertson in the first season post-Mo.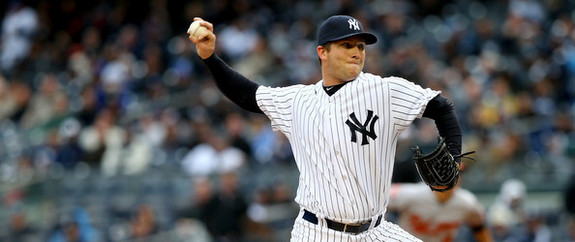 Adam Warren — Grade B
From spot starter to swingman to trusted high-leverage reliever. Warren has had his role redefined over the last few seasons and he has now settled in as a quality third option behind Robertson and Betances. His numbers — 2.79 ERA (2.70 FIP) in 42 appearances and 48.1 innings — are not quite as good as those two, but he gets strikeouts (8.57 K/9 and 22.4 K%), gets grounders (46.8%), and is stingy with ball four (2.79 BB/9 and 7.3 BB%). His fastball velocity has also ticked up in short relief, averaging 94.1 mph this year after sitting 93.0 last year.
As with Betances, Girardi has taken advantage of Warren's history as a starter by using his for multiple innings on several occasions — he's recorded 4+ outs in 18 of his 42 appearances. The Yankees have said that if the need arises, they would pull Warren out of the bullpen and stick him in the rotation, but starters are dropping like flies and it hasn't happened yet. Warren seems to have found a niche in short relief and he's been a very valuable member of the bullpen despite being overshadowed by Robertson and Betances.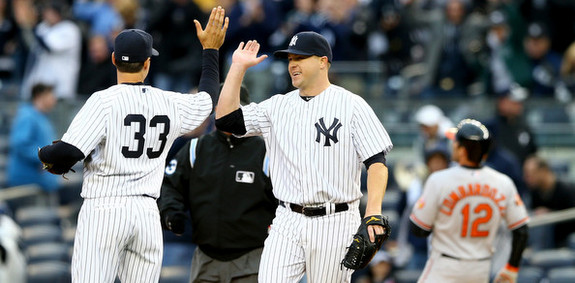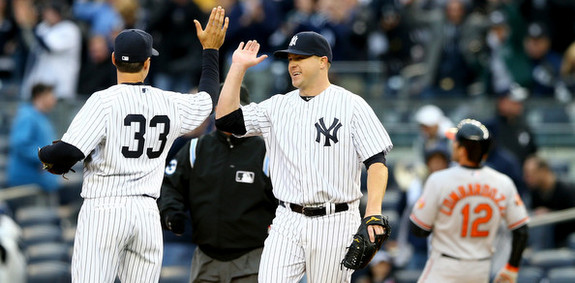 Shawn Kelley — Grade C
It was a tale of two first halves for Kelley, who opened the season as the regular eighth inning guy and nailed down four saves in four chances while Robertson was on the disabled list in April. He had a 1.88 (1.67 FIP) in his first 14.1 innings of the year before a disaster outing against the Angels on May 5th (two outs, four walks, three runs), after which he was placed on the disabled list with a back injury. It kept him out a month and he has a 4.05 ERA (3.21 FIP) in 13.1 innings since returning.
Kelley didn't look right when he first returned from the back problem. He wasn't able to finish his pitches and his trademark slider didn't have much bite. It just kinda spun and floated. He looked much better in his last few outings before the All-Star break — one run, five hits, no walks, 13 strikeouts in 8.1 innings — and hopefully that's a sign he's now 100% and ready to take on some late-inning responsibilities so Girardi can spread the workload around. Definitely a mixed bag for Kelley in the first half.
Matt Thornton — Grade C
The rules of baseball fandom say we must hate the team's lefty specialist, but Thornton has been solid (3.10 ERA and 3.04 FIP) in his 38 appearances and 20.1 innings. As his innings-to-appearances ratio suggests, Girardi has used him as a true matchup left-hander and not tried to force it against righties whenever possible. Thornton has held same-side hitters to a .229/.319/.244 (.262 wOBA) batting line with a 15.1% strikeout rate, a 3.8% walk rate, and a 50.0% ground ball rate. Solid.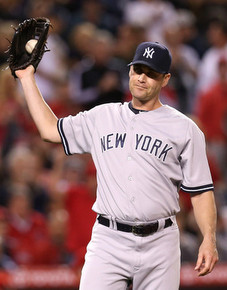 The only real negative about Thornton is he doesn't miss bats, even against left-handed hitters. That 15.1% strikeout rate is 76th out of the 90 left-handed pitchers who have faced at least 50 left-handed batters this year. Lefties have swung and missed only 20 times at the 220 pitches Thornton has thrown them this year (9.1%). That kinda sucks for a left-on-left reliever. Thornton missed a week with undisclosed soreness right before the break but did return to pitch against the Indians last week. LOOGYs, huh? Can't live with 'em, can't live without 'em.
Preston Claiborne and David Huff — Grade C
Remember how awful Claiborne looked in Spring Training? We were talking about him as a candidate to be dropped from the 40-man roster if a need arose, but the Yankees kept him around and he pitched to a 3.57 ERA (3.82 FIP) in 17.2 innings while going up and down a few times in the first half. Three of his nine walks were intentional, uglifying his numbers a bit. Claiborne is currently on the Triple-A Scranton disabled list with a shoulder injury of unknown severity, which is not insignificant given his status as the team's primary up and down depth arm.
The Yankees re-acquired Huff from the Giants in mid-June as part of their continuing efforts to find a not awful long man, and he's since given the team 16.2 innings of 2.16 ERA (5.18 FIP) ball. Girardi used him as a matchup lefty while Thornton was out with his soreness and that predictably did not go well. Warren was pretty awesome by long man standards last year and that kinda spoiled us. Most long relievers stink. Is Huff keeping runs off the board? His ERA says yes. Has it been pretty? No but who cares. In that role you just want someone who can limited the damage and Huff has done that for the most part.
Alfredo Aceves — Grade F
Did you realize Aceves threw the sixth most innings among the team's relievers in the first half? I sure didn't. The Mexican Gangster threw 5.1 scoreless innings in long relief in his first outing back with the team, but it was all downhill from there. He allowed 14 runs on 20 hits (six homers!) and four walks in his next nine games and 14 innings, putting his overall season numbers at 6.52 ERA (6.29 FIP) in 19.1 total innings. The Yankees designated Aceves for assignment in early-June, he accepted the outright assignment to Triple-A Scranton, and he was recently suspended 50 games after a second failed test for a drug of abuse. He will be missed by: no one.
Matt Daley, Jose Ramirez, Bruce Billings, Jim Miller, Chris Leroux, Cesar Cabral, and Wade LeBlanc — Grade F
The combined pitching line of these seven: 33.2 IP, 46 H, 36 R, 33 ER, 19 BB, 33 K, 6 HBP, 6 HR. That's an 8.82 ERA and a 5.19 FIP in one more inning than Robertson has thrown this year. I didn't even include Dean Anna. /barfs
* * *
Girardi has had to rely on his bullpen more than I'm sure he would have liked in the first half, mostly because of the rotation injuries. Yankees relievers have thrown 292 innings this season, the 13th most in MLB, though their 264 total pitching changes are only 23rd most. That's because of guys like Betances, Warren, and Huff being used for multiple innings at a time.
The bullpen has a 3.85 ERA (3.60 FIP) overall, which is bottom third in the league, but they have a top-heavy relief crew with arguably the best setup man/closer tandem in the game. The late innings are no problem at all. The middle innings are where it gets messy. Kelley is the bullpen key to the second half to me — if he gets back to pitching like he did before his back started acting up, Girardi will have another trustworthy high-strikeout arm who could potential solve that middle innings problem.