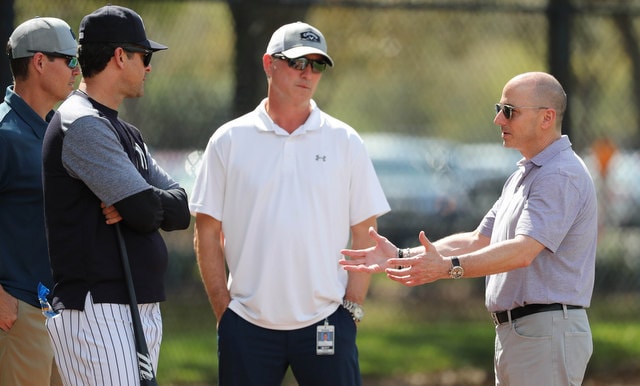 The Yankees continue their Grapefruit League season this afternoon with a road game against the Pirates, but, sadly, it will not be televised. Tomorrow's game will be televised, however, so that's cool. Anyway, here are some links to check out on the first weekend with baseball in 2018.
Yankees still looking for pitching
Not surprisingly, Brian Cashman confirmed earlier this week that the Yankees remain in the market for pitching. They addressed their infield with the Brandon Drury trade — they did that without spending any finite luxury tax plan dollars — so the only item left on the offseason shopping list is pitching depth. Here's what Cashman said, via Bryan Hoch:
"We are trying to attack places that are potential weaknesses or are weaknesses," Cashman said. "I think our pitching side is pretty strong and obviously we want it to stay healthy, but we will evaluate the pitching available regardless. It's been our stated goal to add a starter. There's a reason we haven't done it and it isn't because we don't have an interest."
The Yankees still have $22M to spend under the luxury tax threshold, which is a nice chunk of change even when you remove the $10M they're said to be setting aside for midseason additions. I feel like, with each passing day, it is more and more likely the Yankees will jump in to sign either Alex Cobb or Lance Lynn. It would cost two draft picks and $1M in international bonus money to sign either guy, but at some point it'll make sense to jump in. Each day we're inching closer to that point.
Martinez cleared to sign
Cuban outfielder Julio Pablo Martinez has been cleared to sign with MLB teams effective March 6th, reports Ben Badler. Martinez defected in November and Badler says the Yankees are among the favorites to sign him. The Rangers and Marlins are also in the mix. Here's a quick little scouting report from Badler:
While Martinez's first assignment will depend on several factors, his talent level is commensurate with a player in high Class A or Double-A. At around 5-foot-10, 180 pounds, Martinez has a good combination of power and speed from the left side. He batted .333/.469/.498 in 264 plate appearances during his final season in Cuba, with 52 walks, 30 strikeouts and 24 stolen bases in 29 attempts.
The Yankees have spent most of their $3.5M in leftover Shohei Ohtani money — most of that went to Raimfer Salinas and Antonio Cabello — and Badler says it's possible the 21-year-old Martinez will wait until the 2018-19 international signing period begins on July 2nd to sign. The Rangers, for what it's worth, traded for some international bonus money earlier this week, and Jesse Sanchez calls them the favorites to sign Martinez. Sounds like they're going to make a run at him during the current signing period, while the Yankees (and Marlins) are cash-strapped.
Promotions for Giese, Daley
The Yankees have promoted assistant pro scouting director Dan Giese to pro scouting director, reports Brendan Kuty. Kevin Reese, the former pro scouting director, was promoted to senior director of player development back in November. He now oversees the farm system. Also, Matt Daley was promoted to assistant pro scouting director to replace Giese. Both Giese and Daley pitched briefly for the Yankees before joining the team as scouts. They've both gradually worked their way up the ladder.
A few weeks ago the Yankees hired former Marlins executive Marc DelPiano for a pro scouting role, and I thought maybe he'd replace Reese, but nope. It's Giese. The Yankees tend to promote from within for front office jobs and that is exactly what happened here. I'm guessing DelPiano is fairly high up in the pro scouting chain of command given his resume though. The pro scouting department, which didn't even exist until 2005, is tasked with keeping tabs on players in MLB and the minors. The department helped dig up Didi Gregorius and Chad Green, among many others.