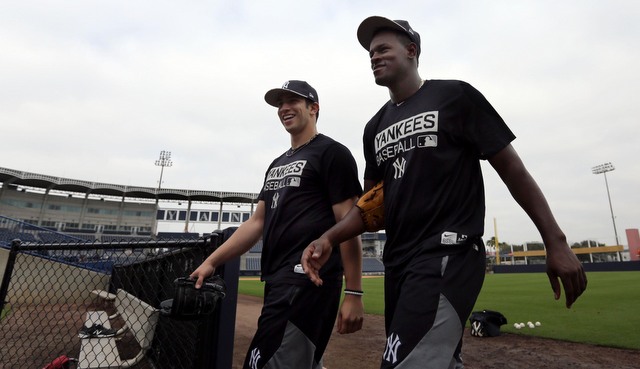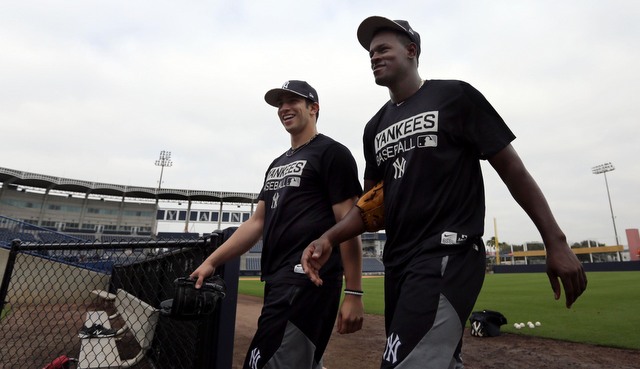 Over these next seven weeks or so, the Yankees are going to hold a massive rotation competition in Spring Training. They've held fake competitions in previous springs, we've seen plenty of those, but this one is legit. There are two spots open behind Masahiro Tanaka, CC Sabathia, and Michael Pineda, and no shortage of candidates. Here's the approximate fourth and fifth starter pecking order:
Luis Severino
Luis Cessa
Chad Green
Bryan Mitchell
Dietrich Enns
Jordan Montgomery
Chance Adams
The Yankees insist Adam Warren will compete for a rotation spot as well, though I have a hard time believing the soon-to-be 30-year-old Warren will be given a rotation spot over a kid in his mid-20s, especially since Warren is so valuable in relief. I suppose Ronald Herrera could be given the chance to win a rotation spot, though it seems unlikely. Generally speaking, that's the pecking order.
This rotation competition comes with two questions. One, who wins the two spots? That's the obvious question. And two, what happens to the guys who don't win the rotation spots? In cases of Adams, Enns, and Montgomery (and Herrera), the answer is clear. They'll go to Triple-A Scranton to bide their time. Warren, if he is truly involved in this rotation competition, will slide back in to the bullpen.
The top four guys is where it gets murky. It's easy to assume the two competition losers will go to Triple-A — all four of them have options remaining (Mitchell has one, the other three have two) — and simply wait their turn. The Yankees aren't going to get through the season using only five starters, so it's only a matter of time until the two competition losers wind up in the rotation. That's baseball.
That said, the answer is never that simple. The Yankees also have two open bullpen spots at the moment, and we can't rule out the two rotation competition losers winding up in the Opening Day bullpen. They've done this before. The Yankees did it in 2014 with Warren, David Phelps, and Vidal Nuno, and they did it last year with Cessa. They would have done it with Mitchell too last year had he not suffered that fluke toe injury at the end of camp.
Let's say, for argument's sake, Severino and Cessa win the fourth and fifth starter's spots. Severino has the most upside of the rotation candidates and Cessa had the most success as a starter last year. Sound good? Doesn't matter, really, it's only a hypothetical. In that case, the Opening Day pitching staff could shake out like so:
Rotation: Tanaka, Sabathia, Pineda, Severino, Cessa
Bullpen: Aroldis Chapman, Dellin Betances, Tyler Clippard, Tommy Layne, Warren, Green, Mitchell
If the Yankees believe Green and Mitchell give them a better chance to win than other bullpen candidates like, say, Jonathan Holder and Ben Heller, that very well could be the Opening Day pitching staff. I know I'm not alone in thinking the rotation competition losers could win up in the bullpen. Bryan Hoch suggested something similar recently as well.
Now, is this a good idea, using the sixth and seventh starters as relievers? Maybe, maybe not. I'm not sure there's a correct answer. Montgomery, Enns, Adams, and Herrera give the Yankees some decent Triple-A pitching depth should they need an emergency spot starter. Also, as we saw with Cessa last year, the team could always send one of the starters they stick in the bullpen back down to Triple-A to get stretched out.
One thing to keep in mind: the Yankees are short on innings eaters. Last season AL starters averaged 5.69 innings per start. Tanaka averaged 6.43 innings per start, 12th highest in baseball. Sabathia was at 5.97 innings per start but noticeably lost effectiveness after 80-85 pitches or so. Pineda averaged 5.48 innings per start, third lowest among the 71 pitchers who qualified for the ERA title. Joe Girardi doesn't trust him and had an increasingly short leash late in the season.
The two kids, whether it's Severino and Cessa or Green and Mitchell, probably won't be counted on to chew up innings and save the bullpen. We saw Girardi pull Cessa after five or six innings several times last season even though his pitch count was manageable, and there are reasons for that. He didn't want him to go through the lineup a third time, because that's usually when the opposing team does the most damage against the starter.
With Tanaka the only reliable source of innings, having multiple relievers who can throw multiple innings wouldn't be such a bad idea. The Yankees don't have to employ a true tandem starter system, though on the days the starter goes five and fly, it'll be nice to have a reliever who can go three innings, if necessary. Putting the two rotation competition losers in the bullpen would give the team those multiple long men to help cover a rotation not known to pitch deep into games.
Opening Day is still nearly two months away (groan) and a lot can and will change between now and then. With any luck, everyone will get through camp healthy and the Yankees will be in position to decide whether to send their extraneous starters to Triple-A or use them in relief. That would be a nice problem to have. The rotation competition will be a big story this spring, and there's a pretty good chance it will overlap with the bullpen competition as well.