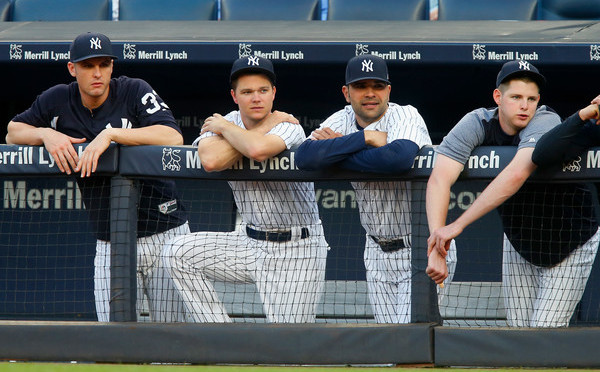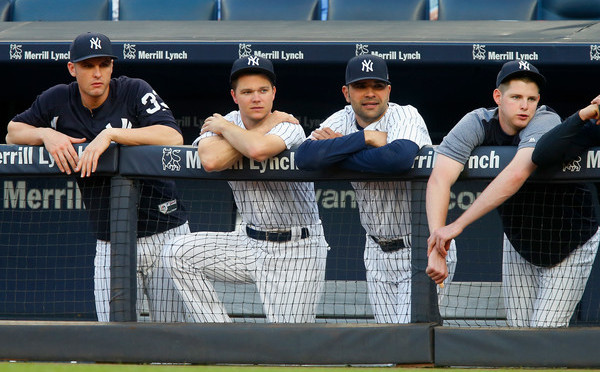 Last week, after acquiring Sonny Gray and Jaime Garcia at the trade deadline, the Yankees went with six starters for one turn through the rotation. That gave everyone a little extra rest, which I'm sure they all appreciated. It's August and it's hot, and the innings are starting to pile up. Any time you have a chance to give the starters a breather, you do it.
The Yankees sent Jordan Montgomery to Triple-A following Sunday's game, which means the six-man rotation is no more. They said it was a one-time thing and they stuck to it. The Yankees are back to a five-man rotation for the foreseeable future. And I think it's only temporary. Once September rolls around and rosters expand, I think it's all but certain the Yankees will go to a full-time six man rotation. For two reasons, mostly.
1. The Yankees really value that extra rest. The overall league numbers say pitchers perform better with extra rest. Throughout MLB this season, pitchers have a 4.54 ERA (4.35 FIP) on normal rest. That drops to a 4.34 ERA (4.10 FIP) with an extra day of rest. That's league-wide, however, and not every single pitcher responds well to short rest. For all the talk about Masahiro Tanaka pitching better with extra rest, it's not really true:
Tanaka on normal rest (2017): 4.50 ERA and 3.55 FIP
Tanaka on extra rest (2017): 5.27 FIP and 4.97 FIP
Tanaka on normal rest (career): 3.53 ERA and 3.54 FIP
Tanaka on extra rest (career): 3.48 ERA and 3.89 FIP
At this point though, the "Tanaka pitches better with extra rest" myth has been repeated so much and for so long that I've given up hope people will realize it isn't true. Score this a win for FAKE NEWS.
Anyway, forget about the numbers for a second. The Yankees have shown they value that extra day of rest with their actions. They've given their starters get that extra day whenever possible the last few seasons. There's no reason to expect that will change now. And, really, it's not about performance. It's about health. Tanaka has a partially torn elbow ligament. CC Sabathia is 37 with a bad knee. Gray has had some injuries the last 18 months. Garcia's injury history is ugly. That's why they want to give them extra rest.
2. Montgomery and Severino are heading into uncharted workload territory. I've written about this already. The Yankees surely have some innings limit in mind for both guys — maybe that number is higher than you'd think given their career workloads to date, but the number exists — though that's an overly simplistic way of looking at this. Long-term health is a concern, no doubt. But so is short-term effectiveness.
The Yankees are in the postseason race and they don't want to run into a situation where Montgomery and especially Luis Severino hit a wall in September because they're running out of gas. As young and as strong as these two guys are, neither has pitched a full MLB season yet. Pitching deep into September with more innings on your arm than ever before can be difficult. A six-man rotation and extra rest along the way would help mitigate the fatigue risk.
* * *
Using a six-man rotation now, with a 25-man roster, would be pretty difficult, which is why I think it'll wait until rosters expand in September. Here's what Joe Girardi told Randy Miller about a potential six-man rotation last week:
"In theory it sounds great, but now you (would) have six relievers and six starters," Girardi said. "You get rid of one of your relievers that can give you distance, it puts you in a bind. If the commissioner would let me add another man on the roster and then you have 26, I'd really think about it … You've got to remember, too, that most pitchers are used to going on a five-man rotation. It might help one guy and screw up the other four. That's a problem."
Injuries and ineffectiveness have a way of changing plans in a hurry, but right now, I think the Yankees are planning to use a true six-man rotation once September rolls around and carrying an extra starting pitcher wouldn't mean sacrificing a bench player or reliever.
As it stands, the Yankees have six big league caliber starting pitchers, and that's really good. You'd rather than too many that not enough. The Yankees are going to use those six starters too. Montgomery might be in Triple-A now, but that's only temporary. He'll be back before you know it. Once rosters expand, using a six-man rotation makes an awful lot of sense given the physical and workload concerns in the rotation. It makes so much sense that I fully expect it to happen.