By

"… but that doesn't mean you're going to win the summer when it counts." That quote came from this Don Amore article, which follows a breakfast Brian Cashman recently had with Connecticut Chamber of Commerce. Cash spoke primarily about the team's offseason while avoiding Joe Torre's book like the plague (can you blame him?). The most interesting point he touched on were the adjustment periods that CC Sabathia, AJ Burnett and Mark Teixeira would need now that they're coming to New York, and how Joe Girardi will be better after all the experience he gained last year. It's a quick and interesting read, so make sure you check it out. (h/t Sam Borden) · (43) ·
2009 Payroll
| Player | Sal. |
| --- | --- |
| A-Rod | $32 |
| Sabathia | $14* |
| Teixeira | $20** |
| Jeter | $20 |
| Burnett | $16.5 |
| Mo | $15 |
| Jorge | $13.1 |
| Damon | $13 |
| Matsui | $13 |
| Swisher | $5.3 |
| Wang | $5 |
| Marte | $3.75 |
| Nady | $6.55 |
| Cano | $6 |
| Molina | $1 |
| Bruney | $1.25 |
| Melky | $1.4 |
| Pettitte | $5.5 |
| Total | $192.35 |

* $9 million bonus
** $5 million bonus
Depending on how exactly the Mark Teixeira and CC Sabathia signing bonuses count against the payroll, that $192.35 million could turn into $206.35 million. That covers 18 of 25 players, leaving seven roster spots to players who will presumably make under $500,000 each. Even factoring in the $500K, that means another $3.5 million, bringing payroll to $209.85, or right in line with 2008.
That would seem to be the Opening Day figure, though the Yankees do owe a bit more money elsewhere. For starters, they need to pay a certain minimum to all players on the 40-man roster, though that's won't bump up the value too much. There's also the million or so owed to Andrew Brackman, and the $4 million owed to Kei Igawa. Plus, if a player hits the Major League disabled list, they'll call up another player, who will get a prorated portion of the league minimum salary.
We can start to form a better picture of the Yankees salary situation into the future as well.
Yankees Future Payroll w/ Tex
| | | | | | | | | | |
| --- | --- | --- | --- | --- | --- | --- | --- | --- | --- |
| | 2009 | 2010 | 2011 | 2012 | 2013 | 2014 | 2015 | 2016 | 2017 |
| A-Rod | 32 | 32 | 31 | 29 | 28 | 25 | 21 | 20 | 20 |
| Tex | 25 | 20 | 22.5 | 22.5 | 22.5 | 22.5 | 22.5 | 22.5 | |
| Sabathia | 23 | 23 | 23 | 23** | 23** | 23** | 23** | | |
| Burnett | 16.5 | 16.5 | 16.5 | 16.5 | 16.5 | | | | |
| Cano | 6 | 9 | 10 | 14* | 15* | | | | |
| Marte | 3.75 | 4 | 4 | 4* | | | | | |
| Swish | 5.3 | 6.75 | 9 | 10.25* | | | | | |
| Jorge | 13.1 | 13.1 | 13.1 | | | | | | |
| Jeter | 20 | 21 | | | | | | | |
| Mo | 15 | 15 | | | | | | | |
| Damon | 13 | | | | | | | | |
| Matsui | 13 | | | | | | | | |
| Molina | 1 | | | | | | | | |
| Wang | 5 | | | | | | | | |
| Nady | 6.55 | | | | | | | | |
| Melky | 1.4 | | | | | | | | |
| Burney | 1.25 | | | | | | | | |
| ~Total | 206.35 | 160.35 | 129.1 | 119.25 | 105 | 70.5 | 66.5 | 42.5 | 20 |

* team option
** can opt out of contract
Matt Holliday's name has been connected with the Yankees by many fans (and his own father). If he puts up a good season in Oakland he'll be one of the premier names in the 2010 free agent class. With Scott Boras as his agent you know he'll do just fine on the market. Figure, for the sake of argument, that the Yanks land him on a five-year, $85 million deal. That would bring the Yanks 2010 payroll to $177.35 for just 11 players. In 2011 that would be $146 million for nine players. Things could clear up in 2012, when CC could opt out and the Yankees hold options on Cano, Marte, and Swisher. However, that's still $85 million on four players.
With such big numbers prevent the Yankees from adding another long-term contract or two? I don't think so. It will certainly make them think twice, but as with Teixeira, if a player they desire falls into their price range, they're going to make the move. Their best weapon is capital. They might as well use it when they can, so long as they use it wisely.
Bonus section:
A couple of links in my browser that don't really even fit in an aside:
At the LA Times, Jon Weisman and his commenters ponder an inside-the-park home run derby. I'd watch it for sure.
Eddie at Detroit Tiger Tales discusses what went wrong with his predictions for the Elias rankings. Hopefully this leads to an even more accurate projection after the 2009 season.
By

When I first started blogging, I aspired to reach the level of RLYW and Bronx Banter. Back then, Banter was on the Baseball Toaster network, one I got to know well over the next few years. Sadly, it has come to an end. With Banter on the SNY Network and Toaster flagship Jon Weisman now with the L.A. Times, they've closed up shop. While a handful of their bloggers have called it quits, you can still find many of the mainstays elsewhere, including the must-read Cardboard Gods. · (1) ·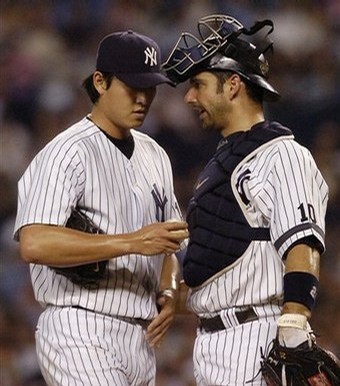 Pitchers and catchers are just eleven short days away, but two of the Yanks' most important pieces are already down in Tampa getting their workout on. Anthony McCarron has the word:
Anyway, I am down here for a little pre-spring training visit and saw several Yankees hard at work, including Jorge Posada and Chien-Ming Wang. Posada has been showing up most days since early December to get his surgically-repaired shoulder ready for the season and says he can feel great progress and there's no pain. He made 140 throws during a workout Monday and says he'll increase the intensity Wednesday. He throws every other day and while he won't be ready to catch in spring training until at least March 6, he said, he will be ready for opening day.

After a light workout in the batting cage, Posada went through a series of strenuous exercises in the weight room and did some agility drills.

[snip]

As for Wang, he threw his first pre-spring training bullpen, going for seven minutes and 27 pitches. Decked out in a dark blue shorts and a gray Yankees' T-shirt pulled over a long-sleeve T-shirt, he threw only fastballs under a blue sky. Pitching coach Dave Eiland was among those who watched, along with pitching guru Billy Connors.

Wang, whose 2008 season was wrecked by foot injuries, said afterward, "Everything feels fine. It's just normal." Wang had gotten a clean bill of health in October from Yankee doctors, even throwing a few bullpens then. When he went home to Taiwan during the winter, he did a lot of fitness work on his feet, he said.
Well, of course Posada thinks he'll be ready for Opening Day, anyone could have told you that. The real issue is whether or not the doctors say he's ready. It's very encouraging that he's so far along in his rehab and hasn't suffered any setbacks, but until he gets back out there in game action we just won't know. Same goes for Wang.
Anyway here's your open thread for the night. Rangers great Adam Graves is having his #9 jersey retired tonight at the Garden. The ceremony started at 6:30, but you can still flip over and catch the bulk of it. Hot shot prospect Artem Anisimov will also be making his NHL debut for the Blueshirts tonight, think of it as the hockey equivalent of Phil Hughes' first start. The Nets are hosting the Bucks, and the Knicks won't give up 61 points to one player tonight because they're off. The Caribbean Series (Mexico vs Venezuela) is on MLB Network at 9pm. Hooray for live baseball. Anything topic's fair game here, just be cool.
Photo Credit: Bill Kostroun, Associated Press
By

Maury Brown at The Biz of Baseball has the news. The award winning sportscaster will join the network immediately, and host special original programming and head back to the broadcast booth for select games. Costas obviously is great addition to the network, but let's just hope they don't force him down our throats. Costas is good in moderation, but we don't need to see his holier than thou schpeel every night. · (12) ·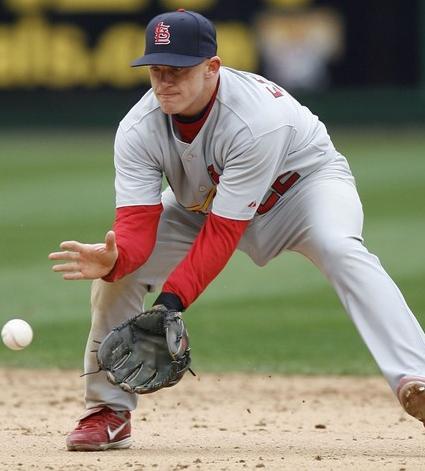 This is the time of year when we fans have nothing to complain about except the bench. With the additions of CC Sabathia & AJ Burnett, as well as the return of Andy Pettitte, the Yanks' starting rotation is as set as can be in February. Phil Hughes, Ian Kennedy and Al Aceves provide some Triple-A depth for spot starts. The bullpen is chock full of options, and the additions of Mark Teixeira and Nick Swisher fortify the offense. Just about the only part of the team that can use some real improvement is the bench corps.
One problem with being the Yankees is that it can be tough to get those borderline everyday/bench players to come to the Bronx because of a lack of opportunity. Take David Eckstein for example. The little scrapper would have been a solid pickup as a backup middle infielder, providing pesky at-bats of the bench while being capable of playing everyday should Derek Jeter or Robbie Cano hit the DL for a few weeks, but why would he pass up a chance to start and play everyday for the Padres for the opportunity to ride the pine for the Yanks? It just makes sense for him to head to San Diego.
Because of this, the only real way the Yanks can acquire quality players for the bench is by trading for them. Just look at the 1996 team's bench: Charlie Hayes and Cecil Fielder were both acquired in mid-season trades – Hayes from the Pirates for a PTBNL, Fielder for the disgruntled Ruben Sierra and 1993 first rounder Matt Drews, who was in the process of flaming out because of extreme control issues. Both Hayes and Fielder were available because of unfavorable contract situations, so why can't the Yanks work a similar scheme thirteen years later?
After the jump is a few potential mid-season trade targets that fit the bill for that oh so terrible bench.
By

According to Daily News writer Roger Rubin, the White Sox have, at some point this winter, extended a one-year, $8-million offer to Bobby Abreu. The Yanks' former right fielder made $16 million last year and had originally wanted a three-year deal at a similar average annual value. He may find it tough to swallow a 50-percent pay cut, but in this economy, Abreu might have to. How he makes the White Sox a better team though is something I can't quite fathom.

Update 3:15 p.m.: A suburban Chicago newspaper has debunked this Abreu rumor in a rather roundabout way. A White Sox has "dismissed" the rumor, according to the Daily Herald news service. Take that for what you will. · (54) ·
Via Pinto, the Yankees are apparently still interested in Orlando Hudson. He told the MLB Network that the Mets, Yanks, Dodgers, and Nationals are all interested. Furthermore, he said that he would not need to change positions. Regarding the Yankees, this sounds a bit outlandish. It would mean that they'd have to trade Robinson Cano or move him to center field, both of which aren't attractive options.
Given the market and the total lack of interest in Hudson, this could be the player hyping himself up, using the vague term "interested" to describe his supposed suitors. In fact, I'm willing to bet that the Yankees haven't expressed genuine interest in the second baseman since before the Winter Meetings. There's just no place for him on the roster, especially if he's not changing positions.
Reading the situation as presented, it seems like he's trying to squeeze some more money and/or years out of Washington. The Yankees have Cano, the Mets have Luis Castillo, for better or for worse, and the Dodgers have Blake DeWitt. Why would any of them pony up significant years and dollars for another second baseman? In the end I don't think any of them will. The Nationals seem like the obvious destination here — though that could change if the Dodgers don't retain Manny Ramirez.
Things picked up last week in Yankeeland because of some book written by some guy who, I think used to manage the team. That's still going, kind of, but you can't write about it in every column, can you? Wallace Matthews doesn't think so. He's changed the topic this week, though it's not any less insufferable than the Torre talk. He think that Derek Jeter should stick up for Alex Rodriguez. Great. We're back on this again.
No one, of course, tells Derek Jeter what to do, and I don't presume to try. But it is my considered opinion that Jeter can hide for only so long behind his stock answer, "I haven't read the book yet."

The book is out Tuesday. Time to start reading. And he doesn't even have to read it to come out and say, simply: "Alex is my teammate. Alex is our guy. Everyone in this clubhouse stands behind him."

And that has to include the captain. Because that's what captains do.
Over the past few years, more than a few Yankees fans have wondered why Jeter doesn't say something on A-Rod's behalf. Fire Joe Morgan once criticized Jeter for coming to Jason Giambi's defense but not A-Rod's. The situations are a bit different, though.
No one thought Jeter didn't have Giambi's back. The fans were just peeved at Giambi for 1) the steroids thing, 2) missing most of 2004, and 3) getting off to a terrible start in 2005. So Jeter came out and publicly defended his teammate. So why doesn't he do this for A-Rod? I can't give an explanation, as I am not Derek Jeter, nor do I know anyone familiar with his thinking.
The difference in the situations is clear. Yankees fans presume Jeter doesn't have A-Rod's back. We all know about the incident where A-Rod tried to take Jeter down a peg, and the consensus is that Jeter still bears a grudge. That seems a bit extreme eight years later, especially when the object of the grudge is now a teammate. Something tells me that this is not the whole story.
The captain should have his teammates' backs, implicitly or explicitly. Jeter was explicit with Giambi, but not with A-Rod. Does this mean Jeter doesn't have A-Rod's back? Not necessarily. I don't think it's as big a deal that Jeter comes out and says anything. Alex is a grown man. He can handle his own business. Or at least we hope he can.
It's been a while 24 hours since we last checked in on Manny Ramirez, and, well, there have been some interesting developments that could impact the Yanks.
According to the latest from various sources, succinctly summarized for us by MLBTR, the Dodgers have extended a one-year, $25-million offer to Manny. The Dodgers have also made this a conditional offer: Manny and Scott Boras have 48 hours to accept it or Ramirez will once again be left offer-less with around ten days left until pitchers and catchers report.
In a way, a one-year deal from Los Angeles would be exactly what the vocal group of Yankee fans who want to see Manny arrive in the Bronx want. As iYankees noted earlier, the Yankees will be looking for a full-time DH following the 2009 season. Hideki Matsui will be a free agent, unlikely to return; Johnny Damon will be a free agent, unlikely to return; and Xavier Nady will be a free agent with his return contingent upon his 2009 season. Manny would, to quote Buster Olney, be a perfect fit for the Yankees in tens months.
For now, though, it seems highly unlikely that the future Hall of Famer will wind up in the Bronx. Next off-season, we can debate the virtues and pitfalls of courting a then-37-year-old Manny, but for now, let's look at production just because. Last year, splitting his time between L.A. and Boston, Manny hit .332/.430/.601 with a combined 164 OPS+ in 153 games. He was by and large the best offensive player in the game last year.
Meanwhile, in the American League, DHs hardly fulfilled half of their collective role. AL DHs as a group hit .256/.339/.435, and the Yanks' various DHs hit .282/.378/.461. That's a respectable total, but is it a realistic goal for 2009?
Last year, in limited duty, Matsui hit .294/.370/.424 with a 108 OPS+. This year, he'll be the Yanks' primary DH with Jorge Posada, Damon, Nady and Nick Swisher filling out the rotation. This disparity — 50 OPS+ points and a whopping .140 slugging difference — is why, if the Yanks had the money and the will to land Manny, they should. When a player offers that much of an upgrade, a GM deals with a logjam on the roster after improving the team.
Of course, this is reality and not fantasy baseball. As rich as the Yanks are, they are still constrained by the realities of the economy in Feb. 2009. They've spent a lot of money and can't spend more. But if Manny takes this one-year offer and excels in L.A. this year, the Yanks, with money coming off of their books, and their fans can have this debate all over again.
* * *
Update: Manny has already turned down the Dodgers' offer. Twice, Los Angeles has put an offer out there, and twice, the Ramirez camp has turned it down. No other team has yet to offer the slugger a deal this winter.