While much of Ben's post about Yankees ticket prices bothered me, nothing irked me quite as much as Lonn Trost's take on the obstructed view bleacher seats. In his view, having TVs on the wall is a substitute for seeing the action on the field. This, of course, is preposterous. If I want to watch the Yankees on an HD, I'll go to my buddy's down the street. People go to games to watch the games — or at least in an ideal world they do — not watch TV.
Here's Trost's explanation (via Neil Best):
"When we built the sports bar we knew architecturally there is an architectural shadow," he said. "And that means there are a group of seats that are in the bleachers that if you are sitting very close to either the rightfield or leftfield side of the sports bar, you may not see the opposite side.

"We knew that going in, and to that extent we pre-prepared to put televisions in the wall, as well as that big screen so you don't miss anything."
He pre-prepared. Now that's some forward thinking. Problem is, pre-preparing for having obstructed seats by installing TVs isn't preparing for much, beyond fan disappointment. Again, television is no substitute for the live game. That's why people shell out so much money for tickets.
We also found out in Ben's post that Mike Francessa and his crew at WFAN were trying to get Trost on the show — you know, put a little pressure on him. It seems to have worked. As Best reports, tickets in the "architectural shadow," about 600 in total, will cost only $5. It won't allow you to see any more of the field, but at least it's admitting that those seats aren't equal in value to the full-view bleacher seats.
Also of note: The most expensive seats in the house will become open to partial season ticket plans. Why? Because they're only 70 percent sold right now. No, we don't know when they're going to go on sale.
By

While many sports franchises are having trouble securing sponsorships in today's economy, the Yankees seem to be doing okay for themselves. Today, Canon announced that they will renew their Yankee sponsorship for the next three years. Canon will now be the Official Digital Camera, Copier, SLR Camera and Printer of the Yanks and will receive signage on the left field wall and on the rotation ad block behind home plate. The company will sponsor a promotional day in May as well at which the first 18,000 fans will receive a cap with the Canon and Yankees logos. While that hat sounds like an instant collector's item, the quote from Jack Suzuki, a Canon official, was even better: "We hope to see many Yankees home runs hit over our sign throughout the season · (4) ·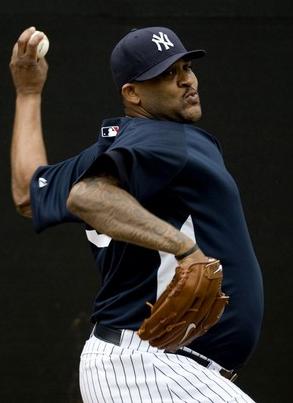 We've had a pretty good idea of what the Yanks' 2008 rotation would look for weeks now, but Joe Girardi made it official today. CC Sabathia gets the ball on Opening Day, and will be followed by Chien-Ming Wang, AJ Burnett, Andy Pettitte and Joba Chamberlain. I'm glad to see Wang – the senior member of the rotation in terms of consecutive seasons with the team – get the nod for the two hole.
HowEVA, the more interesting story is that the plan calls for Joba to make roughly 30 starts. It's just a plan, and I think they're using term loosely at that. You know they're not going to push him too hard past his innings limit. I think that more than anything, this means they won't skip him so much on off-days early in the year just to make sure he gets those innings in. When he hits his cap, worry about it then. The playoffs are far from a given in that division.
Anywho, the Yanks actually played a game today, beating the Jays 6-1. Brett Gardner hit a homer on the second pitch of the first plate appearance of the preseason, so helloooooooo World Series! A-Rod hit a two-run jack and drew a pair of walks, Derek Jeter singled, Robbie Cano singled and was hit by a pitch, and Nick Swisher walked twice, once with the bases loaded after an 0-2 count. Austin Jackson and Jesus Montero each picked up a hit after entering the game in the later innings. Brett Tomko started a threw two strong innings, and the prospect quartet of Chris Garcia, Mike Dunn, Steven Jackson and David Robertson combined to throw four shutout innings, the only baserunner coming on a D-Rob walk. They'll play the Rays tomorrow at 1pm, and the game will be on YES.
Here's your open thread for the night. The Rangers, Islanders, Knicks and Nets are all in action tonight, and MLB Network will be carrying the Red Sox-Twins game at 8pm. Have fun.
Note: Dave Kaplan, Director of the Yogi Berra Museum on the campus on Montclair State, asked us to mention that some of the Baseball Prospectus guys will be making an appearance to talk about the upcoming season on Sunday, March 1st at 2pm. For more info, call 973-655-6891.
Photo Credit: Reuters Pictures
Via WPIX 11 comes this historic video taken today at the new Yankee Stadium. With just 50 days left before the official opening of the new Yankee Stadium, the team unwrapped the monuments from Monument Park and celebrated their new home in center field underneath the food court and sports bar.
The team wrapped up the Babe, Lou Gehrig, Mickey Mantle, Joe DiMaggio, Miller Huggins and the Sept. 11 Monument a few weeks ago, and Port Morris Tile and Marble oversaw the relocation of these monuments, the oldest of which is nearing 79 years of age. "It's a big responsibility, and you can't mess up," Rudy Lavazoli, a rigger with Port Morris, said. "These monuments have been around a long, long time. You don't want to be the one who does any damage to them."
Ben posted on Nate Silver's A-Rod article yesterday, and I think he hit on some good points. The one line that kind of controlled the discussion: "A-rod is not an easy man to analyze." He has not had a typical career path, and as we learned from Silver, he'll have to continue being an anomaly if he is to break the home run record. So if you have always been an anomaly — an outlier, if you will — do you continue to be an anomaly even through your decline years?
I think Jay at Fack Youk did a good job in his criticism of Silver's analysis. He makes three main points:
In an large and representative sample, home run totals will decline as a player moves into his mid 30s. It's just the typical life span of a major league baseball player. Says Jay: "The only problem is, over that ten year period it is extremely unlikely that any individual player is going to have that consistent of a downward slide." He's right. As a whole, numbers tend to decline at A-Rod's age, but there are always those who defy the overall average. I think A-Rod is certainly capable of doing that. I mean, seriously, the PECOTA projection has him hitting fewer home runs in each successive year. That's just not likely to happen, at least not in that kind of linear fashion.
The ability to DH will help A-Rod, as it helped Hank Aaron in his later days.
I'll just quote him here: "The problem with being on pace to be the greatest home run hitter of all time is that you aren't going to have too many people similar to you."
However, I think the most important point comes at the end. Here's Jay's take: "For one thing, last year, A-Rod played in only 138 games. If he played 156 games, he was on pace for almost exactly 43 HRs, right in line with a 32 year old Aaron." My elaboration is that perhaps the PECOTA system saw A-Rod's drop from 54 homers to 35 homers and took it as a sign of decline, hence the downward projection from here on out. I wonder what the projection would have looked like if Silver extrapolated A-Rod's season.
Then again, injury is something that hits some players as they get older. It's just that with A-Rod, it hasn't happened often in the past so we tend to think it won't happen in the future. If injuries do become a problem for A-Rod, I can see Silver's projection reflecting reality. If he continues healthy, we can count on him breaking the 40-homer barrier at least one more time.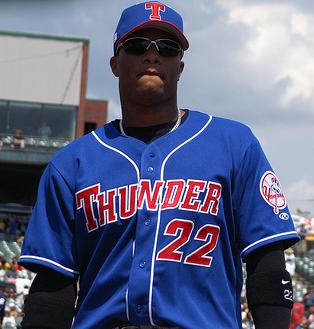 One of the biggest goats of the 2008 season was second baseman Robbie Cano, who saw his offensive output drop from .306-.353-.488 with a .358 wOBP in 2007 to just .271-.305-.410 and a measly .307 wOBP last year. Many a pundit pointed to his newfound financial security as the culprit, others pointed to Larry Bowa's departure. Whatever it was, the Yankees need Cano to rebound not just for 2009's sake, but for the sake of the team's future because he's their only established position player closer to his 25th birthday than his 30th.
Dan Turkenkopf of Beyond the Box Score took a look at what could have been the reasons for Cano's down year, and whether or not there's rebound potential. Turkenkopf looked at three statistical components of Cano's year, so let's summarize:
Contact Rate: This was unchanged compared to past year's, but it's not the best way to measure offensive performance.
BABIP: Cano's BABIP dropped 45 points from 2007, down to .286, indicating that he might have run into some bad luck. Simple regression to the mean (.323 career BABIP) indicates bounceback potential.
Isolated Power: Of the hits Cano was able to pick up last year, not many dropped in for extra bases. His IsoP bombed 43 points to just .139, well below the ~.180 level he was at in 2006 and 2007. Expecting a return to his career mark isn't as simple as it is with BABIP.
The article notes that we should expect Cano to perform better at the plate in 2009 than he did in 2008, but matching his 2006-2007 levels might be too much to expect. The drop in IsoP is troubling, so that's something we'll have to watch.
One thing that should be mentioned is the late season change to Cano's batting stance, something Joe touched on back in October. While we can't draw anything conclusive from such a small sample, Cano hit the snot out of the ball after the change, which if nothing else is cause for some optimism. Also, it's worth noting that 2008 Robbie Cano hit almost like 2007 Robbie Cano for a pretty big chunk of the season, going .301-.329-.451 from May 8th on.
Aside from the offense though, Robbie's defensive value was way down last year. Using the +/- system, Cano went from a +22 defender in 2007 to a -13 defender in 2008, a 35 run play (!!!) swing. Fangraphs has his 2007 defense valued at +10.8 runs, and his 2008 defense at -7.2 runs, a much more modest 18 run dropoff. We can't say for sure if this was Cano taking his struggles at the plate into the field, or if he lost a step in his range, or if he's just another Lazy Latin American Player™, but it's something he needs to improve. There's no excuses really, he's only 26 and basically in his athletic prime. All it takes is hard work.
As the stats indicate, the offensive demise of Robinson Cano has been greatly exaggerated. The Yanks are on the hook for a minimum of $27M over the next three years, so they need him to get back to being that 4-5 win player he was and can be.
Photo Credit: DC Products
By

When the rosters for the World Baseball Classic teams were unveiled last night, an unlikely name appeared on the list for the Puerto Rican team: Bernie Williams. The former Yankee great will be will be 40 years old and 888 days removed from his last Major League appearance when the PR team squares off against Panama on March 7, but Williams will play because the other four outfielders include Carlos Beltran, Alex Rios, Hiram Bocachica (!) and, in the words of Mike, "some guy named Jesus Feliciano." As I said to RAB's Twitter followers, I don't know if Bernie's making the team is a good sign for my one-time favorite Yankee or a bad sign for the Puerto Ricans' tourney hopes.

As a postscript, Christopher Reina at Real GM Baseball pondered the question of Bernie's Hall of Fame eligibility and the WBC a few weeks ago. His conclusion: Bernie's playing in the tournament won't restart his HoF clock. · (70) ·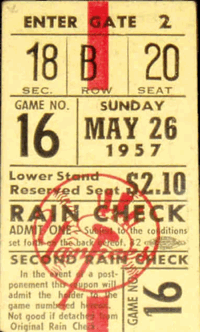 As long-time RAB readers know, I have been a particularly vocal critic of the new Yankee Stadium. In fact, until Friday, our mantra was "Because we won't tear down Yankee Stadium." While with its faults, old Yankee Stadium and the four million fans it drew each year for the last three years could have been modernized with an overhaul instead of total destruction.
That said, as Opening Day at the new stadium draws nears, I take no pleasure from being able to say "I told you so" to numerous fans and bloggers who assumed the transition to the new digs would be seamless. In fact, the Yanks have come off looking pretty bad as problems with season ticket relocation plans have mounted.
Here at RAB, we touched upon the issue of relocation back on Feb. 2. Since then, the firestorm has grown louder, and things came to an Internet-inspired head yesterday when Jay Jaffe unleashed his tirade against the Yankees. After 11 years of blissful life in the Tier Boxes, Jaffe was relocated to — wait for it — partial view seats behind the foul pole in fair territory in the right field grandstand at a price three times more than he expected. He was angry, angry that the team is jacking up price, angry that they are reducing capacity by over 4600 seats:
Still, even if one could block that all out and simply focus on the relationship between one customer's wallet and his ability to put his butt in a seat at this new park, the bottom line is that this is an outrage, a disgrace, a catastrophe on the level of Joe Torre summoning Jeff Weaver from the bullpen in Game Four, a Bambino-rolling-in-his-grave nightmare over the successor to the House that Ruth Built. A chorus four million fans strong should be shouting four- and twelve-letter words at Yankee president Randy Levine and every incompetent front-office numbskull who played a role in this fiasco. A pox on the House that George Built.

The Yankees deserve every pixel of bad publicity they receive over this, every blankety-blank karmic quantum of bad yankety-blank karma. My friends and I are hardly the only customers wronged in such a fashion; an informal discussion with a few other longtime Yankees ticket holders who write for various sites (including this one) reveals similarly shoddy treatment. Indeed, all of us who have something at stake short of a full-season ticket package are being screwed because the Yankees have bungled this so badly that they can't possibly fulfill the demand. So naturally, their impulse is to trample the loyal customers who helped carry them past the three million and four million attendance milestones over the past decade. This is a story worth illuminating, not only to fellow Yankee fans who may commiserate about finding themselves up the same fetid creek, but to baseball fans everywhere.
Jaffe of course isn't alone. As The Hartford Courant and Newsday explore today, many Yankee fans are feeling slighted by this move, and it's making even the hardened among us wonder if we should root for this so-called "Stadium Experience" to fail.
The Yankees are mounting their own PR fight over this ticket debacle, but as Ross at New Stadium Insider notes, team COO Lonn Trost is starting off on the wrong foot. Mike Francesca, Ross reports, hopes to have Trost on later, and while Ross presents a bunch of top-notch questions Trost should field, the Yanks' official took a defiant tone with Newsday's Neil Bast:
Is there any chance you will drop prices on your most expensive seats? "No, our prices are our prices."

Is it true there are seats in the bleachers from which you can't see parts of the field? "Yes, but we will have TVs in the walls there."

That's not the same thing as seeing it live, is it? "We had a choice of selling it to somebody or not. If you come to the stadium you'll see there are TVs in the walls. [Some views are obstructed] a little bit, but for $12 it's a choice of taking it or not."
Many of the top price tickets remain unsold; hundreds more fans are upset; and part of me wants to ask, "Who really wanted or needed this fancy new luxury stadium experience thing in the Bronx anyway?" In a few years' time, we'll forget about these troubles, but the Yankees should relearn the old maxim that the customer is always right.
By

Heh, so that's a headline I never thought I'd have to type. Apparently some guy posing as former Yank and all-around good guy Andy Phillips managed to lure the adult film actress known as Delia to a motel in NYC just before New Years, where they presumably performed unspeakable acts. But wait, it gets better. The Andy Phillips imposter also posed as Carl Pavano, Greg Dobbs, and agent Jordan Kapler, and it wasn't until after their motel romp that Mrs. Delia thought something weird was going on. She filed a police report against the real Andy Phillips, and now MLB's Department of Investigations is trying to sort this whole thing out after Phillips' agent brought it to their attention. I'm giving Andy the benefit of doubt because all we've ever heard about the guy is that he's a class act and a tremendous human being, but this is just weird. And hilarious. · (23) ·
By

This offseason was like many others for the Yanks, who brought in a pair of veteran starting pitchers like so many times before. The Baseball Crank took a look at all of the veteran pitchers the Yanks have picked up each offseason dating all the way back to 1975, and concludes basically what you'd expect: sometimes they've struck gold, and other times they haven't (to put it nicely). The highlight for me was being reminded of just how great Jimmy Key was for the Bombers, even though he never seems to get any credit. Make sure you check it out, lots of interesting stuff in there. (h/t Pinto) · (44) ·