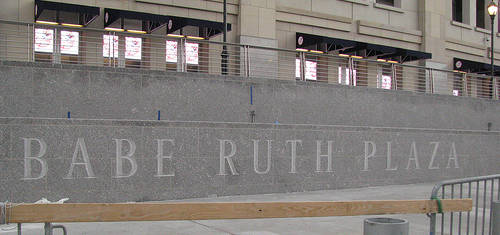 Kevin at The Voice of the Yankees Universe has a slew of photos from a recently substantially complete New Stadium, and my Mo does the place look like a palace. Just check out the Team Store, or the premium seats, or what looks like an information desk, or the lockers. That's crazy. There's plenty more for you to see too.
Anywho, he's the open thread for the night. The Rangers, Devils and Islanders are all in action tonight, and you've got a college baseball doubleheader on MLB Network. Talk about whatever you like, just be nice.
By

Mo bless Brian Foley of The College Baseball Blog for pointing this out: MLB Network is going to be showing a doubleheader from the MLB Urban Invitational straight outta Compton this afternoon. The first game between San Diego and Bethune-Cookman will air at 5pm Eastern, and they'll be followed by San Diego State taking on Southern at 8:30. I'm not sure what the pitching matchups will be, but I know that Stephen Strasburg won't be taking the mound for SDSU; he struck out eleven in 5.2 IP yesterday. If you're looking for a way to occupy some time on a lazy Saturday afternoon in February, thee's not much better than college baseball. · (9) ·
Yesterday's not-so-new revelations that A-Rod had trained with the Angel Presinal generated a good amount of discussion on RAB. While Presinal has been linked to PED use via the Mitchell Report and various journalistic investigations, numerous Dominican players have turned to him as a trainer.
Today, The Times notes that MLB is again turning a wary eye toward Presinal in light of the revelations that he trained with A-Rod during the period of the Yankee slugger's admitted PED use. While Presinal has engaged in "he said/he said" battle with Major League Baseball officials over Juan Gonzalez's 2001 steroid use, MLB has formally banned Presinal from the game in the U.S.
Back home in the DR, however, it is a different story. Presinal trained the Dominican Republic WBC team in 2006, and yesterday both David Ortiz and Robinson Cano defended their trainer.
This is, of course, a dicey situation. Cano said he wasn't concerned about being, as Kat O'Brien put it, "guilty by association," but with the way the steroid witch hunts are conducted, the company one keeps weights heavily upon the court of media — if not public — opinion. Hopefully, Presinal's steroid transgressions are things of the past because the players who swear by him are not inclined to stop.
By

Michael Salfino posted SNY's annual breakdown of the Mets vs. Yanks, comparing each team's players based on the four main pitches – fastball, curveball, slider and changeup. As if we didn't already know it, A-Rod is the best hitter in New York, leading all players in OPS off fastballs (.967), curves (.861) and sliders (1.168), but he also led in swings and misses (failed to make contact on 24% of swings taken). CC Sabathia dominates the pitching categories, with the city's best fastball (.610 OPS ), best slider (.417) and second best changeup (.558). No Mets' pitcher qualified for the curveball and slider categories, which makes me wonder what the hell their pitchers are throwing. Give it a read, it's quick and entertaining. (h/t BBTF) · (11) ·
By

With so many new Yankees in camp this spring, many of the non-A-Rod stories focus on these new faces. We met Mark Teixeira last night; today, we meet the player Teixeira pushed back into the outfield picture. In The Journal News today, Peter Abraham profiles Nick Swisher. While he was briefly disappointed when the Yanks signed Teixeira, Swisher realizes they couldn't just pass up on the opportunity to land the All Star first baseman. All things considered, Swisher sounds like he's ready for a season in New York that will see him play a number of roles and positions in the Bronx. · (15) ·
In what could be the first step in an NBA-esque sign-and-trade move, the Twins made an offer to free agent reliever Juan Cruz late last night. Cruz, like The Orlandos (Cabrera & Hudson), has been having a devil of a time trying to find a job this winter because teams are unwilling to part with their first round pick to sign him, and now that Spring Training is underway his agent is really starting to feel the heat. You probably remember seeing the blurb earlier this week in which MLB basically said it would be willing to look the other way as teams try to circumvent the free agent draft pick compensation rules, and it's looking more and more like this might actually happen.
Forget A-Rod and all the PED nonsense. If baseball is willing to essentially amend it's rules with almost zero advance notice to the benefit of only some teams, then that's the game's biggest problem. The Yankees played by the rules and coughed up the draft picks needed to sign free agents this winter, ditto the Mets, Angels, and Dodgers, and now you're telling me that other teams have a chance to operate under a completely different set of rules? Sorry, but that's just not fair. If Juan Cruz wants to get paid, then he should have accepted arbitration. There's a reason David Weathers and Darren Oliver have contracts for 2009 right now and he doesn't. He doesn't get to be above the system because his agent misread the economic climate. Life doesn't work like that.
I swear, the Yanks (and the Mets, Halos and Dodgers as well) better raise some frickin' hell if this is allowed to go down.
As Friday night turns into Saturday morning, the Yankees are one day closer to Opening Day. Hopefully by April, A-Rod won't dominate the headlines. I'm sure that's naive wishful thinking on my part, but a man can dream.
Anyway, here's something to chew on overnight. iYankees directs us to an apt Johnny Damon quote from the ProJo Sox Blog:
Damon: "Yeah he did some bad things, he took a steroid. I definitely do not condone that at all, but there could be a lot worse things he could have been doing. He hasn't done a crime … so, there's worse things he could have done, but I've known Alex since he was 15 and he's always been super-nice to me, so I'm going to support him and try to help him through this time."

Reporter: Johnny, what would have been worse?

Damon: "Murdering someone. There's plenty of things that could have been worse than what he did."
That basically sums up this whole thing in a nutshell. Many members of the media act as though A-Rod has committed high treason while the players seem to see it as a bad mistake he made a few years ago. He certainly never killed anyone, as Damon noted, and there are far, far worse things he couldn't do.
Meanwhile, A-Rod seems to recognize that if he and the Yanks win, all will be forgiven. That's life in the Bronx.
By

Earlier this week, the SEC accussed Texas billionaire R. Allen Stanford of fraud. At first blush, it seemed like just another domino in the collapsing U.S. economy. Today, we learn that Xavier Nady's and Johnny Damon's assets are frozen because of the ongoing investigation. According to Ken Rosenthal, Nady's and Damon's millions will probably emerge none the worse for the wear from this ordeal, but the two Yankee outfielders are having a tough time accessing their liquid capital right now. · (15) ·
So what do you think of the new site design? Snazzy, huh? Anyway, here's the links:
Here's your open thread. The Knicks and Nets are both in action tonight, but talk about whatever you want.